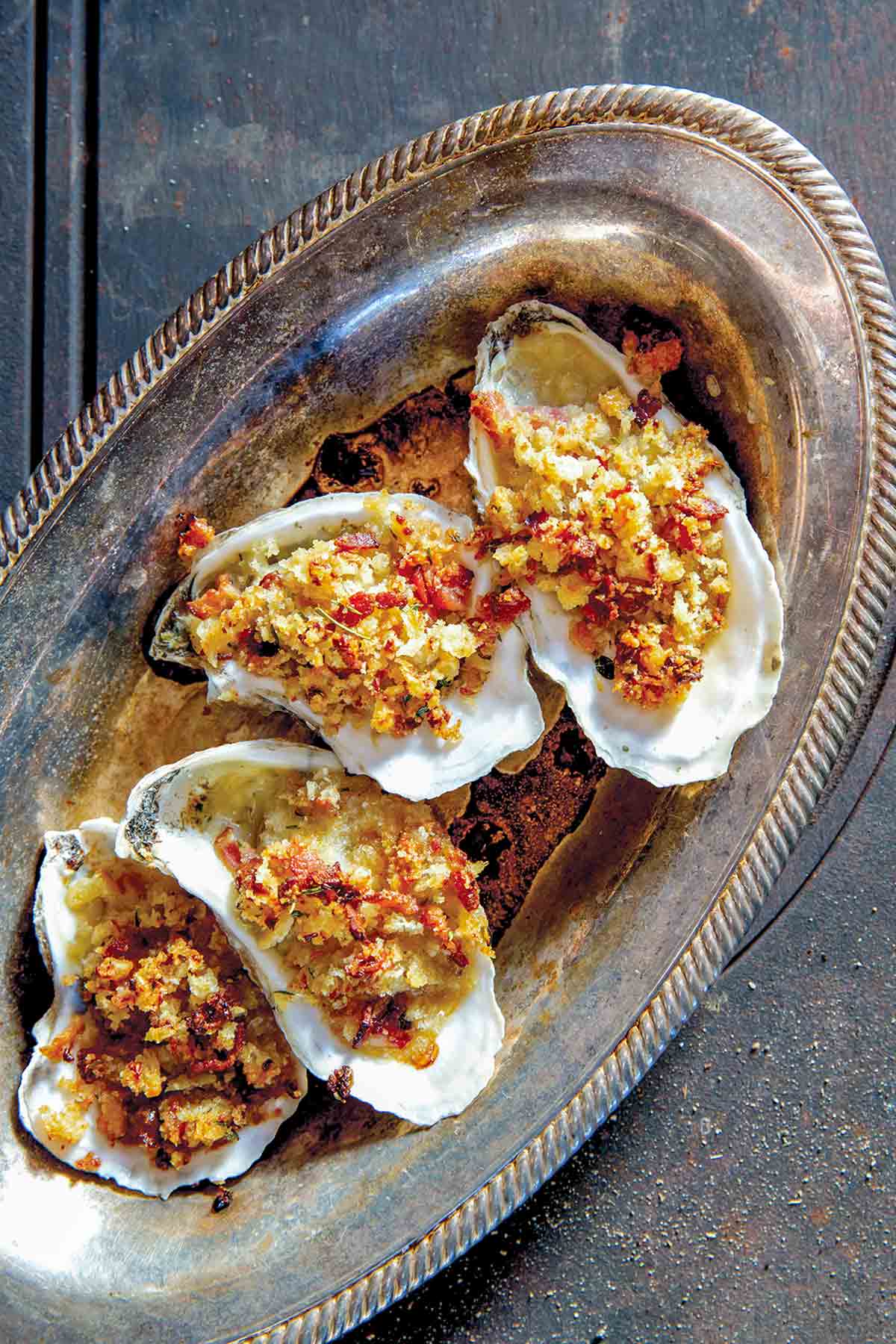 These oysters Rockefeller with bacon are a riff on the classic that are certain to elicit oohs and aahs of surprise. Like the traditional preparation, fresh oysters are smothered with a rich bread crumb mixing. Except we've snuck in a little salty smoky bacon for a subtle yet satisfying extra indulgence. And instead of spinach there's a blend of savory herbs for a little unexpected intrigue. Then they're slid in the oven just long enough to warm the oysters through without changing their lovely texture. All the contrasts of the original in terms of texture and temperature and taste. But better.–Angie Zoobkoff
HOW TO USE THE LEFTOVER FILLING
You'll likely have a little leftover bacon and breadcrumb filling, which is a good thing. A very good thing. You can easily McGyver it into a topping that crisps nicely in the oven. Sprinkle it atop softer vegetables before roasting or use it as stuffing for halved winter squash. If the filling-turned-topping begins to turn golden and crisp before the vegetables are done, simply loosely cover the baking dish or sheet pan with aluminum foil.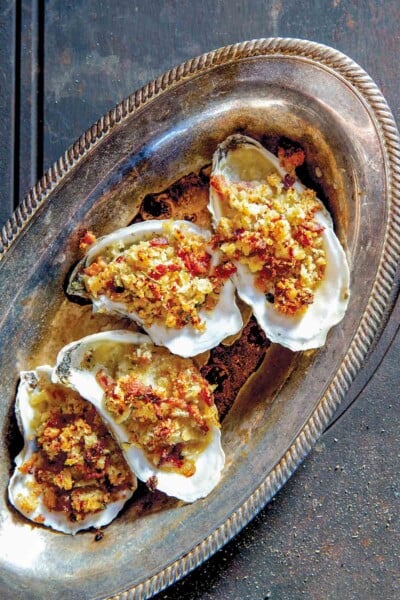 Oysters Rockefeller with Bacon
Oysters Rockefeller with bacon is made with a mix of herbs and smoky bacon and buttery bread crumbs. The best variation I've had. And so easy.
Ingredients
8

strips

thickly sliced bacon

,

cut into 1/4-inch (6-mm) dice

4

tablespoons

unsalted butter

2

smallish shallots

,

peeled and minced

Kosher salt

1/2

about 6 oz

loaf day-old country bread

,

finely chopped in a food processor

Pinch of fresh ground black pepper

1

handful

herbs

,

such as rosemary, thyme, savory, and/or parsley, finely chopped

24

oysters

,

shucked (reserve the shells and as much of the liquor as possible)

Lemon wedges

,

for serving
Instructions
Preheat the oven to 400°F (200°C).

In a large skillet over medium-low heat, cook the bacon until the fat renders. Once the bacon begins to crisp, use a slotted spoon to transfer it to a plate. Add the butter to the skillet and let it melt. Stir in the shallots and a pinch of salt and cook, stirring, until the shallots are softened, 3 to 5 minutes.

Add the bread crumbs, pepper, and herbs and stir to combine. Return the bacon to the skillet, increase the heat to medium, and cook until the bread crumbs are golden, about 5 minutes more.

Arrange the shucked oysters in a single layer on 1 or 2 ovenproof rimmed platters. Spoon a heaping tablespoon of stuffing atop each oyster shell and bake until the liquid is bubbling and the bread crumbs are golden brown and crisp, 5 to 7 minutes.

Serve immediately, with lemon wedges on the side.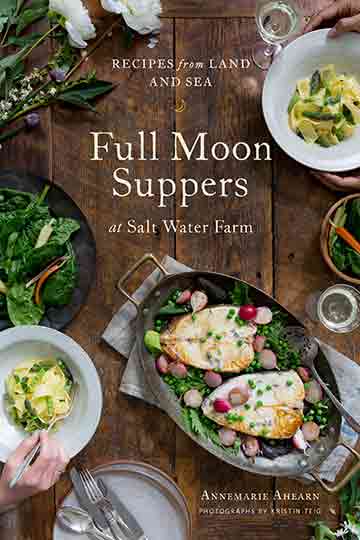 Nutrition
Serving:
2
oysters
Calories:
83
kcal
Carbohydrates:
8
g
Protein:
2
g
Fat:
5
g
Saturated Fat:
3
g
Polyunsaturated Fat:
0.5
g
Monounsaturated Fat:
1
g
Trans Fat:
0.2
g
Cholesterol:
12
mg
Sodium:
71
mg
Potassium:
40
mg
Fiber:
1
g
Sugar:
1
g
Vitamin A:
127
IU
Vitamin C:
0.4
mg
Calcium:
22
mg
Iron:
1
mg
Nutrition information is automatically calculated, so should only be used as an approximation.
Recipe © 2017 Annemarie Ahearn. Photo © 2017 Kristin Teig. All rights reserved.
---
Recipe Testers' Reviews
This oysters Rockefeller recipe with bread crumbs has much going for it. The stuffing has a good taste and cooking the oysters for only 5 minutes (actually, I cooked them for 7 minutes because I used large oysters) left the oysters warm but didn't change the texture of the oyster.
The recipe made more than enough stuffing. Planning for another use for the leftover stuffing would save wasted ingredients. I used it to stuff halves of butternut squash that I then baked. The bacon grease in the stuffing kept the butternut squash moist and delicious.
Eight strips of thick bacon gives off quite a bit of bacon grease. This, along with the amount of crisp bacon pieces overwhelmed the dressing. Next time I would drain off some of the bacon grease before adding the shallots and bread crumbs.
Two oysters may be plenty as a first course for a dinner party. I had someone else shuck the oysters.
Since I have oyster shells on hand, I simply bought a pint of oysters (in their liquid) for this recipe. After making the topping, I placed an oyster with a drizzle of liquid on each shell and placed a heaping tablespoon of the topping on the oysters and bulk of the shell.
I had extra topping, but since I also had extra oysters, this was win-win. I just kept cooking until I ran out of topping, which made my guests hysterically happy. The cooking times in the recipe are spot on. I appreciate that the oysters were just cooked through and not overdone.
While this dish is both visually and palatably pleasing, I take exception to the name. In my humble opinion, the bread crumbs, butter, and bacon are all quintessentially Casino. In Southern Maryland parlance, bivalves dubbed Rockefeller must include spinach, watercress, scallion, or fennel, blended with anything from a rich béchamel to a glug of cream. And please don't mention cheese. The local watermen will run out of the room screaming. As an Oysters Casino recipe, I feel this is quite good albeit missing something—perhaps the tiniest hint of garlic, Worcestershire, or lemon. I'll experiment as I'll definitely be making again.
Living in the Pacific Northwest, oysters are a wonderful, accessible treat.
With full disclosure, the most difficult part of this oysters Rockefeller with bacon recipe is the shucking of the oysters. I enlisted the help of my husband with this task whom I had gifted an Oyster 101 cooking class this past holiday. Even with a cooking class under his belt, practice definitely makes perfect. And my husband needs a lot more practice. (Sorry, Scott.) It took him close to 10 minutes to shuck 12 oysters. There were a few expletives uttered during the process.
The remainder of the recipe is a breeze. The savory, bacon-dotted, herbaceous bread crumb topping is out of this world. The recipe produces enough of this topping to fill 3 to 4 dozen oysters. With plenty leftover, I served it on top of roasted asparagus. My husband commented that this mixture would make even cardboard taste great. Would I reduce the amount of topping that I made in the future? Probably not. It is so versatile. I popped the leftover in the freezer and plan to use it as a topping on a small pan of homemade mac 'n cheese.
The only addition I would make to this recipe is serving the oysters with a wedge of lemon to squeeze over them. A little acid would send this recipe over the top. It is suggested that this recipe serve 8 to 10. I would portion at least 2 oysters per person. While it is hearty, one seems skimpy. When choosing your oysters, size does matter. I mistakenly chose a small local variety, a Snow Creek oyster. When shucked, there was very little meat. The topping almost overwhelmed it. I would pick a slightly larger variety in order to balance the crumb to oyster ratio. Small or petite oysters would be overwhelmed by the bread crumb mixture.