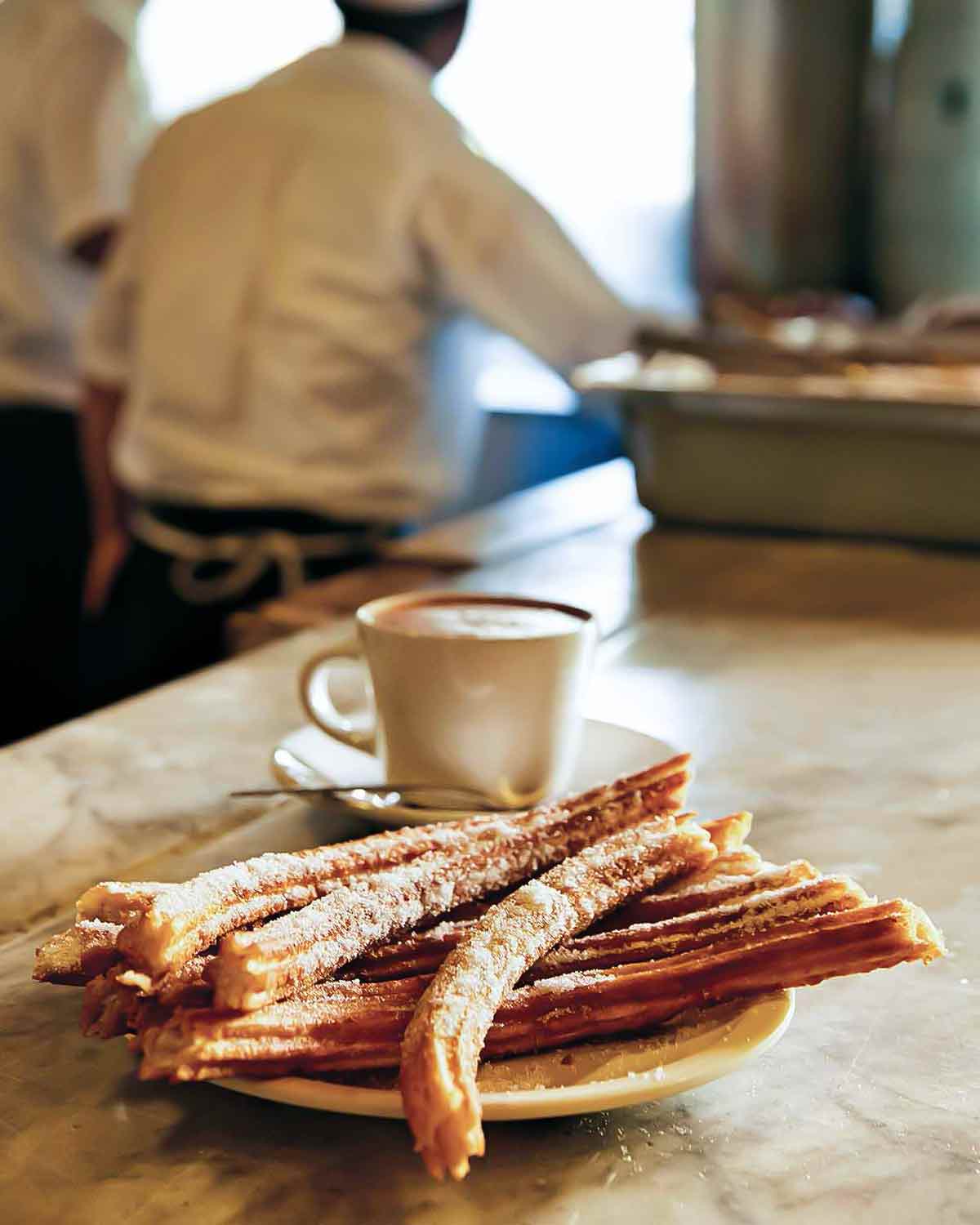 "If you like less dough and more crunch, these are the doughnuts for you," says Swedish food writer Jonas Cramby of churros. Cramby, who spent some time exploring Mexico and its street food brilliance, explains they're a "traditional Spanish pastry adopted by the Mexicans." Traditionally coated with cinnamon sugar and served with homemade hot sauce or hot chocolate for dunking, they're commonly a breakfast staple, although we're not so certain the cinnamon-sugar inflected sweet shouldn't be accessible all times of day. His interpretation veers toward a slightly lighter, less dense iteration, which makes it all the easier to indulge without a second thought.–Jonas Cramby
WHY ARE MY CHURROS DOUGHY IN THE MIDDLE?
When churros are doughy, or even raw, inside it's obvious that they weren't cooked long enough. But there's more to it than that. If the outsides look done but their interiors are still raw, it means that the oil was probably too hot. Turn the oil down a notch and use a thermometer to maintain a consistent 350°F (180°C) temperature. They'll cook through more evenly. As well, don't crowd the pan—that'll just make it harder to keep the temperature level.
Churros
These churros are based on the Spanish and Mexican classic that comes together with ingredients you already have on hand. The resulting fried dough is crisp on the outside, airy on the inside, and irresistible through and through.
Equipment
Piping bag fitted with 1/4-inch (6-mm) star-shaped tip or a resealable plastic bag with one corner snipped off
Ingredients
For the churros
1 1/2

cups

water

3 1/2

tablespoons (1 3/4 oz)

unsalted butter

1/2

teaspoon

salt

4

tablespoons

granulated sugar

1

cup

all-purpose flour

1

extra-large

egg

1

teaspoon

ground cinnamon

Mild vegetable oil

,

for frying
Instructions
In a medium saucepan over medium heat, combine the water, butter, salt, and 1 tablespoon sugar and bring to a boil.

Add the flour to the pan all at once and cook, stirring vigorously, until stiff but smooth, about 4 minutes. (Enjoy the biceps workout while you're at it!) Transfer the dough to a bowl and let it cool for about 5 minutes.

Whisk in the egg until the dough is very smooth.

Fill the prepared piping bag or resealable plastic bag with the dough. The 1/4-inch [6-mm] star-shaped tip may look too small, but trust us, the dough will swell when it fries and the star-shape will leave nice ridges on your churros. (You can refrigerate the dough in the piping bag overnight if you like. Bring the chilled dough to room temperature before using so it will squeeze more easily.)

Mix the cinnamon and 3 tablespoons sugar on a large plate.

In a large, heavy saucepan, pour enough oil to reach a depth of at least 2 inches (5 cm). Place the saucepan over medium-high heat until the oil reaches 350°F (180°C) on an instant-read thermometer. The oil is ready when a small drop of dough sizzles and falls to the bottom of the saucepan only to immediately rise to the top again.

Working carefully, hold the piping bag over the hot oil, squeeze out a few 6-inch (15-cm) lengths of churros dough, cut it off with clean scissors, and fry, turning once, until golden brown, 3 to 4 minutes. Don't overcook or the churros will lose the creamy interior that makes them so irresistible. (This particular churros recipe is designed to have more crunch and less cake-like interior.) Fry the churros in batches, being careful not to overcrowd the pan.

Use tongs to move the fried churros to paper towels or a brown paper bag to drain briefly. Toss the warm churros in the cinnamon sugar while still hot and turn to completely coat them.

Serve immediately, with warm caramel sauce or hot chocolate for dipping, if desired.
Nutrition
Serving:
1
churro
Calories:
73
kcal
Carbohydrates:
10
g
Protein:
1
g
Fat:
3
g
Saturated Fat:
2
g
Trans Fat:
1
g
Cholesterol:
21
mg
Sodium:
85
mg
Potassium:
16
mg
Fiber:
1
g
Sugar:
3
g
Vitamin A:
107
IU
Vitamin C:
1
mg
Calcium:
6
mg
Iron:
1
mg
Nutrition information is automatically calculated, so should only be used as an approximation.
Recipe © 2016 Jonas Cramby. Photo © 2016 Calle Stoltz. All rights reserved.
---
Recipe Testers' Reviews
Churros may not be the best recipe to test the day before making the visit to the doctor with the evil scale, but the combination of cinnamon, sugar, and fried dough did give me something more pleasant to concentrate on.
The recipe was easy and produced a nice crispy fried treat that went well with my morning coffee. There was, however, little difference between this recipe and numerous others on the internet. Still, it's a relatively quick production made with items already on hand and suitable for those mornings or afternoon tea times when you either forgot or never knew you had guests coming. As such, it earns a place in my recipe file.
This recipe made 12 churros, which produced 4 servings. We didn't dip. Rather, we simply enjoyed the churros with cinnamon sugar.
A good churro isn't always easy to find. Oftentimes they're overcooked and taste oily and heavy. I never realized how easy they are to make at home with a much better result than many restaurant versions. These churros were a wonderful little treat that were super easy to put together with basic pantry staples with the added bonus of a bicep workout in the process! The final result was crisp and golden brown on the outside while being soft and almost creamy in the center. The dough, once fried, had a pretty neutral flavor but the cinnamon sugar added just the right amount of sweetness. I served the churros just with cinnamon-sugar and a scoop of vanilla ice cream.
It took about 4 minutes (and some arm strength!) for the batter to smooth out all the lumps of flour.