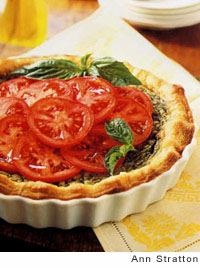 For a summer lunch, an appetizer for a more formal dinner, or a simple supper dish paired with a hearty salad, this tart is a versatile addition to anyone's repertoire. Because the crust is made with purchased puff pastry dough, it's extremely easy to make, even for crust-phobics. Since I prefer the taste of fresh tomatoes, I make this like a savory version of a fruit custard tart, arranging the raw sliced tomatoes on top just after the baked tart comes out of the oven, which heats the tomatoes but doesn't cook them. If you prefer the flavor of cooked tomatoes, arrange the sliced tomatoes on the dough, pour the custard filling over them, and bake. Although you can make this tart early in the day if you put the tomatoes in first and then cook them, this is not a recipe to make ahead if you're topping it with raw tomatoes-once you've put the tomatoes on top of the custard, it should be served within an hour or two.–Deborah Krasner
LC No Rules Note
This tempting, tomatoey treat is, as one of our testers says, 'a cross between a quiche and tomato tart.' We love recipes that don't fall squarely into one category – it makes it so much easier to justify serving them at all hours of day and night. Tomato tart fits right in as part of a fancy brunch, but is just as good eaten straight from the pie tin, for an 'I just couldn't wait till it cooled' supper. Experiment with different varieties of tomato until you find your favourite – or mix and match as you like. No rules here.
Fresh Tomato Tart
Quick Glance
20 M
50 M

Serves 6 to 8 as an appetizer
Print Recipe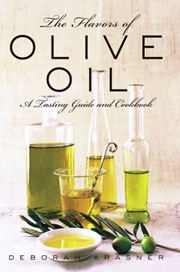 Ingredients
1 puff pastry sheet, thawed according to the package directions

1 cup basil leaves, washed and dried

1 cup heavy cream

3 tablespoons fruity and fragrant olive oil

3 extra-large eggs

Coarse sea salt and freshly ground black pepper, to taste

2 large ripe tomatoes
Directions
1. Preheat the oven to 400°F (200°C). Line a 9-inch porcelain or metal tart pan with the pastry. Do not grease the pan. Put the whole square sheet in the pan, cutting and patching as necessary to make it fit.

2. Combine the basil, cream, 2 1/2 tablespoons of the olive oil, eggs, and salt and pepper in the bowl of a food processor, and process until the basil is very finely chopped.

3. Pour this mixture into the pastry-lined pan, and bake for 30 to 40 minutes, until cooked through, golden, and fragrant. The tart will puff up in the oven, but will immediately deflate when it starts to cool.

4. While the tart is baking, use a sharp serrated knife to thinly slice the tomatoes. As soon as you remove the tart from the oven, arrange the tomato slices on top, working in a spiral from the outer edge to the center, overlapping the slices. Use the smallest pieces of tomato for the center. Drizzle the remaining 1/2 tablespoon olive oil over the tomatoes. Serve slightly warm.
Fresh Tomato Tart Recipe © 2002 Deborah Krasner. Photo © 2002 Ann Stratton. All rights reserved. All recipes and photos used with permission of the publisher.
If you make this recipe, snap a photo and hashtag it #LeitesCulinaria. We'd love to see your creations on Instagram, Facebook, and Twitter.