The chefs of Hunan are fond of hot oils and use them skillfully. Hot oils and hot peppers not only provide heat to a recipe, they also season, balance, and complement the other ingredients. These are the criteria I stress when teaching students how to make this dish.–Eileen Yin-Fei Lo
LC Wherefore Art Thou Note
Wherefore art thou, oh spicy-hot ingredients of China? According to Eileen Yin-Fei Lo, they're particularly common in western China. As she explains in her book, many ingredients in this region are preserved, "and hot peppers and oils can mask the taste that comes with preservation." Makes perfect sense to us.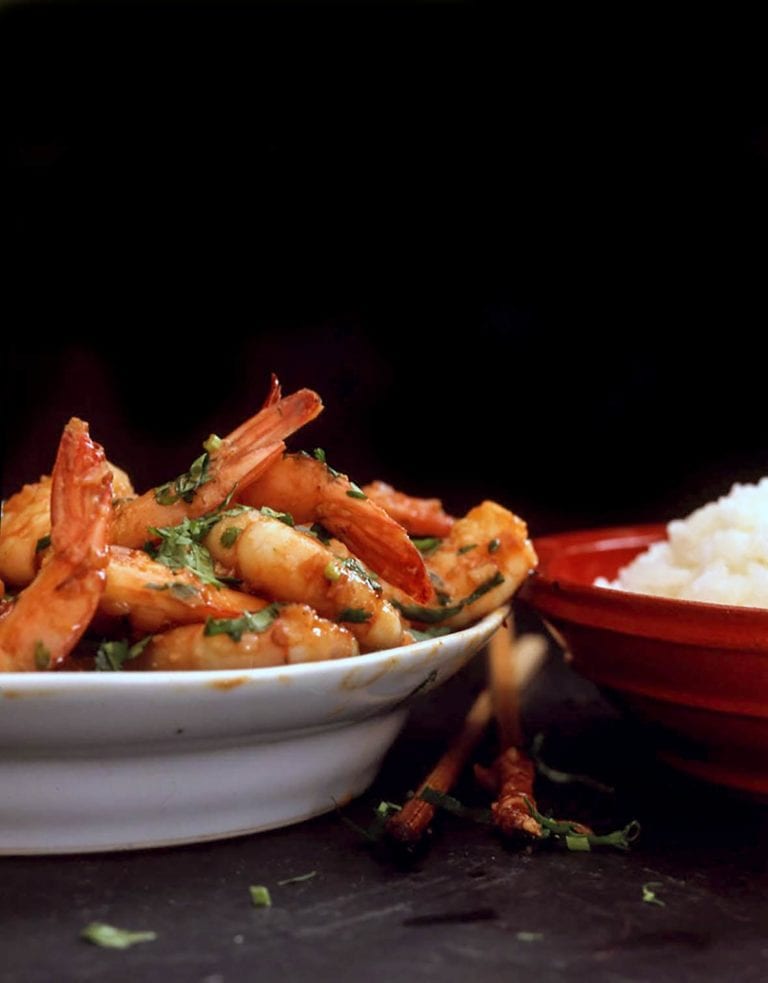 Hunan Hot-and-Spicy Shrimp
Hunan hot and spicy shrimp are tossed in a peppery mix and then seared in a reach-for-the-fire-extinguisher-hot sauce of chiles, ginger, garlic, and shallots.
Ingredients
1

pound

large shrimp

,

(40 count per pound)
For the shrimp coating
2

tablespoons

lightly beaten egg whites

2

tablespoons

peanut oil

2

tablespoons

Shaoxing wine

1

tablespoon

mung bean starch

1

teaspoon

sugar

1/2

teaspoon

salt

Pinch of

white pepper
For the sauce
5

tablespoons

ketchup,

(see Note below)

1

tablespoon

oyster sauce

2

teaspoons

white rice vinegar

2

teaspoons

light soy sauce

1 1/2

teaspoons

pepper flakes from Hot Pepper Oil

,

(below) or 1 1/2 teaspoons coarsely ground dried Thai chiles

1 1/2

teaspoons

sugar

1/4

teaspoon

salt
To stir-fry the shrimp
1/4

cup

peanut oil

1

tablespoon

peeled and minced ginger

1

tablespoon

minced garlic

1/2

cup

1/4-inch-dice shallots

1 1/2

tablespoons

Shaoxing wine
Instructions
Peel the shrimp, leaving the tail segments intact, then devein and clean them.

In a bowl, mix together all of the ingredients to make the shrimp coating. Add the shrimp and turn to coat. Refrigerate for 30 minutes.

To make the sauce mix together all of the ingredients in a small bowl and reserve.

Heat a wok over high heat for 30 seconds. Add the peanut oil, and, using a spatula, coat the wok with the oil. When a wisp of white smoke appears, add the ginger and stir briefly. Add the garlic and stir briefly. Add the shallots, stir to mix, and lower the heat to medium. Cook for 2 to 3 minutes, or until the shallots soften.

Raise the heat to high, add the shrimp and their coating, and stir to mix. Spread the shrimp in a single layer and cook for 1 minute, or until the shrimp begin to turn pink. Turn the shrimp over and mix.

Drizzle in the wine, adding it along the edge of the wok, and mix well. Stir the sauce, pour it over the shrimp, and mix well. Stir-fry for about 1 1/2 minutes, or until the shrimp are well-coated and the sauce begins to bubble.

Turn off the heat, transfer to a heated dish, and serve.
Notes
Hot Pepper Oil
Makes about 1 cup oil and pepper flakes
1/2 cup hot pepper flakes
1/3 cup sesame oil
1/2 cup peanut oil
For this infused oil to be a success, the pepper flakes must be very hot, which is why I prefer dried Thai chilies for making the flakes. Heat a wok over high heat for 20 seconds. Add the sesame oil, peanut oil, and pepper flakes and stir. Reduce the heat to medium and cook for 2 to 3 minutes, or until the oil is very hot, but not boiling.
Turn off the heat and let cool to room temperature. Pour the oil, including the pepper flakes, into a sterilized glass jar and close tightly. Allow the oil to rest for 10 minutes and then it can be used. The oil will keep at room temperature for up to 1 week or refrigerated for up to 3 months. The longer the oil is stored, the hotter it will become.
Note: Ketchup in China
Once a common import stocked on Asian market shelves in the United States, and now found only on occasion, Chinese ketchup is made from tomatoes, vinegar, and spices, like its popular Western counterpart. Its use differs, however. In China, ketchup is used as a coloring agent, and nowadays some cooks even use tomato paste in its place. Look for Koon Yick Wan Kee brand ketchup, made in Hong Kong.
Some food scholars believe that ketchup originated in China. In southern China, on the island once known as Amoy and today called Xiamen, cooks use a flavoring mixture of fish essence and soy sauce they call keh chap, that could be, as has been suggested, a precursor. It is a piquant thought.
Nutrition
Serving:
1
portion
Calories:
354
kcal
Carbohydrates:
18
g
Protein:
19
g
Fat:
22
g
Saturated Fat:
4
g
Polyunsaturated Fat:
7
g
Monounsaturated Fat:
10
g
Trans Fat:
0.01
g
Cholesterol:
143
mg
Sodium:
1478
mg
Potassium:
368
mg
Fiber:
2
g
Sugar:
9
g
Vitamin A:
327
IU
Vitamin C:
9
mg
Calcium:
87
mg
Iron:
1
mg
Nutrition information is automatically calculated, so should only be used as an approximation.
Recipe © 2009 Eileen Yin-Fei Lo. Photo © 2009 Susie Cushner. All rights reserved.
---
Recipe Testers' Reviews
I wasn't prepared to enjoy this as much as I did. And I will tell you now – definitely find the Koon Yick Wan Kee ketchup mentioned in the notes section. I used Heinz because I had it on hand, and while the end result was fantastic, I felt there was a very faint, underlying cloying sweetness that I feel fairly certain would be eradicated by using Chinese ketchup. That being said – the resulting dish is a distant cousin of American comfort food, if you will. Served over rice, its stick-to-your-ribs deliciousness paired with a slow, steady burning heat that is as tantalizing as it is delicious.