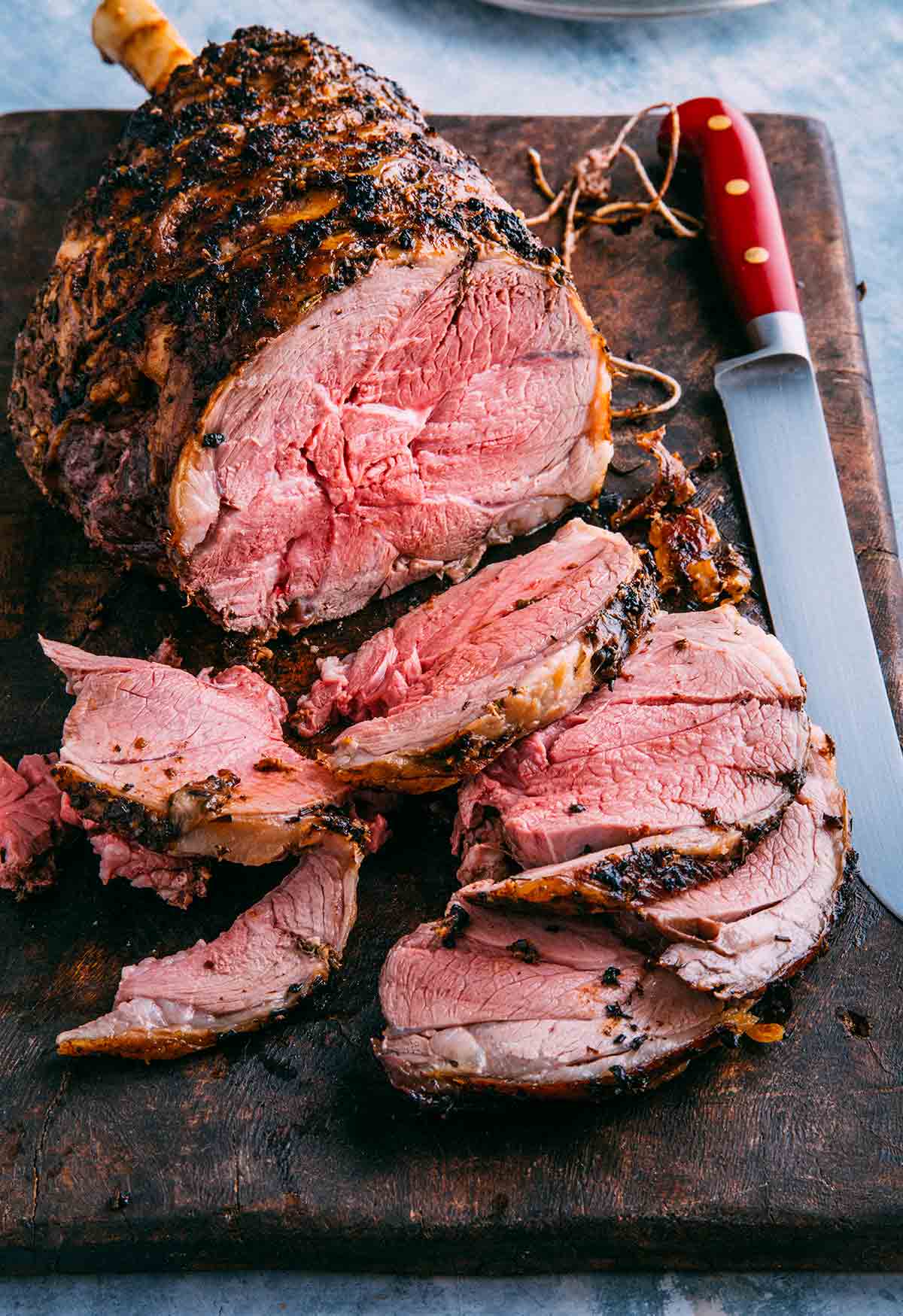 This centerpiece-worthy Tuscan style roast leg of lamb is done in the traditional Italian style, which is to say, simply and perfectly. It's marinated in garlic, rosemary, and lemon and then roasted to a perfect shade of blush and is destined to be the conversation topic at your table. If, that is, anyone even speaks. We experienced some hushed moments of quiet reverence and gratitude. Simply marinate, roast, carve, and sigh.–Gabriele Corcos & Debi Mazar
Why do I need to let my lamb rest?
Essentially, by letting the meat rest before slicing, you're letting the protein fibers relax and the juices redistribute within the meat instead of all over your cutting board. Not resting your roast lamb, or any meat for that matter, is a common mistake that really does hinder taste and texture. If you've avoided doing it because you think you're just gonna end up with cold lamb, then you're in for a pleasant surprise. We're not telling you to leave it on the counter for hours—a 10 to 20 minute rest is all you need—loosely tent it with foil and get the rest of dinner ready. You can even put it on a pre-warmed platter if you're really worried about heat loss.
Tuscan Style Roast Leg of Lamb
This Tuscan style roast leg of lamb is made in traditional Italian fashion with a garlic, rosemary, lemon, and olive oil marinade before being roasted until perfectly tender. Easy and elegant.
Ingredients
For the marinade
5

garlic cloves

,

crushed

2

teaspoons

sea salt

1/4

cup

coarsely chopped fresh rosemary

Finely grated zest of 1 lemon

3

tablespoons

extra-virgin olive oil

3

tablespoons

fresh lemon juice

1 1/2

teaspoons

freshly ground black pepper

1

(about 7 pounds)

semi-boneless leg of lamb,

with leg bone
For the lamb
1

lemon

,

cut into thin rounds

Fresh rosemary sprigs

,

to garnish
Instructions
Make the marinade
On a cutting board, coarsely chop the crushed garlic. Sprinkle with the salt and then finely chop and, using the flat side of the knife, smear the garlic and salt into a coarse paste.

Add the rosemary and lemon zest and continue chopping and scraping until well combined. Scoop into a small bowl and stir in the oil, lemon juice, and pepper to make a thin paste. (Alternatively, you can purée all of the ingredients in a mini food processor.)

Place the lamb on a large rimmed baking sheet. Using the tip of a small sharp knife, pierce the lamb about 15 times, making slits about 1 inch (25 mm) wide and deep all over the lamb.

Using a small spoon and your fingertips, fill each slit with some of the rosemary paste. Slather the remaining rosemary paste all over the lamb. Cover with plastic wrap and refrigerate for at least 4 hours or overnight. Remove from the refrigerator and let stand at room temperature for 1 hour to remove its chill before cooking.
Roast the lamb
Position a rack in the bottom third of the oven and preheat the oven to 400°F (200°C).

Place the lamb in a large roasting pan and roast for 15 minutes.

Reduce the oven temperature to 350°F (177°C). Continue roasting until an instant-read thermometer inserted in the thickest part of the lamb (not touching a bone) reads 130°F (55°C) for medium rare, about 1 1/4 hours. During the last 20 minutes of roasting, arrange the lemon slices on top of the lamb.

Move the lamb to a carving board and let rest for 10 to 15 minutes. Set the lemon slices aside.

Using the leg bone as a handle, carve the lamb by slicing vertically along the roast in the boneless area, then parallel to the bone in the shank section.

Arrange the slices on a platter and pour the carving juices on top. Garnish with the rosemary sprigs and lemon slices and serve.
Nutrition
Serving:
1
portion
Calories:
502
kcal
Carbohydrates:
3
g
Protein:
69
g
Fat:
22
g
Saturated Fat:
6
g
Polyunsaturated Fat:
2
g
Monounsaturated Fat:
11
g
Cholesterol:
213
mg
Sodium:
983
mg
Potassium:
1013
mg
Fiber:
1
g
Sugar:
1
g
Vitamin A:
37
IU
Vitamin C:
11
mg
Calcium:
44
mg
Iron:
7
mg
Nutrition information is automatically calculated, so should only be used as an approximation.
Recipe © 2017 Gabriele Corcos | Debi Mazar. Photo © 2017 Eric Wolfinger. All rights reserved.
---
Recipe Testers' Reviews
Oh my goodness, how good is this Tuscan style roast leg of lamb?! I made the marinade in a mini food processor so it only took a couple minutes. The marinade paste is on the thin side but boy does the aroma of garlic and lemon permeate the kitchen.
I only marinated the lamb for 4 hours before roasting the leg. The results were absolutely phenomenal. The lamb was gently scented with the garlic and lemon and the rosemary was a nice woodsy note in the background. All the flavors played together very nicely. My husband carved the leg vertically so I didn't get to tell him about cutting on the horizontal at the front. The exterior and middle were done to a delicate blush and closer to the bone it was more rare. Regardless, the lamb was tender, juicy and oh-so-heavenly.
We served this with a savory mashed potato and Greek salad. We have left overs that we are all looking forward to tomorrow. We had 4 very generous servings for dinner and have enough left for 4 pretty generous dinner servings tomorrow. There isn't a thing I would change on this recipe.
I served this on the third day of the Canadian Thanksgiving long weekend, after 2 days of turkey, and it was a big hit. It's a pretty basic recipe for roasting a leg of lamb but a very effective one. The lamb was juicy and tender, with so much flavor.
I let it marinate for nearly 8 hours and feel that produced a superior result.
We served it with green beans gremolata, scalloped potatoes and roasted carrots. I found the timing to be accurate and the instructions for carving were perfect.