This coconut carrot cake with cream cheese frosting is unlike any carrot cake you've had. Lighter, more delicate, some may even say more sophisticated, than any other carrot cake you've ever had.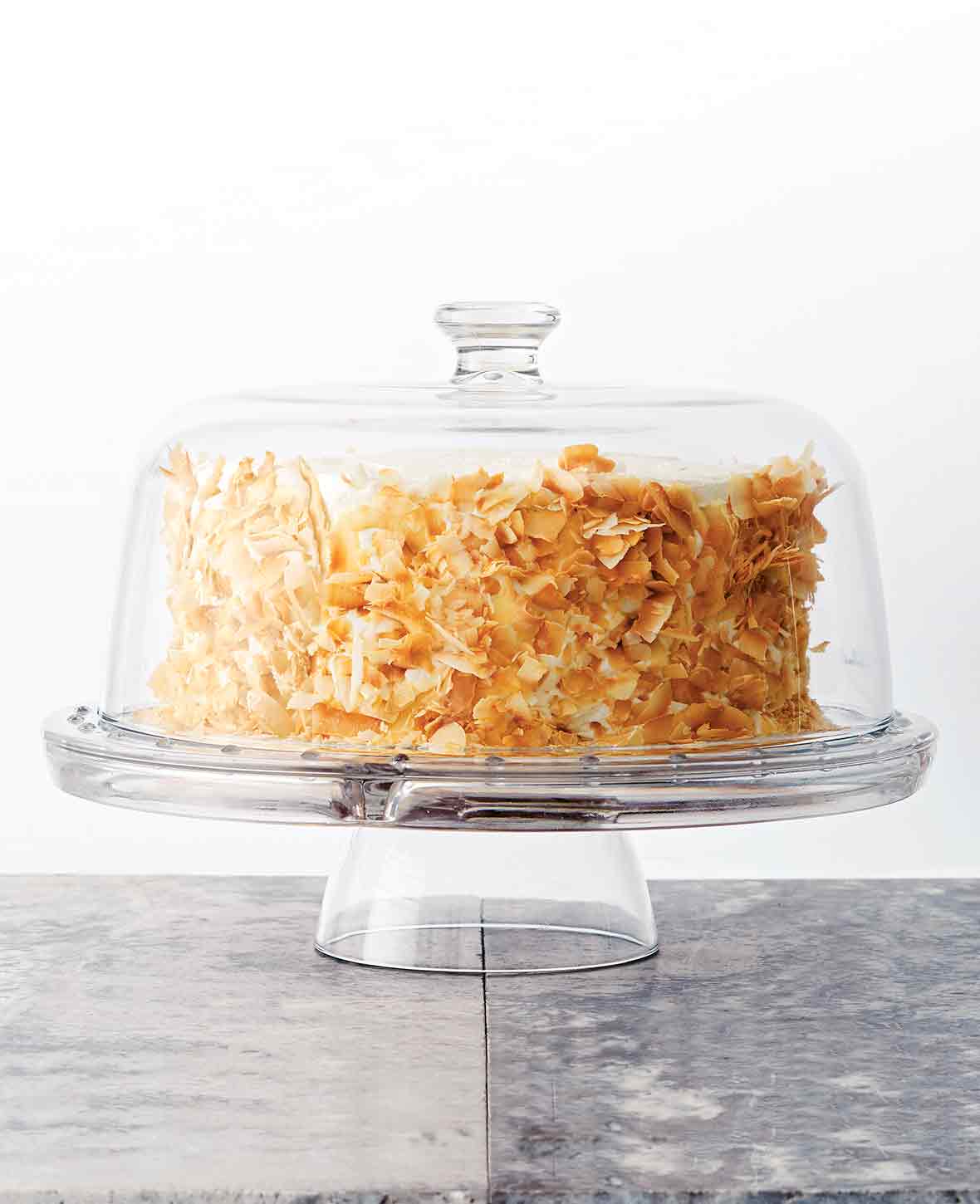 This stunning coconut carrot cake is lovely for any holiday or occasion. Or no occasion at all. The carrot cake layers are lighter and more delicate than most carrot cake and contain no raisins or pineapple. No complaints here. Instead, the layers are soaked with coconut syrup, swaddled in a light, fluffy cream cheese frosting, and strewn with coconut flakes, officially making it the carrot cake of our dreams. Originally published November 13, 2016.–Angie Zoobkoff
How To Make This Coconut Carrot Cake Taste Even More Coconutty
We're smitten with this coconut carrot cake as-is, although if you prefer your cake to be uber coconutty, then consider doubling the coconut syrup recipe to impart even more of that sweet coconutty goodness.
Coconut Carrot Cake
Quick Glance
30 M
3 H

Makes 1 layer cake
Print Recipe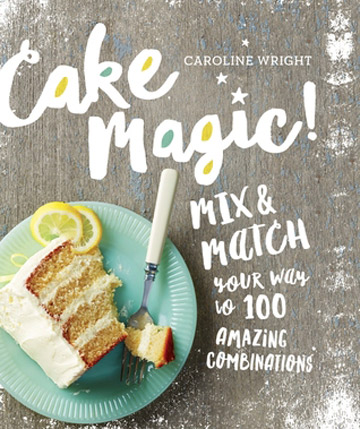 Ingredients
For the carrot cake

Unsalted butter, for the pans

2 1/2 cups (300 grams) all-purpose flour, plus more for the pans

1 1/2 cups (300 grams) granulated sugar

3/4 teaspoon (4 grams) baking soda

1 3/4 teaspoons (7 grams) baking powder

1 teaspoon (6 grams) table salt

1/2 cup (113 grams) full-fat plain yogurt (preferably not Greek yogurt)

1 cup (8 ounces/227 grams) unsalted butter, melted and cooled (or substitute 1 cup/237 ml vegetable oil)

1/4 cup (60 ml) cold water

4 large eggs, at room temperature

3 ups (320 grams) peeled, coarsely grated carrot (about 6 carrots)

For the coconut syrup

1/2 cup (100 grams) granulated sugar

1/2 cup (118 ml) canned full-fat coconut milk (not low-fat)

1/4 cup (28 grams) unsweetened shredded coconut

Pinch salt

1/2 teaspoon (3 ml) coconut extract

For the cream cheese frosting

1 cups (8 ounces or 227 grams) unsalted butter, at room temperature

3 ounces (85 grams) cream cheese, at room temperature

Pinch salt

4 cups (454 grams) confectioners' sugar

1/2 teaspoon (3 ml) vanilla extract

For assembly
About 1/2 cup (57 grams) coconut flakes*, toasted or untoasted
Directions
Make the carrot cake

1. Preheat the oven to 350°F (177°C).

2. Butter the bottom and sides of two 8- or 9-inch round cake pans and dust with flour to coat. Tap out any excess flour.

3. In a large bowl, whisk together the flour, granulated sugar, baking soda, baking powder, and salt. Stir in the yogurt, butter or oil, water, and eggs until moistened and no lumps remain. Be careful not to overmix the ingredients. Stir in the grated carrot. Divide the batter evenly between the prepared pans.

4. Bake until the cakes are evenly golden on top and a few moist crumbs cling to a skewer or toothpick inserted in the center of each cake, 38 to 40 minutes. Remove from the oven.

Make the coconut syrup

5. While the cakes bake, combine the granulated sugar, coconut milk, shredded coconut, and salt in a small saucepan and bring to a boil over medium-high heat. Stir until the sugar dissolves. Remove the pan from the heat, stir in the coconut extract, cover, and set aside to steep for at least 20 minutes.

6. Strain the coconut syrup, reserving the coconut for another use or nibbling it while you wait for the cakes to be done. Use the syrup warm or at room temperature. (The coconut syrup will keep, in an airtight container in the refrigerator, for up to 1 week. Reheat it in a small saucepan over low heat before using.)

Soak the cakes in the coconut syrup

7. Immediately after removing the cakes from the oven, while the cakes are still in their pans, pierce them at 1-inch (2.5-cm) intervals with a skewer or the tip of a paring knife. This creates channels for the syrup to seep into the cakes. Pour or generously brush the syrup over the surface of the hot cake layers, dividing it evenly between them. Transfer the soaked cake, still in their pans, to a wire rack to cool completely, 1 to 2 hours. When the cake layers are cool and no longer wet to the touch, carefully turn them out of their pans onto a wire rack. (You can carefully wrap the soaked cakes and keep them at room temperature for up to 24 hours before frosting.)

Make the cream cheese frosting

8. Combine the butter, cream cheese, salt, and 2 cups (227 grams) confectioners' sugar in a large bowl and beat with an electric mixer on low speed until incorporated, about 1 minute. Add the remaining sugar and beat on medium speed until the frosting is pale and no longer grainy, about 2 minutes. Add the vanilla and beat until the frosting is very light and fluffy, about 2 minutes more. The frosting will be quite thick. (The cream cheese frosting will keep, in an airtight container in the refrigerator, for up to 1 week. For best results, before using, bring it back to room temperature and stir it vigorously or beat it again before using.)

Assemble the cake

9. Place one layer of the cooled cake on a cake plate or platter. Use a serrated knife to gently trim the domed top of the cake to create a flat surface. Cover the top of the cake with some of the cream cheese frosting, spreading it all the way to the edge of the cake. Carefully add the second layer of cake on top of the first and frost the top and sides of the entire cake.

10. Immediately after you frost the cake, support the cake plate or platter from the bottom with one hand while holding it above a baking sheet. Gently press the coconut flakes or shards onto the side of the cake with your other hand. (It's important to press the coconut flakes onto the frosting right away while the frosting is still sorta sticky. Otherwise the coconut won't adhere.) Slice, serve, and sit back while folks toss accolades your way.
*WHERE TO FIND COCONUT FLAKES
You'll find coconut flakes at most health food stores as well as many online purveyors. (We're partial to the Let's Do…Organic brand of coconut flakes. Although you can also omit the coconut flakes and your cake will still be perfectly coconutty and lovely albeit a little less flamboyantly so.)
Coconut Carrot Cake Recipe © 2016 Caroline Wright. Photo © 2016 Ken Carlson. All rights reserved.
If you make this recipe, snap a photo and hashtag it #LeitesCulinaria. We'd love to see your creations on Instagram, Facebook, and Twitter.