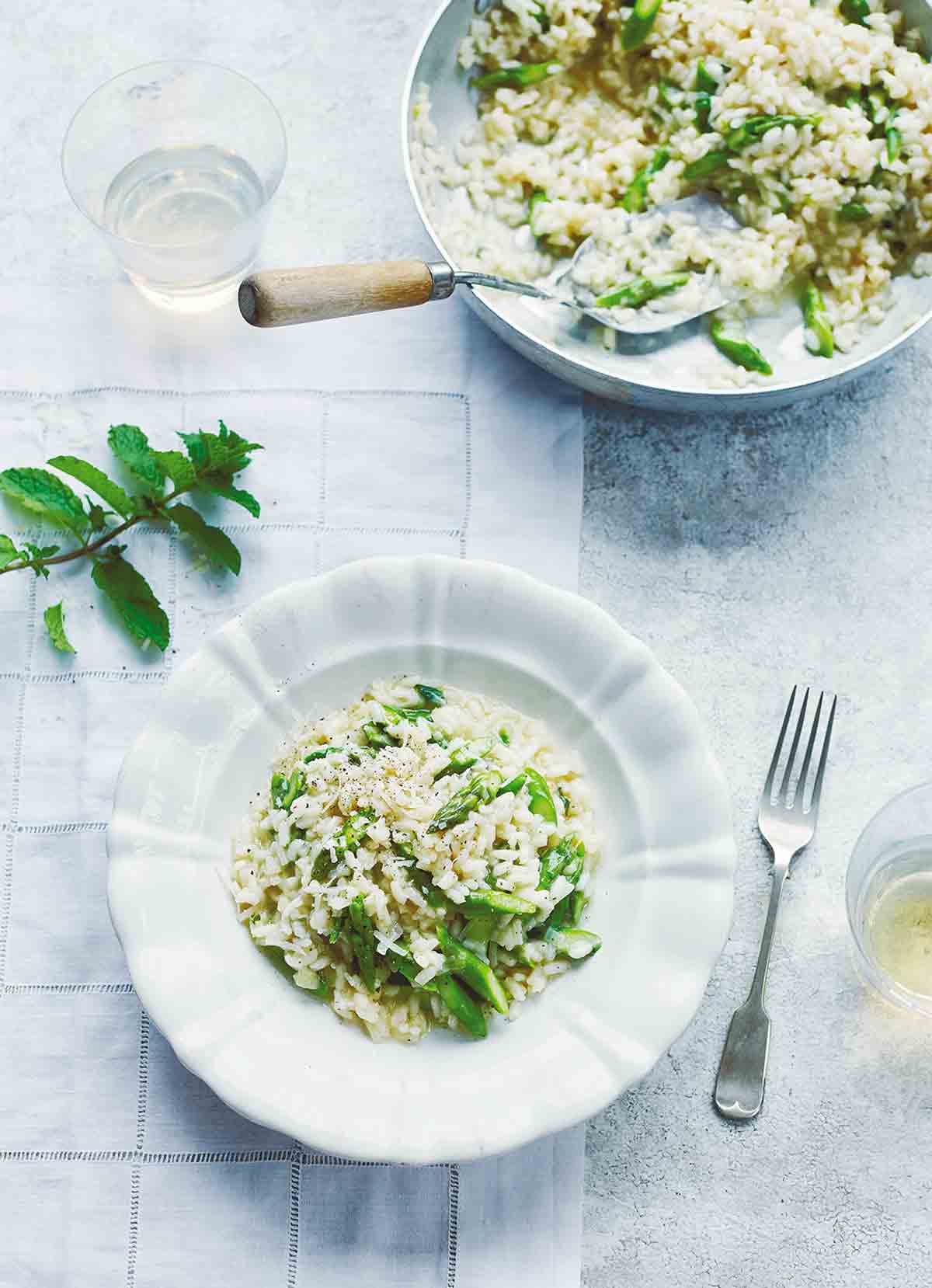 This asparagus risotto is an easy spring riff on risotto that still manages to maintain all the rich, indulgent, creamy goodness of the Italian classic. Creamy rice is juxtaposed with spears of tender asparagus and flecks of fresh mint. A glass of wine in hand while you're stirring makes the zen-like process all the more pleasant.–Angie Zoobkoff
WHAT'S THE SECRET TO GOOD RISOTTO?
Risotto might seem like something that's just for chefs or nonnas. But that's not true. If we can do it, so can you, no matter what you've heard. But we do have a couple of tips to make it easier. First, heat that broth in a separate saucepan. Putting anything cold into your rice mixture will just slow the entire process. And we know that you've been told to stir constantly, but that's actually not necessary and might, in fact, be too much. You want to keep things moving but don't be overzealous as you'll add too much air to the risotto and cool it down, which once again means you'll end up taking longer than necessary.
Asparagus Risotto FAQs
Should I rinse my rice before preparing risotto?
Please don't rinse! Risotto needs the rice's starch to dissolve into and thicken the cooking liquid. Starch is the driving force behind risotto's creamy, dreamy final texture. Rinsing can wash some of those necessary, valuable starches away, leaving you with… rice.
Can I use something besides arborio rice to make risotto?
Yes, as long as you remember that the amount of starch in your rice is critical to the success of your dish – so only medium or short-grain varieties of rice are suited for a proper risotto. Avoid any long-grain rices, like basmati or jasmine, as they don't contain enough starch to achieve that creaminess. The most recommended short-grain varieties are Carnaroli, Arborio, and Vialone Nano. Of those, Arborio is the most widely available, and typically less than half the price of Carnaroli or Vialone Nano.
What can I add during cooking if I prefer to not use wine?
The best substitute for white wine is an equivalent amount of chicken broth with a few drops of lemon or lime juice. In this recipe, you'd simply add 1/2 cup of chicken broth with a couple of drops of lemon/lime juice in it in place of the wine in step two and reduce until the broth is absorbed – then move to step three. Avoid using any type of vinegar in place of wine, as that could ruin the taste of your final product.
Asparagus Risotto
This asparagus risotto is easy and creamy and made with asparagus, Parmesan, shallots, garlic, butter, white wine, and Italian Arborio rice. A lovely spring riff on a traditional Italian classic in less than an hour.
Ingredients
10 1/2

ounces

asparagus

,

about 30 thin spears

2

tablespoons

olive oil,

plus more for drizzling

1

tablespoon (1/2 oz)

unsalted butter

2

small shallots

,

finely chopped

9

ounces

risotto rice,

about 1 1/4 cups, such as Arborio

1/2

cup

white wine

,

such as sauvignon blanc

2

garlic cloves

,

minced

3 to 4

cups

store-bought or homemade chicken stock or vegetable stock

1

ounce

Parmesan cheese

,

about 1/2 cup, grated

Small handful fresh mint leaves

,

finely chopped

Sea salt

Freshly ground black pepper
Instructions
Snap the woody ends off the asparagus and toss them in the compost. Slice the asparagus spears on the diagonal into 1/2-inch (1-cm) lengths.

In a large, wide saucepan or Dutch oven over medium heat, warm the oil and butter. Add the shallots and rice and cook, stirring constantly, until the shallots are softened and the rice is just beginning to color, 4 to 6 minutes. Pour in the wine, add the garlic, reduce the heat to medium-low, and gently cook until the wine is fully absorbed, 2 to 3 minutes.

Meanwhile, in a small saucepan over medium-high heat, warm the stock.

Now simply add a ladleful of stock at a time and stir almost constantly throughout the process. As you add your first ladleful of stock to the rice, you're aiming for about 1/2 cup. Keep stirring almost constantly as it cooks. Only add the next ladleful of stock when the previous one has been almost completely absorbed—it's this slow and gentle process that coaxes the risotto to creaminess.

Cook the risotto, gradually adding a ladleful of stock as the previous one is almost completely absorbed, for 20 to 25 minutes. You'll need to add a total of 3 to 4 cups stock. You're looking for the risotto to be creamy but not runny and almost but not quite tender. Then stir in the asparagus and cook for 5 minutes more, adding more stock if needed. At this point, the risotto should be tender and creamy, and the asparagus should be tender but not mushy.

Remove the saucepan or Dutch oven from the heat. Add the Parmesan and mint and use a wooden spoon to beat the risotto to ensure everything is well combined. Taste and, if desired, season with salt and/or pepper to taste. If you'd like the risotto to become a little less liquidy, cover and let it rest for a few minutes. Otherwise ladle it into serving dishes and prepare to accept compliments.
Nutrition
Serving:
1
portion
Calories:
269
kcal
Carbohydrates:
38
g
Protein:
6
g
Fat:
8
g
Saturated Fat:
3
g
Trans Fat:
1
g
Cholesterol:
9
mg
Sodium:
510
mg
Potassium:
278
mg
Fiber:
3
g
Sugar:
2
g
Vitamin A:
476
IU
Vitamin C:
12
mg
Calcium:
84
mg
Iron:
3
mg
Nutrition information is automatically calculated, so should only be used as an approximation.
Recipe © 2017 Flora Shedden. Photo © 2017 Laura Edwards. All rights reserved.
---