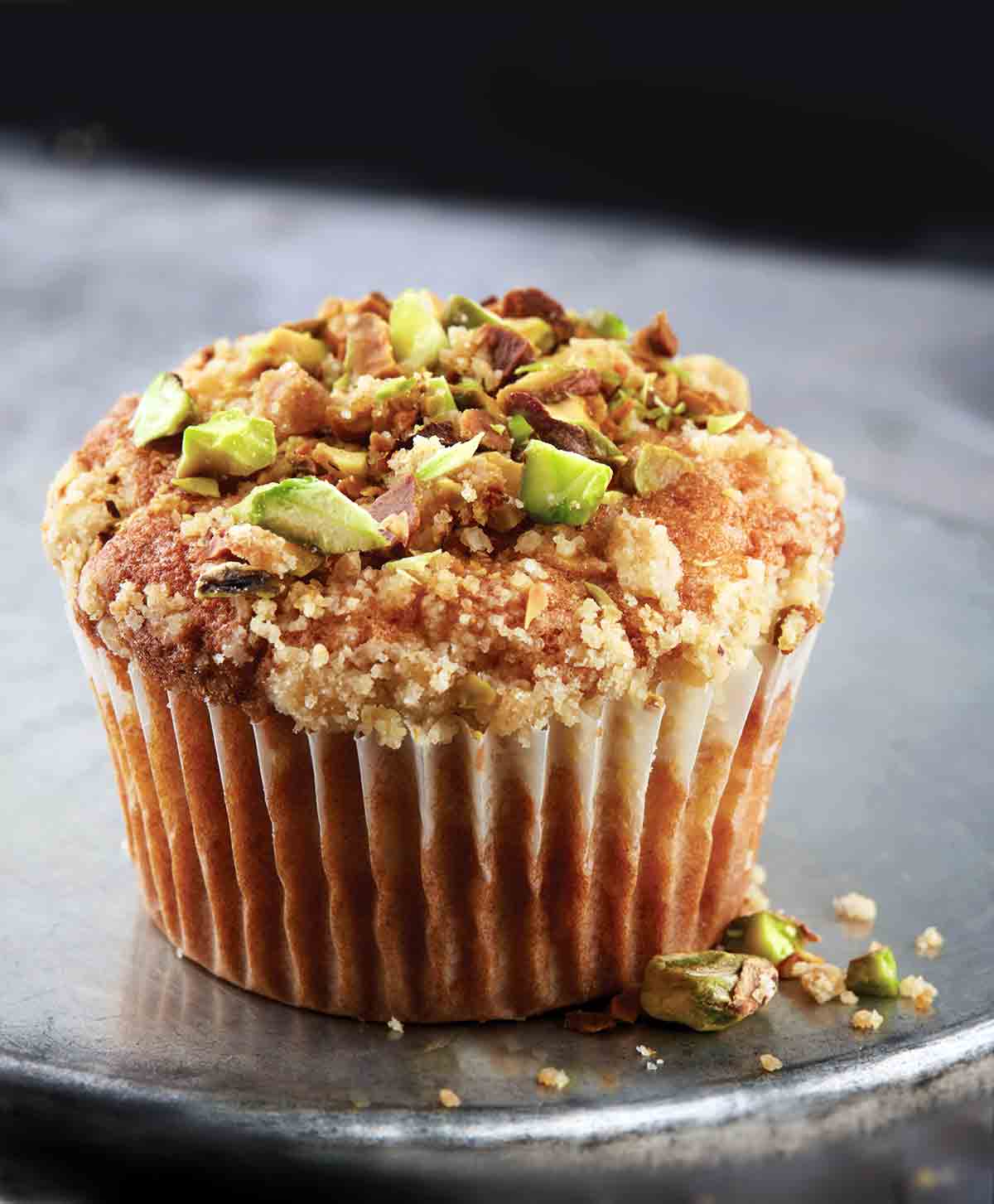 These apple spice muffins with streusel and pistachios are flecked with grated apple to make them crazy moist and flavorful. And they're topped with a buttery brown sugar and pistachio streusel. Perfect as breakfast or an on-the-go nosh.
These apple spice muffins with pistachio streusel are currently on breakfast repeat for us. And, truth be told, have been for quite a while. So lovely. And, thankfully, even sorta healthful.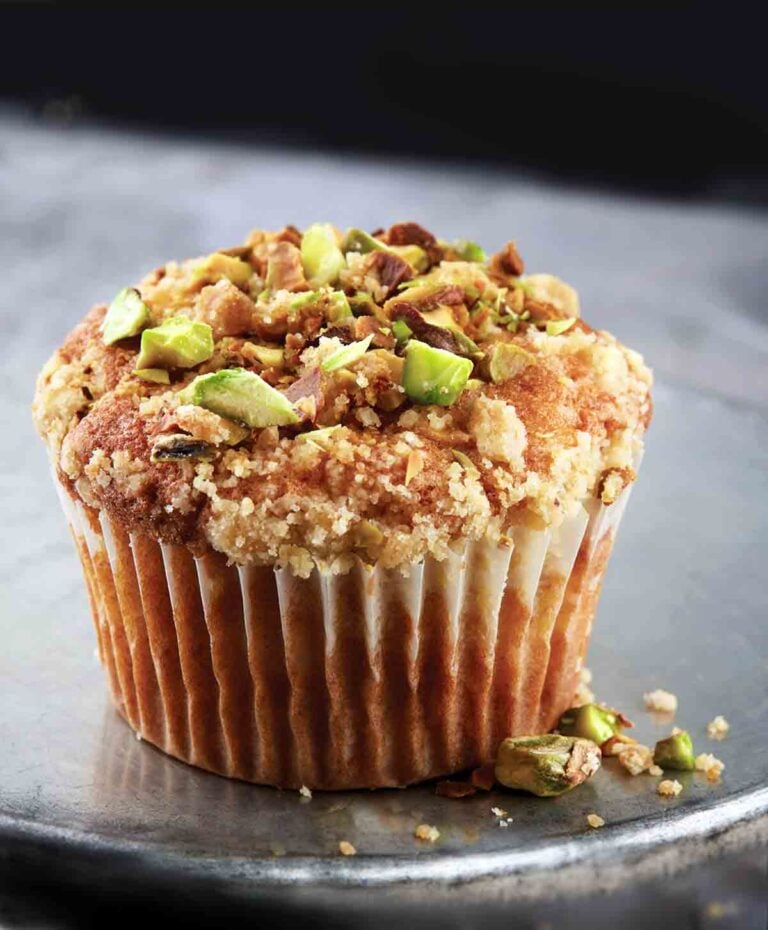 Apple Spice Muffins with Pistachio Streusel
These apple spice muffins with streusel and pistachios are flecked with grated apple to make them crazy moist and flavorful. And they're topped with a buttery brown sugar and pistachio streusel. Perfect as breakfast or an on-the-go nosh.
Ingredients
For the pistachio streusel
1/2

cup plus 1/3 cup

all-purpose flour

1/2

cup

shelled unsalted pistachios

coarsely chopped

1/4

cup

granulated sugar

2

tablespoons

(packed) light brown sugar

1/2

teaspoon

kosher salt

1/4

teaspoon

baking powder

1/2

stick

unsalted butter

melted
For the apple spice muffin batter
1

stick

cold unsalted butter

diced

1

cup

granulated sugar

1/4

cup

sour cream

at room temperature

2

large

eggs

at room temperature

1

teaspoon

vanilla extract

1

teaspoon

fresh lemon juice

2

cups

all-purpose flour

1 1/2

teaspoons

baking powder

1/2

teaspoon

baking soda

1/2

teaspoon

ground cinnamon

1/4

teaspoon

freshly grated nutmeg

1/2

teaspoon

kosher salt

2

medium

Granny Smith apples
Instructions
Make the pistachio streusel
In a small bowl, combine the flour, pistachios, granulated sugar, brown sugar, salt, and baking powder, stirring well.

Drizzle the butter over the mixture and use your fingers to squeeze it into pea-sized clumps. Spread the mixture out on a plate or pan and freeze while you make the muffin batter.
Make the apple spice muffin batter
Preheat the oven to 350°F (177°C). Line 18 standard muffin cups with paper liners.

In the bowl of a stand mixer, gently stir or toss the butter and granulated sugar until the butter is coated. Attach the bowl and paddle to the mixer and beat the butter and sugar on medium speed until a paste forms and there are no visible clumps of butter, about 5 minutes.

In a small bowl, whisk together the sour cream, eggs, vanilla, and lemon juice. Reduce the mixer speed to low and slowly drizzle in the egg mixture. With a rubber spatula, scrape down the sides of the bowl.

In a separate bowl, sift the flour, baking powder, baking soda, cinnamon, nutmeg, and salt together. With the mixer on low speed, gradually add the dry ingredients to the butter and mix until just incorporated.

Cut the apples away from the core in 4 sections. Place a box grater over a plate and, holding the apples by the peel side, grate the apples against the large side of the grater until you're left with just the peel. Discard or compost the peels.

Immediately fold the grated apples into the batter.
Assemble and bake the muffins
Divide the batter evenly among the lined muffin cups. Remove the streusel from the freezer and loosen it with your fingers. Evenly sprinkle the streusel mixture over the muffin batter in the pans.

Bake in the center of the oven until golden brown and a knife inserted in the center of a muffin comes out clean, 22 to 33 minutes.

Cool the muffins in the pan. Serve slightly warm or at room temperature.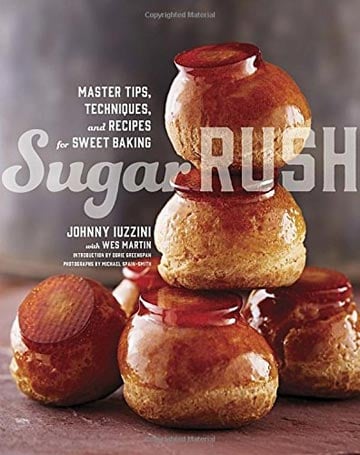 Nutrition
Serving:
1
muffin
Calories:
235
kcal
Carbohydrates:
33
g
Protein:
3
g
Fat:
11
g
Saturated Fat:
6
g
Polyunsaturated Fat:
1
g
Monounsaturated Fat:
3
g
Trans Fat:
1
g
Cholesterol:
43
mg
Sodium:
173
mg
Potassium:
132
mg
Fiber:
1
g
Sugar:
18
g
Vitamin A:
311
IU
Vitamin C:
1
mg
Calcium:
35
mg
Iron:
1
mg
Nutrition information is automatically calculated, so should only be used as an approximation.
---
Recipe Testers' Reviews
I am very picky about muffin recipes. I have tried so many that were fine, but not ones I would make again or take to something special. My description of the perfect muffin would be one that is slightly more dense than a cupcake, very moist, has amazing flavor, and has some added item for texture. This recipe meets and exceeds all my expectations. The spices and additions of sour cream and apple to this batter create a moist coffee cake-like muffin that's good enough to stand alone…but the streusel makes these truly special and worthy of taking to a special breakfast or brunch.
I've never had pistachios in a streusel and found the flavor to be a wonderful change from the usual nuts, but if you don't have pistachios, the recipe would work equally well with most other nuts or a blend of nuts.
There is plenty of topping to cover all 18 muffins with a thick layer. My muffins took 28 minutes to bake. We let them cool slightly and tried them warm…so good they could be a dessert with ice cream but also perfect for breakfast.
With just family here they lasted a few days and were still wonderful 2 days later.
Select a Tester
These muffins were a delightful surprise! I love pistachios and I love apples, but I had no idea that these two items combined in a muffin would be so good. And boy, were they. Personally, I'm normally not a big muffin fan because the flavors aren't all that exciting most places. These muffins have me changing my outlook on muffins in general. I'd love to see these in more bakeries.
Now, don't worry when you have your pre-apple batter and it's looking a little thick. The moisture from the apples will fix that as soon as you fold them in!
I made a second batch with salted pistachios just to see how that worked out and I actually preferred the salted version. The savory of the salt and pistachio really nicely contrasted with the sweet of the apples.
Muffins are supposed to be a bit on the "dense and moist" side and not the light and fluffy side of the muffin-cupcake spectrum in my opinion. These apple spice muffins are decidedly more cupcake than muffin. They are airy, fluffy, and cakey. As such, they aren't what I like to eat in the morning when I want a muffin and I was going to initially give them a lower score. However, my wife loved them for the exact reason I did not. She enjoyed the airy texture. As long as you know what this recipe will produce and this is your preference, then these baked goodies are a winner.
I loved the flavor. The spice is balanced and plays really well with the apples and the streusel. That Streusel, BTW, alone is worth making as a topping for a peach, apricot, or plum tart. It's fantastic.
The cupcakes work very well as a dessert with a scoop of vanilla ice cream.
I see no good reason to dirty another bowl to mix the sour cream and eggs in along with the vanilla and lemon juice. Just add them in the order listed directly into the mixing bowl and mix. I had no problem with this approach.
The quantity here is a bit too small for my stand mixer. I used my handheld mixer and it worked great.
Does anyone actually have an 18-muffin tin? Mine is a 12-muffin tin and the recipe made 12 perfectly sized muffins in it. If you use it to make 18, I think they will be too small and it's inconvenient to bake 12 and then bake another 6. Just make 12.
These muffins are delicious and I will definitely make them again. They baked in 25 minutes and were delicious warm or at room temperature. I may add a little extra cinnamon next time but otherwise they were perfectly delicious!
Originally published January 22, 2020