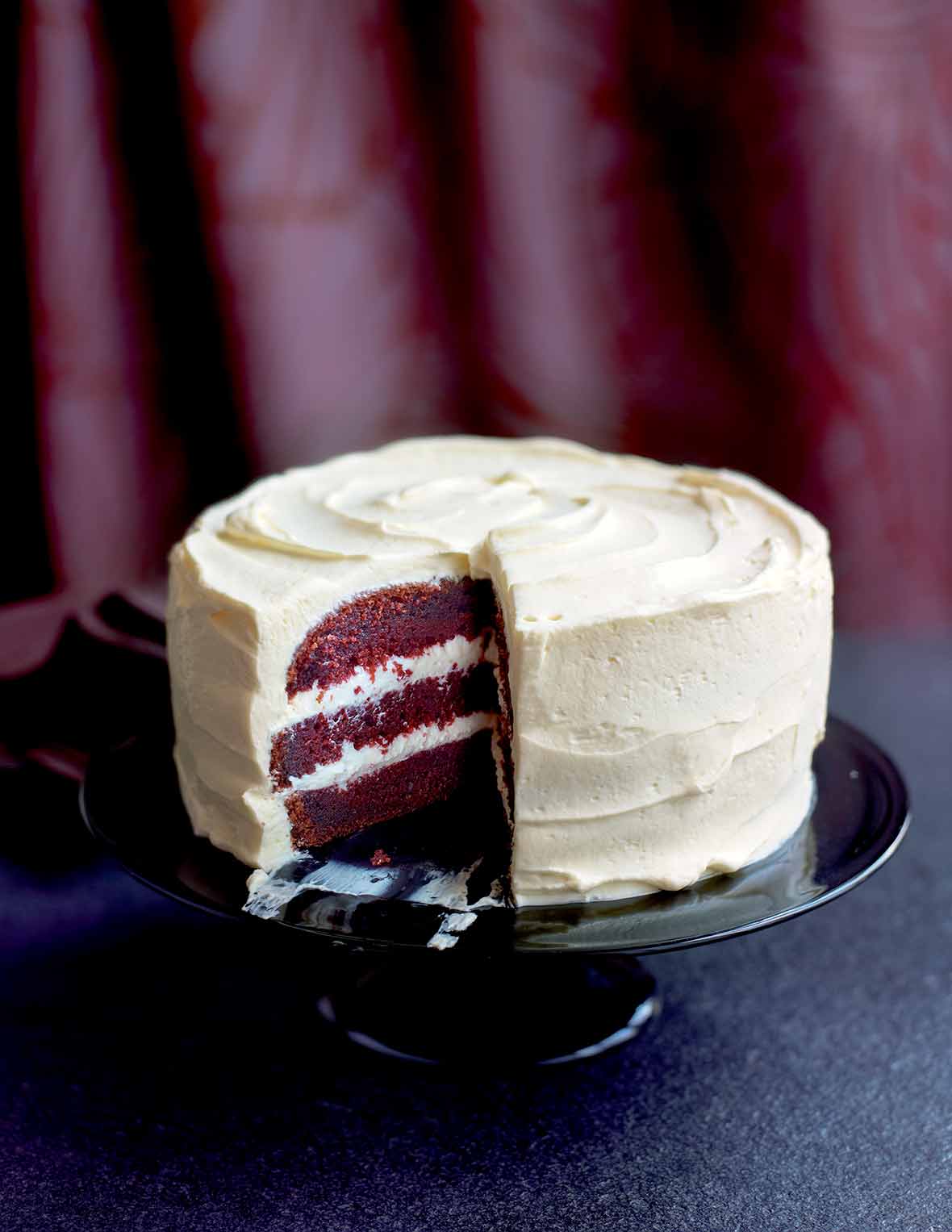 The frosting for this ever-popular red velvet cake recipe is very different from most other cream cheese frostings because it's lightened with mascarpone and whipped cream. If you prefer a sturdier frosting, simply omit the whipped cream.–Bea Vo
LC Seeing Red Note
We're not so into artificial coloring. We're not trying to pass judgment or incite ire, mind you. We're simply saying that if you'd prefer not to taint your red velvet creation with artificial tint, there's an increasing array of natural food colorings nowadays. They still lend a rich hue, they just eschew multisyllabic ingredients and frighteningly numbered names like Red No. 40. Don't worry, you'll still be seeing red when you slice into this cake.
And if you wish to see quite a lot of red when you slice into your cake, rather than slicing a single cake into skinny layers that you plop on top of one another as this recipe suggests, bake an extra batch or two of red velvet goodness and stack each individual layer cake for the towering effect that you see in the photo above. Now THAT'S seeing red.
Red Velvet Cake
Quick Glance

(3)

1 H
2 H

Serves 8 to 12
Print Recipe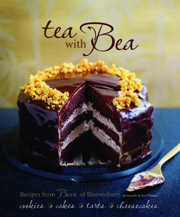 Ingredients
Email Grocery List
For the cake
For the cream cheese frosting
Directions
Make the cake
Preheat the oven to 350°F (176°C). Butter or oil an 8-inch round cake pan and line it with parchment paper.
Whisk the eggs, sugar, and salt in a large bowl. Still whisking, slowly add the oil in a steady stream until completely combined and the mixture has thickened slightly. Stir in the vanilla extract.
Mix the buttermilk, baking soda, and vinegar in a smaller, separate bowl. The mixture should bubble quite actively at the beginning and then fade.
In another bowl, combine the flour and cocoa powder and sift to combine.
Stir 1/3 of the flour mixture into the egg mixture and mix until well incorporated. Then add half of the bubbly buttermilk mixture and mix until just combined. Repeat with 1/2 of the remaining flour mixture, then the rest of the bubbly buttermilk mixture, and, finally, the last of the flour mixture. Mix until thoroughly combined, then add the food coloring and stir until thoroughly incorporated. Spoon the mixture into the prepared cake pan.
Bake the cake in the preheated oven for 28 to 35 minutes, until a wooden skewer inserted in the middle comes out with almost no crumbs attached and the surface of the cake, when gently pressed with your fingertips, springs back instead of sinks. It may be necessary to bake the cake for an additional 5 to 10 minutes. Let the cake cool in the pan on a wire rack for about 10 minutes, then invert the cake onto the rack to cool completely.
Make the cream cheese frosting
Whisk or beat the heavy cream until stiff peaks form. Set aside.
In another bowl, beat the mascarpone, cream cheese, confectioners' sugar and vanilla until well combined. Add 1/3 of the whipped cream to the cream cheese mixture and beat until combined. Gently fold in the rest of the whipped cream until thoroughly combined. Cover and refrigerate for about 15 minutes. (This frosting must always be refrigerated.)
Cut the cooled cake horizontally into 3 equal layers. Using a spatula or a knife, slather a little of the cream cheese frosting over one layer of cake and top with another layer. Spread a little more frosting over the second layer and top with the final layer. Spread the remaining frosting all over the cake.
Print Recipe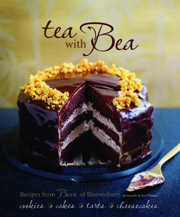 Recipe Testers Reviews

This red velvet cake is wonderful and easily outshines other similar cakes that I've had, including red velvet in cupcake form. Plus the frosting is awesome. I'm not a frosting person, but I was eating this straight with a spoon! I made a couple of adjustments to the recipe. Since my grocery store ran out of buttermilk, I made my own by letting 2/3 cup whole milk and 2/3 tablespoon of lemon juice sit for 10 minutes or so. I also couldn't find red food coloring paste, so instead I used 1 1/2 tablespoons of red food coloring liquid, and the amount resulted in the perfect shade of red velvet cake. I cooked the cake for a total of 45 minutes. Finally, in the future, I would only cut the cake in half rather than into thirds, as it can get messy and the layers are thin.

This Red Velvet Cake is as easy as can be. Simple steps and easy to put together. The frosting is just sweet enough, though I did not add the heavy cream. I prefer a thicker frosting. I would definitely make this cake again, and maybe turn it into cupcakes!

The flavors of this rich, moist red velvet cake— slightly chocolatey, not too sweet, with a creamy, cream-cheesy frosting—are what make it a tester's choice.
Making the batter wasn't complicated, although I did buzz regular granulated sugar to get fine sugar and it's always tricky knowing how much to buzz to get fine but now powdered sugar. Where I struggled was with the baking. After the first 35 minutes, the batter in the middle was still very wet, so I did another 5 minutes. Then I did at least four 2-minute additions. I was worried that the edges would come out dry and overdone. Since I was giving the cake away, I don't know the answer to that question.
My tasting note is based on a couple cupcakes I made with some of the batter as I absolutely had to try it. The cupcakes, of course, took much less time. The finished cake didn't sink in the middle when it cooled, so I guess it was done. It looked like a marvelous cake (despite my poor frosting capabilities) and I definitely need to try it again. It traveled quite well in a 10-by-10-by-10 cake box.
Red Velvet Cake Recipe © 2011 Bea Vo. Photo © 2011 Kate Whitaker. All rights reserved. All materials used with permission.
If you make this recipe, snap a photo and hashtag it #LeitesCulinaria. We'd love to see your creations on Instagram, Facebook, and Twitter.