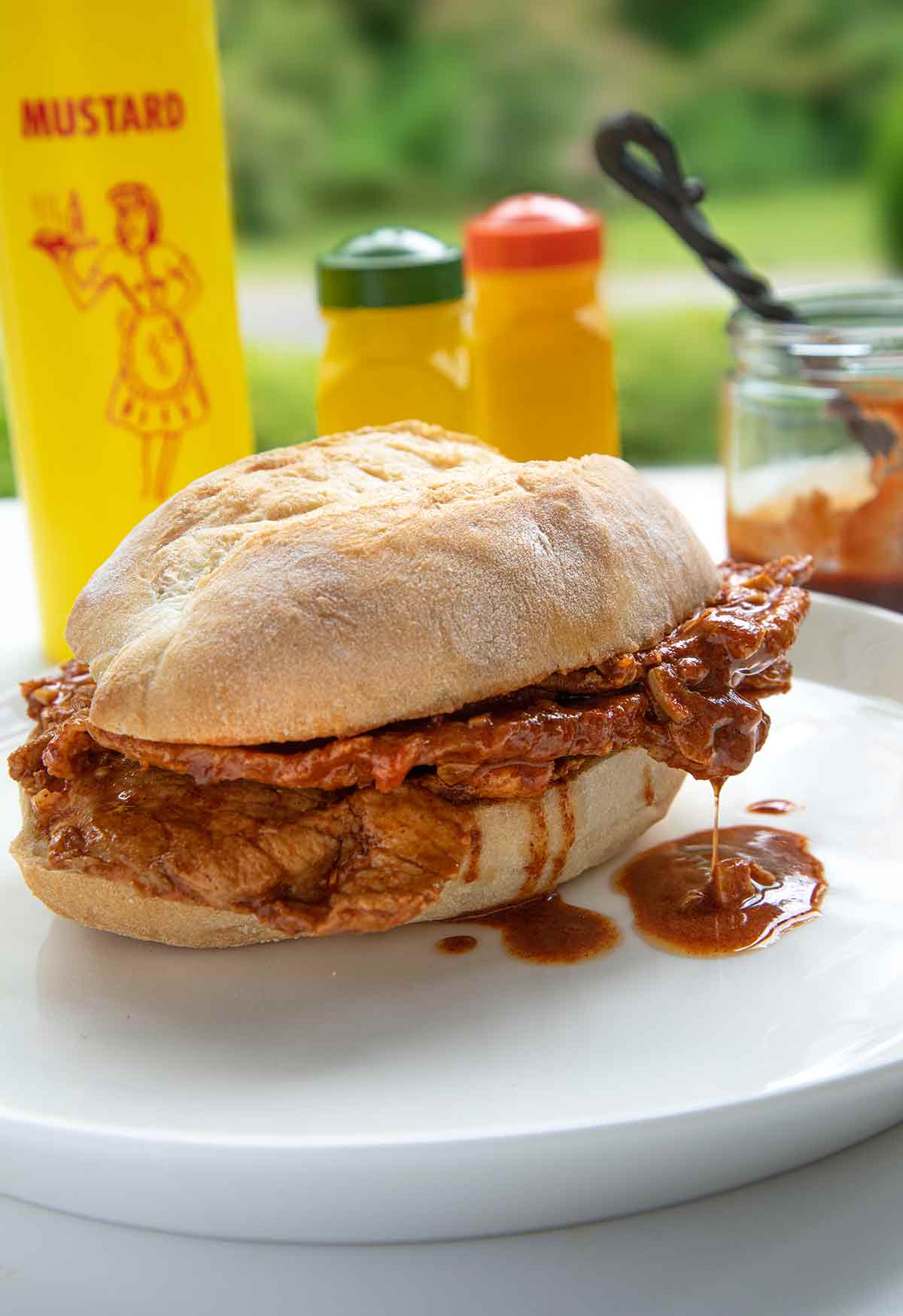 In the pantheon of great Portuguese foods, there are few sandwiches that are more superlative than the bifana. Despite sounding like a beef sammie, bifanas are made from thinly pounded slices of pork marinated in white wine, paprika, garlic, bay leaf, and vinegar. It's a simple dish, an unadorned dish. They're such a casual meal, they're often eaten while standing at bifana "palaces," elbows up, a cold beer (or in my case, uma Coca) at the ready. Many people add a splash of piri-piri hot sauce and/or a squeeze of yellow mustard. Some care for caramelized onions on top. Purists want nothing but pork, bread, and sauce. I don't care how you take your bifana, but by all means, please, take one. You won't be sorry.–
Should I Sauce or Not Sauce my Bifana?
Just like there are lots of ways to serve bifanas, there's no hard and fast rule about what to do with the sauce they're cooked in. At some places in Lisbon, it's pork and bread–that's it. Não mais. Other cooks will ladle a bit of sauce over your pork. A few will dip the cut side of the top half of the roll. And then there are those radicals who will–wait for it–dunk the whole sandwich.
Me? I err on the side of sauce. But I also like to reduce it first, which is why it's a bit thicker than what you'll see in most places in Portugal. What are you going to do otherwise–throw it away?! Whether dripping or dry, few foods can best this humble icon.
UPDATE: Fabulous Tip on the Sauce
My Instagram friend Manuela Gil Pereira wrote, "[A good] bifana has a secret, it needs a very old sauce, a sauce that was used to make bifanas many times." And that makes sense. In Portugal, the meat simmers in huge skillets all day, and when the meat runs low more is added. So, if you want to be in on the secret, don't reduce the sauce as I do. Instead, bring it to a boil then set it aside. When it's cool, pour it in a container, and refrigerate or freeze it. The next time you want to make bifanas, just heat it up!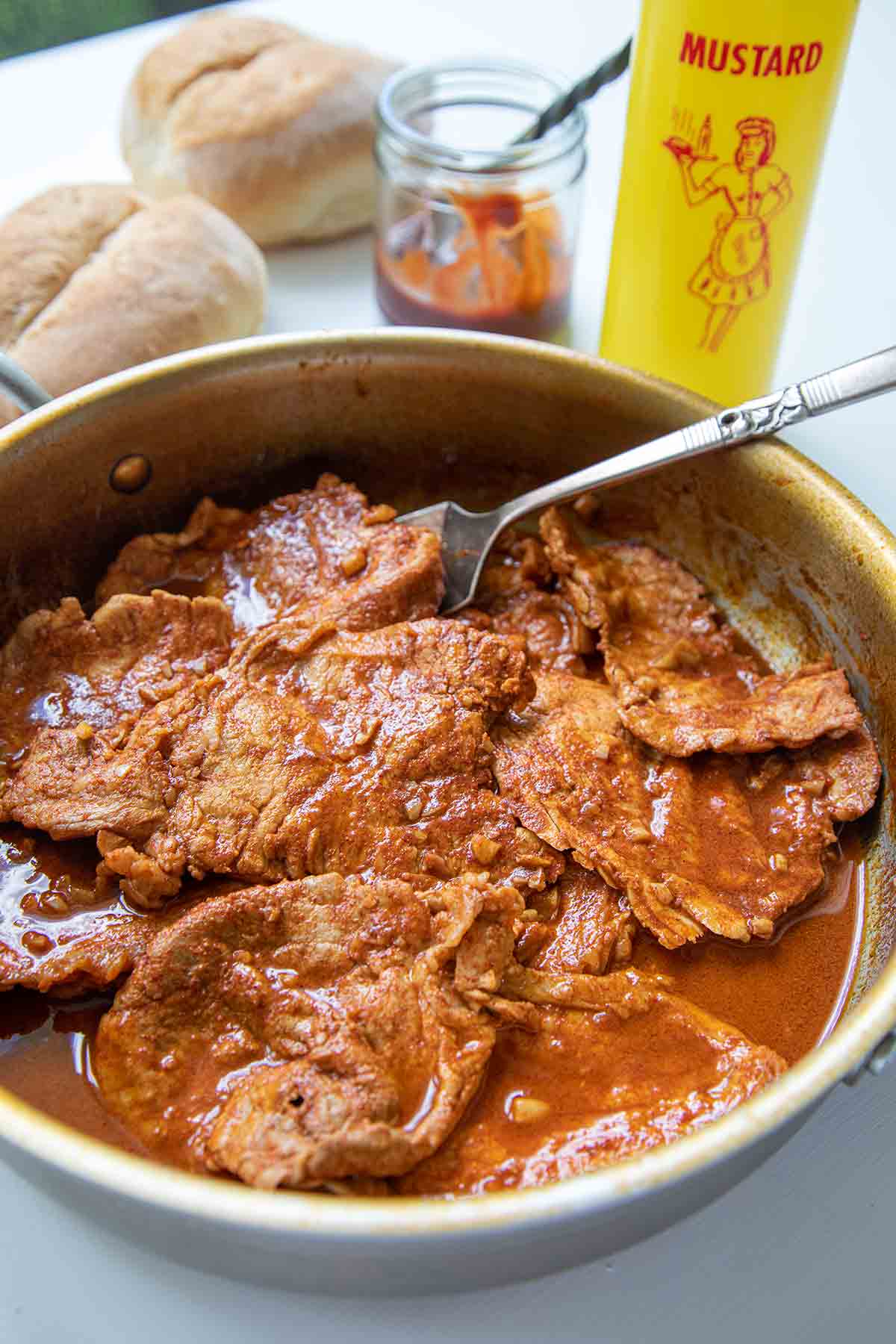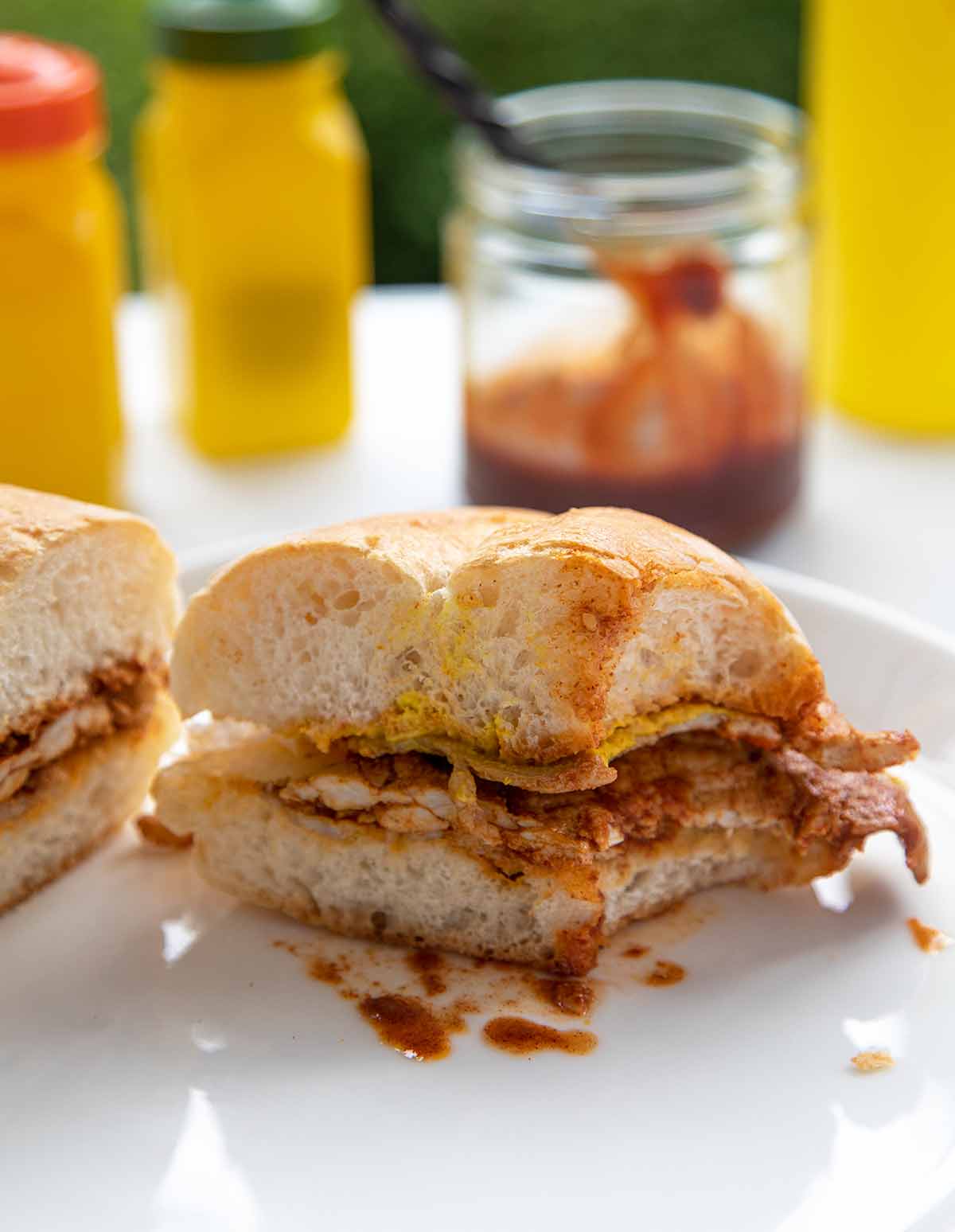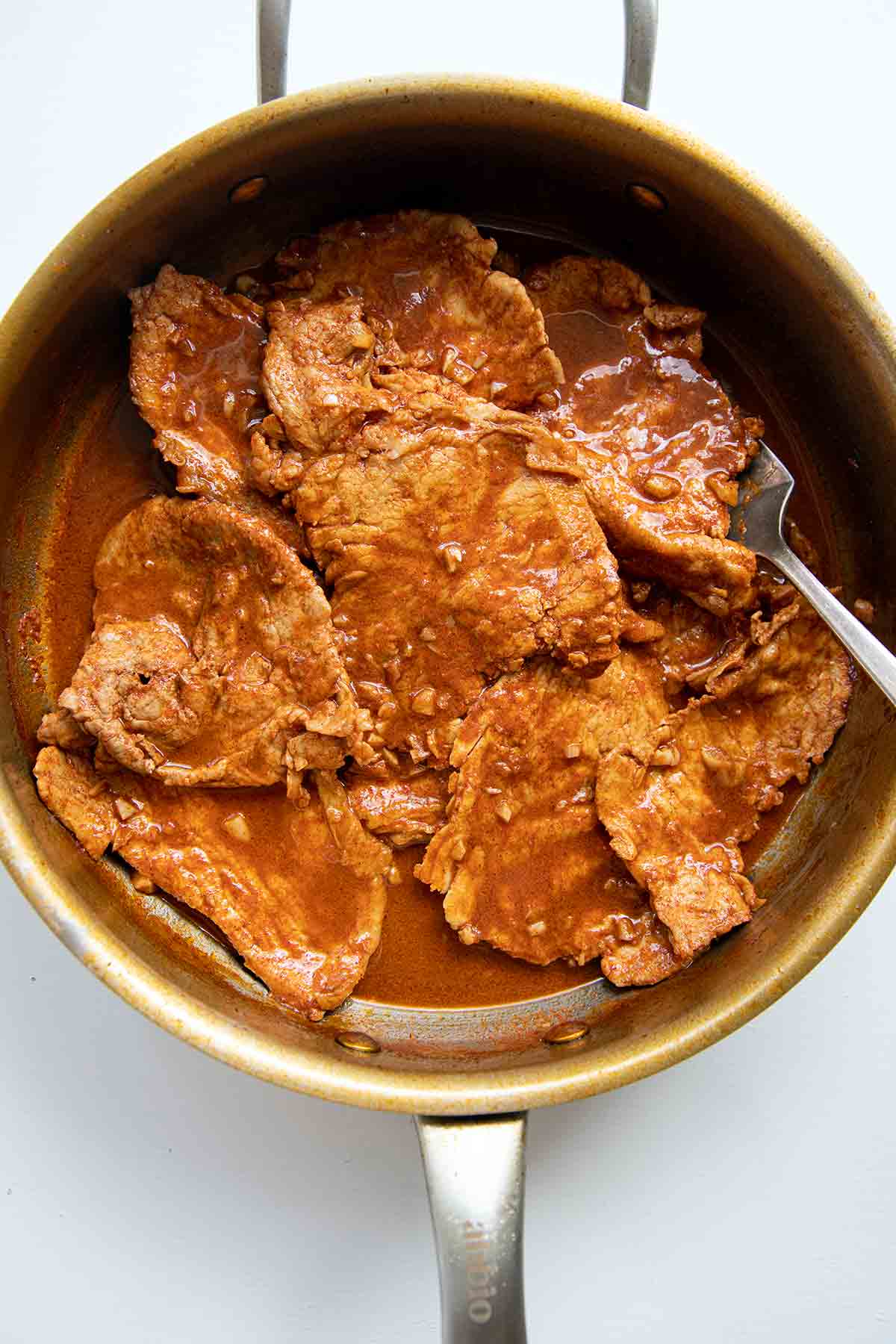 Bifanas ~ Portuguese Pork Sandwiches
Bifanas are traditional Portuguese sandwiches made with thin slices of pork that are marinated and simmered in a sauce of white wine, garlic, and paprika and served on soft rolls with plenty of mustard and piri-piri sauce.
Ingredients
1 1/2

pounds

thinly sliced pork top round, cutlets, or thin-sliced boneless pork chops

,

trimmed of fat

1 1/2

cups

white wine

6

garlic cloves

,

chopped

2

bay leaves,

broken in half

1

tablespoon

white wine vinegar

2

teaspoons

Diamond kosher salt (or 1 1/4 teaspoon Morton kosher salt)

3

tablespoons

lard

Papo secos or crusty rolls,

to serve

Mustard and piri-piri sauce,

for serving (optional)
Instructions
Slip a slice of top round, a pork cutlet or pork chop into a zip-top bag or between two pieces of plastic wrap and pound it with a meat tenderizer or rolling pin until it's very thin but not torn. Ideally, you want it to be the thickness of deli meat, less than 1/8 of an inch (3mm) thick. Repeat with the rest of the pork.

In a small bowl, stir together the wine, garlic, bay leaves, vinegar, paprika, and salt.

Add the pork slices to a shallow pan and pour the marinade over top. Stir the pork in the liquid, making sure the slices are pretty much submerged. Refrigerate the pan for 1 to 1 1/2 hours, stirring the meat several times.

Heat a large skillet over medium-high heat until very hot and add the lard. Fry the bifanas quickly until cooked through, about 1 minute per side. Add more lard if the pan threatens to dry out. Transfer the cooked bifanas to a plate.

Discard the bay leaves and pour the reserved marinade into the skillet and scrape up any stuck-on bits. Let the mixture boil until reduced by about 1/3, 4 to 6 minutes.

Add the bifanas back to the skillet, reduce the heat to low, and simmer to warm them through.

Slice the papo secos in half. Spoon some of the sauce over each half, pile with the pork, and, if desired, serve with the mustard and piri-piri sauce.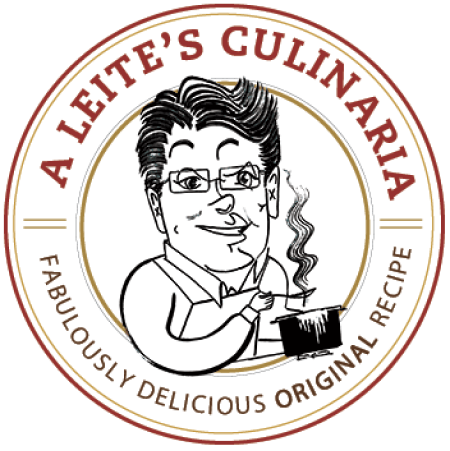 Nutrition
Serving:
1
sandwich
Calories:
541
kcal
Carbohydrates:
24
g
Protein:
41
g
Fat:
23
g
Saturated Fat:
7
g
Polyunsaturated Fat:
5
g
Monounsaturated Fat:
10
g
Trans Fat:
1
g
Cholesterol:
114
mg
Sodium:
1470
mg
Potassium:
804
mg
Fiber:
2
g
Sugar:
1
g
Vitamin A:
900
IU
Vitamin C:
2
mg
Calcium:
72
mg
Iron:
3
mg
Nutrition information is automatically calculated, so should only be used as an approximation.
Recipe © 2020 David Leite. Photos © 2020 David Leite. All rights reserved.
---
Recipe Testers' Reviews
As I was growing up, bifanas were the specialty offering at pork butchering gatherings. The "matança" (home-raised pork slaughtering party) brought families together, usually in November when the weather was cool enough to handle the meat products and there was enough time to home preserve these products for Christmas and the winter months. Butchering happened on day two and the loin was separated early enough to marinate pieces for the bifanas to be served for lunch as these served quite a large crowd.
Over the years, I've created my own version using pork tenderloin and lime juice (we used rangpur limes back home in the Azores). I'm also used to adding tomato paste in the sauce as well as adding a handful of cilantro at the end. While delicious, my recipe is quite the departure from the homemade bifanas of my youth. This recipe sounded closer to the Portuguese version and I was more than willing to add another recipe to my repertoire.
I liked that this recipe used a more economical cut of meat and that I could make it just as tender with pounding into very thin cutlets. I also liked the idea of using wine and just paprika in the sauce to be served on a papo seco versus on rice or potatoes.
I made a couple of modifications. First, I used fresh bay leaves. This was not to be creative but out of necessity, as I don't keep dry bay leaves in my pantry. I've been using fresh bay leaves in all my recipes for years as I have a shrub in my kitchen. It's very hard to go back to dried once you've worked with fresh.
My second modification was adding the juice of 1/2 lime to the sauce. Perhaps for others tasting this recipe, the acidity would be fine. Since I'm used to lime juice in the marinade, I missed this little bit of extra acidity and, in my opinion, this just balanced all the flavors. In the end, I also needed a bit of green, and butter lettuce did the trick. You could serve this combination of bifana on a papo seco to any bifana aficionado and get a big smile in return!
I just happened to have a dozen freshly baked papo secos, or Portuguese rolls, that were in want of a delicious filling…what a happy coincidence! I've never had bifanas before but I knew just from the ingredient list that I would love them. White wine, pork, a ton of garlic, and paprika? Yes, please.
I used a Pinot Grigio because that's what I like to drink. If making these again, though, I might try with something less dry to add a little sweetness. My pork cutlets weighed just under 650 grams so we had two hearty sandwiches for dinner and one leftover the next day. If I had the foresight to pick up more pork, the given weight would have easily fed 4.
The biggest difference I found between the recipe and my version was that the pan didn't get anywhere close to drying out while frying the pork. In fact, I had to stop cooking and pour out a lot of liquid; I was quite careful when adding the pork to the very hot pan so that it was as dry as possible but it still released so much liquid that they didn't really "fry." After pouring out the liquid and adding more fat (I used duck fat), they did sizzle but it was still quite wet. Because of that, I also had to let the sauce cook down a little longer— about 6 minutes to reduce by 1/3.
One of the most famous Portuguese snacks and, at football matches in stadiums, always accompanied by beer! The secret: a very thin pork steak, in a marinade of wine, vinegar, garlic, paprika, and bay leaves, fried in lard until it is golden. It's served in a papo seco, a small oval bread, with pointed tips, which easily absorbs the sauce of the bifana. The popularity of this snack is so great that the McDonald's chain created McBifana!
I used sliced pork top round (8 slices); I used lard. I served each bifana with one papo seco and 1 1/2 tbsp of sauce over the bread. This amount of sauce was appropriate.