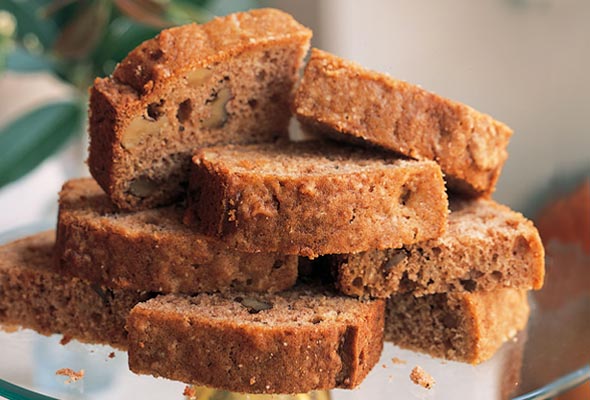 This spice-infused tea bread comes from the kitchen of Mrs. Cornelia Walker Bailey, historian, muse, and guardian angel of Sapelo Island, off the Georgia coast. Mrs. Bailey's family has lived on Sapelo Island since the year 1806, and her life's work is keeping their stories and wisdom alive and well. She works through words, telling stories, writing books, and sharing recipes for the food that has fed her ancestors for more than 200 years. This bread comes from The Foods of Georgia's Barrier Islands: A Gourmet Food Guide to Native American, Geechee and European Influences on the Golden Isles, a book she wrote with Yvonne J. Grovner and William "Doc Bill" Thomas.–Nancie McDermott
LC A Quick Bread with Pedigree Note
Though this quick bread is far from pretentious, it certainly has pedigree–and you don't need to know its geneology to know this. One taste tells all.
Pear Bread
Quick Glance
15 M
1 H, 30 M

Makes 2 9-by-5-inch loaf pans or one 10-inch tube pan
Print Recipe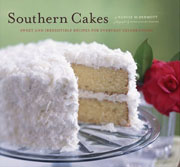 Ingredients
For the pear bread

3 cups all-purpose flour, plus more for the pan(s)

1 teaspoon baking soda

1/4 teaspoon baking powder

1 teaspoon salt

1 tablespoon ground cinnamon

1 cup chopped walnuts

3/4 cup butter, softened, or 3/4 cup vegetable oil, plus more for the pan(s)

3 eggs, lightly beaten

2 cups sugar

2 cups peeled and finely grated ripe but firm pears

2 teaspoons vanilla extract

Confectioners' sugar (optional)

For the buttermilk glaze

1/2 cup buttermilk (either low-fat or full-fat)

1/2 cup sugar

1/4 cup butter

1 1/2 teaspoons cornstarch or flour

1/4 teaspoon baking soda

1 teaspoon vanilla extract
Directions
Make the pear bread

1. Heat the oven to 350°F (175°C) and lightly butter and flour a 10-inch tube pan or two 9-by-5-inch loaf pans.

2. Combine the flour, baking soda, baking powder, salt, and cinnamon in a large bowl. Scoop out about 1/4 cup of the flour mixture and combine it in a small bowl with the chopped walnuts, tossing to coat the nuts.

3. In a medium bowl, combine the butter or oil, eggs, sugar, grated pear, nuts, and vanilla, and stir to mix everything well. Scrape the pear mixture into the flour mixture and stir just until the flour disappears and the batter is evenly moistened.

4. Quickly and gently scrape the batter into the prepared pan(s) and bake at 350°F (175°C) for 60 to 70 minutes, or until the bread is handsomely browned and firm on top and a wooden skewer inserted in the center comes out clean.

5. Cool the bread in the pan on a wire rack or folded kitchen towel for about 10 minutes. Then turn it out onto a plate or a wire rack to cool completely, top side up. Serve as is, sprinkle with confectioners' sugar, or ice with a simple Buttermilk Glaze.

Make the buttermilk glaze

6. In a medium saucepan combine the buttermilk, sugar, butter, cornstarch, and baking soda. Bring to a gentle boil. Remove at once, stir well, and cool to room temperature. Add the vanilla and then set the glaze aside until the cake is done. Spoon the Buttermilk Glaze over the warm cake and cool completely.
Pear Bread Recipe © 2007 Nancie McDermott. Photo © 2007 Becky Luigart-Stayner. All rights reserved. All recipes and photos used with permission of the publisher.
If you make this recipe, snap a photo and hashtag it #LeitesCulinaria. We'd love to see your creations on Instagram, Facebook, and Twitter.