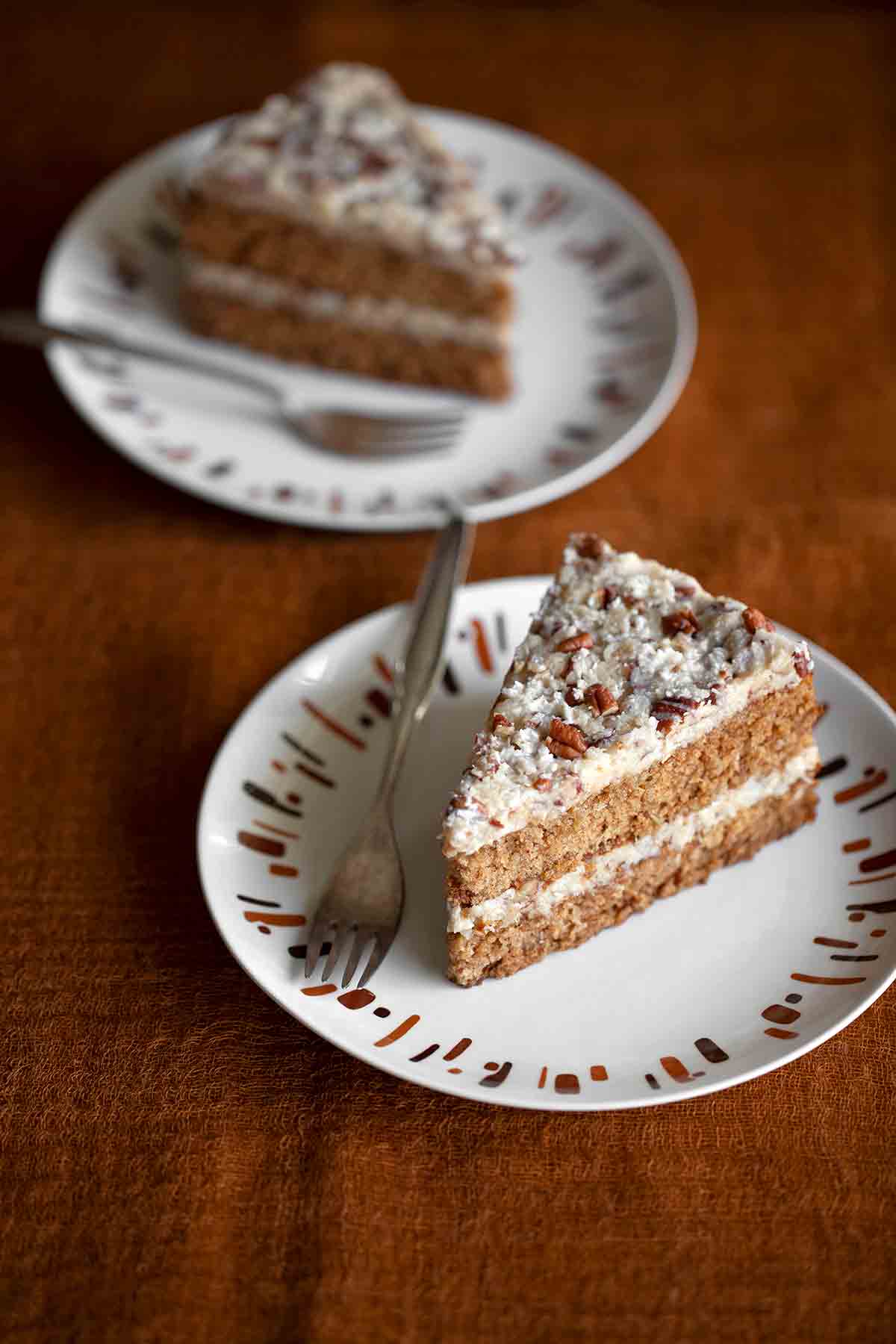 LC Got Breakfast Cake? Note
We can think of no better accompaniment to this oatmeal cake than a tall drink of cold white stuff—whether cow's milk or almond milk or yak milk or whatever milk you fancy. Even better, got breakfast cake? Cuz make no mistake, that's exactly what this is.
Oatmeal Cake
Quick Glance

(2)

50 M
1 H, 50 M

Serves 8 to 10
Ingredients
For the oatmeal cake
For the boiled frosting
Directions
Make the oatmeal cake
In a medium bowl, combine the oatmeal, butter, and boiling water, and stir to mix them together a bit. Set aside for 20 to 30 minutes.
Heat the oven to 350°F (175°C) and generously grease and flour two 9-inch round cake pans or one 13-by-9-inch pan.
In a medium bowl, combine the flour, baking soda, salt, and nutmeg, and stir with a fork to mix everything well. In a large bowl, combine the granulated and brown sugars, eggs, and vanilla and beat with a mixer on medium speed for about 2 minutes, until thick and light colored, stopping to scrape down the bowl when neccessary.
Stir the flour mixture into the egg mixture in 2 batches, beating just long enough to make the flour disappear after each addition. Mix in the oatmeal, stirring and folding to combine everything into a nubbly but well-mixed batter.
Scrape the batter into the prepared pan(s) and bake for 25 to 30 minutes, until the cake is golden brown, springs back when touched lightly in the center, and begins pulling away from the sides of the pans.
Cool the cake in the pan(s) on wire racks or folded kitchen towels for 10 minutes. If using a couple round cake pans, carefully turn the cakes onto wire racks, turn them over again so they are top side up, and let cool completely. If using a rectangular pan, let the cake cool completely in the pan.
Make the boiled frosting
In a medium saucepan, combine the butter, evaporated milk, and sugar, and place the pan over medium heat. Bring to a gentle boil, stirring now and then. Remove the pan from the heat and stir in the vanilla, pecans, and coconut. Beat well with a wooden spoon, a whisk, or a mixer on low speed until you have a thick, cool frosting.
Assemble the cake
If frosting a couple round cakes, place one of the cakes on a cake stand or plate and spread half the frosting on top. Carefully place the second cake on top of the first and spread the remaining frosting on top. Slice into wedges and serve. If frosting a single rectangular cake, leave the cake in the pan and spread the frosting over the top. Slice it into squares and serve it straight from the pan.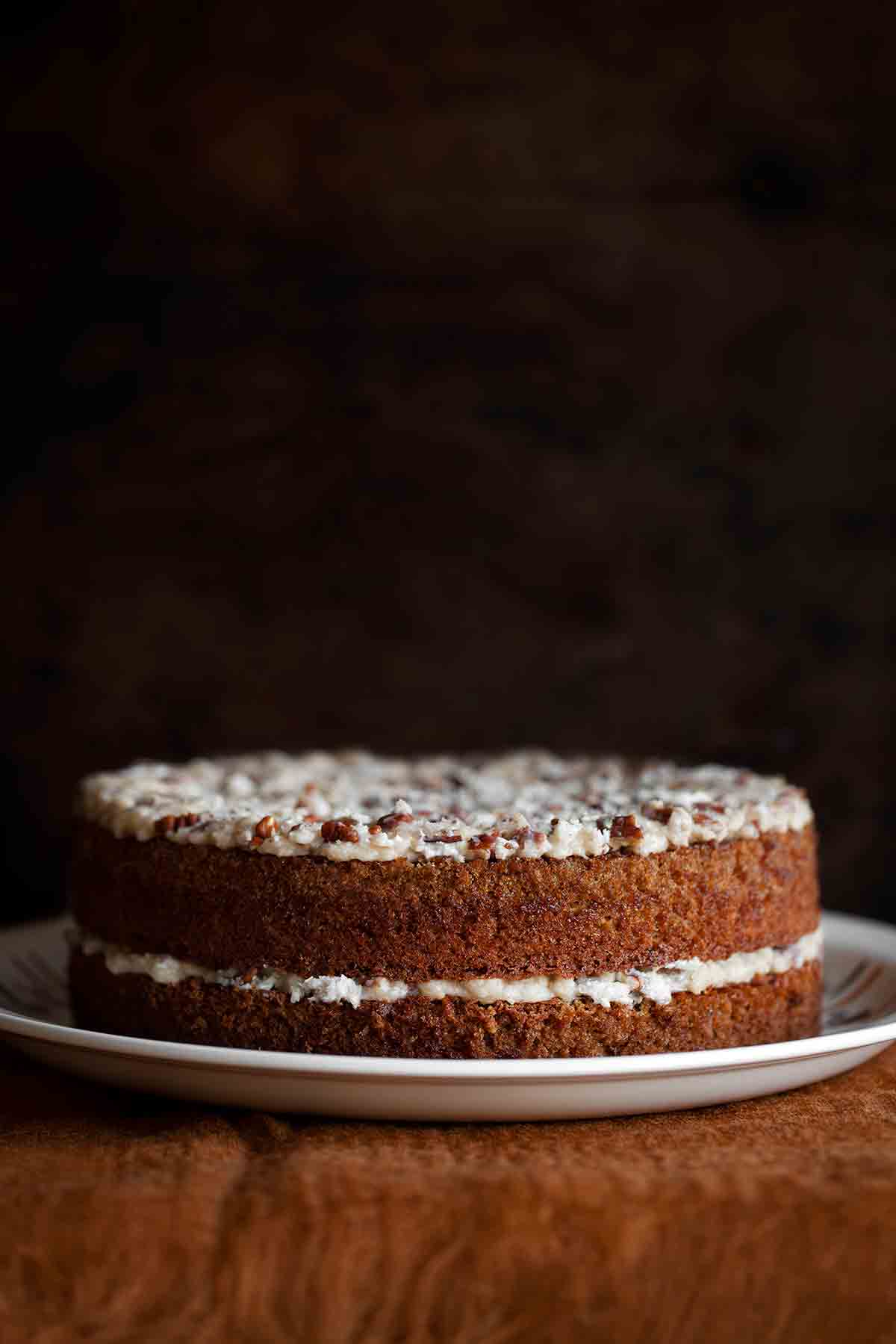 Recipe Testers Reviews
Oh my, this cake made my mouth sing! I don't think I've ever had oatmeal cake before, so I have nothing to compare this to, but this cake was so moist and so delicately flavored. I was nervous about the nutmeg overpowering the rest of the cake, but it gave off a slight spice that is very nice. This frosting is very similar to the frosting on a traditional German chocolate cake, and it pairs very well with the oatmeal. My only complaint is that I wish there was more of it! Next time—and there will be a next time—I will double the frosting. My tester took one bite of this cake and said, "Oh no, this is the kind of cake I could eat in one sitting." I didn't let him!
The title of this recipe makes it sound like it's healthful, but with the frosting, it becomes decadent. This recipe is easy to make. I made it in a 13-by-9-inch pan and that made it even easier. The only thing I would be tempted to add would be some cinnamon, otherwise it's delicious. The frosting is great, too. It's a classic boiled frosting. I toasted the pecans.
Oatmeal Cake Recipe © 2007 Nancie McDermott. Photos © 2020
Cenk Sönmezsoy
. All rights reserved. All materials used with permission.
If you make this recipe, snap a photo and hashtag it #LeitesCulinaria. We'd love to see your creations on Instagram, Facebook, and Twitter.