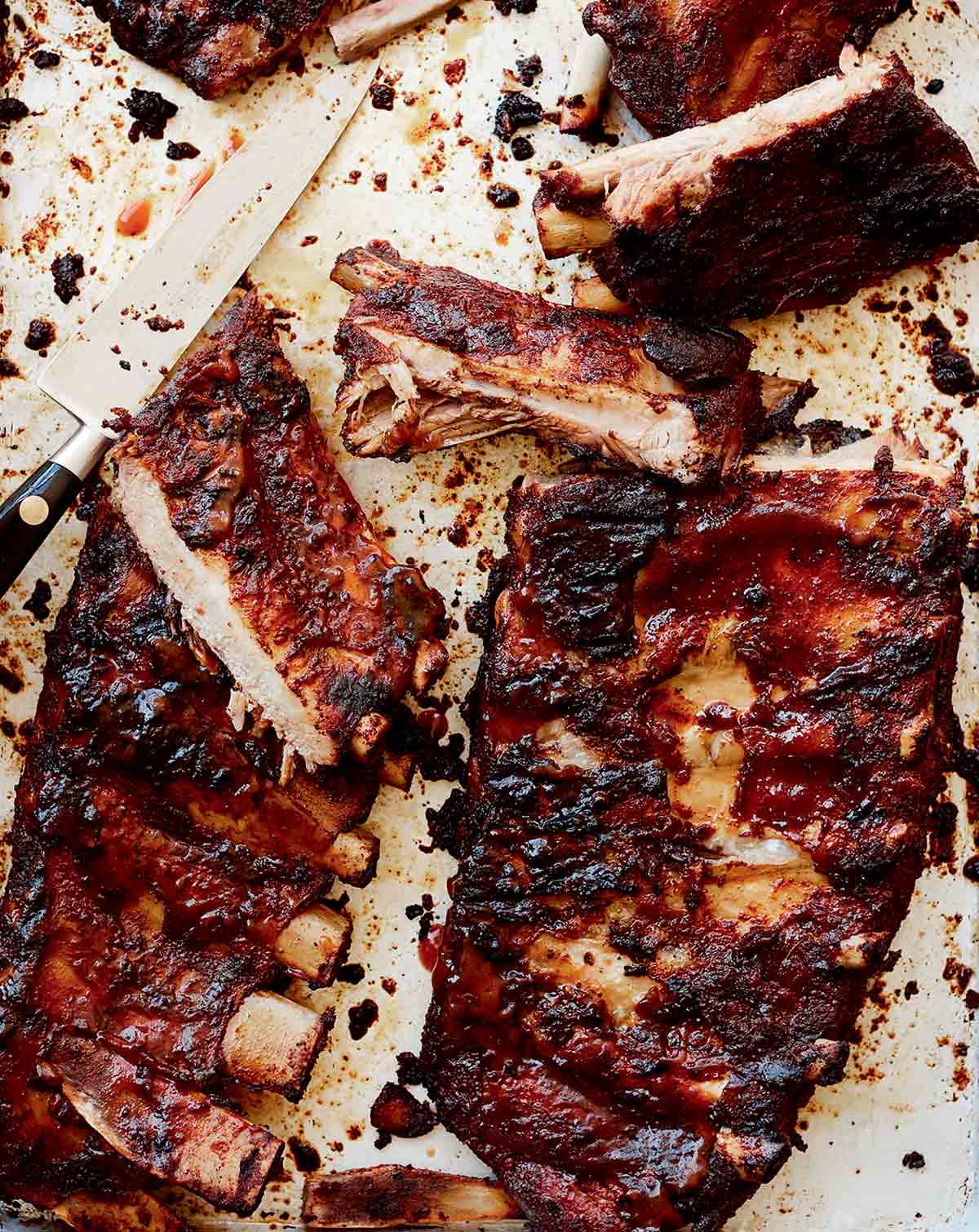 St. Louis style ribs start with a sweet and spicy dry rub. Then Alex Guarnaschelli doubles down with tangy, sweet barbecue sauce made with red-wine vinegar and blackstrap molasses. Guaranteed to wobble knees.
Adapted from Alex Guarnaschelli | Cook With Me | Clarkson Potter, 2020
When I was a kid, we always had the kind of ribs you get from Chinese restaurants—never from American barbecue places. My dad didn't like sweet and tangy American ribs, and if my dad didn't like something, we didn't eat it! So here is my rewrite of my childhood pork ribs made in the decidedly American barbecue style that I always wanted: with a mix of sweet and spicy dry rub on the meat and a juicy, sloppy sauce to finish. Some might see it as a barbecue sin, but I'm telling you, when you make this, people will eat everything down to the bone—and they might even try to gnaw on the platter, too. –Alex Guarnaschelli
St. Louis Style Ribs
What are St. Louis style ribs?
There are three types of pork ribs–St. Louis style, spareribs, and baby back ribs. Compared to regular ol' spareribs (the biggest cut available), St. Louis ribs are a sight to behold—they're trimmed into a shapely rectangle by having the cartilage and rib tips removed. The meat they have is fattier and stays juicier than baby-back ribs. And because they've been trimmed down, they're thinner and flatter, making them easy to get uniformly browned.
Can I use spareribs instead?
St. Louis style and spareribs come from the ribs closer to the belly of the pig, the only difference is that spareribs aren't trimmed down. If you go with spareribs, be aware that the piece will be larger. This isn't a problem if you've got a little extra time to cook them. And you'll want to double the rub and sauce ingredients.

You can also go with baby back ribs, which don't come from baby pigs–they're actually just smaller ribs, from farther down the spine, closer to the loin. Because they're smaller, you'll need twice the amount of ribs. They also take less time to cook.
What's the secret to making tender ribs?
Unless you're a hardcore barbeque fan, you'll likely not cooking ribs all that often. And even less so, if they turn out tough and disappointing. So let's get you on the way to rib perfection. First, the overnight marinade gets absorbed, and the salt and sugar begin the process. Then, a longer cooking time tenderizes the tough connective tissue; Guarnaschelli recommends at least 2 1/2 hours on the grill, making them tender but not yet fall-off-the-bone.
St. Louis Style Ribs
St. Louis style ribs start with a sweet and spicy dry rub. Then we double down with tangy, sweet barbecue sauce made with red-wine vinegar and blackstrap molasses. Guaranteed to wobble knees.
Ingredients
2/3

cup

packed dark brown sugar

1/4

cup

hot paprika

1/4

cup

chili powder

1/4

cup

Diamond Crystal brand kosher salt or 3 tablespoons Morton brand kosher salt

plus more for finishing

1

teaspoon

ground mace

or nutmeg

2

racks St. Louis-style pork ribs (5 to 5 1/2 pounds total | 2.3 to 2.5 kg total)

1 1/2

cups

ketchup

1/2

cup

Dijon mustard

1/4

cup

Worcestershire sauce

1

tablespoon

blackstrap molasses

1

cup

red wine vinegar

1

large lime

halved
Instructions
In a medium bowl, thoroughly combine 1/3 cup of the brown sugar with the paprika, chili powder, salt, and mace. Rub the mixture all over the racks of ribs.

Wrap the ribs in plastic wrap and refrigerate for at least 8 hours or up to 24 hours.

In a large pot over medium-low heat, combine the ketchup, mustard, Worcestershire, the remaining 1/3 cup brown sugar, the molasses, and the vinegar. Bring the mixture to a simmer and cook, stirring from time to time, until the sauce thickens and the flavors have melded, about 30 minutes. Turn off the heat and cover the pot to keep the sauce warm.

Preheat a charcoal or gas grill to high. Preheat the oven to 350°F (177°C). Line a rimmed baking sheet with foil and set a rack on it.

Remove plastic wrap from ribs and place them directly on the hot grill and grill them just long enough to flavor and leave a nice dark grill mark without cooking them fully, 5 to 8 minutes per side.

Transfer the rib racks, bone-side up, to the rack. Divvy the warm sauce between two bowls and reserve one bowl for serving. Brush the sauce from the first bowl onto both sides of each rack of ribs.

Cover the whole pan with a layer of foil, crimping it around the edges, and bake the ribs for 1 1/2 hours. Remove the foil and turn the racks over. Wrap the foil back tightly over the ribs (or use a new piece) so they are covered. Place the pan in the oven and bake until the ribs are nicely browned and tender, 1 to 1 1/2 hours more. The meat should come off the bone easily. If it doesn't, cover and bake longer.

Remove the pan from the oven, remove the foil, and let the meat rest for 15 minutes.

Move the racks to a flat surface and cut between the bones to separate each rack into individual ribs. Season the meat with salt. Spoon the reserved sauce over the ribs. Squeeze the lime over them and serve.
Nutrition
Serving:
1
portion
Calories:
350
kcal
Carbohydrates:
54
g
Protein:
10
g
Fat:
12
g
Saturated Fat:
3
g
Trans Fat:
1
g
Cholesterol:
30
mg
Sodium:
5815
mg
Potassium:
806
mg
Fiber:
6
g
Sugar:
42
g
Vitamin A:
5479
IU
Vitamin C:
8
mg
Calcium:
119
mg
Iron:
5
mg
Nutrition information is automatically calculated, so should only be used as an approximation.
Recipe © 2020 Alex Guarnaschelli. © 2020
Johnny Miller
. All rights reserved.
---
Originally published April 18, 2021