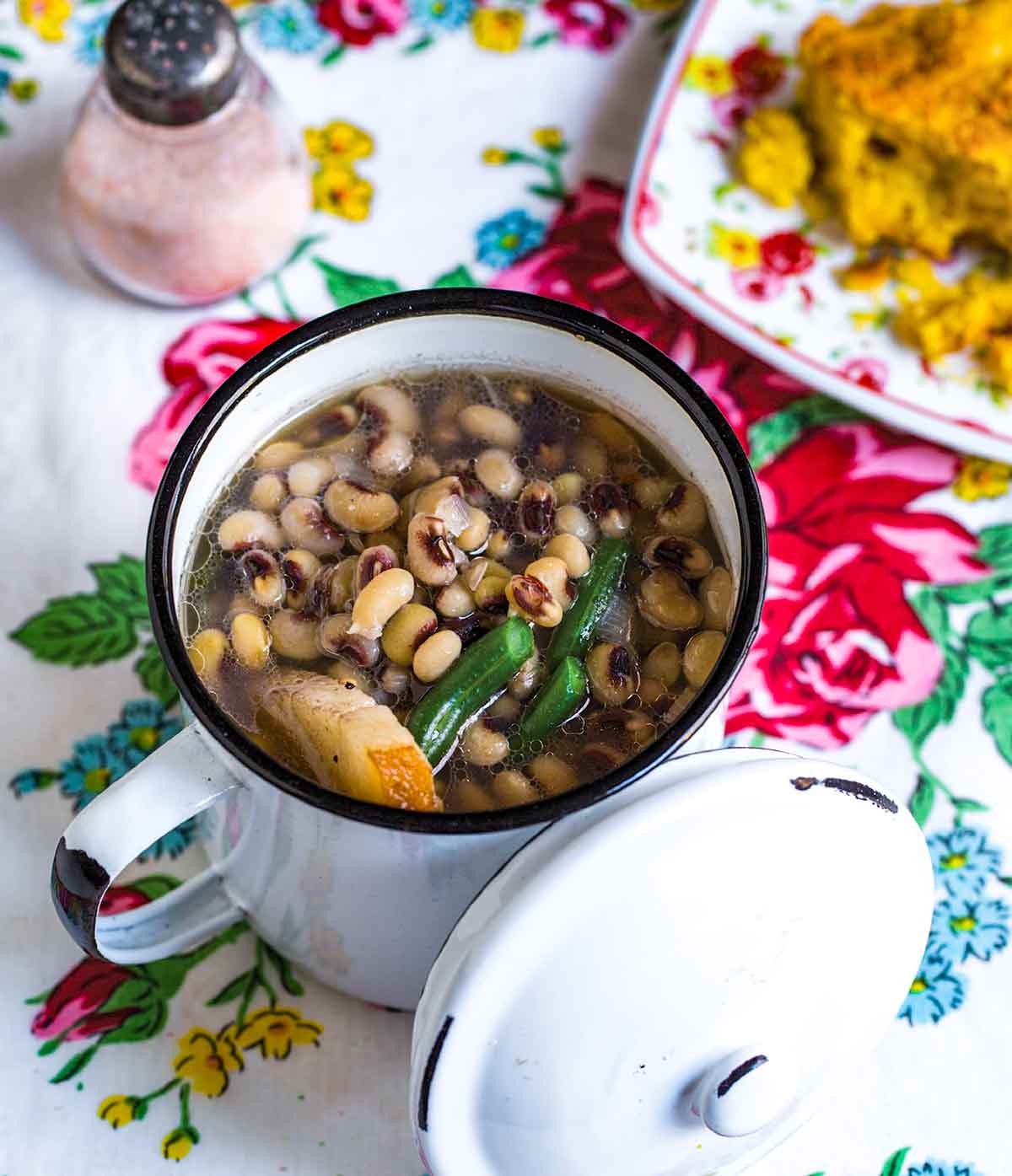 I grew up eating field peas and years later in culinary school I found out that field peas and Crowder peas are the same pea. I also learned that it doesn't matter if you start with fresh, frozen, or dried field peas, they always turn a muddy color when they're cooked. It made me realize that my grandmother always added snap beans (or string beans) to her pot of peas to provide a bright spot of color.–Jennifer Hill Booker
WHAT ARE FIELD PEAS?
Field peas, crowder peas, cream peas, and black-eyed peas are all part of a larger species of beans commonly called "cowpeas" or "Southern peas." Actually beans, these species have all been part of Southern food culture since the 1600s after being brought from Africa.
Black-eyed and field peas have a similar taste and texture, and a rich, hearty flavor. They also create a dark pot liquor when cooked, unlike cream peas. And because "field peas" are a pretty broad category, you can use them mostly interchangeably. Just keep in mind that cream peas won't give you the rich-colored pot liquor.
Field Peas and Snap Beans
Greens, yellow squash, and string beans might taste delicious with so much cooking, but they lose their vibrant color. Using French techniques, I like to keep vegetables vibrant by cutting the vegetable in uniform pieces so that they cook quickly and retain their color.
Ingredients
2

pounds

fresh or frozen Crowder peas or other field peas

8

ounces

salt pork

1

large (7 oz)

onion

,

coarsely chopped

1

dried red chile pepper

2

cups

fresh green beans

,

trimmed and cut in half

Salt and freshly ground black pepper
Instructions
In a , pick over the peas, discard any that are misshapen or discolored. Rinse well and place in a stockpot.

Add salt pork, chopped onion, dried chile pepper, and enough cold water to cover peas. Cover tightly, set over medium-high heat, and bring to a boil. Reduce heat to low and simmer until almost tender, about 40 minutes. Check occasionally and top with more water, if needed, to keep peas covered.

☞ TESTER TIP: If you are using frozen field peas, you may only need to cook for 20 minutes before adding the beans.

Add snap beans and cook until peas and beans are tender, 20 to 25 minutes more.

Do not skim off the fat. Taste and season with salt and pepper. Serve.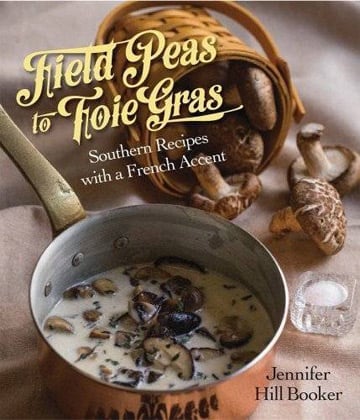 Nutrition
Serving:
1
serving
Calories:
354
kcal
Carbohydrates:
26
g
Protein:
11
g
Fat:
24
g
Saturated Fat:
9
g
Polyunsaturated Fat:
3
g
Monounsaturated Fat:
11
g
Cholesterol:
24
mg
Sodium:
768
mg
Potassium:
410
mg
Fiber:
8
g
Sugar:
5
g
Vitamin A:
260
IU
Vitamin C:
12
mg
Calcium:
40
mg
Iron:
3
mg
Nutrition information is automatically calculated, so should only be used as an approximation.
Recipe © 2014 Jennifer Hill Booker. Photo © 2014 Deborah Whitlaw Llewellyn. All rights reserved.
---
Recipe Testers' Reviews
There are farmer's markets all over my southern state with fresh shelled peas and snap beans during the summer. The shelled peas aren't really peas either–they're beans. In the south, the species is called "southern peas" or "cowpeas". They can be field peas, crowder peas, cream peas, blackeye peas, purple hull peas, etc. The pot liquor will look different for different varieties. When field peas are done their pot liquor should look like the muddy Mississippi River.
This field peas and snap beans recipe is excellent for enjoying the delicious little seasonal peas. A far cry from anything in a can! The snap beans add bright color and different textures, and are a nice addition to this side dish. Don't forget the cornbread to sop up all that pot liquor, too.
Where I'm from we know our peas. First off, all crowder peas are field peas, but not all field peas are crowders. There are several different varieties including black-eye peas, lady cream peas, purple hull or pink eye peas, and some older, almost heirloom type peas that are hyper-local. Lady peas and purple hull peas do not turn the cooking liquid muddy, but crowders and black-eyes do. This recipe would be suitable for cooking any of them, however.
I was able to find crowder peas in the freezer section at my local grocery and salt pork from the German meat market nearby. The Amish market had fresh local green beans. I used a fresh jalapeno rather than the dried chile pepper because I had one and that's what my mother did.
With salt pork you don't need to add much additional salt, I added small amounts to taste as the peas became tender (total 1 teaspoon La Baleine sea salt additional), and about 1/2 teaspoon freshly ground pepper).
I served these field peas and snap beans with cornbread, of course, and peaches for dessert. It took me back to hot summer evenings sitting around the supper table with stained fingernails from shelling those peas, enjoying the fruits of our labor.