Well, well, well, my friends, it's that time of year again when we pretend to know what Cinco de Mayo commemorates while stuffing our faces with outrageously delicious Mexican food and drinking tequila like it's water.
For the record: it celebrates Mexico's impressive victory over France at the Battle of Puebla during the Franco-Mexican War on May 5, 1862.
This year, I say we raise a margarita (or four) to salute Mexico's win and then dive into some of our best Mexican recipes. From classic guacamole and salsa to some funky fresh twists on traditional dishes, these recipes will help ease you into the weekend (Cinco de Mayo is on a Friday) and make it one to remember. Depending on how much you drink, maybe not!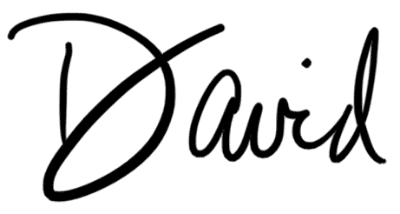 Ultimate Margarita
This ultimate margarita is made with tequila, agave, and lime juice. Nothing else. It isn't the classic margarita. It's unspeakably better. So much so that we think it's the best. So does everyone else who's tasted it and gone back for seconds.
Recipe
I have made this margarita recipe a few times now. It definitely is the best margarita recipe. I've only used simple syrup and not agave.

I love that I don't need the sticky, cloying Cointreau with even more calories. This is a keeper and the only one I'll use going forward.

sagar m.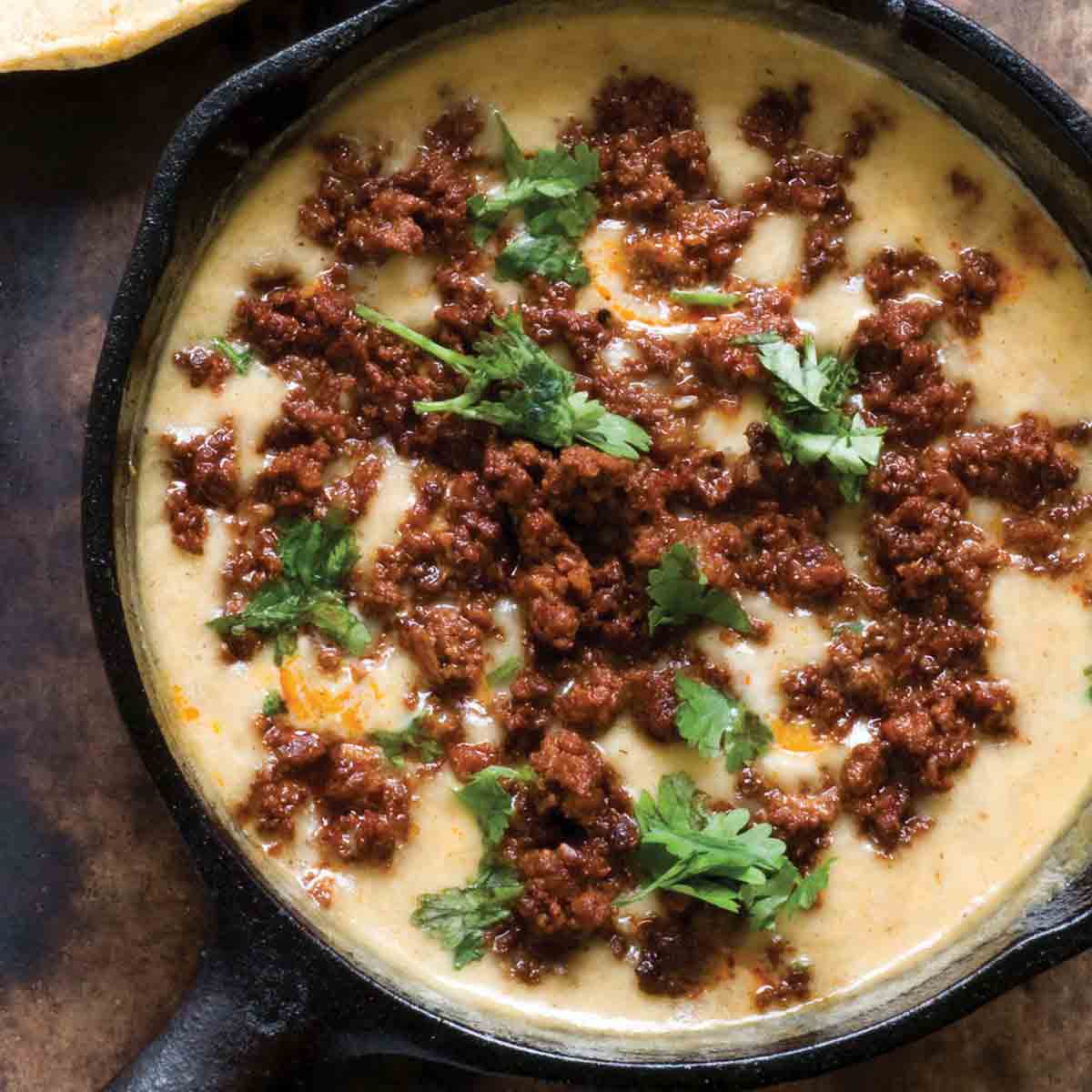 Choriqueso
Choriqueso is a Mexican cheese dip topped with cooked chorizo sausage and a sprinkling of cilantro that is served with chips or warm tortillas. Makes a swell appetizer or even a meal unto itself.
Recipe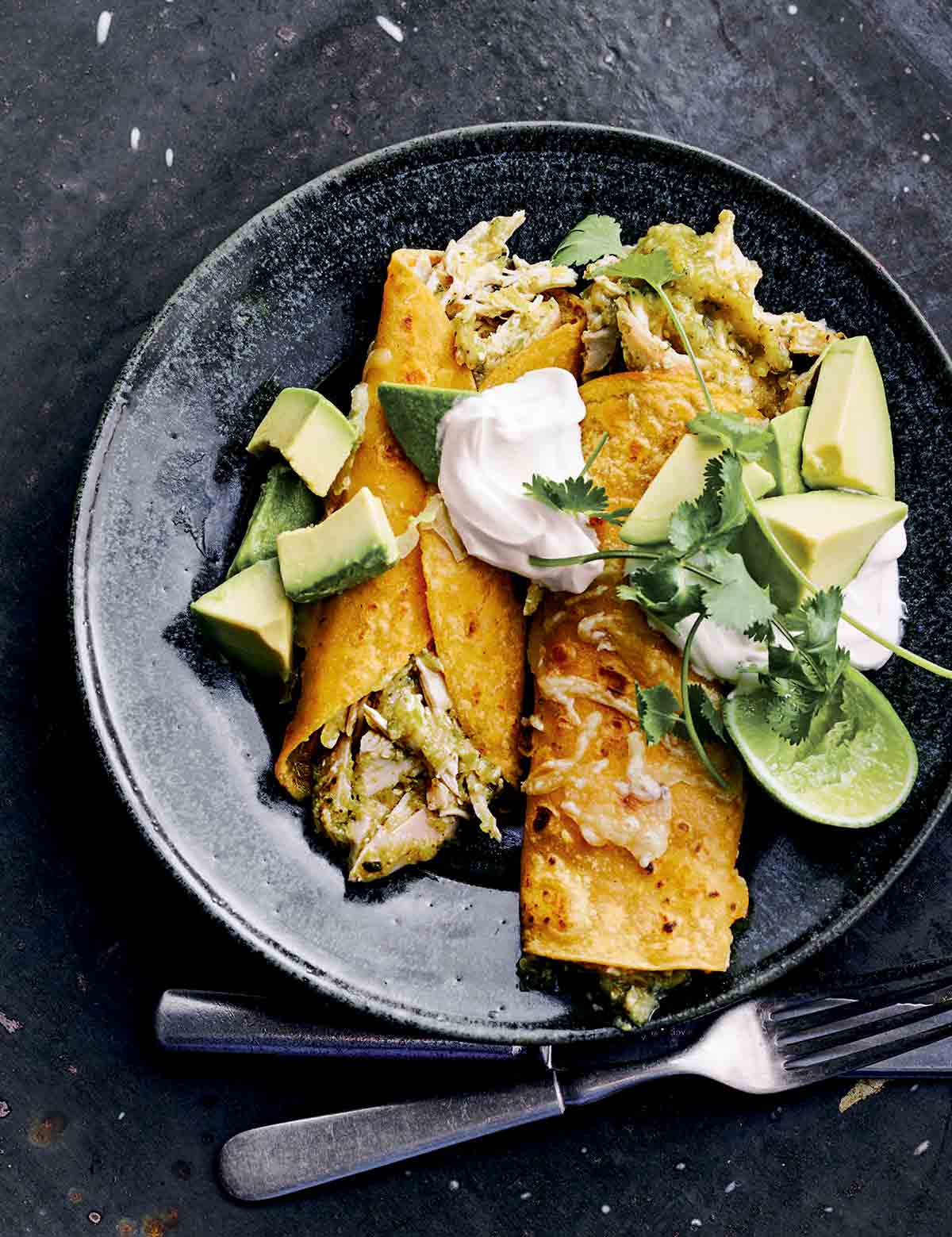 Chicken Enchilada with Green Sauce
This deliciously cheesy chicken enchilada recipe with green sauce is stuffed with tender chicken and bathed in a zesty green tomatillo sauce. Corn tortillas make this Tex-Mex favorite gluten-free. Pile on the sour cream, avocado, and limes, taco-style.
Recipe
This chicken enchiladas recipe is fabulous. Unfortunately, I gave some to my family, and now they request them ALL the time. I make a batch for me and one for them to share.

The green sauce is incredible. As another reviewer suggested, I added jalapeños to spice it up. Highly recommended.

zilma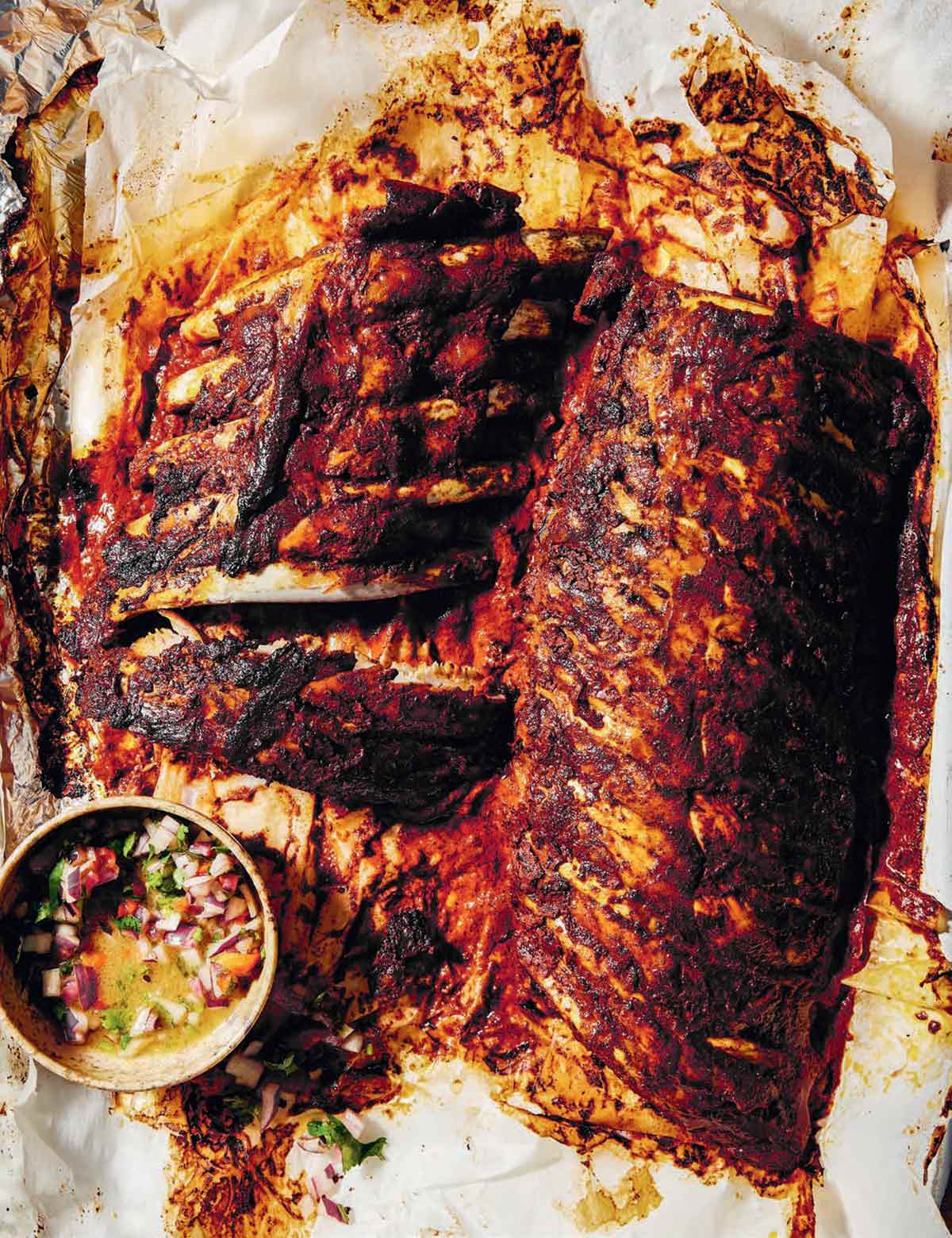 Pibil-Style Pork Ribs
In Yucatan, sour oranges are used for the marinade. Try this with the bitter juices of Seville oranges, or mix together orange and lime juice. This marinade works particularly well with spare ribs. If you can get hold of banana leaves, they will add extra flavor, but the ribs can still be slow-cooked to succulence simply wrapped in baking parchment and foil.
Recipe
Homemade Fire Roasted Salsa
This fire roasted salsa is made with charred tomatoes and onions and, just for complexity and to ensure the salsa is sufficiently smoky, a smidgen of chipotle in adobo. Great for dunking, dipping, and dabbling.
Recipe
This is probably the best salsa I've ever tried

kristin s.
Carnitas Tacos
These carnitas tacos are made with moist, tender pork shoulder, avocado, onion, tomatillo salsa, lime, and cilantro. Great party food for a crowd, a weekend dinner, or outdoor entertaining.
Recipe
I had this carnitas recipe at a friend's house, and it was wonderfully tasty. In particular, the tomatillo salsa added so much popping flavor my tastebuds were cheering. I can see making the dish with any meat or making it a vegetarian meal. Really satisfying in every way.

lesley m.
Mexican Chocolate Pops
This Mexican chocolate pops recipe is a frozen whirl of bittersweet chocolate, brown sugar, rich cinnamon, un pocoquito of cayenne pepper, and lots of half and half.
Recipe
Cinco de Mayo Food FAQs
What is traditionally served at a Cinco de Mayo meal?
A typical American celebration of Cinco de Mayo will include margaritas and tacos. However, in Mexico, you'll find classic Mexican dishes, such as carnitas, mole poblano, or barbacoa made with lamb.
How can I accommodate vegan, vegetarian, and gluten-free guests at my Cinco de Mayo party?
Tortilla chips with salsa and homemade guacamole are excellent options and are suitable for most diets. You can also serve a variety of enchiladas, including black bean or these sweet potato enchiladas, which are vegan and can be made gluten-free.
What should I serve for dessert on Cinco de Mayo?
Churros are a fantastic handheld dessert option, and you could serve them with a mug of Mexican hot chocolate for dipping. For a more formal take, try this tres leches cake–a popular dessert in Mexico, for good reason.
What are you serving at your Cinco de Mayo celebrations? Will you be noshing on Tex-Mex fare, such as tacos, burritos, and nachos, or are you indulging in traditional Mexican food? Let me know in a comment below.
8 Recipes for Celebrating Cinco de Mayo
No celebratory meal is complete without a sweet treat at the end, and Cinco de Mayo is no exception. Our personal favorite is a mug of Mexican hot chocolate and a pile of these ☞ CHURROS.
Equipment
Piping bag fitted with 1/4-inch (6-mm) star-shaped tip or a resealable plastic bag with one corner snipped off
Ingredients
For the churros
1 1/2

cups

water

3 1/2

tablespoons

unsalted butter

1/2

teaspoon

salt

4

tablespoons

granulated sugar

1

cup

all-purpose flour

1

extra-large

egg

1

teaspoon

ground cinnamon

Mild vegetable oil

,

for frying
Instructions
Make the churros
In a medium saucepan over medium heat, combine the water, butter, salt, and 1 tablespoon sugar and bring to a boil.

Add the flour to the pan all at once and cook, stirring vigorously, until stiff but smooth, about 4 minutes. (Enjoy the biceps workout while you're at it!) Transfer the dough to a bowl and let it cool for about 5 minutes.

Whisk in the egg until the dough is very smooth.

Fill the prepared piping bag or resealable plastic bag with the dough. The 1/4-inch [6-mm] star-shaped tip may look too small, but trust us, the dough will swell when it fries and the star-shape will leave nice ridges on your churros. (You can refrigerate the dough in the piping bag overnight if you like. Bring the chilled dough to room temperature before using so it will squeeze more easily.)

Mix the cinnamon and 3 tablespoons sugar on a large plate.

In a large, heavy saucepan, pour enough oil to reach a depth of at least 2 inches (5 cm). Place the saucepan over medium-high heat until the oil reaches 350°F (180°C) on an instant-read thermometer. The oil is ready when a small drop of dough sizzles and falls to the bottom of the saucepan only to immediately rise to the top again.

Working carefully, hold the piping bag over the hot oil, squeeze out a few 6-inch (15-cm) lengths of churros dough, cut it off with clean scissors, and fry, turning once, until golden brown, 3 to 4 minutes. Don't overcook or the churros will lose the creamy interior that makes them so irresistible. (This particular churros recipe is designed to have more crunch and less cake-like interior.) Fry the churros in batches, being careful not to overcrowd the pan.

Use tongs to move the fried churros to paper towels or a brown paper bag to drain briefly. Toss the warm churros in the cinnamon sugar while still hot and turn to completely coat them.
Serve
Serve immediately, with warm caramel sauce or hot chocolate for dipping, if desired.
Notes
Check out the full recipe post for our testers' reviews, more info, and tips on making these crispy churros.
Nutrition
Serving:
1
churro
Calories:
88
kcal
Carbohydrates:
10
g
Protein:
1
g
Fat:
5
g
Saturated Fat:
2
g
Polyunsaturated Fat:
1
g
Monounsaturated Fat:
1
g
Trans Fat:
0.1
g
Cholesterol:
21
mg
Sodium:
85
mg
Potassium:
16
mg
Fiber:
0.3
g
Sugar:
3
g
Vitamin A:
102
IU
Vitamin C:
0.01
mg
Calcium:
6
mg
Iron:
0.5
mg
Nutrition information is automatically calculated, so should only be used as an approximation.
All rights reserved.
---