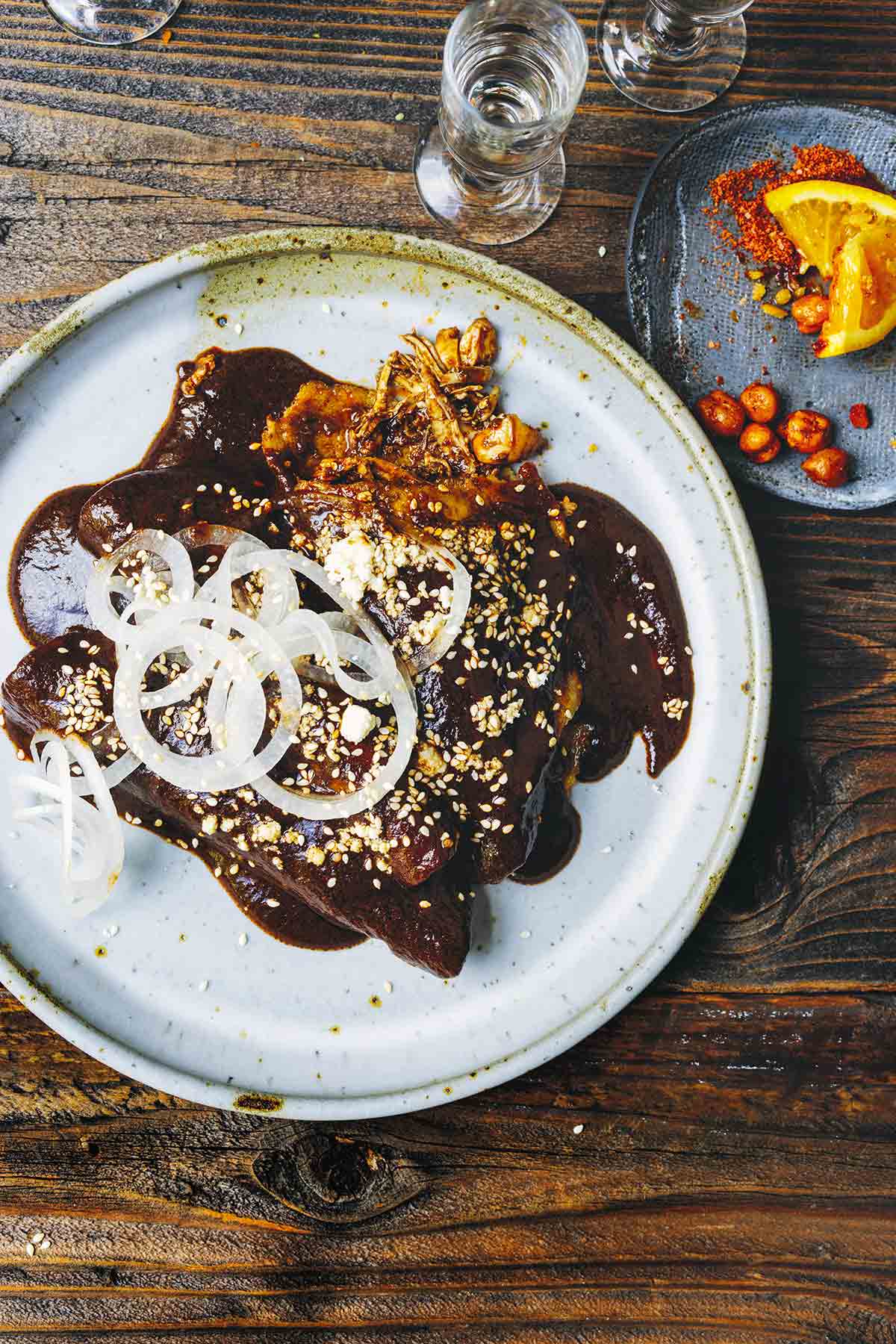 These enchiladas with mole poblano hail from Puebla, Mexico, where, as authors Gonzalo Guzmán and Stacy Adimando explain, it's reserved for special occasions. We can completely understand why. Although it requires significant effort and patience, the depth of flavor of the finished mole is second to none. Bring on the celebration.–Angie Zoobkoff
Enchiladas de Mole Poblano
These enchiladas de mole poblano are an authentic Mexican celebration dish made with tortillas stuffed with tender chicken and smothered in a chocolate and chile mole sauce.
Ingredients
For the chicken
One

(3- to 4-pound) whole

chicken

1/2

medium

white onion

4

cloves garlic

1

tablespoon

kosher salt
For the mole
4

dried mulato chiles,

stemmed and seeded

2

dried pasilla chiles

,

stemmed and seeded

2

dried chiles negros

,

stemmed and seeded

1

dried ancho chile,

stemmed and seeded

Boiling water

1/2

cup

sesame seeds

1/2

cup

almonds

3/4

cup

peanuts

3/4

cup

pepitas

3/4

cup

golden raisins

1/2

cup

pitted prunes

3/4

teaspoon

coriander seeds

1/4

teaspoon

anise seeds

1/4

small

bread roll

,

thinly sliced, or the equivalent of any soft white bread (about 1⁄4 cup bread)

1/4

soft corn tortilla (optional)

1/4

cup plus 3 tablespoons

rice bran oil or canola oil

1/2

plantain

,

sliced into 1⁄2-inch (12-mm) thick rounds

1

large

white onion

,

chopped

4

cloves garlic

1 1/2

cups

canned diced tomatoes and their juices

5

medium

tomatillos

,

husked and coarsely chopped

1

chipotle in adobo

1/2

cinnamon stick

1

tablespoon

granulated sugar

1 1/2

disks

Mexican chocolate

,

chopped

Kosher salt

Fifteen

(6-inch)

soft corn tortillas
For serving
Toasted sesame seeds

Crumbled queso fresco

Sliced white onion
Instructions
Cook the chicken
In a large pot over high heat, combine the chicken and just enough water just to cover. Add the onion, garlic, bay leaves, and salt.

Bring to a boil, then reduce heat to maintain a simmer, and cook, occasionally skimming away any fat or foam from the top of the broth, until the meat is fully cooked through, about 45 minutes.

Remove the chicken, reserving the cooking liquid, and let rest until cool enough to handle. Pull and shred the meat from the bones. Strain the liquid through a fine-mesh strainer and reserve. (The chicken and broth can be refrigerated for up to 2 days.)
Make the mole
Preheat the oven to 350°F (180°C).

In a large skillet over high heat, add all of the dried whole chiles and cook, turning often with tongs, until they darken and blister but do not burn, 2 to 5 minutes.

Transfer the chiles to a heatproof bowl and cover with boiling water. Let soak until softened, 15 to 20 minutes.

On a small rimmed baking sheet, combine the sesame seeds, almonds, peanuts, pepitas, raisins, prunes, coriander seeds, anise seeds, sliced bread, and piece of tortilla, if using, and roast, stirring occasionally and watching for burning, until the seeds and nuts are toasted, about 15 minutes. Remove and let cool.

In the same large skillet over medium heat, warm 2 tablespoons of the oil and add the plantain slices. Fry, turning the slices occasionally and pressing down on them with a spatula, until golden brown all over, 5 to 10 minutes. Transfer the plantain slices to a small bowl.

In the same skillet over medium heat, warm 2 tablespoons of the oil. Add the onions and garlic and season with salt. Cook, stirring occasionally, until the onions are translucent, about 5 minutes.

Stir in the tomatoes and tomatillos, season with salt, and bring to a boil, then reduce heat to maintain to a simmer. Cover and let cook for 15 minutes.

Drain the chiles and place in a blender. Add the contents of the baking sheet and puree, slowly adding some of the chicken cooking liquid, as needed, until very smooth. You will likely need between 1 1/2 and 3 cups of liquid to achieve a thick, smooth sauce.

Add the fried plantain, the onion-tomato mixture, and the chipotle, and blend until very smooth.

☞ TESTER TIP: If your blender is on the smallish side, or it seems plenty full when adding the plantain and onion-tomato mixture, blend the sauce in batches or transfer to a large pot and blitz with an immersion blender until very smooth.

In a large, deep pot over high heat, warm 3 tablespoons oil. Remove from the heat and quickly but very carefully pour in the contents of the blender all at once.

Return the pot to high heat and let cook, stirring constantly, for 10 minutes. Add the cinnamon and about 2 cups of the reserved chicken cooking liquid and bring to a simmer.

Cook for 15 minutes, then stir in the sugar and chocolate. Cook until the chocolate is melted, 2 to 3 minutes, then taste the mole and adjust the seasoning as needed. Let simmer for 30 minutes or until some of the oil starts rising to the top. (That is the indication that the mole is done.)

When ready to serve, mix the chicken meat with the warm mole and cook gently until the meat is warmed through.
Assemble and serve the enchiladas
Preheat a clean large skillet or griddle over medium heat; add the tortillas in batches in a single layer and cook, turning once, until heated through and softened, 3 to 4 minutes.

Stack the tortillas on a platter, board, or clean work surface and cover with a towel to keep warm. Spoon about 1/4 cup of the chicken-mole mixture in a line down the center of each, and fold the tortillas in half or roll them into tube shapes to enclose the filling.

Divide enchiladas between individual plates, and ladle more mole on top to cover. Garnish with sesame seeds, queso fresco, and white onion.
Nutrition
Serving:
1
portion
Calories:
1464
kcal
Carbohydrates:
144
g
Protein:
51
g
Fat:
80
g
Saturated Fat:
15
g
Polyunsaturated Fat:
24
g
Monounsaturated Fat:
36
g
Trans Fat:
0.2
g
Cholesterol:
82
mg
Sodium:
2677
mg
Potassium:
1609
mg
Fiber:
19
g
Sugar:
39
g
Vitamin A:
3148
IU
Vitamin C:
23
mg
Calcium:
490
mg
Iron:
13
mg
Nutrition information is automatically calculated, so should only be used as an approximation.
Recipe © 2017 Gonzalo Guzmán | Stacy Adimando. Photo © 2017 Eva Kolenko. All rights reserved.
---
Recipe Testers' Reviews
To me, one of the joys of cooking is enjoying the fruits of my labor. This recipe sure tested that belief but passed with flying colors despite a few moments of uncertainty. I knew going in the recipe was involved—not complicated but involved and time-consuming. But when all was said and done, it was well worth the time and effort.
The deliciousness of mole comes from the many flavors that comprise it—nuts, fruits, spices, chocolate—and to get there means building those flavors and bringing them all together. With so many ingredients, it took me nearly an hour to get my mis en place before I even started.
The tomato mixture filled my blender nearly to overflowing but I managed to get the whole mixture blended up. I decided to dump it all into another pot and give it an additional blend with my immersion blender and that worked out well.
This was a fun recipe to taste along the way because you can really tell how the flavors develop to become that delicious mole. I did use Mexican chocolate with a 70% cacao level. I had several choices here and wasn't quite sure which one to go with. My mole didn't turn out as dark as in the picture but after 3-1/2 hours of work we had a scrumptious meal to enjoy. Can't wait for the leftovers!!
This is one of those recipes that you have to be a bit patient with but the reward is big. The mole is a very rich, fruity, velvety sauce with lots of layers. I think the flavors transform as the sauce sits, because as I was cooking it, the taste of peanuts predominated. Although I love peanuts, this had me a little worried because I wasn't expecting a peanut sauce. I waited until the next day to serve it, though, and when I did, I could really taste the dried fruits (raisins and prunes as well) and the almonds and pepitas.
Be prepared to babysit the sauce a bit, because it had a habit of sputtering every now and then as it was simmering in the last stages! I have never rolled enchiladas in this way a la minute. Instead I'm used to rolling them, saucing them, and then baking them like a casserole with lots of cheese. I like that this just has cheese as a garnish–that way it isn't such a heavy affair and the sauce is already so rich as is. But I do like baking them for the reason that it softens the tortillas a bit, and then the sauce keeps soaking in and as they sit in the fridge overnight and everything gets really moist. This way, the tortillas are a little more toasted, which has a different appeal.
You will have PLENTY of sauce left over for this size chicken (you could probably use it for 2 chickens). I intend to try to freeze mine and see how it fares.