Grilled skirt steak tacos. They're slightly spicy with just a hint of sweet. And they're so fast and easy. First the meat takes a quick bath in a marinade of chipotle in adobo, cumin, coriander, and lime and then it's tossed on the grill. Weeknight friendly and oh so satisfying.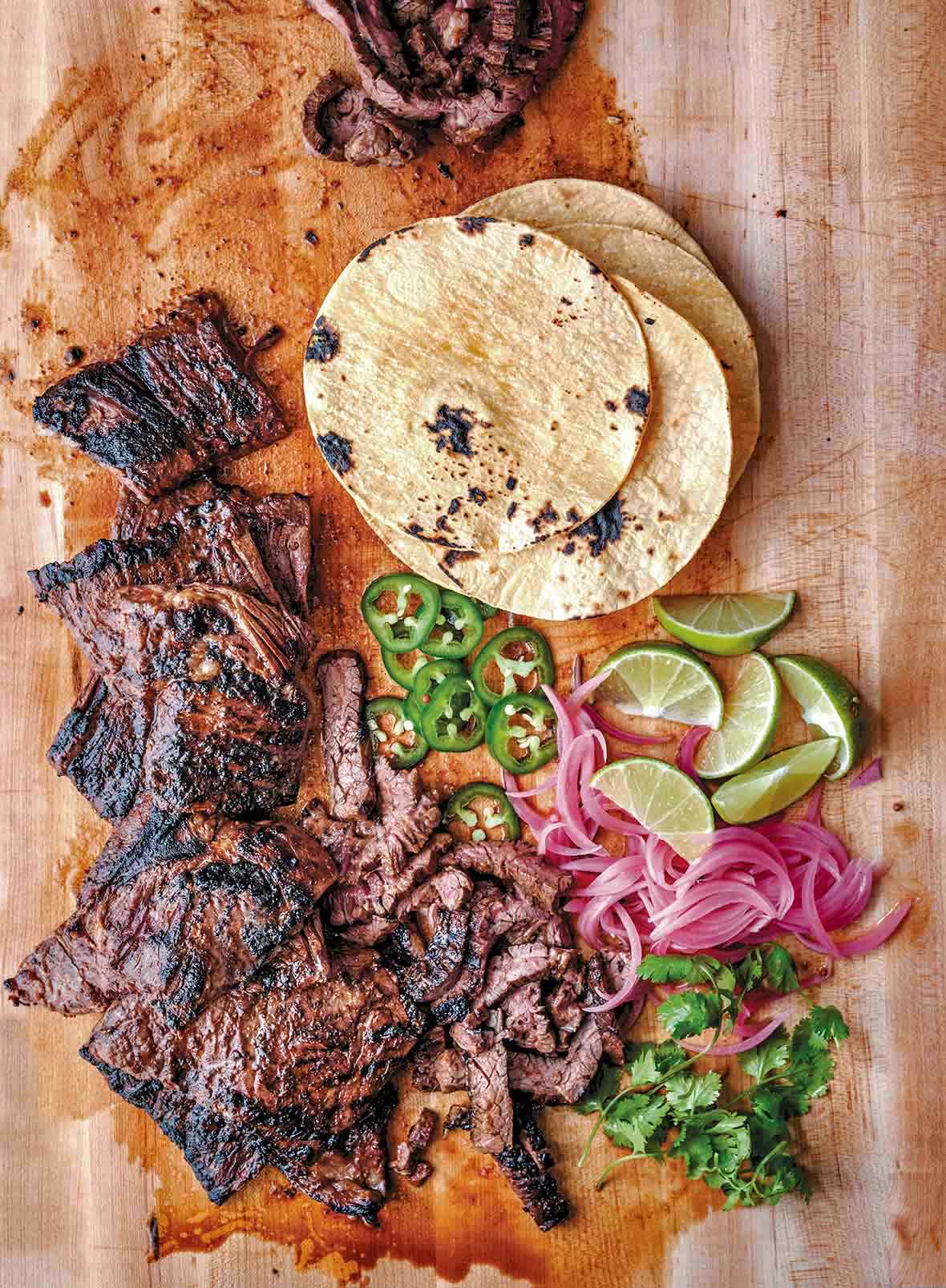 We just found one more reason to adore tacos. Skirt steak takes a quick marinade before taking a quick turn on the grill and then being tucked inside warm tortillas. Heaps of pickled red onions, jalapeño, and cilantro don't hurt anything. No need to wait until Tuesday.–Angie Zoobkoff
Grilled Skirt Steak Tacos
Quick Glance
30 M
2 H, 30 M

Serves 6
Special Equipment: 1-quart mason jar
Ingredients
Email Grocery List
For the grilled skirt steak

1 tablespoon puréed chipotle in adobo sauce*

1 tablespoon packed light brown sugar

1 teaspoon ground coriander

1 teaspoon ground cumin

1 tablespoon kosher salt

Juice of 1 lime

2 pounds skirt steak, trimmed of silver skin

1 package corn tortillas

For the pickled onions

1 pound red onions, halved and thinly sliced

White wine vinegar

Granulated sugar

Kosher salt

2 garlic cloves

1 tablespoon whole black peppercorns

1 tablespoon coriander seeds

1/2 tablespoon dried red pepper flakes

1 teaspoon yellow mustard seeds

1 fresh bay leaf

To serve

1 bunch cilantro, coarsely chopped

1 jalapeño, thinly sliced into rounds

2 limes, sliced into wedges
Directions
Make the skirt steak

1. In a small bowl, mix the chipotle purée, brown sugar, coriander, cumin, salt, and lime juice until combined. Pat the skirt steak dry with paper towels, place it in a resealable plastic bag, add the chipotle marinade, and toss the meat inside the bag to coat. Seal the bag and marinate in the refrigerator for 1 to 2 hours. Remove the meat from the bag and discard the marinade.

Make the pickled onions

2. While the steak is marinating, pack the onions into a 1-quart mason jar. Fill the jar with cold water, leaving 1/2 inch (12 mm) of space at the top. Pour the water from the jar into a measuring cup (use a spoon to keep the onions in the jar) to calculate its volume. Discard half the water and replace with an equal quantity of vinegar. Add 2 teaspoons sugar and 2 teaspoons salt for every 1 cup liquid.

3. In a small nonreactive saucepan set over high heat, combine the vinegar mixture, garlic, peppercorns, coriander seeds, red pepper flakes, mustard seeds, and bay leaf and bring to a boil. Cook for 2 minutes and then carefully pour the hot liquid over the onions in the jar, seal, and refrigerate for as little as an hour and as long as a month.

4. Preheat a charcoal or gas grill to high.

5. Grill the skirt steak over direct heat until cooked to the desired doneness, 3 to 5 minutes per side for medium-rare, depending on the thickness of the steak. While you're grilling, feel free to toss the tortillas on the side of the grill over indirect heat to get them warm and taco ready.

6. Transfer the steak to a cutting board and let it rest for 5 minutes. Thinly slice the meat against the grain and serve with warm or lightly charred tortillas, cilantro, jalapeño, pickled onions, and lime wedges.
*HOW TO MAKE PURÉED CHIPOTLES
To make puréed chipotles, blend the entire contents of a 12-ounce (340 g) can of chipotles in adobo sauce in a blender. It will make much more than what you need, but that's ok. You can stash the extra in a jar in the fridge for up to 3 weeks or in the freezer until the next time you're craving these smoky grilled tacos or any other recipe that calls for chipotle en adobo.
Recipe Testers Reviews
This is an easy and flavorful recipe for skirt steak tacos. My Texas-born boys didn't say much but they leaned back in their chairs and closed their eyes. They were back home for a minute and you can't ask for more than that.
It was nice to grill the tortillas alongside the skirt steak and have everything ready at once. The pickled onions are so bona fide, I felt like I was home in Texas. Along with the cilantro, jalapeño, and lime, this is a perfect group of toppings.The pickled red onions recipe is very clever with the displacement volume method. You end up with the perfect amount of brine.
A keeper. This is a terrific recipe that delivers great flavor and is easy to prepare. The marinade works perfectly with the meat, leaving a whisper of sweetness after grilling that isn't overbearing. I marinated the steak for about 90 minutes and grilled over charcoal for about 5 minutes per side. Since skirt steak tends to be uneven I kept the thinner portion away from the most intense heat and ended up with slices that were nicely charred on the outside and ranged from rare to medium rare, which suited everyone.
The big surprise was the pickled red onions and how well they worked with the steak and the cilantro in the tacos. I was able to get almost all the sliced onions into the jar and used a cup of liquid overall and then let them sit in the refrigerator overnight. The onions were still somewhat crisp but had lost their sharpness and become a bit milder. We thought the jalapeño added a little too much heat for our palates, but overall the combination, spritzed with a little lime, was a great combination on the warm tortillas. I thought I would miss a little cheese or crema but loved the balance among the ingredients and especially the bright, slightly vinegary onions against the steak.
We had leftovers, which I served the next night with the onions and cilantro but no tortillas, for another delicious meal.
The marinade is fabulous, and one which I am planning to try on chicken sometime soon. I was going to divide this recipe in half, not wanting to have 2 pounds of steak for the 2 of us. However, I may make the full recipe every time I make this in the future, considering how many delicious dinners and lunches we got out of that 2-pound piece of meat.
I marinated my skirt steak for 2 hours, and the meat was infused with great flavor in that amount of time. I cut my skirt steak into 3 pieces. I was concerned that the whole thing would not easily fit into the bag in a way that the marinade could be distributed evenly on everything. Even in smaller pieces, it was difficult getting the marinade to coat all of the meat. You need to take the time to make sure that you are successful with that.
The pickled red onions are delicious, but I had to take liberties with making them. Having everything in a 1-quart mason jar didn't allow much room for 1 pound's worth of onion slices to be immersed in the brine. At least I had difficulty getting it to work. I ended up taking the onions out of the jar and placing them in a bowl large enough to hold the onions comfortably and then let them "bathe" in the brine. I then placed the whole mixture in a glass container with a glass lid. The end result is onions that are crispy, spicy, and full of great flavors. The texture has not changed over time. A week and a half later, we're still enjoying them. Besides enjoying the onions with the steak tacos, we've been eating them with quesadillas (very, very yummy!).
Grilled Skirt Steak Tacos Recipe © 2018 Michael Symon. Photo © 2018 Ed Anderson. All rights reserved. All materials used with permission.
If you make this recipe, snap a photo and hashtag it #LeitesCulinaria. We'd love to see your creations on Instagram, Facebook, and Twitter.