Coconut crème brûlée tart is a bit of a showstopper—creamy coconut filling, buttery pastry and a sweet and crackly top. What's not to love?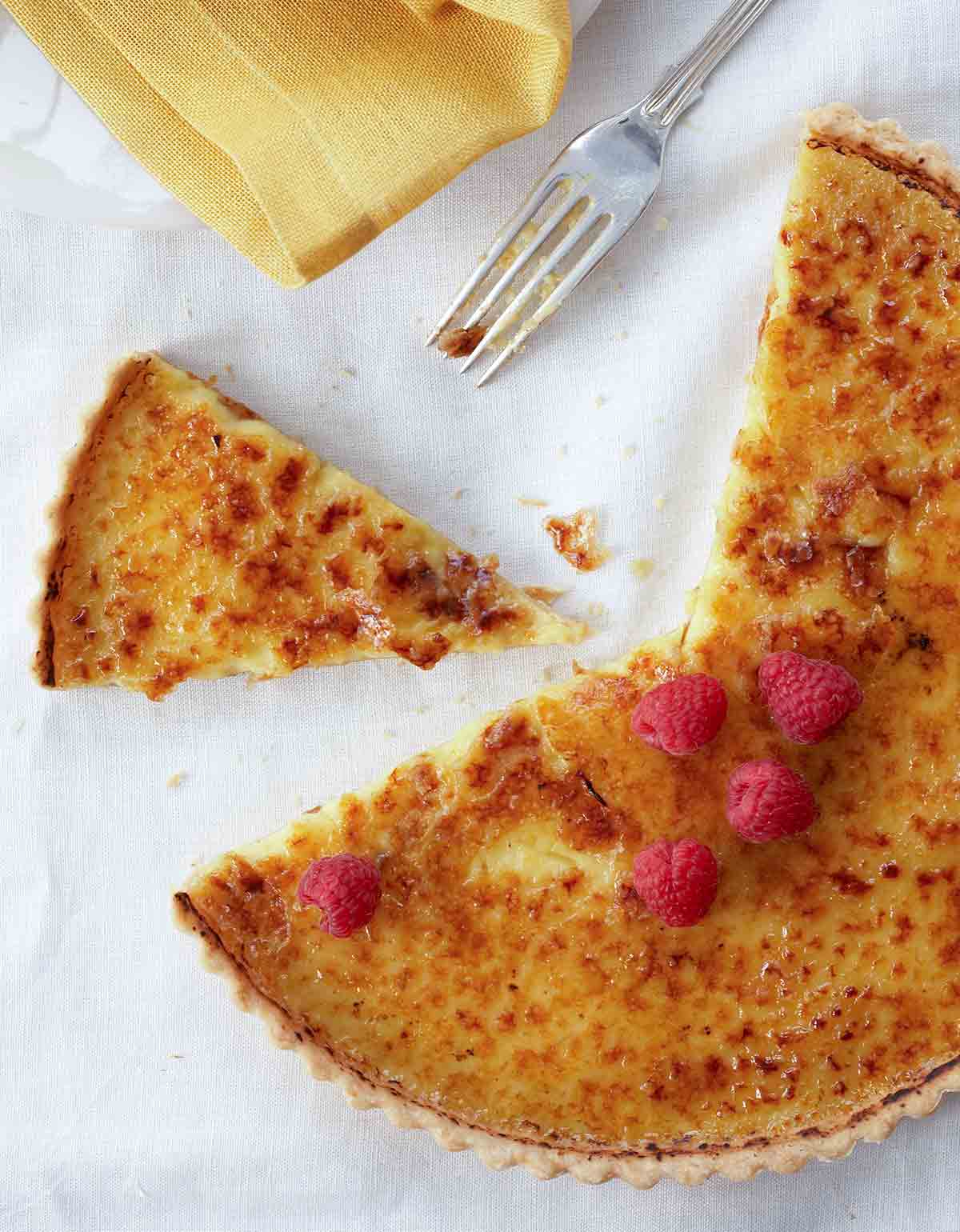 This stunning dessert takes far less effort than one might expect. It's starts with a rich, buttery pastry dough and ends with a silken, subtly flavored coconut filling and, in sharp contrast, a sugary topping that shatters at the slightest touch.–David Leite
Can I put this under the broiler?
The glassine surface of this tart, borrowed from crème brûlée, cannot, sadly, be replicated under a broiler. Gentlemen (and gentleladies), start your blow torches.
Coconut Crème Brûlée Tart
Coconut crème brûlée tart is a bit of a showstopper—creamy coconut filling, buttery pastry and a sweet and crackly top. What's not to love?
Equipment
9- or 10-inch (23- or 25-cm) fluted tart pan with a removable bottom, a kitchen-friendly blow torch
Ingredients
For the crust
1 1/3

cups

all-purpose flour

plus more for the work surface

1

tablespoon

sugar

1/4

teaspoon

salt

1

stick (4 oz)

cold unsalted butter

cut into small pieces

3 to 5

tablespoons

ice water
For the coconut filling
1 1/4

cups

sweetened flaked coconut

(see cooks notes below)

1 1/2

cups

heavy cream

3/4

cup

half-and-half

6

large

egg yolks

2

tablespoons

turbinado sugar

(see cooks notes below)

Pinch of

salt

1/4

cup

turbinado sugar

finely ground if desired (see cooks notes below)

Raspberries for garnish

(optional)
Directions
Make the crust
In a bowl, whisk together the flour, sugar, and salt. Cut in the butter with a pastry blender or 2 knives used scissors-fashion until the butter is the size of small peas. 

Sprinkle 1 tablespoon of the water over the flour mixture, stirring gently with a fork to moisten it evenly. Continue adding water until the dough just begins to come together when a small bit is pressed between your fingers; do not overwork the dough.

Press the dough together into a ball and knead it ever so gently in the bowl. Shape the dough into a disk, wrap it in plastic wrap or wax paper, and refrigerate for at least 30 minutes or up to 2 days.

On a lightly floured surface, roll the dough to a 12- to 13-inch round. Carefully move the dough to a 9- or 10-inch round fluted tart pan with a removable bottom and gently press the pastry against the bottom and up the sides. Trim the pastry to about 1/2 inch above the edge of the pan. Fold the overhanging crust in and gently press pastry against the sides of the pan so it extends just 1/4 inch above the rim. Prick the bottom and sides of the shell with a fork and refrigerate for 30 minutes.

Preheat the oven to 350°F (175°C). Position a rack in the middle of the oven.

Line the tart shell with a piece of heavy-duty aluminum foil, pressing it snugly into the bottom and against the sides, and fill with uncooked rice or beans. Bake for 20 minutes. Remove the foil and rice or beans and bake for about 10 minutes longer, until pale golden brown. Let cool completely on a wire rack.
Make the filling
Preheat the oven to 350°F (175°C).

Spread the coconut on a large baking sheet and toast in the oven, stirring twice, until golden brown, 6 to 8 minutes. Remove from the oven. Lower the oven temperature to 300°F (150°C) or turn it off for a spell and then preheat it again.

Bring the cream, toasted coconut, and half-and-half to a rolling boil in a large saucepan over medium heat. Immediately remove from the heat, cover, and let steep for 35 minutes.

When you're ready to bake the tart, in a large bowl, whisk together the egg yolks, turbinado sugar, and salt. Still whisking constantly, slowly add the cream mixture. Pour the mixture through a fine strainer set over a large glass measure, pressing hard on the solids to extract as much liquid as possible.

Place the tart pan on a baking sheet. Pull the oven rack out slightly, place the baking sheet on the rack, and pour the custard into the tart pan. Bake for 25 to 30 minutes, until just barely set. Watch the custard closely at the end, as it can set and overcook quickly. Keep in mind, the custard will continue to set as it cools. Remove the tart from the baking sheet and let cool completely on a wire rack.

Just before serving, remove the side of the pan from the tart. Gently blot the surface of the custard with the edge of a paper towel to remove any condensation. Sift the turbinado sugar evenly over the custard. Move the flame of a blowtorch evenly back and forth just above the top of the tart, avoiding the crust, until the sugar is evenly browned. Let stand for about 5 minutes before serving. Cut into wedges and serve with raspberries, if desired. Originally published May 19, 2010.

Notes
COOKS NOTES
Sweetened Flaked Coconut

 

is dried coconut to which water and sugar have been added. The increased moisture enhances tenderness and flavor. It is very sweet. Some say its flavor and mouthfeel are most similar to fresh coconut. Store any type of dried coconut in an airtight container in a cool, dark place. Untoasted dried coconut should keep for about 4 months at cool room temperature, 5 to 6 months in the refrigerator, and 8 to 12 months in the freezer.
Toasting Coconut

 

I prefer the flavor of toasted coconut over raw. It adds a depth of flavor and a warmth that is irresistible. As it toasts, stir the coconut at the edge of the baking sheet into the center and the still-white coconut to the outside with a wide metal spatula to ensure even browning. If you stir it near the halfway mark and then again toward the end, you will end up with evenly toasted golden brown coconut. I prefer a deep golden brown to a paler one. Watch it carefully.
Turbinado Sugar

 

is pure raw cane sugar with large brown crystals and a delicate molasses flavor. It melts well, making it perfect for sprinkling atop crème brûlée. If you first finely grind the sugar in a blender, it will give you a smooth, glass-like top after being torched.
Show Nutrition
Serving:
1
portion
Calories:
503
kcal
(25%)
Carbohydrates:
36
g
(12%)
Protein:
7
g
(14%)
Fat:
38
g
(58%)
Saturated Fat:
24
g
(150%)
Polyunsaturated Fat:
2
g
Monounsaturated Fat:
9
g
Trans Fat:
0.5
g
Cholesterol:
227
mg
(76%)
Sodium:
145
mg
(6%)
Potassium:
163
mg
(5%)
Fiber:
2
g
(8%)
Sugar:
18
g
(20%)
Vitamin A:
1275
IU
(26%)
Vitamin C:
0.5
mg
(1%)
Calcium:
80
mg
(8%)
Iron:
2
mg
(11%)
If you make this recipe, snap a photo and hashtag it #LeitesCulinaria. We'd love to see your creations on Instagram, Facebook, and Twitter.
Recipe Testers' Reviews
This tart is a ten out of a ten. While there were a number of steps to go through in making this desert, I loved the coconut smell as it cooked. The directions were easy and precise, and the tart was very pretty when it was finished. The crust was golden, tender, and flaky with a very nice buttery flavor. The filling had the exact texture of crème brûlée: creamy, yet firm, and had an unmistakable coconut flavor, while not being too sweet.
Unfortunately, I didn't have a torch for the sugar topping and had to rely on my broiler, which left the sugar more gritty than a sheet of melted sugar. While breaking the crust was not as satisfying, the tart was devoured quickly anyway. I will certainly make this again (after I purchase a torch).
Eight out of eight dinner guests loved this dish. The directions are very easy to follow. I made the dough one day, and the filling on the next. Though I didn't have a 10-inch tart pan, I made it in my 9-inch one, which made for a thicker filling—a good thing.
It took about 40 minutes to cook. As per the instructions, the tart needs watching toward the end, as it seems to go from liquid to solid in an instant. The filling is smooth and creamy and sets up well, and the coconut taste is just right. The sugar crust is quite thin, so it's fairly easy to cut a neat slice from the tart. I didn't grind the sugar, although I may try that next time, as it took some time to melt the turbinado with my torch.
Recipe © 2010 Lori Longbotham. Photo © 2010
Lucy Schaeffer
. All rights reserved. All materials used with permission.
If you make this recipe, snap a photo and hashtag it #LeitesCulinaria. We'd love to see your creations on Instagram, Facebook, and Twitter.