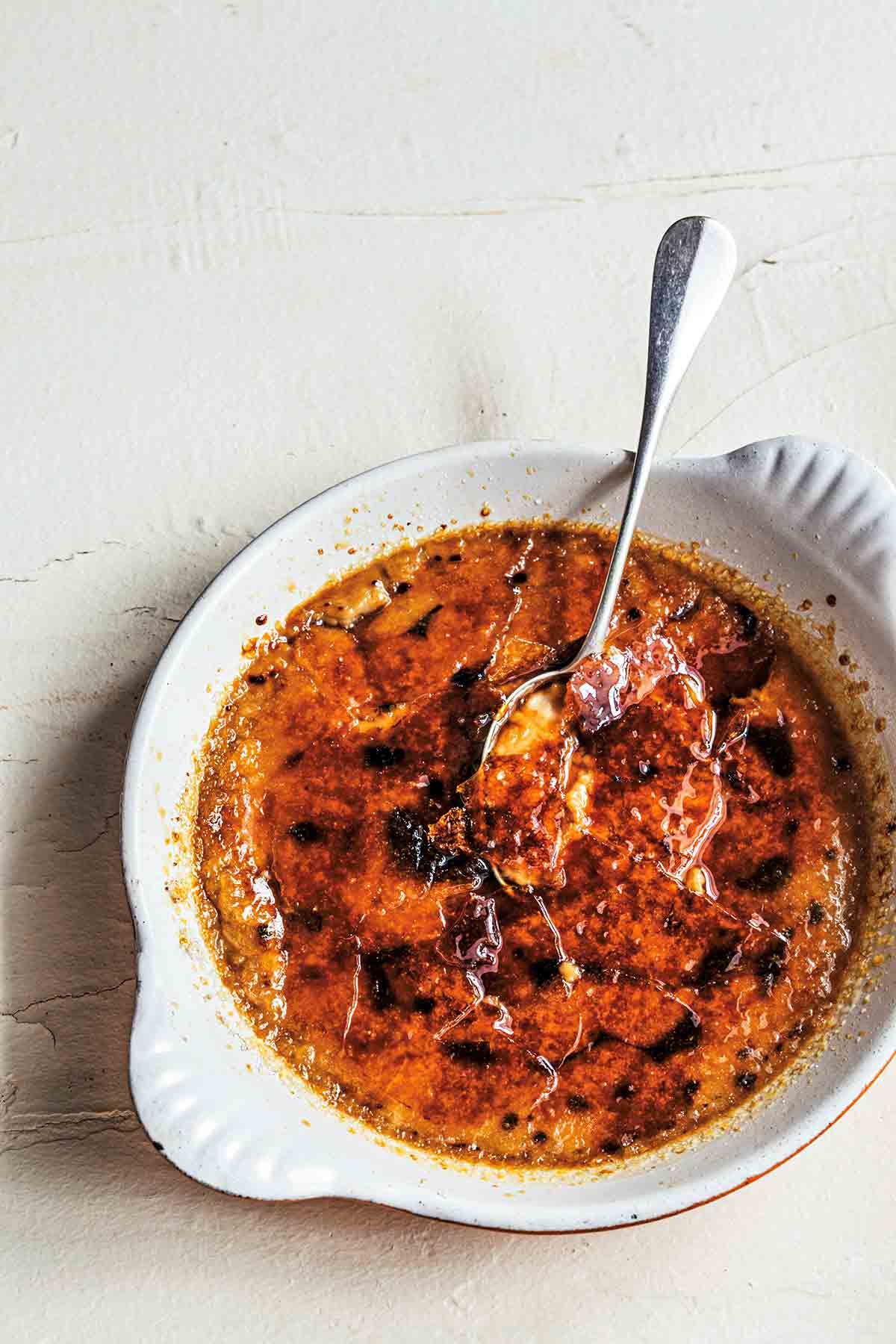 It took a move to France to rekindle my love for crème brûlée, in particular coffee crème brûlée. While it gives some people great pleasure to dive into oversized pots of creamy richness, after the initial excitement, I found crème brûlée to be just too overwhelming. What made me finally fall for this classic dessert again was an adjusted caramel-to-cream ratio. In Paris cafés, crème brûlée is always served in a shallow dish, tipping the ratio in favor of more caramel, less cream.
I've also developed a love of shopping at the vide-greniers in Paris, where I pick up small gratin dishes cast off by families cleaning their attics (hence the name vide-grenier, or "empty attic"). I'm happy to be part of the movement to recycle and reuse whatever I can, especially if it means I get to have stacks and stacks of vintage dishes for crème brûlée in a multitude of fabulous colors to add to my collection. If you like crème brûlée as much as I do (again), it's worth picking up a set of shallow gratin dishes, which you can find in cookware shops or online. For those of you who don't own gratin dishes, this crème brûlée can also be baked in six 4-ounce ramekins. The mixture will not fill them up completely, but that is intended so you get my preferred ratio of caramel to custard.–David Lebovitz
LC David Lebovitz On Instant Espresso Note
When we just typed "David Lebovitz On Instant Espresso," we didn't literally mean David Lebovitz is high on instant espresso. We mean we'd like to share his words of advice regarding instant espresso. Here they are: "To make coffee-flavored custards, I used to infuse the cream with coffee beans. But as the price of coffee beans climbed, and the quality of instant coffee or espresso powders improved, I switched. One caveat: Instant powdered coffee or espresso varies by brand. So taste the warmed cream and milk mixture, and then add more powdered coffee, if desired. I use some milk in place of some of the cream in this recipe because it makes a more delicate custard. Lest you think this might bother Parisians, know that I've actually had friends here lift their gratin dish and lick it clean—right at the table! I also recommend using the kind of blowtorch that's available in a hardware store to create that delicious browned crust." And so it goes.
Coffee Crème Brûlée | Crème Brûlée au Café
Quick Glance
15 M
2 H

Serves 4 to 6
Special Equipment: 4 individual gratin dishes or 6 4-ounce ramekins or custard cups
Print Recipe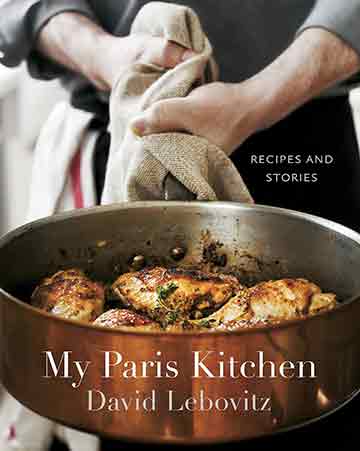 Ingredients
Email Grocery List
1 1/3 cups (330 milliliters) heavy cream

2/3 cup (160 milliliters) whole or low-fat milk

1/4 cup (50 grams) granulated sugar, plus more for caramelizing

Pinch sea salt or kosher salt

4 large egg yolks

1 tablespoon instant espresso or coffee powder

2 teaspoons Kahlúa or other coffee-flavored liqueur
Directions
1. Preheat the oven to 300°F (150°C) if using gratin dishes or 325ºF (160ºC) if using ramekins or custard cups.

2. Place 4 individual gratin dishes on a high-rimmed baking sheet (also known as a jellyroll pan) or in a roasting pan big enough to hold them. For those of you who don't own gratin dishes, you can use six 4-ounce ramekins or custard cups.

3. In a small saucepan over medium heat, warm the cream, milk, sugar, and salt until the sugar dissolves, which shouldn't take long at all.

4. In a bowl, whisk together the egg yolks.

5. Gradually add the warm cream mixture to the egg yolks in a steady stream, stirring with the whisk (but not too vigorously as you don't want to create foam), until the cream is completely incorporated. Mix in the espresso or coffee powder and strain the mixture into a large measuring cup, or another vessel with a spout, then stir in the Kahlúa. Divide the mixture among the gratin dishes, ramekins, or custard cups.

6. If using gratin dishes, place the pan of custards on the oven rack and pour enough hot water into the pan so that it reaches at least halfway up the sides of the gratin dishes. Bake the custards for 20 to 25 minutes, or until they are just set; watch them very carefully during the final few minutes of baking.

If using ramekins or custard cups, the dishes will not be filled completely, and that's perfect. Snugly cover the baking pan with aluminum foil and bake the custards for 30 to 35 minutes. When you jiggle the pan, they should just barely quiver.

7. Remove the dishes from the pan and set them on a cooling rack. (A wide metal spatula works well for lifting the hot custards from the water; be careful, as the custards are hot.) Let the custards cool to room temperature. Then loosely cover and refrigerate overnight.

8. Just before serving, sprinkle the top of each crème brûlée with an even layer of sugar. It should be enough to cover the top, but not too heavily—1 1/2 teaspoons for each crème brûlée is about right. Using a blowtorch, wave the flame over each custard, 1 at a time, until the sugar melts and then browns. You may need to lift and tilt the dishes so that the caramel flows evenly across the top. If so, be extremely careful because the caramel is very hot and any drips will cause a painful burn. Serve immediately.
Vanilla Crème Brûlée Variation
To make vanilla crème brûlée, you have two options: 1. You can replace the coffee and coffee-flavored liqueur with 1 teaspoon vanilla bean powder or paste. (Note that using paste will make the custard a slightly tawny color.) 2. You can split a vanilla bean lengthwise and scrape the seeds out, then place both the seeds and the pod in the pan of cream when you remove it from the heat and set it aside to infuse for 1 hour. Remove the pod and finish making the custard with the seed-flecked, vanilla-infused cream.
Recipe Testers Reviews
Coffee Crème Brûlée | Crème Brûlée au Café Recipe © 2014 David Lebovitz. Photo © 2014 Ed Anderson. All rights reserved. All materials used with permission.
If you make this recipe, snap a photo and hashtag it #LeitesCulinaria. We'd love to see your creations on Instagram, Facebook, and Twitter.