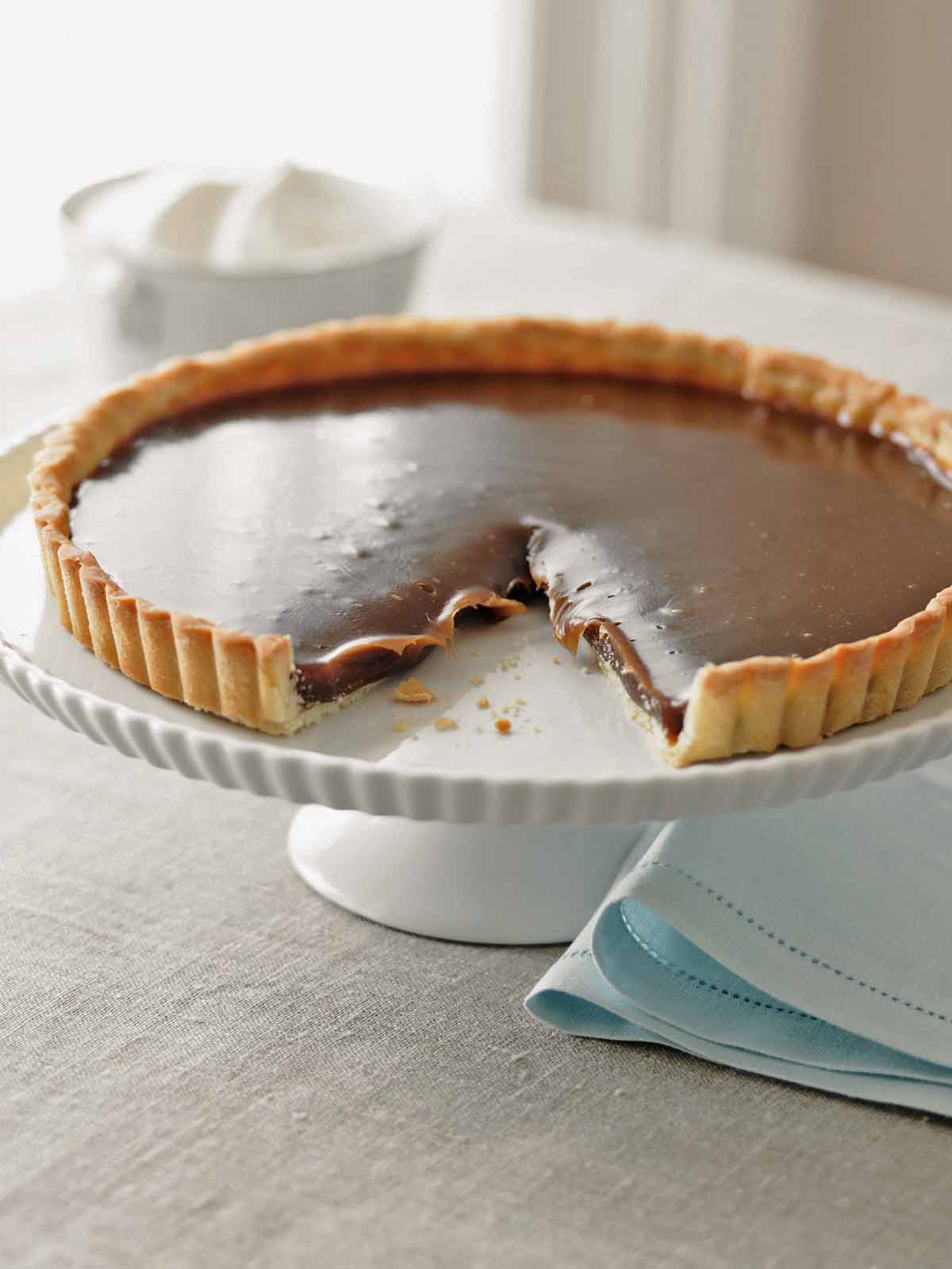 People often ask me how I get the ideas for my recipes. Some magically happen from ingredients in my fridge, others are inspired by restaurant meals or ingredient combinations that I like. And then there are those that come from the oddest of sources.
Several years ago I'd been perfecting my recipe for salted caramel sauce. When it comes to desserts, caramel is my weakness, and the combination of salted butter and caramel is close to perfection, with the salt accentuating the caramel and balancing its sweetness. During this time, one of the bakeries in my Paris neighborhood, which had been run by an accountant who had exchanged crunching numbers for kneading dough, was bought by the well-known Paris baker Eric Kayser.
Just after Kayser moved into my part of town, my friend Laura dropped by with a copy of his new tart book. It was full of mouthwatering photographs with short, seemingly simple recipes, each of which fit neatly on a single page. I flipped through it, thinking that perhaps his tarts were better than his bread. (Believe it or not, the accountant had actually made better bread.) When I saw a recipe for tarte au beurre salé, or salted butter tart (aka salted caramel tart), I knew I had to try it.–Jennifer McLagan
Salted Caramel Tart FAQs
Why isn't there any water in the salter caramel pie filling?
Some caramel recipes use water to help dissolve the sugar but the problem with adding water is that it takes much longer for it to caramelize. Not only that, your filling likely won't be thick enough. Making caramel without water is a little thicker but follow McLagan's suggestions and you'll do just fine.
How do I make my sweet butter crust extra flaky?
It's all the pockets of butter inside the dough that melt in the oven, leaving flaky layers. Keeping the dough cold helps that butter to stay solid. Another tip is to employ the French method of fraisage to make streaks of butter, rather than blobs. Just a couple of quick swipes is all it takes.
Salted Caramel Tart
The secret with caramel tarts, I found, is to be brave and cook the caramel until it is rich and dark without letting it burn and turn bitter. If you lack courage and don't cook it quite to the daring point that I do, the tart will still be delicious–just sweeter.
Ingredients
For the sweet butter pastry
2

cups

all-purpose flour

,

plus more for the work surface

Pinch

of fine sea salt

2/3

cup

cold unsalted butter

,

diced

1

large

egg

1/3

cup

superfine sugar

,

(or just blitz granulated sugar in a blender until finely ground but not powdery)
For the salted caramel filling
1/2

recipe

Sweet Butter Pastry

1 1/4

cups

superfine sugar

1/2

cup

salted butter

,

diced

1

cup

heavy cream

Lightly whipped cream

,

for serving (optional)
Instructions
Make the sweet butter pastry
Combine the flour and salt in a food processor and pulse to mix. Add the butter and pulse until the mixture resembles very coarse bread crumbs. Dump the mixture into a large bowl.

In another bowl, whisk together the egg and sugar. Pour the egg mixture over the flour mixture and mix with a fork. Squeeze a bit of the mixture between your fingertips. If it holds together, transfer the dough to a lightly floured surface; if not, add a couple of teaspoons of ice water and test again. Knead gently and form into a ball, divide the pastry in half, and flatten into 2 disks. Wrap each disk in plastic and refrigerate for at least 30 minutes before using.

Roll out the pastry on a floured surface and line a 9-inch or 9 1/2-inch (23-cm or 24-cm) tart pan. Prick the base of the tart with a fork and refrigerate for at least 30 minutes.

Preheat the oven to 375°F (190°C).

Place the sweet butter pastry-lined tart pan on a baking sheet. Line the pastry with parchment paper and fill it with dried beans. Bake until the pastry is just set, about 15 minutes. Remove the paper and beans and continue to cook until the pastry is a dark golden color, 10 to 15 minutes. Move the tart to a wire rack and leave to cool completely.
Make the salted caramel filling
Meanwhile, combine the sugar and butter in a deep, heavy saucepan over medium heat. Stir to mix and cook, stirring occasionally, until the butter and sugar caramelize, 10 to 15 minutes. The sugar and butter will go through several stages: First, the mixture will look like a flour-butter roux, then it will appear curdled, and then the butter will leak out of the sugar mixture. Don't worry: It will all come together in the end.

While the caramel is cooking, pour the cream into a saucepan over medium heat. Bring it to a boil, then immediately remove it from the heat and set it aside.

Keep stirring the butter-sugar mixture, watching carefully as it begins to caramelize, and remembering that the heat in the pan will continue to cook the caramel once it is removed from the burner. You want to end up with a rich, dark caramel color, but you don't want to burn the mixture, which will impart a bitter taste. When the caramel reaches a color that's just a shade lighter than what you want, remove the pan from the heat and slowly and carefully pour in the cream; the mixture will bubble and spit. When the caramel stops bubbling, return it to low heat and cook for 5 minutes, stirring to dissolve the caramel in the cream. Remove the pan from the heat and let the caramel cool for 10 minutes.

Slowly pour the cooled caramel into the cooled, baked pastry in the tart pan. Refrigerate the tart for at least 2 hours.

Remove the tart from the pan and, using a wet knife, cut it into wedges. (The tart is easier to cut when it's chilled.) Serve the tart at room temperature. For maximum flavor, bestow a dollop of whipped cream upon each slice.
Nutrition
Serving:
1
serving
Calories:
622
kcal
Carbohydrates:
64
g
Protein:
4
g
Fat:
41
g
Saturated Fat:
25
g
Polyunsaturated Fat:
2
g
Monounsaturated Fat:
10
g
Trans Fat:
1
g
Cholesterol:
128
mg
Sodium:
141
mg
Potassium:
74
mg
Fiber:
1
g
Sugar:
48
g
Vitamin A:
1394
IU
Vitamin C:
0.2
mg
Calcium:
40
mg
Iron:
1
mg
Nutrition information is automatically calculated, so should only be used as an approximation.
Photo © 2008 Leigh Beisch. All rights reserved.
---
Recipe Testers' Reviews
This salted caramel tart is a FABULOUS dessert…but VERY RICH!!! A small piece is all you need…along with the unsweetened whipped cream to help cut the sugar of the tart.
This is a simple caramel tart and a good starting recipe for those cooks who fear making pastry dough and caramelizing sugar. Having caramelized several of my pans (not a fun job to clean up), I was fearful of yet another adventure into burned sugar. This was such an easy and foolproof method that yielded a beautiful thick caramel. The end result was luscious.
The dough came together beautifully with the addition of several tablespoons of ice water. One helpful hint that I learned from Nathalie Dupree is to set aside the smaller portions of dough as they begin to come together. Then, combine all the parts together and knead. This prevents the dough from becoming overworked.
This is a simple recipe that works quite well as is or as a starting point for any number of variations. It makes caramel approachable by omitting the use of a thermometer, and you can make your own superfine sugar by pulsing regular sugar in a food processor. Plus, it can be made ahead and/or in brief installments of time for those with, say, infants.
The pastry dough came together easily without any water (or humidity in the air) and baked into a flaky, golden-brown tart shell. It was neither too sandy, as are some pie crusts with minimal water, nor too tough, as some tart doughs can be.
The salted caramel also worked as written, with the caramel passing through the various stages the author describes. I cooked my caramel for 15 minutes and wound up with the color pictured here and a flavor that was just short of bitter (much like the taste of a Cadbury's Crunchie bar). One caution: the cream not only bubbles and spits when added to the caramel, but it also gives off a lot of steam.
My only complaint is that the saltiness was not strongly perceptible, so I might add a bit of salt next time. After filling my 9-inch tart shell to the brim, I had about 1/3 cup of caramel leftover. The tart was excellent in very small slices paired just with whipped cream, but I can imagine it with a drizzle or a layer of dark chocolate ganache, or spiked with liqueur.