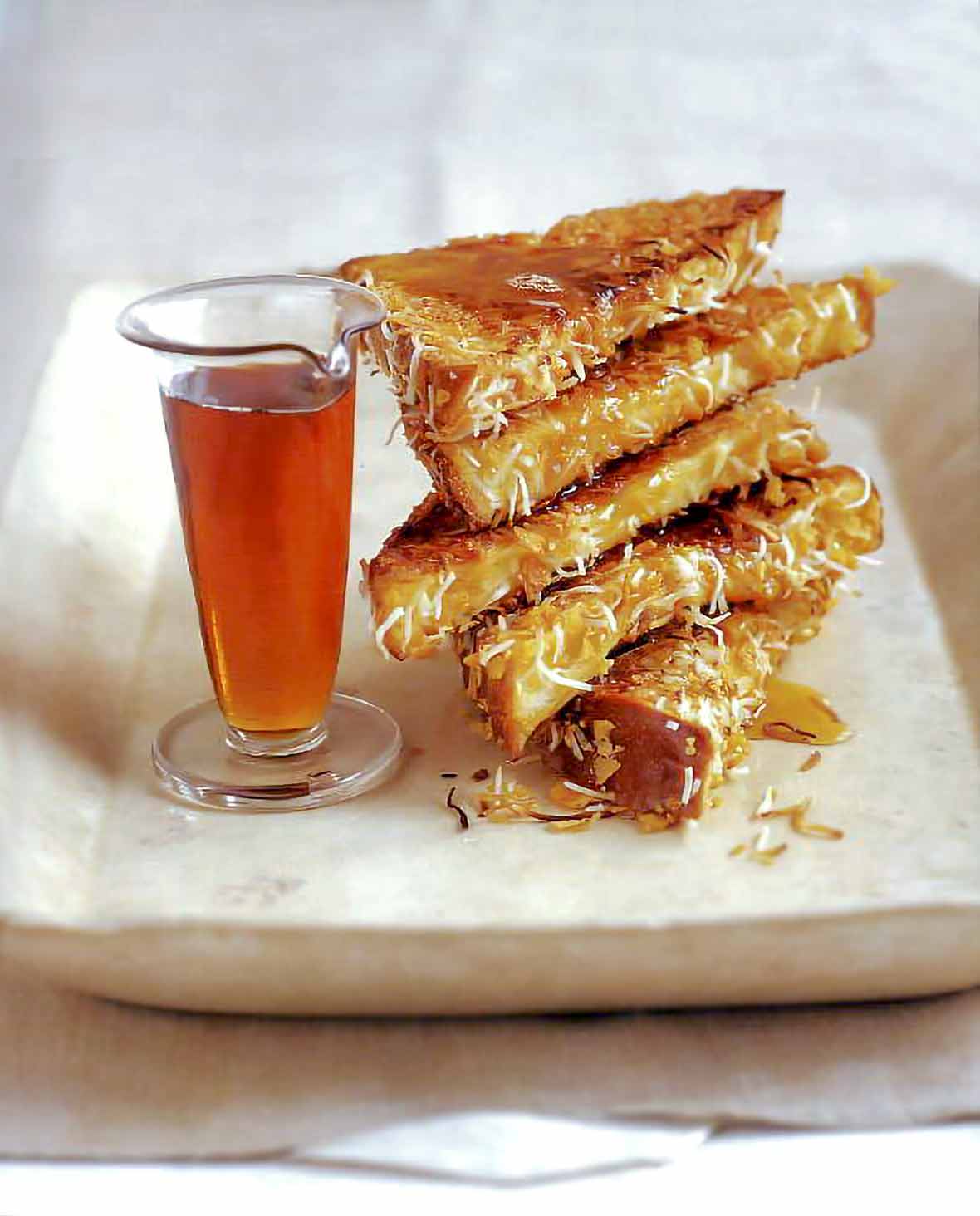 French toast is one of our favorite breakfast dishes, so we've experimented with many variations of the classic recipe. We served brunch for a brief time at our restaurant, and this was one of the most popular dishes on the menu. The sweet coconut gives it a Caribbean flavor, while the maple syrup conjures up thoughts of our home in Vermont.–Bob and Melinda Blanchard
Crunchy Coconut French Toast Recipe
Quick Glance
25 M
25 M

Serves 4
Ingredients
1 1/4

cups

shredded unsweetened coconut

(see Note)

3

cups

cornflakes

, slightly crushed

4

large

eggs

1/4

cup

milk

1

teaspoon

pure vanilla extract

Four

1-inch-thick slices

challah

, or 4 croissants, sliced lengthwise

1

tablespoon

unsalted butter

maple syrup

, for serving
Directions
1. Place the coconut and cornflakes in a shallow bowl and mix well.

2. In another shallow bowl, lightly whisk together the eggs, milk, and vanilla. Dip the bread slices into the egg mixture and soak for about a minute on each side. They should be well coated but not soggy.

3. Press each slice into the coconut mixture on both sides, patting firmly and turning them over several times to coat thoroughly.

4. Heat the butter on a griddle or in a large saute pan over medium heat. Cook for 2 to 3 minutes on each side, or until golden brown and cooked through. Serve with warm maple syrup.
Note
It's important to use unsweetened coconut in this recipe. The sweetened variety is too moist and makes the bread soggy.
Hungry for more?
Chow down on these:
Crunchy Coconut French Toast Recipe © 2005 Bob and Melinda Blanchard. Photo © 2005 Ellen Silverman. All rights reserved.
Hey, there. Just a reminder that all our content is copyright protected. Like a photo? Please don't use it without our written permission. Like a recipe? Kindly contact the publisher listed above for permission before you post it (that's what we did) and rewrite it in your own words. That's the law, kids. And don't forget to link back to this page, where you found it. Thanks!