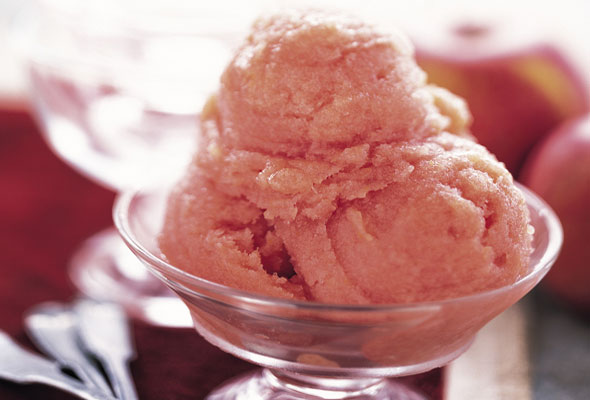 Who doesn't have a favorite apple recipe? For some of you sorbet lovers, this recipe just may fit the bill. Says authors Frank Browning and Sharon Silva, "This big batch of refreshing pink apple sorbet—its lovely color the result of cooking the apples unpeeled—was gobbled right up by a legion of none-too-shy friends at one of our periodic apple recipe tastings." You can easily cut the apple sorbet recipe in half, which, happily, leaves the hardworking cook the rest of the wine to sip. Although we're not so certain we'd want to sacrifice it for sipping at the expense of more of this blushing red sorbet. Oh, and don't be cheap when it comes to buying the Gewurtzraminer. Otherwise your fancy sorbet will taste like sherbet dished up at a freeway truck stop.–LC Editors
LC Fair Maiden Trivia Note
In their book, the authors offer up some rather intriguing fair maiden trivia. Apparently at nineteenth-century "paring bees," it was common practice for young women to toss a long strand of peeled apple skin over their shoulder, hoping that its cursive curls would form the first letter of the name of their future betrothed. While those of us who are single here at Leite's haven't gone to such lengths (at least not yet), we have peeled our share of apples for recipes. Perhaps from now on we'll pay closer attention to the message in the peels, not the cards.
Apple Sorbet with Ginger
Quick Glance
25 M
2 H, 45 M

Makes about 2 quarts
Print Recipe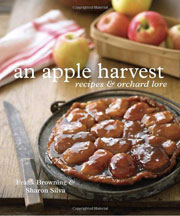 Ingredients
4 pounds assorted red-skinned apples, such as Stayman Winesap, Jonathan, Braeburn, or Northern Spy

1 1/2-inch piece ginger

1 bottle (750 ml) good-quality Gewürztraminer

1 cup granulated sugar
Directions
1. To make the apple sorbet recipe, cut the apples lengthwise into sixths, but do not peel or core. Place them in a heavy saucepan. Lightly crush the ginger under the flat side of a knife to release its flavor, and add it to a the pan along with about 2 cups of the wine. Place saucepan over medium-high heat, bring the mixture to a simmer, and cook until the apples are soft, about 15 minutes.

2. Add the sugar to the apple mixture and stir until it dissolves, about 2 minutes. Remove the pan from the heat. Scoop out and discard the ginger.

3. Carefully pass the cooked apples and their liquid through a food mill, fitted with the fine disk, placed over a bowl. Stir in the remaining wine, cover the bowl, and refrigerate until the mixture is chilled, about 2 hours.

4. Transfer the cool mixture to an ice cream maker and freeze according to the manufacturer's directions. Spoon the apple sorbet into a container, cover, and place it in the freezer until firm, about 2 hours.

5. Spoon the sorbet into clear glass bowls to serve. Bask in the glory of the adulation.
Apple Sorbet with Ginger Recipe © 2010 Frank Browning and Sharon Silva. Photo © 2010 Leigh Beisch. All rights reserved.
If you make this recipe, snap a photo and hashtag it #LeitesCulinaria. We'd love to see your creations on Instagram, Facebook, and Twitter.