These barbecued baby back ribs are first brined to keep them juicy, then liberally coated with a superlative spice rub made with paprika, chile, cumin, and pepper, and finally grilled low and slow until they're almost falling-off-the-bone tender. So spectacular they require no sauce whatsoever.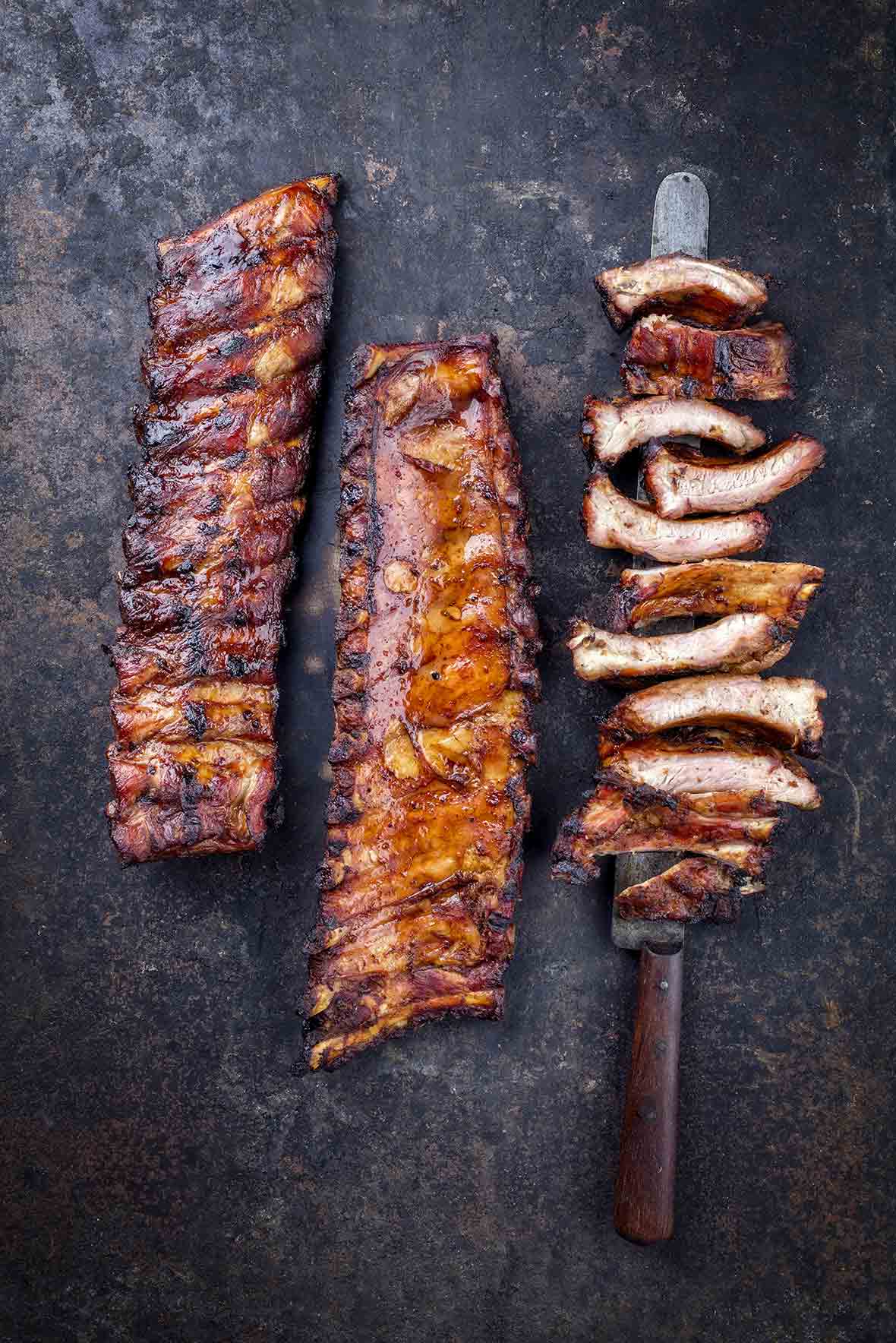 *HOW TO REMOVE THE MEMBRANE FROM RIBS
To remove the membrane or silver skin from a rib, use the tip of a small knife to loosen a corner and then grab the membrane with a paper towel and slowly pull it off.
Barbecued Baby Back Ribs
These barbecued baby back ribs are first brined to keep them juicy, then liberally coated with a superlative spice rub made with paprika, chile, cumin, and pepper, and finally grilled low and slow until they're almost falling-off-the-bone tender. So spectacular they require no sauce whatsoever.
Ingredients
For the dry rub (makes 1 cup)
4

tablespoons

sweet paprika

2

tablespoons

chili powder

2

tablespoons

ground cumin

2

tablespoons

dark brown sugar

2

tablespoons

salt

1

tablespoon

dried oregano

1

tablespoon

granulated sugar

1

tablespoon

ground black pepper

1

tablespoon

ground white pepper

1 to 2

teaspoons

cayenne pepper
For the baby back ribs
1/2

cup

table salt*

1/4

cup

granulated sugar

4

quarts

cold water

2

(2-pound)

full racks baby back ribs or loin back ribs

membranes removed* (see * Note)

1/4

cup

dry rub

2

(3-inch)

wood chunks
Directions
Make the dry rub
In a small bowl, combine all of the ingredients.
Brine the baby back ribs
In a container large enough to contain the ribs, combine the salt, granulated sugar, and water, stirring until everything dissolves, about 2 minutes.

Submerge the baby back ribs in the brine and refrigerate for 1 hour.

Remove the ribs from the brine and thoroughly pat dry with paper towels.

Place the racks on a rimmed baking sheet. Rub each side of each rack with 1 tablespoon of the dry rub. Refrigerate the racks for at least 30 minutes and up to overnight.
Prepare the grill
While the ribs are brining, soak the wood chunks in cold water to cover for 1 hour.

Meanwhile, light a large chimney starter filled 3/4 full with charcoal briquettes (about 4 1/2 quarts) and let burn until all the charcoal is covered with a layer of fine gray ash, about 30 minutes.

Build a modified 2-level fire by spreading the coals on 1 side of the grill, piling them up in a mound 2 or 3 briquettes high, leaving the other half with no coals. Keep the bottom vents completely open.

Drain the wood chips and place them on the charcoal. Place the cooking grate in place, open the grill lid vents completely, and cover with the lid, turning it so the vents are opposite the wood chunks to draw smoke through the grill. Let the grate heat for 5 minutes.
Grill the baby back ribs
Place the baby back ribs on the cooler side of grill. Cover, again positioning the lid so the vents are opposite the wood chunks to draw smoke through the grill. The temperature inside the grill should register about 350°F (175°C) but will soon start dropping.

Cook the ribs , every 30 minutes flipping the rib racks and rotating them 180° and switching their position so the rack nearest the fire is on the outside, until the grill temperature drops to about 250°F (120°C), about 2 hours.

Add 10 fresh briquettes to the pile of coals. Continue to cook with the grill temperature registering 275 to 300°F (135 to 150°C ) and every 30 minutes flipping, rotating, and switching the ribs every 30 minutes, until the meat easily pulls away from the bone, 1 1/2 to 2 hours more.

Transfer the ribs to a cutting board. Using a sharp knife, cut between the bones and pile the ribs on a platter. Set them out immediately and watch them disappear. Originally published August 5, 2005.
Notes
*What You Need To Know About Substituting Kosher Salt For Table Salt
If you wish to make your brine using kosher salt rather than table salt, it's not quite as simple as substituting it 1:1 due to the different densities of the types of salt. To further complicate matters, the two most popular brands of kosher salts differ in their densities, which means the same amount of one brand could work perfectly fine while the same amount of another could render your ribs a little (or a lot) too salty. We did all the weighing and testing for you so you don't have to worry. Simply use the following handy conversion chart:
1/2 cup table salt = 1 cup Diamond Crystal Kosher Salt
or
1/2 cup table salt = 3/4 cup Morton Kosher Salt
Show Nutrition
Serving:
1
portion
Calories:
658
kcal
(33%)
Carbohydrates:
5
g
(2%)
Protein:
55
g
(110%)
Fat:
47
g
(72%)
Saturated Fat:
16
g
(100%)
Polyunsaturated Fat:
8
g
Monounsaturated Fat:
20
g
Trans Fat:
0.4
g
Cholesterol:
196
mg
(65%)
Sodium:
1138
mg
(49%)
Potassium:
787
mg
(22%)
Fiber:
1
g
(4%)
Sugar:
3
g
(3%)
Vitamin A:
1290
IU
(26%)
Vitamin C:
0.3
mg
Calcium:
112
mg
(11%)
Iron:
3
mg
(17%)
If you make this recipe, snap a photo and hashtag it #LeitesCulinaria. We'd love to see your creations on Instagram, Facebook, and Twitter.
Recipe Testers' Reviews
I am a big fan of baby back ribs. I am an even bigger fan of baby back ribs with a dry rub and no sauce. Don't get me wrong, a good sauce can do wonders for a rack of ribs, but sometimes I just want to taste the meat.
This recipe is a little different for me in that it requires a brine. I've never brined ribs but I thought it would be worth a try. Another interesting thing is the recipe calls for dissolving the salt and sugar in cold water. No way! I used the water right out of the tap and it took about 2 minutes to dissolve with constant stirring. That's better than heating water then adding ice and waiting for it to cool down.
While the ribs were brining, I started the grill following the instructions in the recipe. I normally use lump charcoal but opted for briquettes instead. Lump burns hot and fast while briquettes tend to burn longer and not as intense. I used pecan wood.
The dry rub for the ribs is very well rounded and gives you the option for more or less heat with the cayenne. I was a bit concerned that the ribs would dry out without some sort of baste during the cook, but they did not. I'm guessing the brine helped to sustain moisture during the cook.
The recipe is a bit labor intensive with the flipping and moving of the ribs every 30 minutes while maintaining the temperature of the coals, but the ribs are so succulent and tender it was every bit worth it. I did offer sauce on the side just in case, but no one touched it.
As an avid barbecue and smoker fan, I was immediately drawn to this recipe but as I put the dry rub together—with fairly typical dry rub ingredients—I thought the last thing the world needs is another dry rub and barbecue rib recipe. Boy was I wrong.
First of all, while the rub is fairly typical, a few different touches like oregano, black and white pepper, and chili powder gave this rub an added punch that came through in the final product. The other twist that I think really made a difference was the one-hour brine. That kept the ribs from drying out during the four-hour cook and indeed kept them moist and juicy.
As for the flavor, there was a perfect amount of smoke and we could taste a lot of the rub flavors. Often, barbecue rub flavors just all blend in but here, we could taste the sweet, the hot, the smoke. It was pretty perfect. Finally, this was a very easy recipe, even if you're not an experienced barbecue-er.
I used hickory wood for the smoke. It took about 35 minutes for the charcoal to gray over. Timing on the ribs was about right. It was two hours before more charcoal was needed and then another two until they were done. I probably could have pulled them off after an hour and a half after adding more charcoal.
We got four to five servings and served the ribs with homemade cornbread and coleslaw.
Originally published June 15, 2019
Recipe © 2005 Editors of Cook's Illustrated. Photo © 2018
HLPhoto
. All rights reserved. All materials used with permission.