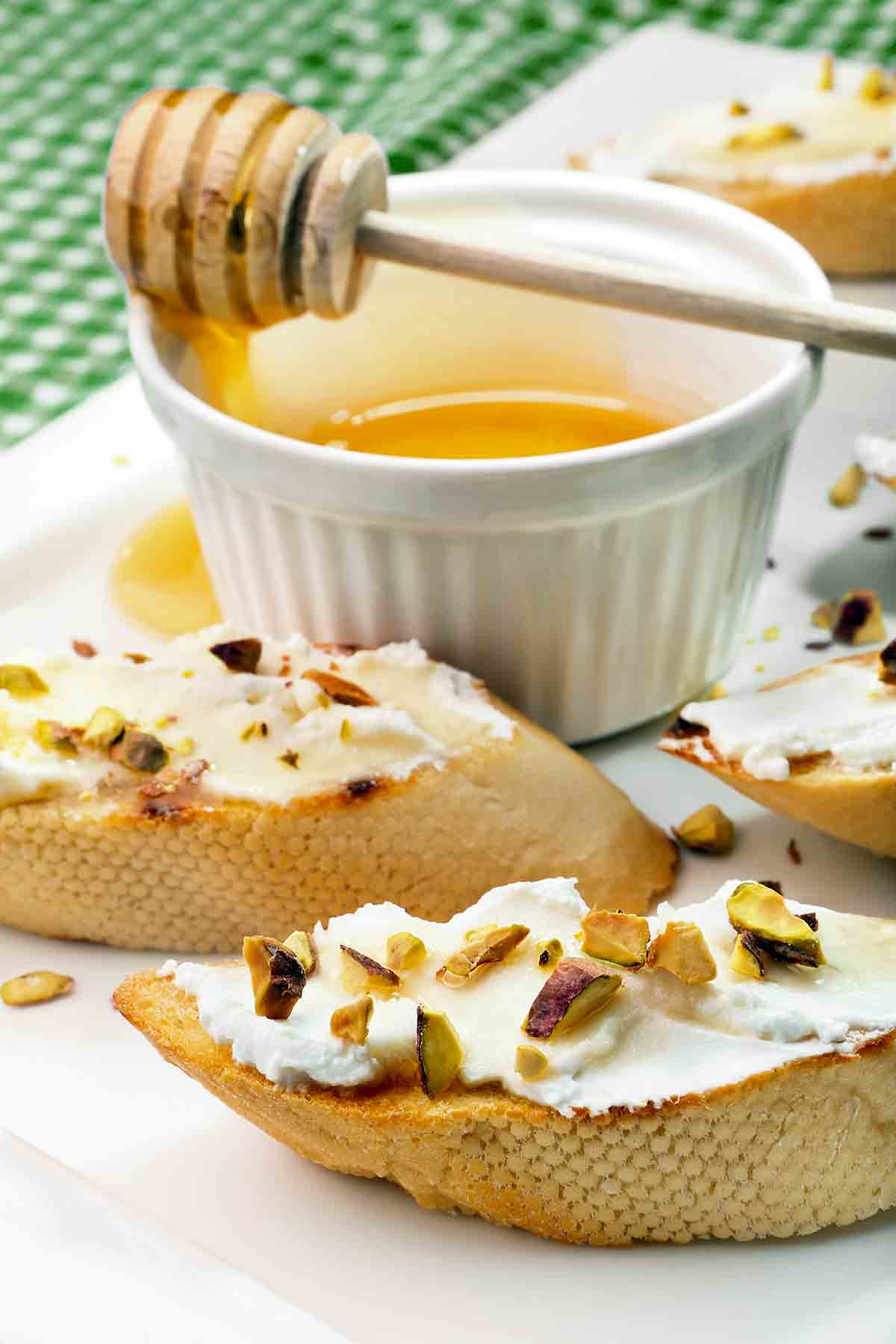 Philosophically, I part ways with places that conclude your dinner with a plate filled with fanciful concoctions topped with sprinkles and crunchies and wafers and genoise and ganache and foam and…you get my point. I rarely have dessert when I eat out. For me, it's just a little over the top.
A beautifully made, straightforward dessert can be a lovely ending to a meal. I'm not anti-dessert; I just like what I like. And at the end of a meal, generally speaking, I like cheese. Cheese for the civilized, desserts for the rest of you.
Go to your farmers' market and get the freshest and best goat cheese you can find—the tang and texture are critical with a dish this straightforward. Ask for tastes and buy what you like, and please, please don't serve your cheese cold. Refrigeration is a wonderful advent in food preservation, but it blunts the flavor and affects the texture of every cheese you buy. Simply leave it on the counter during your meal and it should come to temperature by the time you're ready to eat it. Chestnut honey has an earthiness, almost a gaminess, really, that adds depth and structure to the dish.–Ethan Stowell
LC Honey Do List, er, Note
When you (or your honey) are shopping for this simple last course, you may wish to add a sort of unstated asterisk after the word "chestnut." True, as Ethan Stowell notes, chesnut honey will contribute a complexity that's really quite lovely–although it's not the only honey that's compatible with goat cheese. Not by far. In truth, almost any honey will do. Since you'll probably already be at the farmers' market sampling local goat cheeses, consider trying a few local honeys, as anything taken from the same terroir as the goat milk will accentuate the cheese in ways both subtle and profound.
Goat Cheese with Honey
A beautifully made, straightforward dessert can be a lovely ending to a meal. While you're picking up some gorgeous goat cheese at the farmer's market, try some local honey to drizzle on top.
Ingredients
4

ounces

fresh goat cheese

Toasted baguette slices (optional)

Honey, preferably chestnut

,

for drizzling

2

tablespoons

ground or finely chopped hazelnuts or pistachios

,

if desired
Instructions
If the goat cheese is in nice little crottins, place them on a cutting or serving board. If the goat cheese is in a log, slice it thickly into 4 rounds or use 2 soup spoons to form it into 4 quenelles, scooping the cheese out of one and rounding it as you pass the cheese back and forth between the spoons to form a smooth football shape.

Arrange the cheese on a board or plate, or spread portions onto toasted baguette rounds.

Drizzle the goat cheese with the honey. If desired, sprinkle hazelnuts or pistachios over the cheese.
Nutrition
Serving:
1
portion
Calories:
106
kcal
Carbohydrates:
1
g
Protein:
6
g
Fat:
9
g
Saturated Fat:
4
g
Polyunsaturated Fat:
1
g
Monounsaturated Fat:
4
g
Cholesterol:
13
mg
Sodium:
104
mg
Potassium:
41
mg
Fiber:
1
g
Sugar:
1
g
Vitamin A:
294
IU
Vitamin C:
1
mg
Calcium:
45
mg
Iron:
1
mg
Nutrition information is automatically calculated, so should only be used as an approximation.
Recipe © 2010 Ethan Stowell. Photo © 2010 Wideonet. All rights reserved.
---
Recipe Testers' Reviews
Goat cheese and honey seem to have an affinity for each other, and this simple recipe is no exception. I opted out of the hazelnuts, tempting as they were. Since I don't have access to chestnut honey, I used a local wildflower honey with great results. If you want to go for exceptional, try truffled honey.
I did not serve this little gem as a dessert, but rather as part of a potluck with a group of discerning foodie diners and friends—happy eaters who are interested in food and cooking and who are curious and interested in trying the new, the unusual, the as-of-yet-un-explored. No one touched my lovely contribution until I quietly noted it was chestnut honey, and then it was devoured with pleasure—gone so quickly I barely got a taste. The chestnut honey was dark, and, while it might seem an oxymoron to call honey—a sweetener—savory, this is the savory-est honey I've ever tasted. And so it not only complemented the cheese, but created a flavor combination that was a little bit unexpected and a lot special. Instead of being cheese plus sweet (the predictable option), it was cheese plus a savory, dark, murky, foresty surprise that was the opposite of floral, fruity, conventional wildflower or clover honeys to which we are accustomed. I purchased a chèvre log and did not slice it but rather I squeezed it into an oblong ramekin whole, then drizzled the honey atop and sprinkled it with the finely chopped hazelnuts. Ethan Stowell is correct—the chestnut honey adds depth and it is a treat well worth seeking out. Since honey does not ever go bad, once you have it in stock, you will be 5 minutes from this exquisite treat at all times. In addition to serving as dessert, which is Stowall's suggestion, this could also work well as part of a brunch buffet or as a component of a cheese assortment to precede a meal or as a solo appetizer or alongside a very simple green salad. The accompanying photograph shows the cheese with honey drizzle, but I used the optional hazelnuts and as a result, my presentation looked more finished and polished (and attractive, I think!) than the version in the photo.