This old-fashioned kettle corn recipe made with salt and sugar is simple and addictive. It makes a great snack for a party.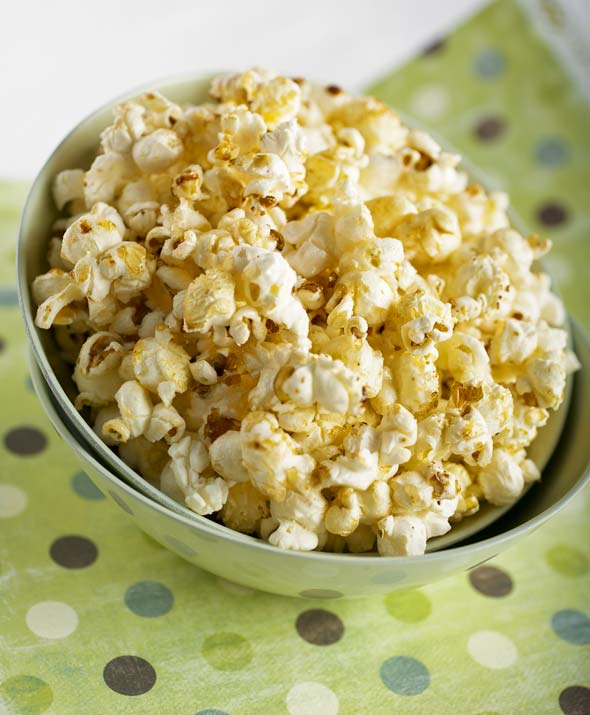 LC Fave Use For Splatter Screen Note
If you've ever made popcorn before, you know it's something of a delicate dance to crack the lid just enough so that a little steam can escape, ensuring the popcorn is airy and not soggy, yet not so much that the lid topples off the pot, clattering to the floor and ensuring popcorn flies into all the far reaches of the kitchen. A far simpler solution is to rely on a splatter screen in place of a lid. Not only does this free up your hands and fend off grease spatters, but it also allows you to watch the popcorn pop, gleeful as a little kid. And, as experienced kettle corn makers know, it makes it easier to discern that crucial and opportune moment for sprinkling in the sugar, which is just after the bottom of the pot has been covered with popped corn but before the entire batch pops. It's a nifty little tactic that ensures the sugar melts onto the corn but doesn't scorch.
Old-Fashioned Kettle Corn
Popcorn with salt and sugar sounds simple, but it's addictive. This is fun to give guests at parties after dinner instead of a heavy dessert, especially if there's a big game or a movie to be watched.
Ingredients
1/4

cup

canola or other mild vegetable oil

1/2

cup

popcorn kernels

1/4

cup

granulated sugar

1

teaspoon

fine sea salt
Directions
Heat the oil over medium-high heat in a large pot with a tight-fitting lid. Place 4 or 5 popcorn kernels in the oil in the pan and cover with the lid. When the kernels pop, quickly open the lid just enough to pour in the rest of the popcorn kernels and replace the lid.

Quickly shake the pan to distribute the kernels. When just enough kernels have popped to cover the bottom of the pan, sprinkle the salt and sugar over the kernels and continue to cook, shaking the pan constantly, until the popping slows, about 3 minutes. (Don't wait for every kernels to pop or you may scorch the sugar and your popcorn.) Remove from the heat. Taste and season with a bit more salt, if desired. Serve the kettle corn immediately.
Show Nutrition
Serving:
1
cup
Calories:
82
kcal
(4%)
Carbohydrates:
9
g
(3%)
Protein:
1
g
(2%)
Fat:
5
g
(8%)
Saturated Fat:
1
g
(6%)
Polyunsaturated Fat:
3
g
Monounsaturated Fat:
1
g
Trans Fat:
1
g
Sodium:
194
mg
(8%)
Potassium:
19
mg
(1%)
Fiber:
1
g
(4%)
Sugar:
4
g
(4%)
Calcium:
1
mg
Iron:
1
mg
(6%)
If you make this recipe, snap a photo and hashtag it #LeitesCulinaria. We'd love to see your creations on Instagram, Facebook, and Twitter.
Recipe Testers' Reviews
With the sugar in the pan, it's really important that you don't wait for all of the kernels to pop, or you'll risk burning. Instead, wait until most of the kernels have popped, and then take the popcorn off the heat. This old-fashioned kettle corn recipe is not as good as county fair kettle corn, but it's perfectly good for made-on-the-stove kettle corn! It yields a bowl full of salty-sweet popcorn with a slightly crispy, sugary coating instead of a glaze, like with caramel corn. Yum. My only change would be to increase the salt to 1 tablespoon, since I like my popcorn saltier. TIP: You may end up with a mess in the pan, but if you soak the pan in water for a couple of hours, it'll clean right up.
LATER: Okay – 1 Tb salt for 1/2 c kernels is too much. 1 tsp is not enough. I would throw 2 tsp salt into the pot and then see if you need more salt. Depending on the day, I'll sprinkle a little more on after it's done, but more often than not, 2 tsp is enough.
Simple and easy, this Old-Fashioned Kettle Corn is a real winner! The kernels are lightly sweetened with just a bit of salt for flavor. As the author notes, take care when popping: My first experience resulted in scorching a few. But I ate them anyway—they were that good.
This kettle corn is one big party in the kitchen! What could be better than fresh-popped corn glistening with sugar and salt? (Well, more of it would be better.) This is a lighter, airier version of kettle corn that's so good, we were fighting the Lab for the last kernels. (I won!) Cleaning the pot has its advantages as well: you'll discover that some of those unpopped kernels you left in the pot have popped by now, and are waiting under the lid. TIP: Although the recipe says to serve immediately, it's much better after it has had a chance to cool.
Originally published January 18, 2011
Recipe © 2009 Christie Matheson. Photo © 2009
Joyce Oudkerk Pool
. All rights reserved. All materials used with permission.
If you make this recipe, snap a photo and hashtag it #LeitesCulinaria. We'd love to see your creations on Instagram, Facebook, and Twitter.