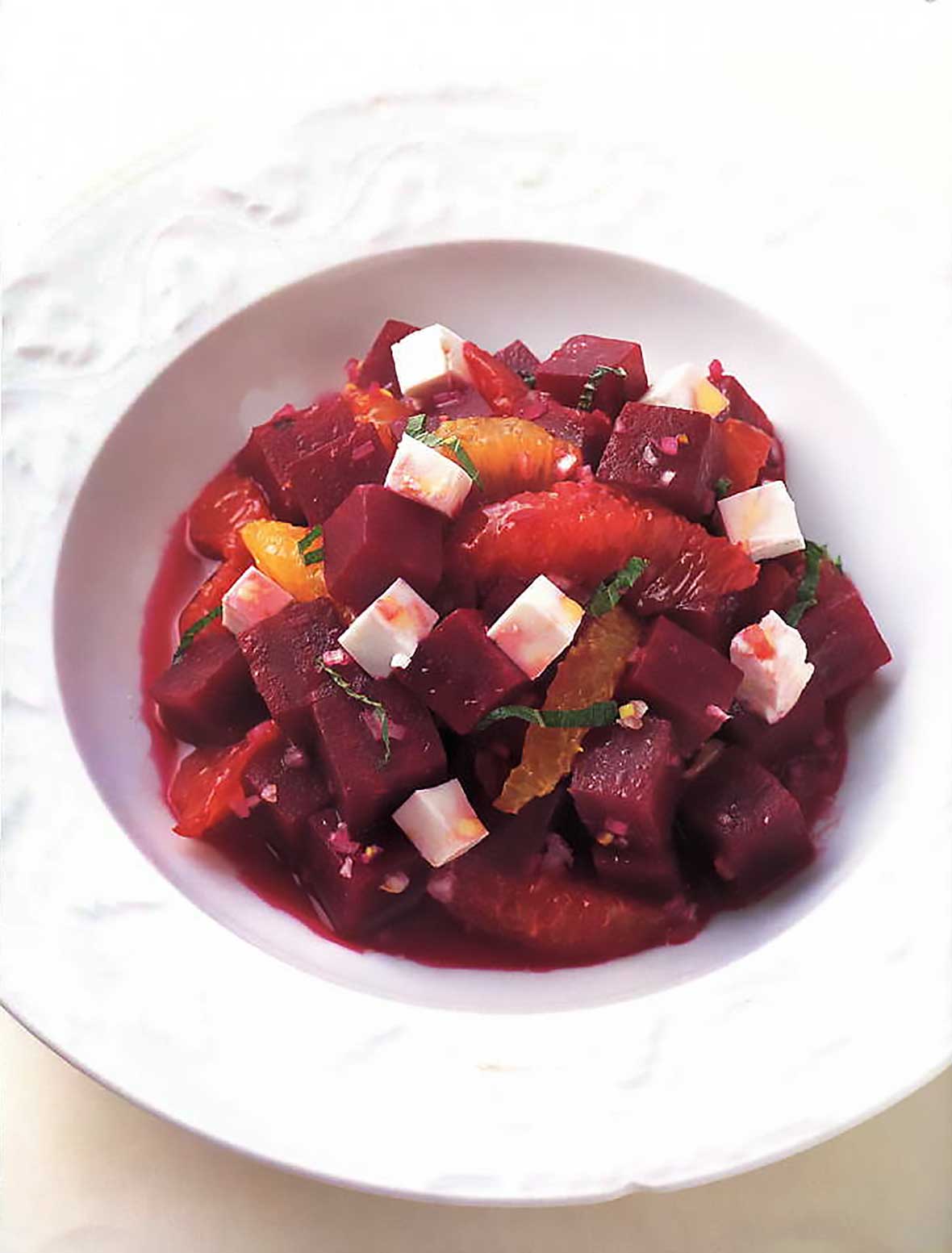 Sweet, salty, savory–this salad has 'em all, with each element perfectly in sync with the others. And without any guesswork on your part. Roasting concentrates the beet's flavors. Sweet citrus offsets the earthiness of the beets. And the creamy tanginess of cheese rounds any loose edges.–Renee Schettler
Beet Salad with Feta and Orange
In this beet salad with feta and orange, beets are tossed with orange slices, shallots, feta cheese, and mint for a sweet-salty salad treat.
Ingredients
2

large

beets

,

washed but not peeled

2

tablespoons

olive oil

Coarse salt

Freshly ground black pepper

1

teaspoon

fresh orange juice

2

teaspoons

balsamic vinegar

4 1/2

teaspoons

extra-virgin olive oil

3

oranges

,

preferably navel, peeled and separated into segments

1/4

cup

coarsely chopped mint leaves

3

teaspoons

minced shallots

About 4

ounces

French or Greek feta cheese*

,

crumbled into large pieces (1 cup crumbled)
Instructions
Preheat the oven to 400°F (200°C).

In a bowl, toss the beets with the olive oil and season them with salt and pepper. Put the beets on a roasting pan and cover them with foil. Roast in the preheated oven until tender, about 1 1/2 hours. (They are done when a sharp, thin-bladed knife can easily pierce through to their center.) Remove the pan from the oven, remove the beets from the pan, and set them aside to cool.

While the beets are roasting, make the vinaigrette: In a small bowl, whisk together the orange juice, balsamic vinegar, and extra-virgin olive oil. Season to taste with salt and pepper. Set aside.

When they are cool enough to handle, peel the beets and cut them into 1/2-inch dice. Put them in a bowl with 1 cup of the orange segments, the mint, and the shallots. Add the vinaigrette, season with salt and pepper, and toss gently.

Transfer the salad to a platter. Arrange the cheese and the remaining orange sections on top and serve immediately.
Notes
Beet Salad With Feta And Orange Variation
We love when cookbook authors think of everything. Take Alfred Portale. Here he thoughtfully offers a little advance troubleshooting on some ingredient swapping. Like "If you think of feta cheese as dry, crumbly, and excessively salty, you've probably had the ubiquitous, mass-produced Greek variety that's sold in supermarkets. Seek out a high-quality Greek or French feta, with moderate salinity and more creaminess." Swell advice, right? He also condones swapping goat or blue cheese for the feta. And you can also use blood oranges or tangerines in place of the navel orange.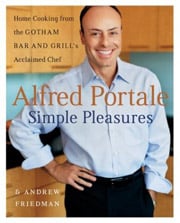 Nutrition
Serving:
1
portion
Calories:
287
kcal
Carbohydrates:
27
g
Protein:
7
g
Fat:
18
g
Saturated Fat:
5
g
Polyunsaturated Fat:
1
g
Monounsaturated Fat:
10
g
Cholesterol:
25
mg
Sodium:
431
mg
Potassium:
665
mg
Fiber:
6
g
Sugar:
19
g
Vitamin A:
509
IU
Vitamin C:
61
mg
Calcium:
209
mg
Iron:
2
mg
Nutrition information is automatically calculated, so should only be used as an approximation.
Recipe © 2004 Alfred Portale. Photo © 2004 Gozen Koshida. All rights reserved.
---
Recipe Testers' Reviews
I can't believe this beet salad with feta and orange doesn't have 30+ ratings already! It's such an interesting blend of ingredients, none too salty or too sweet. It was an impressive dish in appearance alone. I kept the orange wedges large and chopped the beets up in little squares—a nice mix of textures and colors. Finally, the taste—YUM! It was a very surprising, almost refreshing salad. We served it at the end of our meal, Italian-style, and it was perfect. I'll definitely add this to my repertoire as it's easy, beautiful, nutritious, and most important, delicious! Wow.
This is the beet season, that along with oranges, and shallots. As our beets had all different sizes, I had to remove some earlier than the hour, not to overcook them. Also at the time of cutting them, they looked smaller and different sizes than of the photo on the recipe. I tried as much as possible to keep them the same size, but alas I was unable to. The vinaigrette alone was also outstanding and can be used for pretty much any salad. Not too orangy, just perfect. The feta cheese I got was not as salty as sometimes it can be, which was a pity. I think it would have added another dimension to the final product. Still, it was amazing.
At the time we sat down to enjoy the recipe, everyone at lunchtime had the exact same consensus. We all absolutely loved this beet salad with feta and orange. The beets were cooked but not overly, therefore not mushy, the oranges helped cut a bit of the dirt taste that sometimes bothers people when eating cooked beets and the freshness of the mint along with the saltiness of the feta was the perfect combination.