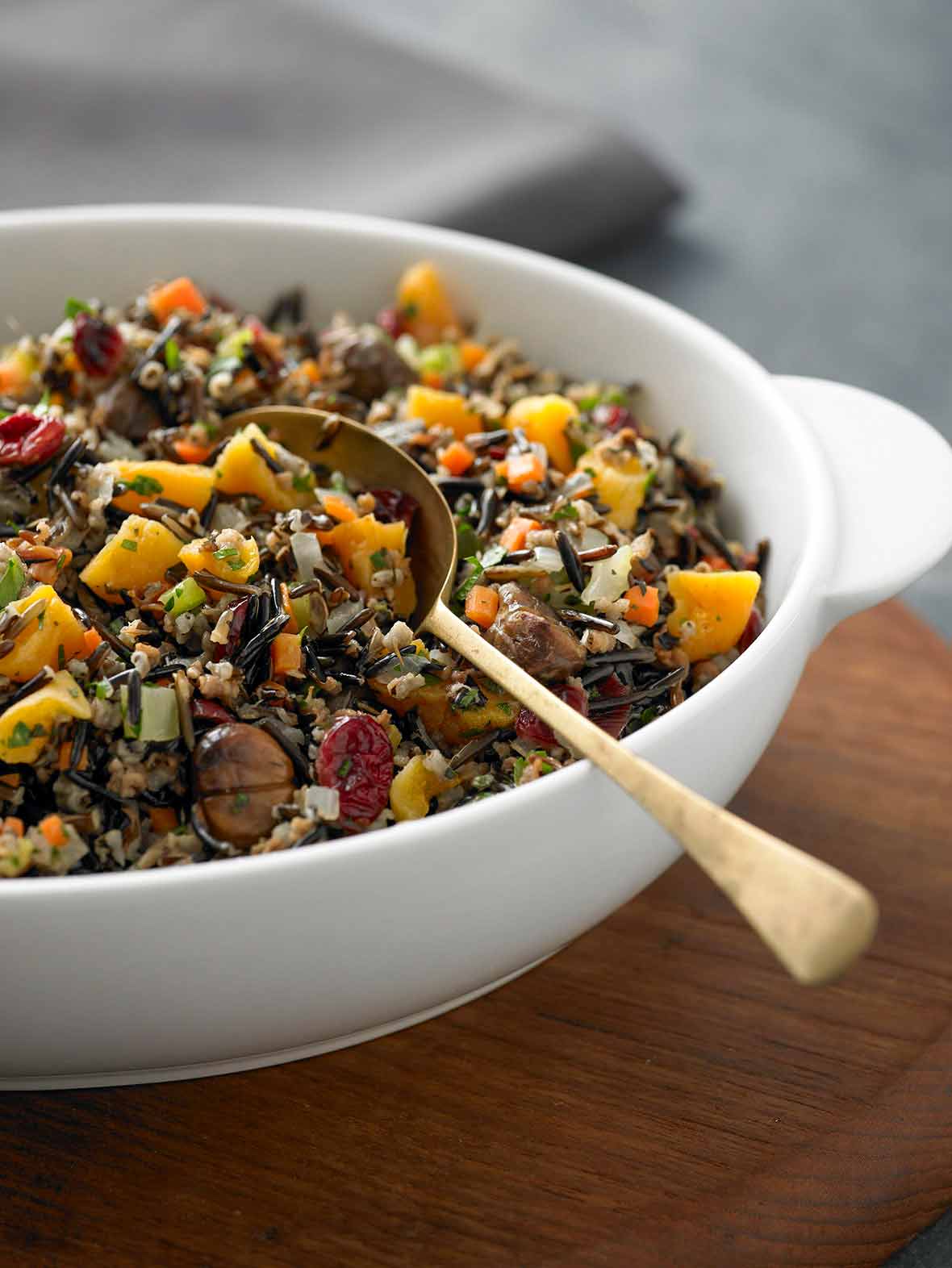 In my cooking classes, the students are always asking what recipes can be made in advance to simplify entertaining. This wild rice with roasted chestnuts and cranberries recipe is a terrific do-ahead dish for the busy holiday host. The chestnuts and the dried cranberries and apricots bring a seasonal sweetness to this savory side dish. I especially like wild rice paired with pork, goose, game birds, and a holiday turkey.
If you prefer not to roast your own chestnuts, you can buy peeled chestnuts in vacuum-sealed packages, cans, or jars at specialty-foods stores. If they are packed in liquid, drain it off. Prepared chestnuts are usually boiled rather than roasted, resulting in some flavor loss. To improve their flavor before using, place them on a rimmed baking sheet and roast them in the center of a 350°F (175°C) oven for 12 to 14 minutes.–Diane Morgan
Wild Rice, Roasted Chestnuts, and Cranberries
Quick Glance
1 H, 15 M
3 H

Serves 8 to 10
Print Recipe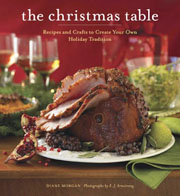 Ingredients
1 1/4 pounds (about 1 1/2 cups peeled) fresh chestnuts (about 1 pound or 454 g)

2 cups wild rice (about 12 ounces or 340 g)

2 cups homemade chicken stock or low-sodium canned chicken broth

2 cups water

1/2 teaspoon kosher or sea salt

1/2 cup sweetened dried cranberries (about 2 ounces or 57 g)

3/4 cup dried apricots, quartered (about 4 1/2 ounces or 140 g)

5 tablespoons unsalted butter

2 large stalks celery, trimmed and finely chopped (about 1 cup or 140 g)

2 large carrots, peeled and finely chopped (about 2 cups or 280 g)

1 yellow onion, finely chopped (about 1 1/2 cups or 270 g)

1 tablespoon thyme leaves (1/8 ounce or 5 g)

2 tablespoons minced sage leaves (1/8 ounce or 5 g)

1/2 cup minced flat-leaf parsley leaves (3/4 ounce or 21 g)

Freshly ground pepper
Directions
1. Position a rack in the center of the oven. Preheat the oven to 400°F (200°C).

2. Using a sharp paring knife, score the flat side of each chestnut with a big X, cutting through the outer shell and inner brown skin. Place the chestnuts on a rimmed baking sheet and roast until tender when pierced with a fork, 25 to 30 minutes. While the chestnuts are still quite warm but cool enough to handle, peel them with a sharp paring knife, removing both the outer shell and the inner brown skin. Discard any chestnuts that look rotten. Set aside the chestnuts that are hard to peel and rewarm them in a 400°F (200°C) oven; or place them on a paper towel and rewarm in a microwave for 45 seconds on high, repeating if necessary.

3. Cut the roasted chestnuts in half and set aside. Lower the oven temperature to 350°F (175°C).

4. Meanwhile, in a medium saucepan, combine the wild rice, chicken stock, water, and 1/4 teaspoon of the salt. Bring to a boil over medium-high heat. Reduce the heat to a simmer, cover partially, and cook, stirring occasionally, until the wild rice is tender, 40 to 50 minutes. (Not all of the liquid will be absorbed.)

5. In a small bowl, combine the cranberries and apricots, add hot water to cover, and allow to plump for 20 minutes. Drain and reserve.

6. In a 12-inch saute pan, melt 4 tablespoons of the butter and swirl to coat the bottom. Add the celery, carrots, and onion and saute until soft and lightly browned, 5 to 8 minutes. Add the thyme, sage, and parsley and saute for 1 minute longer. Remove from the heat.

7. When the wild rice is tender, drain it in a sieve and add it to the sauteed vegetables. Add the reserved chestnuts, cranberries, and apricots and stir to combine. Add the remaining 1/4 teaspoon salt and a few grinds of pepper. Taste and adjust the seasoning. (The wild rice can be made up to this point 1 day in advance, cooled, covered, and refrigerated. Remove from the refrigerator 1 hour before baking, and increase the baking time to at least 45 minutes to ensure it's heated through.)

8. About half an hour before you wish to serve the side dish, spoon the wild rice into a casserole dish slicked with the remaining 1 tablespoon butter and cover it with aluminum foil. Bake the wild rice until heated through, about 30 minutes. Serve it directly from the casserole.
Wild Rice, Roasted Chestnuts, and Cranberries Recipe © 2008 Diane Morgan. Photo © 2008 EJ Armstrong. All rights reserved. All recipes and photos used with permission of the publisher.
If you make this recipe, snap a photo and hashtag it #LeitesCulinaria. We'd love to see your creations on Instagram, Facebook, and Twitter.