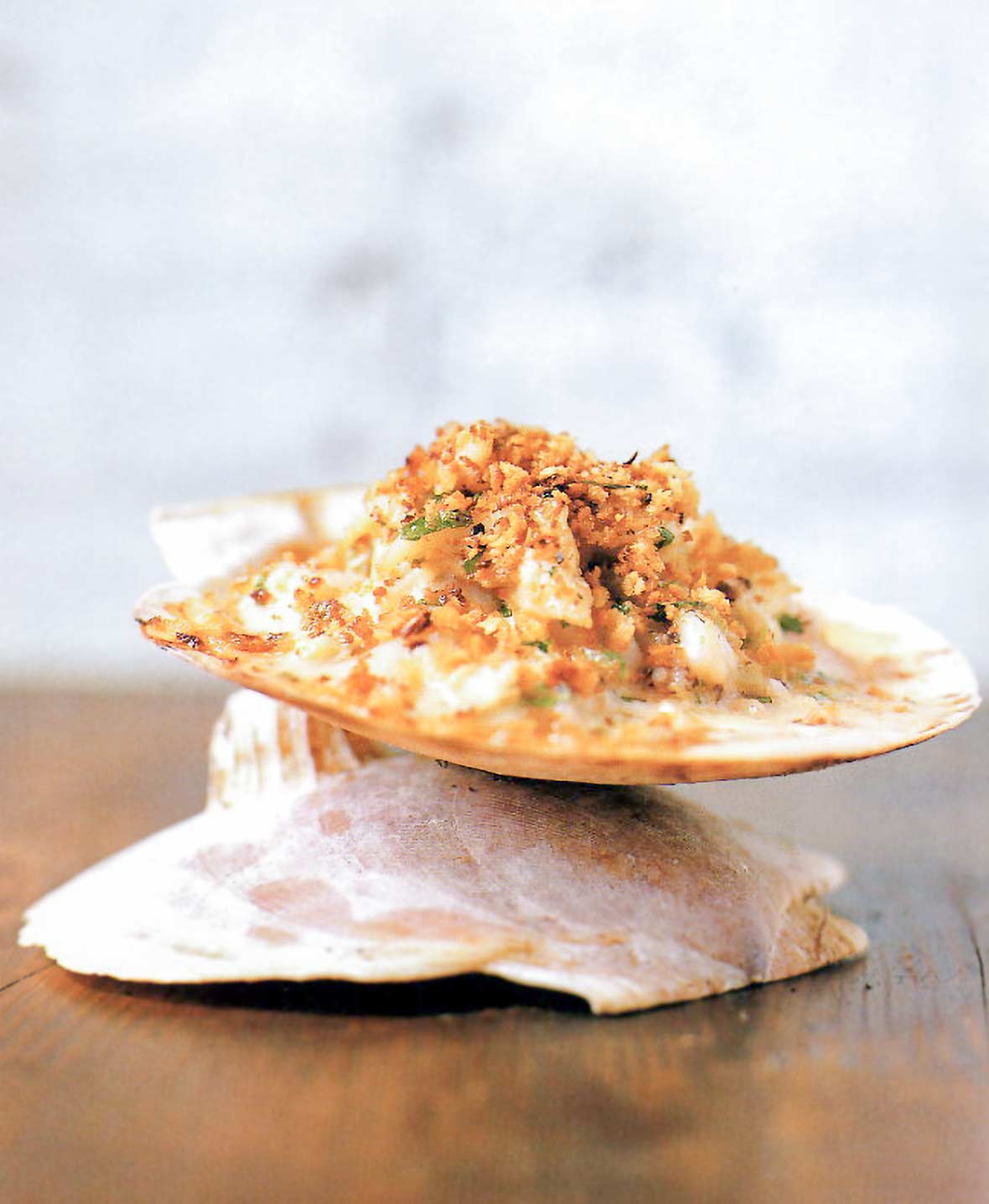 Baked crab imperial is one of those classics of Americana, the kind of thing you might have seen at a 1960s cocktail party: a dish of crabmeat tossed with cream, stuffed into a clean shellfish shell, then breaded and gratinéed. In those days, you didn't come anywhere near the mid-Atlantic in America and not know what an imperial was. The same was true in my family: In the 20-plus times I dined out with my grandmother, Grandmom Bradley, I never saw her order anything other than baked crab imperial. My baked seafood imperial version features a mix of shellfish—crab, shrimp, scallops, and calamari. We serve it at The Mermaid Inn, where I developed it with the restaurant's chef, Mike Price, who, being from Maryland, took to this like a fish to water. You can make the seafood imperial any size you like, using scrubbed tiny littleneck clam shells or larger scallop or crab shells or even ramekins, and serve it accordingly, as an hors d'oeuvre or appetizer.–Jimmy Bradley and Andrew Friedman
What kind of scallops are best?
There are three categories of sea scallops. "Diver-harvested" or "diver" sea scallops, like the name implies, are foraged by divers who hand-harvest them, guaranteeing freshness, a consistent size and weight, and a minimum of mud in the shell. Easier to find are dry-packed scallops, which aren't as fresh, but are still very good (they're shucked as soon as they're harvested, then shipped on ice). The ones to steer clear of are scallops packed in a milky white solution, a chemical preservative that mars their flavor and makes them irreversibly watery. If that's all you can find, make something else for dinner. (We also have to put in a word for delicate little bay scallops. The best come from New England, especially around Nantucket. Bay scallops are sweeter and more tender than sea scallops. They are best in the fall and are often sold in their own milk, which is perfectly acceptable; just pat them dry before searing them.)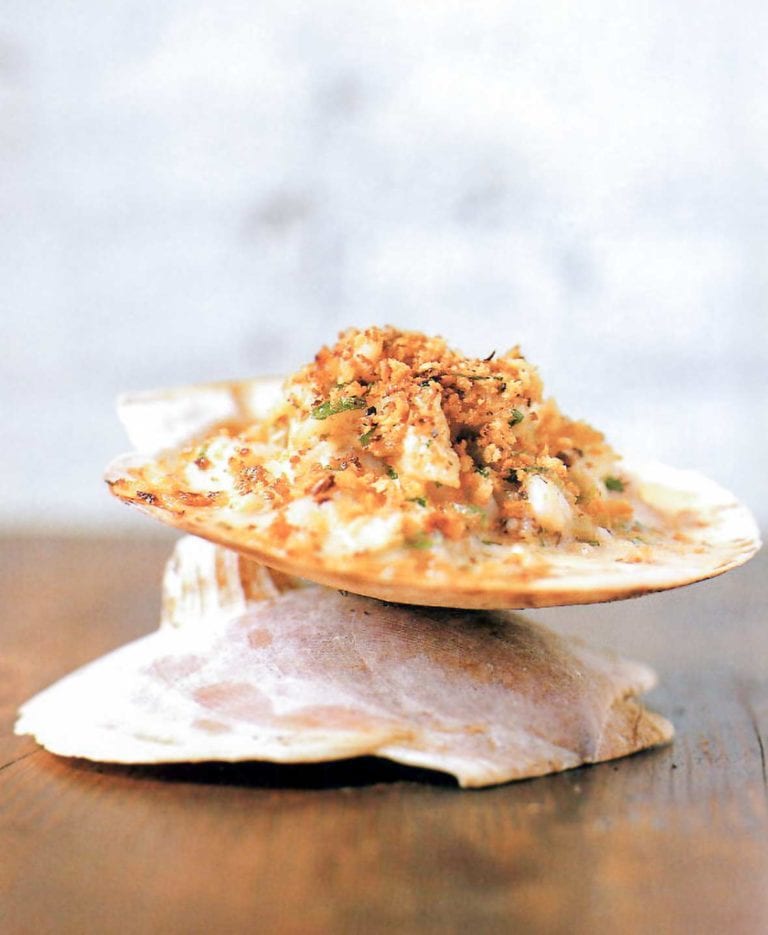 Baked Seafood Imperial
Baked seafood imperial, a riff on crab imperial, is a mix of crab, shrimp, scallops, and calamari tossed with cream, Old Bay Seasoning, tarragon, and herbs. The imperial is then mounded into clams shells, breaded, and baked.
Ingredients
3

tablespoons (1 1/2 oz)

butter

3

teaspoons

minced garlic

1 1/4

cups

dry bread crumbs

,

(preferably Japanese panko)

2

tablespoons

finely sliced chives

2

tablespoons

sliced parsley

1/2

small

onion

,

finely diced (about 1/4 cup)

1/4

cup

finely diced fennel

1/4

cup

finely diced celery

3

ounces

large shrimp

,

peeled, deveined, and cut into bite-size pieces

3

ounces

sea scallops

,

cut into bite-size pieces (see Note)

3

ounces

squid

,

cleaned and cut into bite-size pieces

3

ounces

jumbo lump crabmeat

1

teaspoon

chopped tarragon

1/4

teaspoon

Old Bay Seasoning

1

teaspoon

Dijon mustard

2

teaspoons

salt

Freshly ground black pepper

1

lemon

,

cut into wedges

1

cup

heavy cream

1/4

cup

grated white Cheddar cheese

1/4

cup

grated Parmigiano-Reggiano
Instructions
Preheat the oven to 350°F (175°C).

Melt 1 tablespoon of the butter in a heavy-bottomed, ovenproof saute pan set over medium-high heat. Add 1 teaspoon of the garlic and cook for 1 minute. Add the bread crumbs, 1 tablespoon of the chives, and 1 tablespoon of the parsley. Stir and transfer the pan to the oven. Toast until the bread crumbs are crisp, 3 to 5 minutes, stirring once to ensure even cooking.

Remove the pan from the oven and let cool. Do not turn off the oven.

Melt 1 tablespoon of the butter in a wide, deep, heavy-bottomed saute pan. Add the onion, fennel, celery, and remaining 2 teaspoons garlic, and cook until softened but not browned, approximately 4 minutes. Transfer to a large bowl.

In the same pan, melt the remaining tablespoon of butter. Add the shrimp, scallops, and squid, and saute for 30 seconds. Add to the bowl with the vegetables. Add the crab, tarragon, Old Bay, mustard, and remaining 1 tablespoon chives and parsley. Season with 2 teaspoons of salt and black pepper to taste. Squeeze the juice from half of the lemon wedges over the mixture, catching the seeds in your hand.

Put the cream in a saucepan and cook at a simmer until reduced by half, approximately 8 minutes. Stir in the cheddar and Parmesan until melted. Remove the pan from the heat and stir the cream mixture into the shellfish mixture.

Pack the seafood imperial mixture into clam or scallop shells, or individual ramekins; top with the seasoned bread crumbs; and bake until warm throughout, about 8 minutes. Serve the seafood imperial immediately, with the remaining lemon wedges alongside for squeezing.
Nutrition
Serving:
1
portion
Calories:
559
kcal
Carbohydrates:
33
g
Protein:
23
g
Fat:
38
g
Saturated Fat:
23
g
Polyunsaturated Fat:
2
g
Monounsaturated Fat:
10
g
Trans Fat:
1
g
Cholesterol:
207
mg
Sodium:
1993
mg
Potassium:
421
mg
Fiber:
3
g
Sugar:
3
g
Vitamin A:
1623
IU
Vitamin C:
23
mg
Calcium:
288
mg
Iron:
3
mg
Nutrition information is automatically calculated, so should only be used as an approximation.
Recipe © 2006 Jimmy Bradley. Photo © 2006 David Sawyer. All rights reserved.
---
Recipe Testers' Reviews
One of my favorite dishes is Coquilles St.-Jacques. This upscale version of baked seafood imperial is much more fun, and certainly just as easy to make. The panko crumb provides a nice crunchy texture as you dive into the creamy, cheesy, seafood goodness, resulting in a different flavor bomb with each bite. I used U15 shrimp, U10 scallops, 4 small calamari, and tinned jumbo lump crab for this dish. I served it with some fresh penne pasta with a light white pesto sauce and sauteed spinach on the side.
Now, a pet peeve of mine is when recipe requires half of something. Someone's small or medium can certainly be different than yours. As the fennel and celery were quarter cups, I followed the old Cajun trinity rule so the ingredients were equal measure and I used a quarter cup for the onion measure. I felt my onions might be too strong, so I actually used shallots, for a milder allium to not overpower the fennel or celery flavors, which I think was the right choice.
This recipe does have several distinct phases, so my tip is to think about the timing of the steps, and make sure all your ingredients and mis-en-place is complete before diving into this recipe. In the end, you'll certainly amaze your dinner guests with this rather decadent seafood delight. Plus, I think it's something you can prepare ahead of time, chill for an hour or two and then do the final bake when required.
I agree with the author of this recipe, Jimmy Bradley, baked seafood imperial is an American classic. Bites of tender seafood swaddled in a creamy sauce and topped with buttery crumbs baked to crunchy perfection. Every layer of this recipe is individually seasoned resulting in a well balanced dish. Whether you have eaten this in a fancy restaurant or it's totally new to you, if you like seafood it deserves a trial in your kitchen. The hands-on time is about an hour but the techniques are easy. Each of the three parts of the dish are prepared separately then combined to bake. A quick bake until bubbly and golden brown. Yum!
The choice of seafood is up to you. Don't like squid? Neither do I. Hard to find good quality scallops. No crab at the grocery store. A substantial white fish like Cod or Halibut would be great, too. Just use 12 ounces of seafood selection of your choice cut into one bite fork size pieces. Serve with a simple side of roasted broccoli or green beans sautéed in a little butter with salt and pepper. Seafood Imperial needs a crisp white wine like a New Zealand Sauvignon Blanc with acidity that cuts through the richness of the cream sauce. A buttery California Chardonnay will be lost on your palate. Now sit and enjoy your creation.