Baked seafood imperial, a riff on crab imperial, is a mix of crab, shrimp, scallops, and calamari tossed with cream, Old Bay Seasoning, tarragon, and herbs. The Imperial is then mounded into clams shells, breaded, and baked.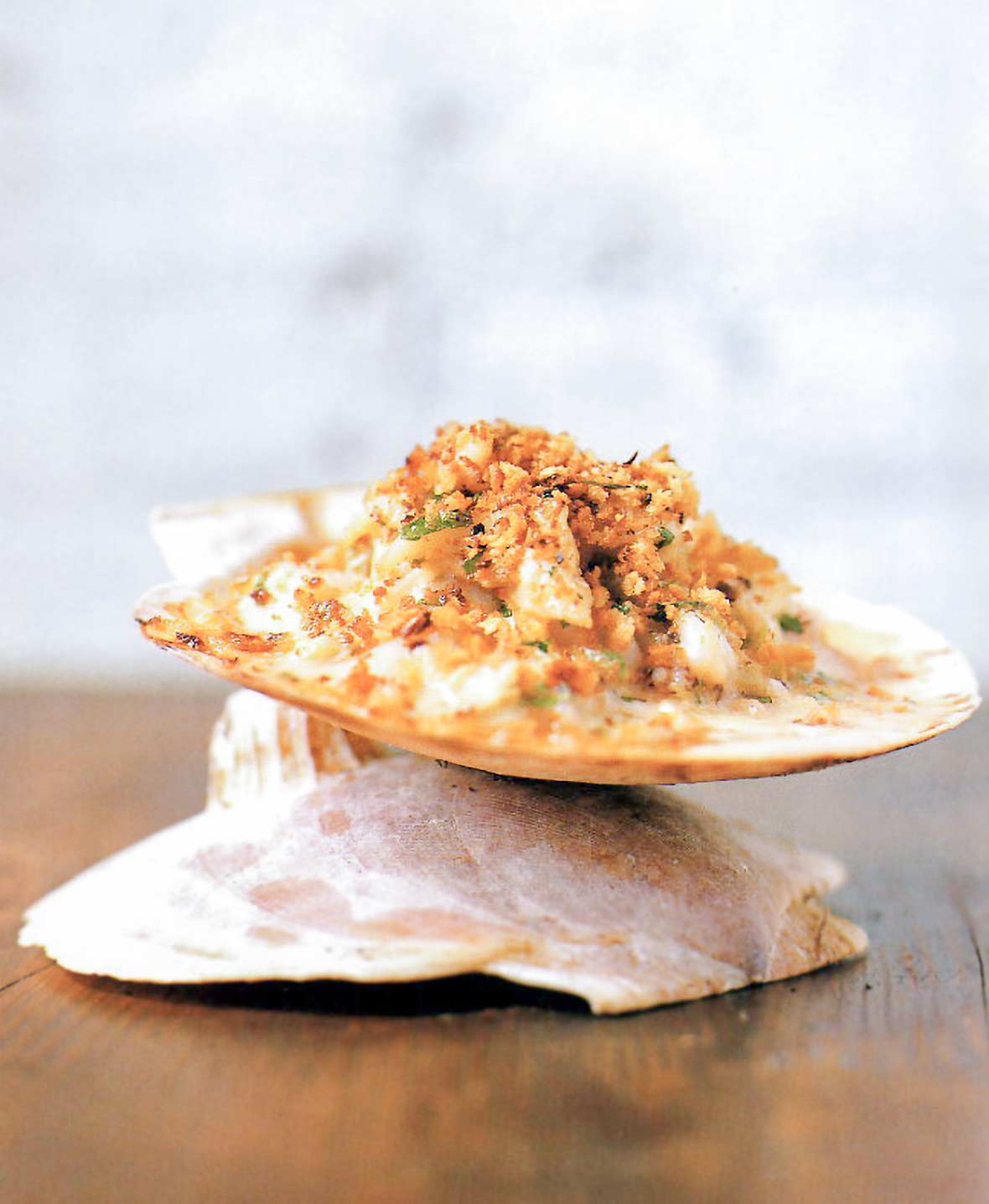 Baked crab imperial is one of those classics of Americana, the kind of thing you might have seen at a 1960s cocktail party: a dish of crabmeat tossed with cream, stuffed into a clean shellfish shell, then breaded and gratinéed. In those days, you didn't come anywhere near the mid-Atlantic in America and not know what an imperial was. The same was true in my family: In the 20-plus times I dined out with my grandmother, Grandmom Bradley, I never saw her order anything other than baked crab imperial. My baked seafood imperial version features a mix of shellfish—crab, shrimp, scallops, and calamari. We serve it at The Mermaid Inn, where I developed it with the restaurant's chef, Mike Price, who, being from Maryland, took to this like a fish to water. You can make the seafood imperial any size you like, using scrubbed tiny littleneck clam shells or larger scallop or crab shells or even ramekins, and serve it accordingly, as an hors d'oeuvre or appetizer.–Jimmy Bradley and Andrew Friedman
Baked Seafood Imperial
Quick Glance
Quick Glance
1 H
1 H, 15 M

Serves 4
Print Recipe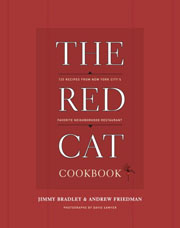 Ingredients
Email Grocery List
Directions
Preheat the oven to 350°F (175°C).
Melt 1 tablespoon of the butter in a heavy-bottomed, ovenproof saute pan set over medium-high heat. Add 1 teaspoon of the garlic and cook for 1 minute. Add the bread crumbs, 1 tablespoon of the chives, and 1 tablespoon of the parsley. Stir and transfer the pan to the oven. Toast until the bread crumbs are crispy, 3 to 5 minutes, stirring once to ensure even cooking. Remove the pan from the oven and set aside. Do not turn off the oven.
Melt 1 tablespoon of the butter in a wide, deep, heavy-bottomed saute pan. Add the onion, fennel, celery, and remaining 2 teaspoons garlic, and cook until softened but not browned, approximately 4 minutes. Transfer to a large bowl.
In the same pan, melt the remaining tablespoon of butter. Add the shrimp, scallops, and squid, and saute for 30 seconds. Add to the bowl with the vegetables. Add the crab, tarragon, Old Bay, mustard, and remaining 1 tablespoon chives and parsley. Season with 2 teaspoons of salt and black pepper to taste. Squeeze the juice from half of the lemon wedges over the mixture, catching the seeds in your hand.
Put the cream in a saucepan and cook at a simmer until reduced by half, approximately 8 minutes. Stir in the cheddar and Parmesan until melted. Remove the pan from the heat and stir the cream mixture into the shellfish mixture.
Pack the seafood imperial mixture into clam or scallop shells, or individual ramekins; top with the seasoned bread crumbs; and bake until warm throughout, approximately 8 minutes. Serve the seafood imperial immediately, with the remaining lemon wedges alongside for squeezing.
Print Recipe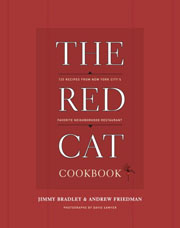 Note
There are three categories of sea scallops. By far, the superior ones are diver-harvested, or diver sea scallops. Just like the name says, these are foraged by divers who hand-harvest them, guaranteeing freshness, a consistent size and weight, and a minimum of mud in the shell. Easier to find are dry-packed scallops, which aren't as fresh, but are still very good (they're shucked as soon as they're harvested, then shipped on ice). The ones to steer clear of are scallops packed in a milky white solution, a chemical preservative that mars their flavor and makes them irreversibly watery. If that's all you can find, make something else for dinner. (I also have to put in a word for delicate little bay scallops, which I don't use in the book. The best come from New England, especially around Nantucket, or the company Taylor Bay. Bay scallops are sweeter and more tender than sea scallops. They are best in the fall and are often sold in their own milk, which is perfectly acceptable; just pat them dry before searing them.)
Baked Seafood Imperial Recipe © 2006 Jimmy Bradley and Andrew Friedman. Photo © 2006 David Sawyer. All rights reserved. All materials used with permission.
If you make this recipe, snap a photo and hashtag it #LeitesCulinaria. We'd love to see your creations on Instagram, Facebook, and Twitter.