Day of the Dead bread, or pan de muerto, is an authentic and sweet tradition throughout Mexico and several other cultures.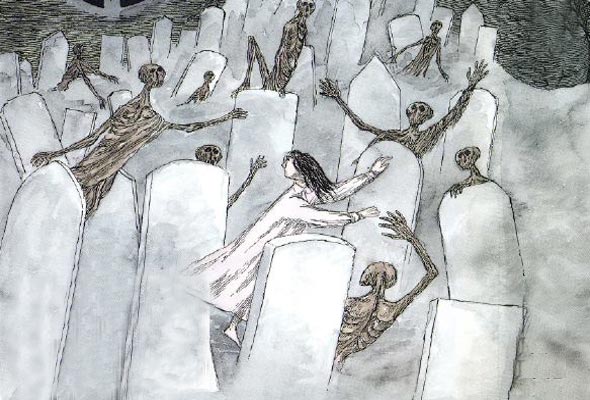 During Mexico's Days of the Dead, which occur on November 1 and 2, it's believed that the souls of the departed are allowed to return to earth. Friends and relatives welcome these spirits at their tombs with food, music, and small gifts. Nowadays most families celebrate the holiday with a simple gathering graveside to pay respects, followed by celebrating at home. Many celebrate with a rich, sweet yeast Day of the Dead bread recipe. The recipes are modeled after the altar breads that are special feast-day offerings in Europe. The Mexican imagination placed a new spin on it by shaping the loaves into different images. The famous pan de muerto (bread of death) comes in the shape of human figures, alligators, lizards, and other animals, though most often skulls and crossbones or teardrops and crosses, all gaily decorated with colored sugar crystals. Originally published May 9, 1995.–Zarela Mártinez
How To Decorate Day Of The Dead Bread
Authentic Day of the Dead bread, or pan de muerto, share certain commonalities, although there are plenty of variances. Some recipes stir a little anise into the dough. Others glaze the baked bread with colored sugar. But all of them tend to decorate the top of the loaf with some sort of symbolic shape, such as a bone for a lost soul, tears to express sorrow, or any other soulful expression.
Day of the Dead Bread
Quick Glance
1 H, 30 M
4 H

Makes 3 plain or 2 decorated
Print Recipe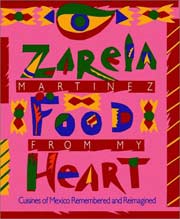 Ingredients
Email Grocery List
2 envelopes dry yeast

1/2 cup warm water

3 1/2 to 4 cups unbleached all purpose flour, or as needed

1/2 teaspoon teaspoon salt

9 tablespoons unsalted butter, room temperature and cut into small pieces, plus more for the bowl

3 large eggs

3 large egg yolks

7/8 cup condensed milk

1 tablespoon orange flower water (available in gourmet stores and Italian and Middle Eastern markets.)

Sugar or colored sugar crystals for sprinkling
Directions
1. In a small bowl, dissolve the yeast in the water and let sit in a warm place for 5 minutes.

2. When the yeast is foamy, stir in 4 to 5 tablespoons of the flour to start a sponge. Cover with a damp towel and let sit in a warm place until it's full of bubbles and about doubled in bulk, roughly 45 minutes.

3. Meanwhile, place a scant 3 1/2 cups flour and the salt in a large bowl or on a pastry board or clean counter. Cut or rub in the butter with a pastry blender or your fingertips until the dough resembles the texture of coarse cornmeal.

4. Beat 2 of the whole eggs and the 3 egg yolks. Gradually add the condensed milk and orange flower water to the dough, working them in with your fingertips. Add the sponge and work it in, adding flour as necessary to make a soft but kneadable dough. Knead the dough on a lightly floured work surface until smooth and silken, about 10 minutes. (Alternatively, use the dough hook of an electric mixer.) Lightly butter a large bowl and place the dough in it, turning to coat it with the butter. Let sit in a warm place, covered with a damp cloth or piece of plastic wrap, until doubled in bulk, 1 1/2 to 2 hours.

5. Punch the dough down.

If making undecorated loaves; shape the dough into 3 equal-size round loaves.

If making decorated loaves; cut off about one fourth of the dough and set aside. Divide the rest of the dough into 2 equal portions, shaping each into a ball. Place side by side on a buttered and floured baking sheet, remembering that the loaves will expand during baking. Fashion skull and crossbones with the remaining dough by first dividing it into into four portions. Roll 2 pieces between your palms into long, narrow strips for crossbones. Cut each strip in half and then crisscross 2 strips over each loaf. Shape the two remaining pieces into 2 small balls and lightly press them into the loaves above the crossbones, trying to shape them into skulls. (If you have difficulty in getting them to stick, make gashes in the loaves with a small, sharp knife and press the balls into the gashes.) Cover lightly with a damp towel and let rise in a warm place until doubled in bulk, about 1 hour.

6. Preheat the oven to 375°F (190°C).

7. Beat the remaining egg and brush lightly over the loaves and decorations. Bake the bread for about 40 minutes, until the loaves are golden brown and sound hollow when tapped. Sprinkle the loaves with sugar and return to the oven for about 1 minute to melt. Let cool slightly before showing off the loaves and slicing into.
Recipe Testers Reviews

This Bread for Day of the Dead was delicious for the living! The history of the bread was interesting, and the recipe produced a slightly sweet bread, very similar to brioche. I made the three round loaves instead of the traditional "bread of death" shapes. I used four cups of flour, and the dough was soft and spongy. The resulting bread was beautifully golden colored from all the egg yolk in the dough and made fantastic toast for breakfast. I'll definitely keep this bread around for all year long — not just during Mexico's Days of the Dead!
Day of the Dead Bread Recipe © 1995 Zarela Mártinez. Illustration © 1993 Edward Gorey. All rights reserved. All materials used with permission.
If you make this recipe, snap a photo and hashtag it #LeitesCulinaria. We'd love to see your creations on Instagram, Facebook, and Twitter.