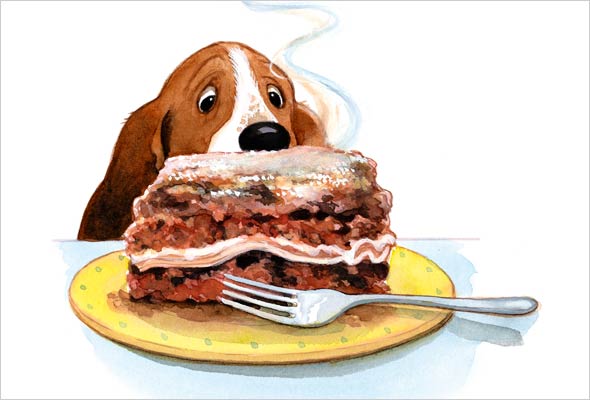 Be safe! Always cook with an adult. Don't touch sharp knives or hot stoves and ovens! And always wash your hands before and after cooking.–Ree Drummond, The Pioneer Woman
LC Cute Children's Book Note
We think more kids' books ought to divulge recipes, like this one from blogger and home cook The Pioneer Woman. Publishers, what say you? And moms, bear in mind, the recipe is geared towards pleasing kids—and ranch hounds—in both its wording and its ingredients. Woof!
The Pioneer Woman's Favorite Lasagna
Quick Glance
40 M
2 H, 15 M

Makes 8 generous servings
Print Recipe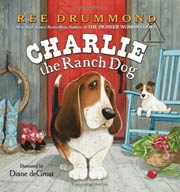 Ingredients
One 10-ounce package lasagna noodles

1 1/2 pounds ground beef

1 pound breakfast sausage

2 cloves garlic, minced

Two 14.5-ounce cans whole tomatoes, undrained, coarsely chopped or crushed

Two 6-ounce cans store-bought or homemade tomato paste

1/4 cup minced flat-leaf parsley leaves, plus 2 additional tablespoons

10 to 12 basil leaves

1 teaspoon salt

3 cups low-fat cottage cheese

2 large eggs, beaten

1 cup grated Parmesan cheese, plus extra for sprinkling

1 pound sliced mozzarella cheese
Directions
1. Preheat the oven to 350°F (176°C).

2. Cook the lasagna noodles according to the package directions. Drain them and lay them flat on a sheet of aluminum foil or a baking sheet. Smile and wink at your doggie.

3. In a large skillet or saucepan, combine the ground beef, sausage, and garlic. Cook over medium-high heat until the meat is browned. Drain off about half the fat. Add the tomatoes, tomato paste, 1/4 cup of the parsley, the basil, and 1/2 teaspoon of the salt. Reduce the heat and simmer gently for 45 minutes. Take your doggie for a walk.

4. In a medium bowl, combine the cottage cheese, eggs, 1 cup of the Parmesan, the remaining 2 tablespoons minced parsley, and the remaining 1/2 teaspoon salt. Stir together well.

5. To assemble the Pioneer Woman's lasagna, arrange 4 of the cooked noodles in the bottom of a deep rectangular baking pan, overlapping them slightly if necessary. Spoon 1/3 of the cottage cheese mixture over the noodles and spread it evenly. Cover the cottage cheese with a layer of mozzarella slices. Spoon 1/3 of the meat sauce mixture over the top. Repeat the layers, ending with the remaining meat sauce mixture. Sprinkle the top generously with extra Parmesan. (You can refrigerate or freeze the lasagna for up to two days.)

6. Bake for 30 minutes, or until the top is hot and bubbly. (If baking the lasagna straight from the refrigerator or freezer, you'll need to allow additional time, up to twice as long or more. If the top begins to brown, cover the pan loosely with foil.) Tell your doggie it won't be long!
The Pioneer Woman's Favorite Lasagna Recipe © 2011 Ree Drummond. Illustration © 2011 Diane Degroat. All rights reserved. All recipes and photos used with permission of the publisher.
If you make this recipe, snap a photo and hashtag it #LeitesCulinaria. We'd love to see your creations on Instagram, Facebook, and Twitter.