This pumpkin cake with maple-cream cheese frosting is spiced with cinnamon, ginger, nutmeg, and cloves. It's moist and the frosting adds a tangy-sweetness. One of our most popular cake recipes!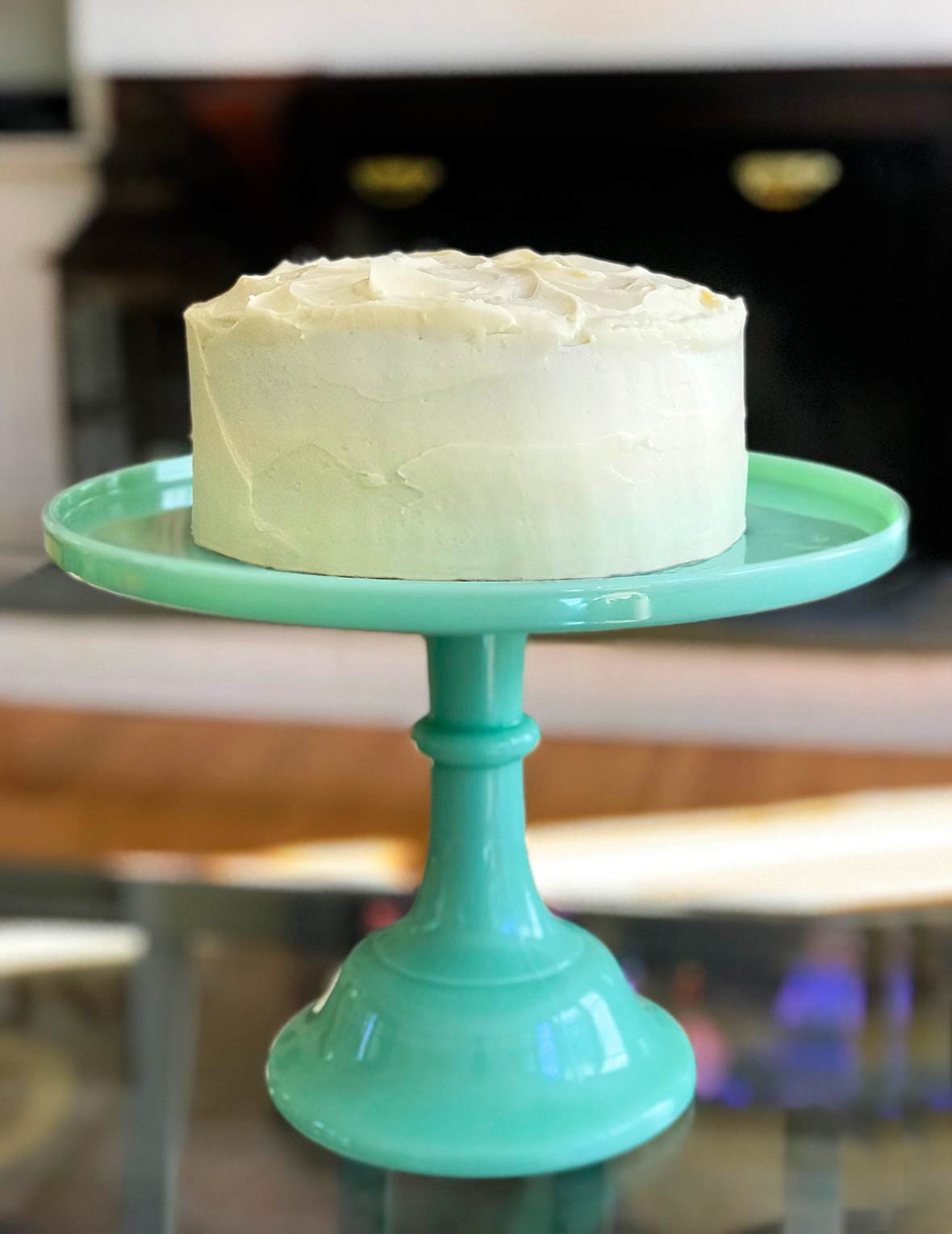 This pumpkin cake, along with its incredible maple cream-cheese frosting, is a recipe I developed a long time ago for an article I wrote for the Los Angles Times about Thanksgiving. I was killing two birds with one stone (forgive the holiday pun) by making my editor as well as The One happy. (The One loves anything pumpkin. This cake has actually beat out his former favorite autumn dessert, pumpkin pie.) Since then, this  recipe has become one of those baked-around-the-Internet desserts, like my ultimate chocolate chip cookies. I've seen my cake turned into some really clever loaves, mini-Bundt cakes, and, my favorite, cupcakes. It seems to take well to any form you can think to make it in. Originally published May 10, 2009.–David Leite
How Butter Makes Everything Better
Folks rave about this maple-cream cheese frosting. Rightly so. But it can tend to be a bit on the soft side—as in, perhaps a little too soft if the cake needs to sit out for a few hours in a warm kitchen. (And by "a warm kitchen," we mean a kitchen in which the Thanksgiving turkey is roasting and all four burners are blasting come Thanksgiving morning.) This is easily remedied by plopping an extra stick of butter in the recipe. (Isn't it lovely how butter can fix all manner of problems?!) The result is a sturdier frosting, with no sacrifice in flavor, that's able to withstand sitting out for several hours in any climate. If you're one of those people who are averse to more calories, get your hands on the darker, more robust maple syrup formerly known as Grade B and recently redesignated as "Grade A Dark Color, Robust Taste," the frosting magically holds up like a champ and requires no extra butter.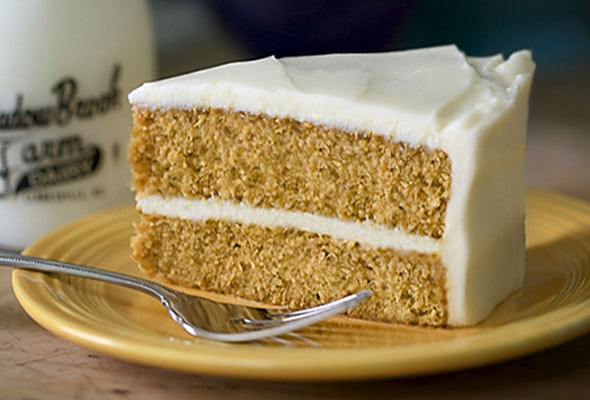 Pumpkin Cake With Maple–Cream Cheese Frosting
Quick Glance
30 M
1 H, 15 M

Serves 8 to 10
Print Recipe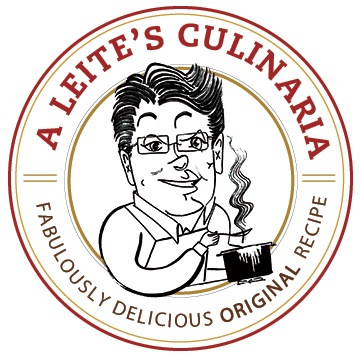 Ingredients
Email Grocery List
For the pumpkin cake

2 cups cake flour, plus more for the pans

2 teaspoons baking powder

1 teaspoon baking soda

1 teaspoon ground cinnamon

1 teaspoon ground ginger

1/2 teaspoon ground nutmeg

1/8 teaspoon ground cloves

1/2 teaspoon salt

1/4 teaspoon freshly ground black pepper (I mean freshly ground!)

1 stick unsalted butter (4 oz), at room temperature, plus more for the pans

1 cup firmly packed dark brown sugar

1/3 cup granulated sugar

2 large eggs

1/2 cup buttermilk mixed with 1 teaspoon vanilla

1 1/4 cups canned solid-pack pumpkin

For the maple cream–cheese frosting

Two (8-ounce) packages Philadelphia brand cream cheese, softened

1 stick unsalted butter (4 oz), at room temperature

2 cups confectioners' sugar

1/4 cup pure maple syrup, preferably grade B amber
Directions
Make the pumpkin cake

1. Position a rack in the middle of the oven and crank the heat to 350° (175°C). Butter two 8-by-2-inch cake pans and line them with parchment circles cut to fit the pans. Butter the parchment and coat the pan with flour, tapping out any excess. (You can instead spritz the pans with cooking spray for baking, if that's easier for you than buttering and flouring.)

2. Whisk the flour, baking powder, baking soda, cinnamon, ginger, nutmeg, cloves, salt, and pepper in a bowl until well combined. Take a whiff; it's heaven. Set aside.

3. In the bowl of a stand mixer fitted with a paddle attachment (or in a large bowl with a good old-fashioned hand mixer on medium speed), beat the butter, dark brown sugar, and granulated sugar until fluffy, about 5 minutes.

4. Plop the eggs, 1 at a time, into the bowl, beating and scraping down the sides of the bowl after each addition. Alternate adding the flour and buttermilk mixtures to the bowl, starting and ending with the flour. Dump in the pumpkin and beat just until the pumpkin is incorporated and the cake bater is smooth.

5. Spoon the batter into the prepared cake pans, dividing it evenly. Give each filled pan a good smack flat against the counter to release any air bubbles. (Just hold the pan a couple inches above your countertop and drop it. Trust us. This works.) Bake the cakes until a toothpick inserted into the center comes out clean, 30 to 40 minutes. Let the cakes cool in the pans on a wire rack for 10 minutes. Carefully turn out the cakes from the pans onto the wire rack, peel off the parchment paper, turn them right side up, and let cool completely.

Make the maple-cream cheese frosting

6. In a stand mixer fitted with the paddle attachment (or in a bowl using a good old-fashioned hand mixer on medium speed), beat the cream cheese, butter, confectioners' sugar, and maple syrup until fluffy.

7. To assemble the cake, frost the top of one cake, then place the other cake on top. Frost the sides and top, swirling like the pro you are. Slip the the cake in the fridge for 30 minutes until the frosting is set, if needed.
Pumpkin Cake With Maple–Cream Cheese Frosting Recipe © 2003 David Leite. Photos © 2013 David Leite. All rights reserved. All materials used with permission.
If you make this recipe, snap a photo and hashtag it #LeitesCulinaria. We'd love to see your creations on Instagram, Facebook, and Twitter.