Caçoila, or Portuguese stewed beef, is a comforting braise of beef, red peppers, and aromatics, cooked very slowly in a red wine, tomato, and butter sauce.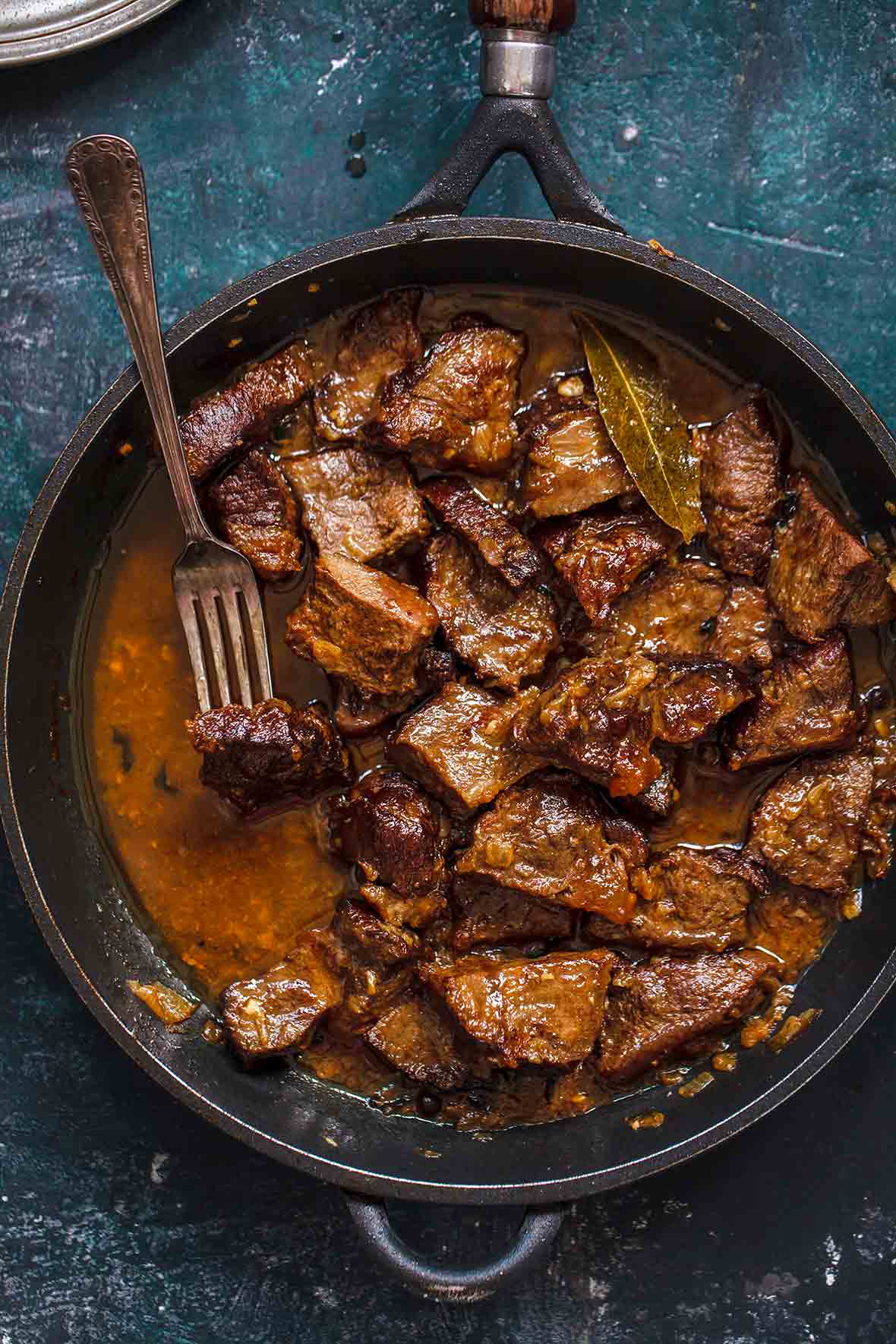 *How To Make Your Own Crushed Red Peppers
And now, a word from the author on creating your own crushed red peppers. "Crushed red peppers are exactly that: red peppers that have been ground. Once processed, some Portuguese families, like mine, brine them, others prefer to add olive oil and salt to preserve them. If you can't find bottled crushed red peppers, you can make your own: Remove the stems, but not the seeds, from 2 or 3 large medium-hot red peppers. Place them in the bowl of a food processor fitted with a metal blade. Add 2 tablespoons of olive oil and 1 tablespoon of salt. Whir until blended." There you have it.
Caçoila | Portuguese Stewed Beef
Quick Glance

(11)

20 M
4 H
Serves

8
Print Recipe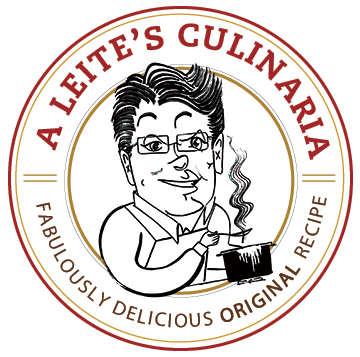 Ingredients
Directions
The day before cooking, in a large bowl, coat the beef with the crushed red pepper, cover, and refrigerate overnight.
About 4 hours before you intend to sit down at the table, scatter the onion slices, parsley, garlic, and bay leaves in the bottom of a Dutch oven. Tuck the allspice and cloves in a piece of cheesecloth tied together with kitchen twine or in a tea ball and toss them in the Dutch oven. If desired, season the beef with salt. Place the beef on top and dot with the butter or lard. 
In a measuring glass or bowl, stir together the wine, tomato paste, and cinnamon and pour it over the beef.
Bring the mixture to a boil, reduce the heat to a very gentle simmer, cover, and cook until the meat is very tender, 3 to 3 1/2 hours, turning the pieces occasionally. For a more stew-like version, keep the lid on for the duration of cooking. For a more concentrated, glaze-like sauce version, about halfway through cooking, remove the lid to let some of the liquid evaporate so the sauce can concentrate in consistency and flavor.
Remove the bay leaves and the cheesecloth pouch or teaball. If desired, serve the caçoila with boiled white potatoes, roasted red peppers, and cooked greens. Originally published May 10, 2001.
Print Recipe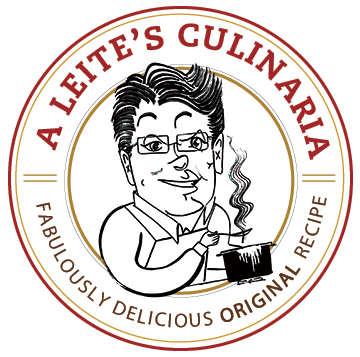 Portuguese Stewed Pork
You can use the same amount of pork butt cooked in the same manner.
Recipe Testers' Reviews
This Cacoila was divine! The meat was utterly silken and succulent. If I had cooked it beyond the 3 1/2 hours, it would have shredded apart (and turned in to a different but still delicious dish), but as it was, the cubes of beef kept their shape nicely. I love pressing down on a piece of meat and it just gives in and yields to the pressure of the fork; you can tell it's the perfect texture, reminiscent of a well-braised short rib. The onions, parsley, garlic and spices melted together in the wine braise to create a rich, redolent, and deeply flavorful sauce.
I opted to use lard (because I had just rendered some the other day and wanted an excuse to use it) but I think butter might have lent the dish an even richer flavor (although believe me, there was no shortage of flavor!) I also opted to use crushed red pepper flakes instead of making my own, and no one in my family found it be at all spicy. In fact, next time I make this I will skip the overnight rub with the red pepper flakes, add them directly to the sauce, and up them to 1 teaspoon.
I used a 6 quart Le Creuset Dutch oven, which seemed like the right size, because the cooking time of 3 1/2 hours was on the money. The beef simmered slowly for 2 hours covered, then the last hour and a half uncovered. I got a beautifully reduced sauce that was still plentiful enough to spoon over potatoes and greens. This recipe didn't indicate any particular amount of salt, and without it, it was flat. So adding a 1/2 teaspoon of Morton's kosher salt at a time, I found a total of 3 teaspoons to be the right amount. I served this with mashed russet potatoes and escarole sautéed with crushed red pepper flakes, garlic, lemon zest, and olive oil. I think the lemon zest in the escarole added a nice brightness to the richness of the sauce.
This whole dish with the accompaniments was just an explosion of flavor!
This recipe was easy to put together and the results were tremendous! What a treat this meat is. It is super tender and amazingly flavorful. The combination of spices works very well together and it gives the dish a depth of flavor that I have never encountered in a stew. There's a warmth to this dish that makes it feel like an old friend. I wish I had discovered it sooner.
The only change I would suggest is adding some salt to the meat along with the pepper paste. I found that while the exterior of the cubes was very flavorful, once you bit into them, the interior of the meat was bland. I believe that by adding salt, the meat will draw more of the sauce's flavor into the inside of the chunks. But for this, I would have rated this recipe a 10!
Caçoila | Portuguese Stewed Beef Recipe © 2000 2000. Photo © 2000
casanisa
. All rights reserved. All materials used with permission.
If you make this recipe, snap a photo and hashtag it #LeitesCulinaria. We'd love to see your creations on Instagram, Facebook, and Twitter.