Caçoila, or Portuguese stewed beef, is a comforting braise of beef, red peppers, and aromatics, cooked very slowly in a red wine, tomato, and butter sauce.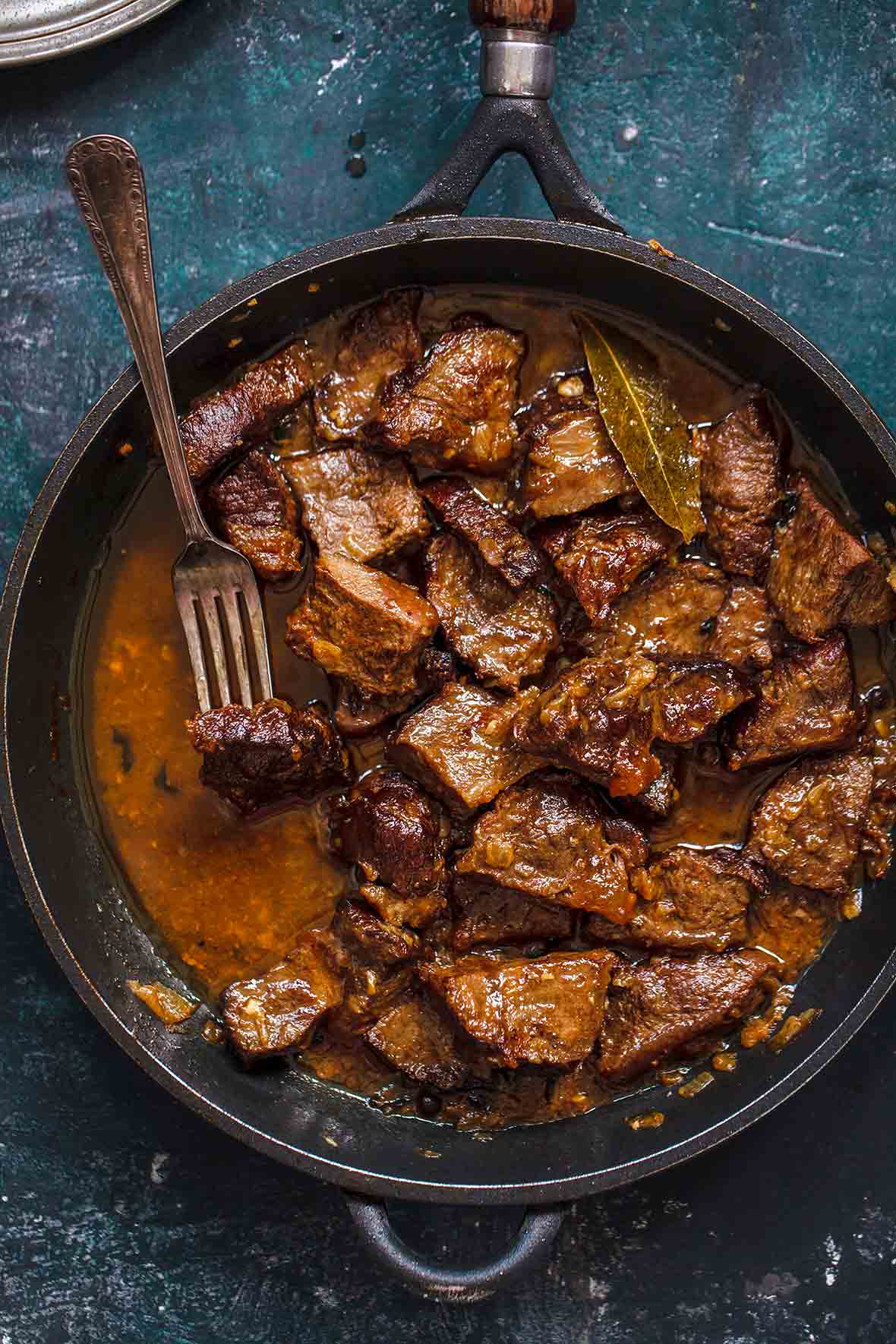 *How To Make Your Own Crushed Red Peppers
And now, a word from the author on creating your own crushed red peppers. "Crushed red peppers are exactly that: red peppers that have been ground. Once processed, some Portuguese families, like mine, brine them, others prefer to add olive oil and salt to preserve them. If you can't find bottled crushed red peppers, you can make your own: Remove the stems, but not the seeds, from 2 or 3 large medium-hot red peppers. Place them in the bowl of a food processor fitted with a metal blade. Add 2 tablespoons of olive oil and 1 tablespoon of salt. Whir until blended." There you have it.
Caçoila | Portuguese Stewed Beef
Quick Glance

(9)

20 M
4 H

Serves 8
Print Recipe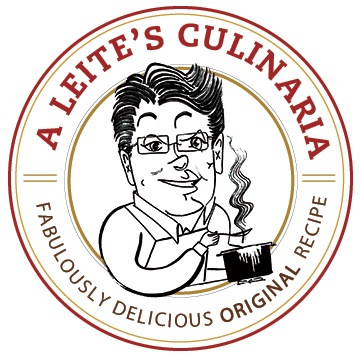 Ingredients
Directions
The day before cooking, in a large bowl, coat the beef with the crushed red pepper, cover, and refrigerate overnight.
About 4 hours before you intend to sit down at the table, scatter the onion slices, parsley, garlic, and bay leaves in the bottom of a Dutch oven. Tuck the allspice and cloves in a piece of cheesecloth tied together with kitchen twine or in a tea ball and toss them in the Dutch oven. Place the beef on top and dot with the butter or lard. In a measuring glass or bowl, stir together the wine, tomato paste, and cinnamon and pour it over the beef.
Bring the mixture to a boil, reduce the heat to a very gentle simmer, cover, and cook until the meat is very tender, 3 to 3 1/2 hours, turning the pieces occasionally. For a more concentrated, glaze-like reduction of the sauce, about halfway through cooking, remove the lid to let the liquid concentrate in consistency and flavor. Or, for a more stew-like version, keep the lid on for the duration of cooking.
Remove the bay leaves and the cheesecloth pouch or teaball. If desired, serve the caçoila with boiled white potatoes, roasted red peppers, and cooked greens.
Print Recipe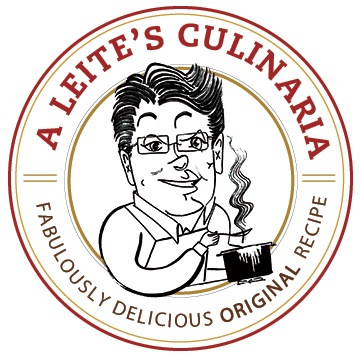 Portuguese Stewed Pork
You can use the same amount of pork butt cooked in the same manner.
Recipe Testers Reviews
I made this caçoila recipe in the crock pot and with pork in place of beef. It was a big hit! All that was left after the feeding frenzy were 2 bay leaves at the bottom of the pot.
I did have to double the recipe as I was cooking for a crowd. I trimmed the pork of any visible fat and cut it into 2-inch cubes. I didn't have enough hot peppers to double the recipe, so I used half sweet red peppers and half hot peppers. I followed the recipe as written, except for keeping the red wine to only 2 cups. I made the pork and pepper mixture the day before and let it marinate for about 12 hours. It all cooked in an 8 1/2-quart crock pot for about 8 hours. I skimmed any fat from the top and served this with the Olive Oil Potatoes.
I found that the mixture of sweet and hot peppers made for a very flavorful pork that was not overpowering with heat but with just a slight bite. I would do this again in a smaller slow cooker but decrease the wine to only 1 cup.
I cannot believe this caçoila was the very first recipe from the Azores that I've made. But after trying this, I will venture into other ones. Do you enjoy your food spicy and filled with taste? Then this dish is perfect for you.
My husband, our new Thai daughter (exchange student), and my teen all loved it. It was a tad too spicy for my toddler, who usually likes a little heat. The final taste with the tomato paste, wine, and garlic was just absolutely perfect and tasted wonderful. It's easily enough for 8 people and can perhaps even be stretched to serve 10. We served it with white rice, which was a perfect combination. Extremely easy to prepare, but you must enjoy spicy food. The next day, I decided to warm up the caçoila again, but I served it as an appetizer with toothpicks and bread and our guests also enjoyed it quite a bit.
Caçoila | Portuguese Stewed Beef Recipe © 2000 2000. Photo © 2000
casanisa
. All rights reserved. All materials used with permission.
If you make this recipe, snap a photo and hashtag it #LeitesCulinaria. We'd love to see your creations on Instagram, Facebook, and Twitter.