This leg of lamb recipe can be your savior on those evenings when you've got a bunch of strangers around the table and the mood feels as lighthearted as a dentist's waiting room. Serve up the dish Moroccan style, with its bowls of table herbs and spices, and a plate of lettuce leaves. The idea is that everyone has permission to eat with their fingers and try the lamb with different combinations of spices, fresh herbs, pan sauce, and even honey all rolled up in the lettuce. Conversations can't help but take off. Start the leg of lamb a day before by marinating it. Start the oven the day of about 2 1/2 hours before you want to sit down to dinner, as the lamb takes a total of 1 1/2 to 2 hours to cook and needs to rest before serving.–Lynne Rossetto Kasper and Sally Swift
What temperature should lamb be cooked to?
Don't know your desired final temperature for cooking lamb? Figure rare happens at 130°F (54°C) to 135°F (57°C), medium-rare 135°F (57°C) to 140°F (60°C), and medium about 145°F (63°C). We don't recommended cooking lamb past medium—you'll just end up with a dried out, chewy disappointment. Here's an extra tip from our very own David Leite—make sure that your meat thermometer is accurate. You can do this by bringing water to a boil and inserting the thermometer. It should read 212° on the nose. If not, turn the small nut underneath to adjust it or, if that doesn't work, you'll need to buy another.
Leg of Lamb with Moroccan Spices
Leg of lamb with Moroccan spices is marinated with an intoxicating blend of earthy, warming spices and served with pan sauce, honey, and Aleppo chile pepper.
Ingredients
For the marinade
4

large

garlic cloves

1/3

cup tightly packed

flat-leaf parsley leaves

1/3

cup tightly packed

cilantro leaves

1/3

cup tightly packed

basil leaves

1

teaspoon

ground cumin

1

teaspoon

sweet paprika

1

teaspoon

Aleppo pepper or other hot ground chile

,

(hot paprika will do in a pinch)

3/4

teaspoon

ground allspice

3/4

teaspoon

ground ginger

1/3

cup

good-tasting extra-virgin olive oil

3

tablespoons

honey

1/2

cup

fresh lemon juice

,

or as needed

1

medium

onion

,

coarsely chopped

1/2

teaspoon

freshly ground black pepper

5- to 6-

pound

boned leg of lamb

,

trimmed of most surface fat
For the table herbs and spices
2 to 3

hearts of romaine

,

leaves seperated

1/3

cup

coarse salt

1/3

cup

ground cumin

,

freshly ground if possible

1/3

cup

Aleppo pepper or other hot ground chile

1/2

cup

honey

2

lemons

,

each cut into 6 wedges

1

large bunch

of mint

1

large bunch

of watercress

1

large bunch

cilantro
Instructions
Marinate the lamb
In a food processor or blender, combine all the ingredients and purée. Taste a little. You want the distinct snap of lemon and a hint of heat from the chile. Feel free to add more of whatever you think is needed.

Spread the lamb in a shallow dish. Make about 12 deep slits in the meat and stuff in spoonfuls of the marinade. Pour the rest of the marinade over the lamb, turning the meat to thoroughly coat it. Cover and refrigerate overnight.
Roast the lamb
Take the meat out of the refrigerator 1 hour before cooking.

Preheat the oven to 400°F (204°C).

Remove the lamb from the marinade and place it, fatty side up, in a large, very shallow pan (a half-sheet pan is ideal). Pour in enough of the marinade to coat the meat; reserve the rest. Roast the lamb for 15 minutes, then reduce the heat to 300°F (149°C) and roast for another 15 minutes. Pour the rest of the marinade over the meat and continue roasting the lamb, basting often with the pan juices, for about 1 more hour, or until it is 10°F (-12°C) below the doneness you want.
Serving the lamb
While the lamb roasts, pile the romaine leaves on a platter, cover, and refrigerate serving. Place the salt, cumin, Aleppo pepper, honey, and lemon wedges in small individual bowls to pass at the table. Pile the mint, watercress, and cilantro on a plate, cover, and refrigerate.

When the lamb is about 10°F (12°C) below the final desired doneness, turn on the broiler. (Because the acids in the marinade slow down browning, a finish of a fast broil is needed to make the lamb all burnished and becoming.) Broil until crusty, about 5 minutes. Turn the meat and repeat. Transfer the lamb to a platter and let rest at room temperature for 10 to 15 minutes so the juices can settle and the meat can rise to its final temperature.

While the lamb rests, make the pan sauce by placing the roasting pan over two burners cranked to high heat. Stir in the wine, scraping the bottom of the pan as you bring the pan juices to a boil. Cook, stirring, until the sauce is thick and rich tasting, about 2 minutes. Reduce the heat to low to keep the sauce warm.

Thinly slice the lamb across the grain and arrange the lamb on a platter. Pour the pan sauce over the lamb, garnish with a few sprigs of the herbs, and place it on the table along with romaine, spices, honey, lemon, herbs, and so forth. Instruct guests to roll the lamb in the romaine along with the spices, honey, herbs, and a squeeze of lemon.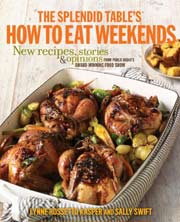 Adapted From
The Splendid Table's How to Eat Weekends
Buy On Amazon
Nutrition
Serving:
1
portion
Calories:
733
kcal
Carbohydrates:
54
g
Protein:
65
g
Fat:
30
g
Saturated Fat:
7
g
Polyunsaturated Fat:
4
g
Monounsaturated Fat:
16
g
Cholesterol:
183
mg
Sodium:
6726
mg
Potassium:
1693
mg
Fiber:
9
g
Sugar:
36
g
Vitamin A:
9733
IU
Vitamin C:
36
mg
Calcium:
268
mg
Iron:
18
mg
Nutrition information is automatically calculated, so should only be used as an approximation.
Recipe © 2011 Lynne Rossetto Kasper | Sally Swift. Photo © 2011 Ellen Silverman. All rights reserved.
---
Recipe Testers' Reviews
This lamb recipe couldn't be simpler or tastier. Making the marinade—which is really more like a loose paste—took mere minutes. Then I smeared the marinade over the leg, covered it, and shoved it in the fridge overnight. The hardest thing to do was remember I had raw lamb juice all over my hands, so I had to refrain from licking them.
The next day, the roasting went off without a hitch. My five-pound leg of lamb took exactly 1 1/2 hours to cook. The only thing is, it was a wee bit overcooked—we like our lamb rare to medium-rare. But it was my thermometer's fault. I didn't test it first.
The best part, though, was devouring the lamb at the table using our fingers. My guests loved it. We couldn't stop trying all the combinations of spices and herbs. A few thing we discovered: Do not, on pain of death, pass up the honey or the Aleppo pepper. They add just the requisite sweet heat. The One had a great suggestion: Make sure wet hand towels are placed alongside the napkins. We kept wiping our fingers on our cloth napkins, and by the end they all looked like artist rags.
Since I didn't have any Aleppo pepper on hand, I used a 4:1 ratio of sweet paprika and cayenne. The pan sauce was amazing—we all raved about it. None of us reached for additional spice at the table, although we did like the combination of lamb, cilantro, and lemon.
I had a grass-fed leg of lamb that weighed a little more than five pounds, and it took a lot longer to cook than the recipe stated—about 2.5 hours total. I was aiming for a final internal temp of 140°F, and after fifteen minutes of resting, the meat was incredible, even for those who love it rare.