This smoked Cheddar cheese recipe brings back memories of those crates from Hickory Farms that were shrink-wrapped and crammed full of small rounds of smoked cheese and sausage that. Although even as a kid, you knew the cheese could taste soooo much better. And you were right. This recipe for how to smoke cheese at home is your proof.–Renee Schettler Rossi
What To Do With Smoked Cheddar Cheese
As for what to do with your stash of smoked cheese, you can nosh on it at will, stack it on a cracker, post pictures of it on social media, melt it on a burger, slip it in a patty melt, or, if you're the unselfish sort, you can gift it to loved ones—and not just at the holidays.
Smoked Cheddar Cheese
This smoked Cheddar cheese recipe explains, step by step, how to smoke cheese at home into smoke-imbued exquisiteness. Hickory Farms, be worried.
Equipment
Apple, alder, or cherry wood chunks or chips
Ingredients
2

(8-ounce)

blocks Cheddar cheese* (see * below)
Instructions
Set up your smoker to maintain a temperature of less than 90°F (32°C). It's imperative that the heat be no higher than 90°F (32°C) to prevent the cheese from melting.

To create cold smoke, place the cheese on the grate of your smoker. Set three lit charcoal briquettes flat in the charcoal pan or firebox of your smoker. Place a flat wood chunk on top of the charcoal to create smoke. Provide a little airflow and replace the charcoal and/or wood chunks as needed to keep the smoke going for the desired period of time.

Place the blocks of cheese directly on the grate and apply light smoke for about 4 hours.

Remove the cheese from the grate and place it in a resealable plastic bag. Store the smoked cheese in the refrigerator for 2 weeks before indulging to allow the smoke flavor to permeate the cheese and even mature slightly. (If you simply can't wait 2 weeks, no one's going to tattle on you. But just know that the smoke flavor will be more pronounced and even somewhat bitter or, dare we say, acrid. If you can resist temptation, a perceived virtue that we usually find to be highly overrated, you'll be rewarded with a more mellow smoke flavor.)
Notes
*What You Need To Know About How To Make Smoked Cheese Other Than Cheddar
This smoked Cheddar cheese recipe works just as well with Gouda, Muenster, Edam, mozzarella, Swiss, and pepper Jack.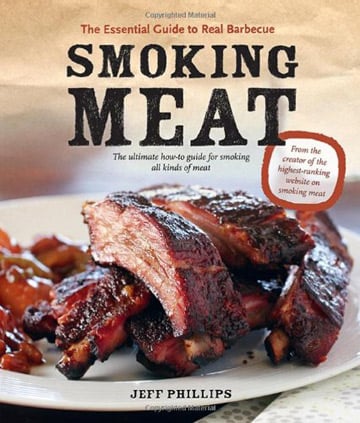 Nutrition
Serving:
1
serving
Calories:
114
kcal
Carbohydrates:
1
g
Protein:
7
g
Fat:
9
g
Saturated Fat:
6
g
Polyunsaturated Fat:
1
g
Monounsaturated Fat:
3
g
Cholesterol:
30
mg
Sodium:
176
mg
Potassium:
28
mg
Sugar:
1
g
Vitamin A:
284
IU
Calcium:
204
mg
Iron:
1
mg
Nutrition information is automatically calculated, so should only be used as an approximation.
Recipe © 2012 Jeff Phillips. Photo © 2012 Michelle Furbacher. All rights reserved.
---
Recipe Testers' Reviews
I'm so excited to have tested this. I love smoked cheese! And it's so easy to make at home. First, if you don't have a smoker but just a grill (gas or charcoal), you must buy an A-Maze-N-Pellet-Smoker from amazenproducts.com and talk to Todd. He's a wealth of information.
Here were his suggestions:
1) Freeze the cheese for 2 hours before smoking, so that the cheese melts less quickly, allowing the smoke flavor to be better dispersed throughout the cheese.
2) Fill a milk carton with water and freeze it, wrap it in aluminum foil, and put it on the grate above the heat source, then place the A-Maze-N smoker next to the milk carton.
3) Place the grill grate above the lower grate and place the cheese off to the side of the smoke.
4) Don't let the heat go above 85°F (29°C), as the cheese starts to melt a bit at 90°F (32°C). I used applewood sawdust, enough to cover 1 1/2 rows of the smoker, and lit it on one side. The directions that come with the smoker explain all this. It's very easy.
I hung an analog meat thermometer in between the grates of the grill and closed the lid. It was only 70°F in Santa Monica, so the grill didn't need to be shaded, but if you live where it's really hot, you might want to put your grill in a shaded area or cover it with an outdoor umbrella. I used Gouda and goat cheese. The Gouda took about 5 hours (the recipe says 4 hours, but the smoke didn't seem to be reaching the center of the cheese). I smoked the goat cheese for 1 hour. I tasted it right after smoking and the cheese was a little bitter.
The recipe says to refrigerate for 2 weeks to mellow out the smoke flavor. One week later, I tasted the Gouda and it was perfect. The goat cheese tastes amazing as well. This is so much fun! And now I can make my wild mushroom tartlets with applewood–smoked goat cheese and truffle oil. Great combo! Can't wait to try more cheese and cold-smoked salmon and trout. Lots to do with this A-Maze-N smoker!
This smoked cheese was so much easier than I thought it would be, with what I'm hoping will be delicious results.
To start, I made 2 smoke pouches for the grill, one with apple chips and one with cherry chips. I had 4 blocks of marble, mozzarella, jalapeno, havarti and spiced gouda. I used a tin foil pan and several lumps of charcoal. The hardest part was getting the charcoal to light. Once that was going, I used a perforated broil pan to place half the cheese and put it on the far side of the grill. Then when the smoke was going, I closed the lid of the turned-off grill.
I waited the better part of an hour and a half before I checked and removed the cheese because the smoke pack was done and apparently so was the cheese. I think any longer it would have puddled and melted. I then put the other cheese and smoke pack to use.
I have kept a third of the cheese out to nibble while the rest matures for the 2 weeks. What I wound up with is a delicately smoked product (I'd call it cold-smoked) cheese that will be delicious with the full 2 weeks maturity.