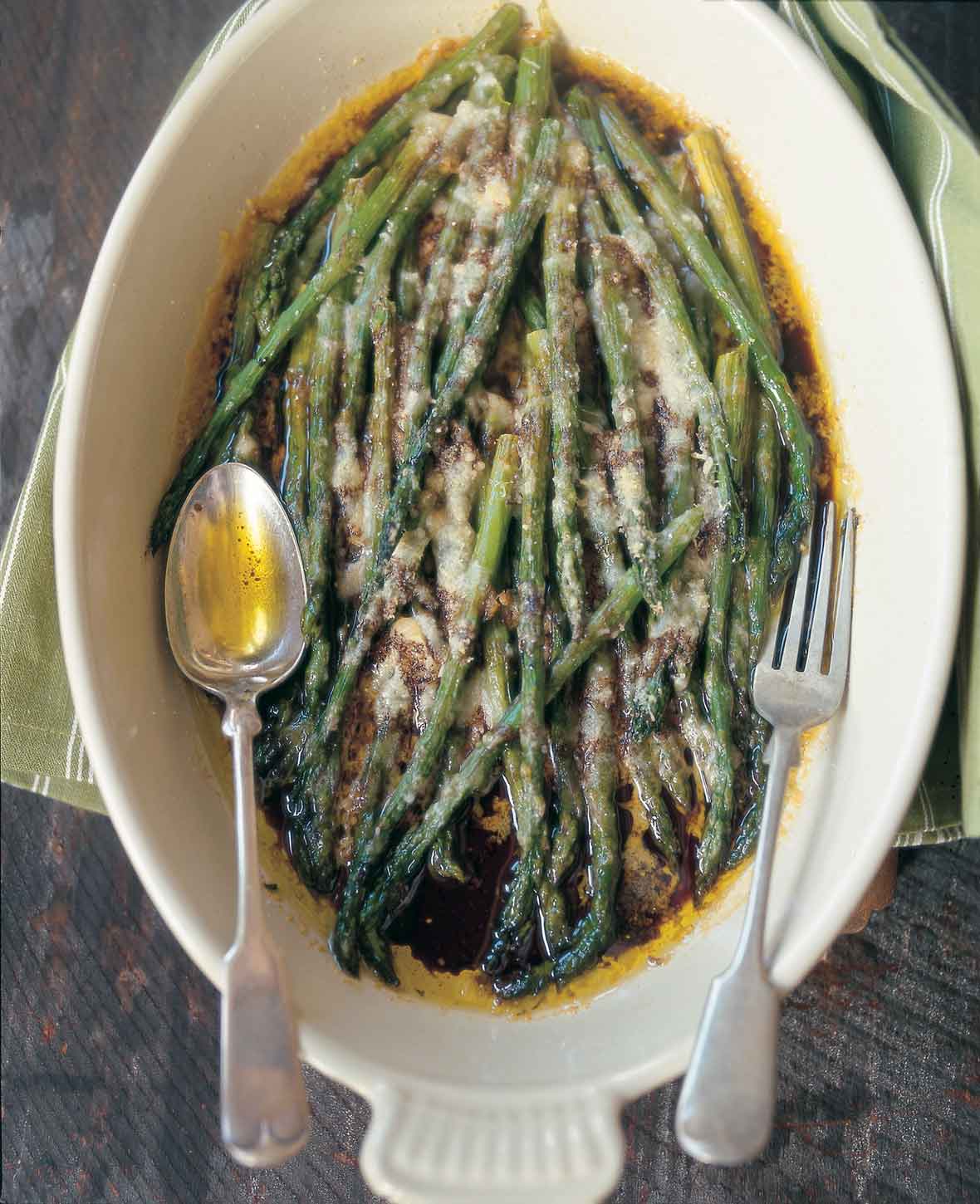 The easiest way to get people to eat their vegetables is to cover them in cheese. Here I sprinkle some Parmigiano-Reggiano on top of blanched asparagus and bake it for a few minutes to melt the cheese. A little bit of balsamic vinegar finishes off the dish. The best Italian balsamic vinegar is from Modena, where it is aged in barrels like wine for years. It's fantastic on asparagus, but very expensive. We use it in the restaurant (we keep it in the office and use an eyedropper), but if you're not ready to make the investment, you can vastly improve the taste of supermarket balsamic vinegar by cooking it down to a syrupy consistency, as I describe below. However, if you can, do try the real thing at least once. It is worth it.–Mark Strausman
LC Asparagus of All Sorts Note
This indulgent approach to eating your veggies cleverly calls for first blanching, and then roasting, the asparagus. Rather than being redundant, the cooking tactic levels the playing field for spears of all thicknesses, ensuring they come out of the oven perfectly cooked at the precise moment its mantle of cheese turns handsomely burnished. This spear-savvy trick is a godsend for entertaining, allowing you to nonchalantly slide the dish in the oven minutes before the meal, as if it were no effort at all. You're welcome.
Wine Note: Serve this dish as a spring appetizer with Sonoma-Cutrer Russian River Chardonnay, its perfect match.
Baked Asparagus with Parmigiano-Reggiano
Quick Glance

(1)

20 M
30 M

Serves 4 to 6
Ingredients
Email Grocery List
Directions
Preheat the oven to 350°F (175˚C).
If using ridiculously pricy, top-notch balsamic vinegar, skip this step. Otherwise, throw the windows open and turn on the exhaust fan. Then place the vinegar in a small saucepan and bring to a boil over medium-high heat. Reduce the heat and simmer, swirling the pan occasionally, until the vinegar is reduced by half, anywhere from 7 to 15 minutes, depending on the size of the saucepan. Remove from the heat.
Bring a pot of water to boil. Add 1 tablespoon of the salt and the asparagus and blanch until barely tender, about 1 minute for spears of average thickness, more for thicker spears and less for skinnier ones. Drain and rinse under cold water to stop the cooking. Pat the asparagus dry with paper towels.
Place the asparagus in a single layer on a rimmed baking sheet or, if necessary, two sheets. Sprinkle the spears with salt to taste, drizzle with 2 tablespoons of the oil, and turn to coat. Shower the asparagus with the Parmigiano-Reggiano cheese.
Bake until the spears are tender and the cheese is browned and almost bubbling (it won't actually melt), about 5 minutes.
Use a spatula to shimmy the asparagus from the baking sheet to a platter. Drizzle with 2 tablespoons of the reduced balsamic vinegar or a few drops of the really top notch stuff and the remaining 2 tablespoons olive oil. Serve immediately, with the remaining reduced balsamic vinegar on the side.
In Advance Advice
You can blanch the asparagus and assemble the dish hours ahead of time, keeping it at room temperature until you slide it in the oven.
Recipe Testers Reviews
Baked Asparagus with Parmigiano-Reggiano Recipe © 2007 Pino Luongo | Mark Strausman . Photo © 2007 Christopher Hirsheimer. All rights reserved. All materials used with permission.
If you make this recipe, snap a photo and hashtag it #LeitesCulinaria. We'd love to see your creations on Instagram, Facebook, and Twitter.