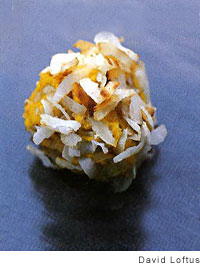 I first saw these gorgeous little morsels in the dazzling sunshine of a Caribbean afternoon on the island of Tortola. I had been invited to sail across to another island for dinner, and the owners of the boat, a spirited couple, both in their seventies, had made snacks to sustain us until later. Well, I'm a fool for anything rolled in coconut, and the rather retro combination of chicken, curry, walnuts, and cream cheese totally ruined my dinner. In my excitement — they're awfully good — I ate about twelve, and what with all the bobbing up and down on the water, I started to feel quite queasy. So just eat these in moderation on dry land, and you'll be very happy. An icy Alsace wine like Hugel Gewürtztraminer (2001) would be a perfect accessory.–Serena Bass
Curried Chicken Rolled in Toasted Coconut Recipe
Quick Glance
30 M
2 H, 30 M

Makes 30 bite-size pieces
Ingredients
2

cups

homemade chicken stock or canned chicken broth

One

8-ounce

boneless chicken breast

, pounded lightly at the thick end

3

ounces

cream cheese

, at room temperature

2

tablespoons

homemade mayonnaise or Hellmann's mayonnaise

2

tablespoons

minced onion

1

teaspoon

curry powder

1

cup

walnuts

, chopped medium-fine

1/2

teaspoon

kosher salt

3/4

cup

shredded sweetened coconut

, toasted on a baking sheet at 350°F (175°C) for 5 to 7 minutes, or until golden
Directions
1. Put the stock and chicken breast in a small saucepan over low heat. Cover, bring to a simmer, then cook for 8 minutes. Set aside until completely cooled. This could be done the day before.

2. Remove the chicken from the stock (saving the liquid for a soup) and chop medium-fine. In a bowl, beat the cream cheese with the mayonnaise until smooth. Add the chicken, onion, curry powder, walnuts, and salt; mix together gently. Cover the bowl with plastic wrap and refrigerate for a couple of hours — it's much easier to roll when cold.

3. Dampen your hands and lightly roll the mixture into 3/4-inch balls. Press on a coating of toasted coconut and, if you can, serve this hors d'oeuvre within an hour so the coconut will stay crunchy.
Hungry for more?
Chow down on these:
Curried Chicken Rolled in Toasted Coconut Recipe © 2004 Serena Bass. Photo © 2004 David Loftus. All rights reserved.
Hey, there. Just a reminder that all our content is copyright protected. Like a photo? Please don't use it without our written permission. Like a recipe? Kindly contact the publisher listed above for permission before you post it (that's what we did) and rewrite it in your own words. That's the law, kids. And don't forget to link back to this page, where you found it. Thanks!