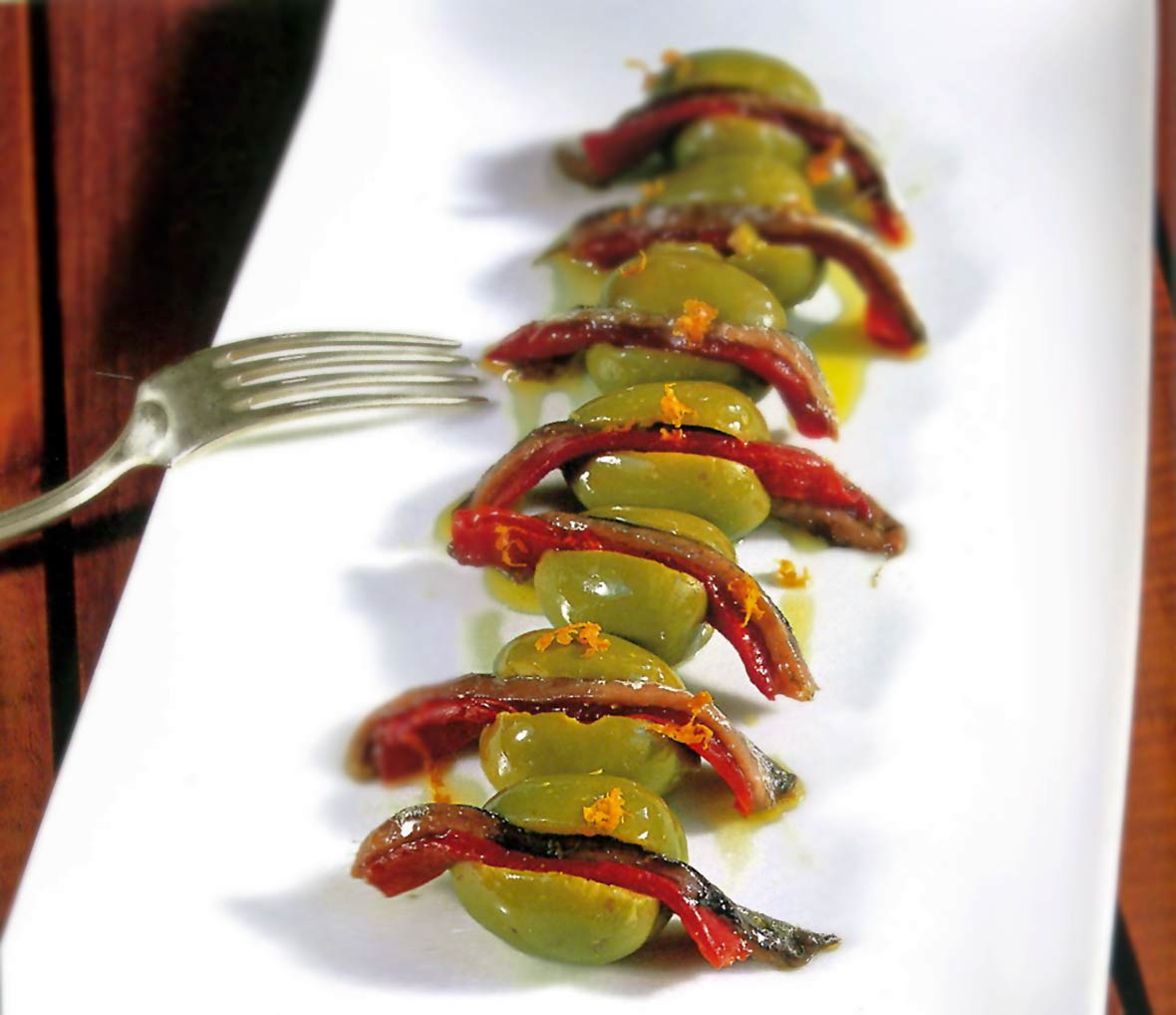 There's no better tapa than a good stuffed olive. But the ones you usually find in the supermarket are filled with poor-quality peppers and even poorer-quality anchovies. One of the best appetizers for a lunch or dinner is good olives stuffed with the real thing. Excellent ingredients prepared in a simple way — that's the best way to take your everyday cooking to a higher level.–José Andrés
Green Olives, Piquillo Pepper, and Anchovy Recipe
Quick Glance
15 M
30 M

Serves 4
Ingredients
Directions
1. Using the flat side of a knife, press each olive until the pit pops out, being careful not to split the olive in half. Cut the anchovy fillets lengthwise to create 8 long slices, and cut the piquillo peppers into eight 1/2-inch-wide strips.

2. Place 1 anchovy slice and 1 pepper strip in each olive. You can be generous with the filling, allowing the anchovy and pepper to spill out of the olive.

3. Split open the garlic clove by placing it on a chopping board and pressing down hard with the base of your hand or with the flat side of a knife. In a small bowl, mix the garlic, olive oil, orange zest, and vinegar.

4. Place the stuffed olives in the dressing and allow them to marinate for 30 minutes. Then sprinkle with a little sea salt and arrange them on a plate, with toothpicks for serving.
Hungry for more?
Chow down on these:
Green Olives, Piquillo Pepper, and Anchovy Recipe © 2005 José Andrés. Photo © 2005 Francesc Guilliamet. All rights reserved.
Hey, there. Just a reminder that all our content is copyright protected. Like a photo? Please don't use it without our written permission. Like a recipe? Kindly contact the publisher listed above for permission before you post it (that's what we did) and rewrite it in your own words. That's the law, kids. And don't forget to link back to this page, where you found it. Thanks!