Homemade Baileys Irish cream, baby! This DIY liqueur lacks the multisyllabic preservatives and stabilizers that make the store-bought rendition shelf-stable yet retains all the characteristic creaminess that makes it go down sooooo incredibly easily. (Soooo easily!)
You may want to consider gifting some of your stash just so you're not left home alone with the entire bottle. We're not kidding.–Tristan Stephenson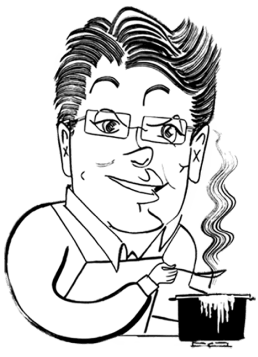 Why Our Testers Loved This
Our testers love that this homemade liqueur tastes so much better than store-bought and is easy to make. They highly recommend sharing it as a holiday gift.
What You'll Need to Make This
Coarse ground coffee–We recommend using a coarse grind here so that you don't end up with sediment in your Irish cream. If you use a fine grind, you may need to strain the mixture twice.
Irish whiskey–You could use any type of whiskey here, but Irish whiskey gives the liqueur its distinctive taste.
How to Make This Recipe
Sterilize your storage bottle and cap in boiling water. Bring the milk, vanilla, and cacao nibs to a very gentle simmer and cook for 30 minutes.

Strain the infused milk.

Return it to the saucepan. Add the sugar and salt and simmer gently until reduced to 2 cups.



Stir in the coffee. Let the mixture rest for 5 minutes, then strain. Stir the whiskey in to the milk mixture.

Blend the Irish cream. Slowly pour in the cream while blending on low speed. Transfer to the sterilized bottle and store in the fridge.
Recipe FAQs
How long does homemade Irish cream keep?
The Irish cream should keep for up to 2 months in the refrigerator. The alcohol helps to preserve it, but do give it a quick sniff test before enjoying it.
Does it need to be refrigerated?
Yes. The presence of dairy and the lack of preservatives means that your DIY Irish cream should be stored in the refrigerator any time it's not being used.
What's the best way to serve Irish cream?
There are many options. Serve it straight up, over ice, added to desserts, or splashed into coffee. You can also include it in cocktails that call for a cream-based liqueur, such as white Russian or Irish coffee.
Helpful Tips
If you use a finely ground coffee, line your sieve with cheesecloth before straining. You may also need to strain the coffee mixture twice.
If you have a high-powered blender, such as a Vitamix, don't run it on high speed when adding the cream as it may cause the mixture to curdle. Low speed is perfect for blending the cream into the liqueur.
Shake your bottle of Irish cream well before serving.
Write a Review
If you make this recipe, or any dish on LC, consider leaving a review, a star rating, and your best photo in the comments below. I love hearing from you.–David
Homemade Irish Cream
This homemade Irish cream recipe is an easy homemade Baileys Irish cream that you can make at home with whiskey, coffee, heavy cream, milk, cacao, sugar, and the luck of the Irish. Tastes just like the store-bought stuff. Cheers.
Equipment
Suitable bottle with an airtight cap; cheesecloth
Ingredients
3 1/2

cups

whole milk

Seeds from 1 vanilla pod

1

ounce

cacao nibs (1/4 cup)

1

cup

granulated sugar

1

teaspoon (5 grams)

sea salt

1/2

ounce

freshly coarse-ground coffee (3 tablespoons)

1 3/4

cups

Irish whiskey, such as Bushmills Black Bush

2/3

cup

heavy cream
Instructions
Sterilize a reusable glass bottle and cap by boiling it in hot water.

In a small saucepan, bring the milk, vanilla seeds, and cacao nibs to a simmer. Hold it at a gentle simmer, just so there are a few bubbles here and there, for 30 minutes.

Strain the mixture through a cheesecloth-lined strainer. Return the liquid to the pan along with the sugar and salt and gently simmer until it's reduced by about half, so you should have about 2 cups total, which may take as long as an hour. Turn off the heat and let the mixture cool for a minute or so.

Add the coffee to the milk mixture, stir well, and let rest for 5 minutes. Strain the liquid through a fine sieve or tea strainer and then let cool completely.

Stir the whiskey into the milk mixture. Pour it into a blender or use an immersion blender directly in the saucepan and slowly and steadily pour in the cream as you blitz the mixture for 20 seconds.

Stop the blender, pour the finished lrish cream into the sterilized bottle, and then seal it. Tuck it in the fridge until chilled through.
Notes
Storage–Keep Irish cream refrigerated. It should keep for up to 2 months.
Serving–Shake well before serving. The liqueur can be served straight, over ice, in coffee, or as part of a cocktail or dessert.
Nutrition
Serving:
1
ounce
Calories:
95
kcal
Carbohydrates:
8
g
Protein:
1
g
Fat:
3
g
Saturated Fat:
2
g
Polyunsaturated Fat:
0.1
g
Monounsaturated Fat:
1
g
Cholesterol:
9
mg
Sodium:
84
mg
Potassium:
45
mg
Fiber:
0.1
g
Sugar:
8
g
Vitamin A:
116
IU
Vitamin C:
0.03
mg
Calcium:
36
mg
Iron:
0.01
mg
Nutrition information is automatically calculated, so should only be used as an approximation.
Recipe © 2014 Tristan Stephenson. Photo © 2014 Ryland Peters & Small. All rights reserved.
---
Recipe Testers' Reviews
I'm really enjoying my homemade Irish cream liqueur. It's nice and creamy. So far I've only served it over ice although I'm thinking I could toss the ice and Irish cream in the blender and have a nice slushie. Or maybe splash some in coffee.
I found I needed to strain the liquid through cheesecloth twice since my coffee was ground just a little too fine.
What a step up from the store-bought stuff! And relatively easy to make! This homemade Irish cream is wonderfully creamy and has an authentic whiskey flavor that you don't get in Baileys.
After a few days, the liqueur did settle in the bottle, so it needed a good shake before serving. This would make a great holiday gift!