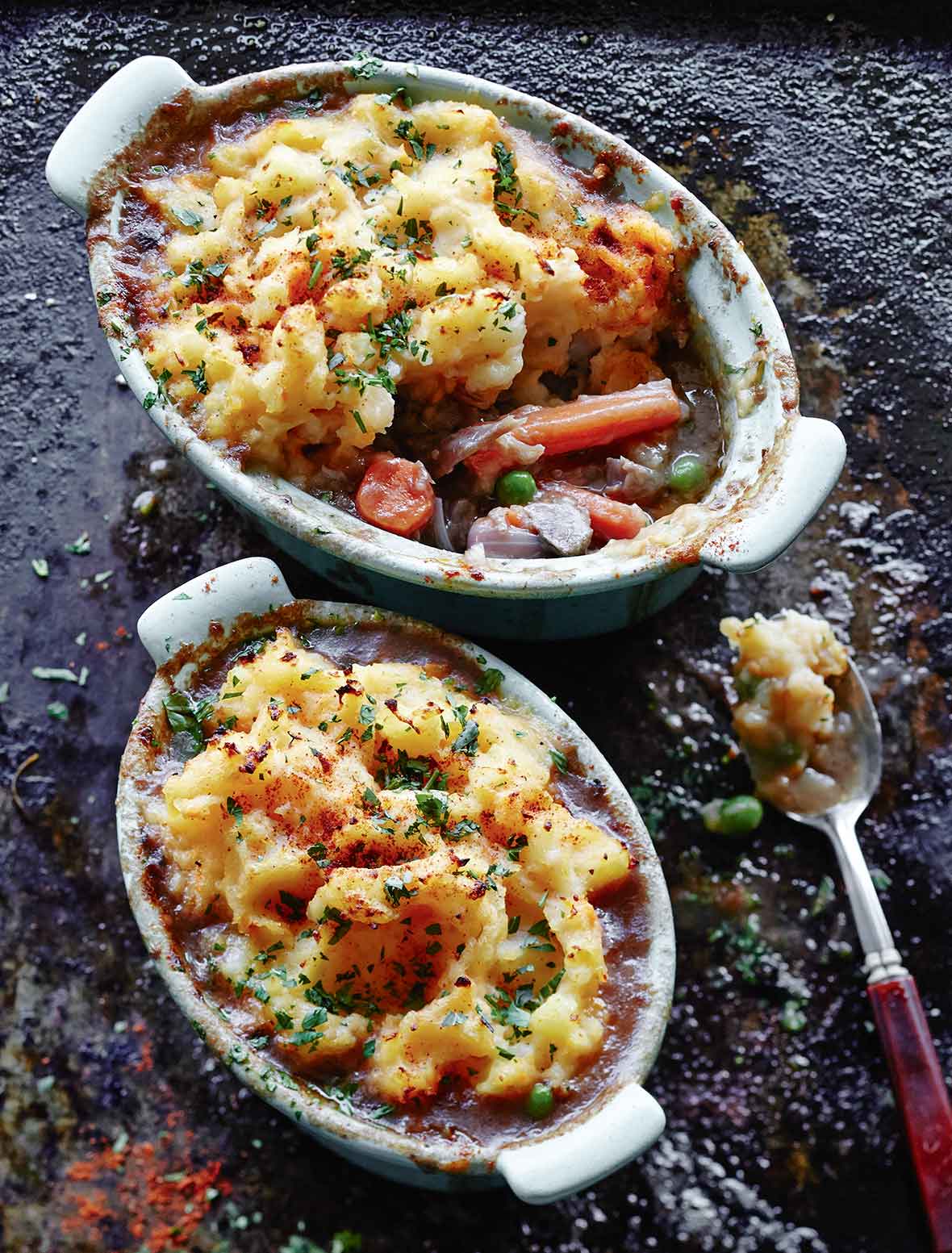 This shepherd's pie recipe is partly true to tradition by keeping with the expected lamb although it relies on tender braised lamb shanks that're gently stewed until fall-apart tender in place of ground lamb. No complaints here.–David Leite
Does lamb get more tender the longer you cook it?
Yes. That is, lamb shanks. Different cuts of lamb require different cooking approaches. But shanks of any sort do well with braising, or cooking low and slow in liquid until you coax the toughness to dissipate and what results is meat that falls apart into shreds at the merest tug of a fork. Although the meat starts tough and after an hour or two it may remain tough, relax and continue to follow the recipe. The lamb will eventually succumb.
Lamb Shank Shepherd's Pie
This shepherd's pie strays a touch from tradition, relying on tender braised lamb shank rather than the typical ground lamb. Call us rebels.
Ingredients
For the lamb stew
2

tablespoons

olive oil

4

(3 to 4 pounds total)

lamb shanks

Kosher salt and freshly ground black pepper

1

small or 1/2 large

onion

,

cut into quarters

6

sprigs

thyme or rosemary

1

cup

dry red wine

2

tablespoons (1 oz)

unsalted butter

2

tablespoons

olive oil

1

small or 1/2 large

onion

,

thinly sliced (about 1 cup)

2 to 4

tablespoons

all-purpose flour

1

cup

dry red wine

2

cups

reserved cooking liquid from the lamb, beef stock or homemade chicken stock

1

tablespoon

store-bought or homemade tomato paste

1

tablespoon

thyme leaves

2

tablespoons

chopped flat-leaf parsley leaves

4

medium (7 oz)

carrots

,

cut into 1/2-inch (12-mm) chunks

One

(10-ounce)

bag frozen green peas

Kosher salt and freshly ground black pepper
For the potato topping
2

pounds

sweet potatoes

,

(or substitute butternut squash or rutabagas), peeled and cut into large chunks

2

pounds

Yukon Gold potatoes

,

(about 4 or 5), peeled and cut into slightly smaller chunks than the sweet potatoes

6

tablespoons (3 oz)

unsalted butter

1

tablespoon

chopped rosemary leaves

Ground paprika
Instructions
Make the lamb stew
Preheat the oven to 350°F (180°C).

In a large Dutch oven or a deep ovenproof skillet with a lid, heat the oil over medium-high heat until sizzling hot. Season the lamb generously with salt and pepper to taste. Cook until brown, about 5 minutes per side. Place the lamb on a plate.

Reduce the heat to medium, add the onion to the same skillet, and cook, stirring, until the onion is tender and lightly browned, about 5 minutes. Add the thyme and wine and scrape up any brown bits from the bottom of the pan.

Return the lamb to the pan and add enough water to cover about 2/3 of the way up the lamb. Bring the liquid to a low boil. Cover the pan tightly and place in the oven, undisturbed, until the lamb is fork-tender, about 2 1/2 hours.

Remove the pan from the oven. Remove the lamb from the liquid (reserving the liquid) to cool slightly. Pull the lamb off the bones in large chunks. You should have about 4 cups cooked meat. (This can be done several days in advance. Store refrigerated in the liquid. The fat will rise to the top and you can skim it off after it has cooled completely.)

In a large skillet over medium-high, heat 2 tablespoons butter and the olive oil until sizzling hot. Reduce the heat to medium and add the onion and cook, stirring often, until soft, about 5 minutes.

Sprinkle 2 to 4 tablespoons flour (the more flour you add, the thicker the consistency of the resulting stew) over the onion and continue to cook, stirring constantly, another 2 minutes.

Slowly add the second cup of wine and scrape up brown bits from the bottom of the pan. Whisk in the broth or reserved cooking liquid, about 1/2 cup at a time, and bring to a low boil, whisking constantly. It may be necessary to add a little more stock or water to achieve the desired consistency. Stir in the tomato paste to mix, reduce the heat to simmer, and cook about 10 minutes.

Add the lamb, thyme, parsley, carrots, and peas, and continue to cook until the carrots are tender, about 20 minutes. Season with salt and pepper to taste. (For best results, make the stew a day in advance, let it cool, cover, and refrigerate it overnight. Then gently rewarm over low heat prior to proceeding. This allows the flavors of the stew to meld and play nicely with one another.)
Make the potato topping
Preheat the oven to 400°F (200°C). Lightly butter or oil a 9-by-13-by-2-inch baking dish.

While the filling is cooking, place the sweet potatoes and potatoes in a large pot of boiling water and cook until tender, about 25 minutes. Drain, add the butter, season with salt and pepper to taste, and mash until smooth.
Assemble the shepherd's pies
Pour the filling into the prepared baking dish and plop the potato mixture on top by the spoonful here and there. (You don't want to smooth the mash on top of the surface but rather create discrete portions of mashed potatoes atop the stew so later, when serving, guests can scoop out a portion of stew and mash in a single fell swoop.)

Sprinkle with rosemary and paprika, and place in the oven until golden brown on top and bubbling around the edges, 25 to 30 minutes. Serve warm, scooping out a portion of the potatoes and lamb for each serving.
Nutrition
Serving:
1
portion
Calories:
582
kcal
Carbohydrates:
55
g
Protein:
28
g
Fat:
23
g
Saturated Fat:
10
g
Polyunsaturated Fat:
2
g
Monounsaturated Fat:
10
g
Trans Fat:
0.5
g
Cholesterol:
98
mg
Sodium:
250
mg
Potassium:
1295
mg
Fiber:
9
g
Sugar:
10
g
Vitamin A:
16982
IU
Vitamin C:
44
mg
Calcium:
81
mg
Iron:
4
mg
Nutrition information is automatically calculated, so should only be used as an approximation.
Recipe © 2015 Sara Foster. Photo © 2015 Peter Frank Edwards. All rights reserved.
---
Recipe Testers' Reviews
If you say yes to this shepherd's pie recipe, and I believe you should, you should also say yes to spending the better part of a day executing this dish. But it'll be worth it, I promise you. Truth be told, I have never in my life made shepherd's pie until now, and the only reason I decided to make it was because I had lamb shanks in my freezer. My guess is that this is the only shepherd's pie recipe you should ever pay attention to, as I'm thinking it's a whole 'nother level above and beyond your average recipe.
Let's start with the brilliant combination of Yukon Gold potatoes and sweet potatoes. I made sure to mash everything very lightly so that it was still chunky. I also made sure to unevenly spread it over the lamb, thereby creating craggy hills and valleys of potato, some parts getting a little bit crisp, some parts remaining smooth and creamy. I used slightly less than 3 pounds potatoes instead of 4 pounds, and I felt that there was still plenty of potato topping. I had some concerns about cooking both types of potato in the same pot, and ended up cutting my sweet potatoes slightly larger than the Yukon Golds, which worked out well, as they were both pretty evenly done at the same time. I also used a pale-fleshed sweet potato called a "gold" that was not candy sweet.
Now let's talk about what's underneath that creamy layer flecked with rosemary and paprika. Luscious chunks of lamb, slightly crisp carrots, and an earthy red wine sauce bolstered with the addition of the lamb cooking juices. I deviated when the instructions called for adding the lamb and carrots to the thickened braising liquid by only adding the carrots, as I really thought they stood a better chance of cooking in 20 minutes without everything else added in. When the carrots were done, I added the lamb to warm it through and then poured everything into my baking dish.
My final word of advice is use a decent red wine for the braising liquid and the sauce. You'll be glad you did because you'll be sipping the rest of the wine while you spend the afternoon in the kitchen putting it all together.
Be sure to invite friends over to share, as there will be plenty. Serve the lamb shank shepherd's pie with a salad of frisée and pickled golden beets dressed with a mustard seed vinaigrette and more of that delicious red wine that you used for cooking. That's what I did.
All the comfort of regular shepherd's pie with the oh-so-flavorful and very tender lamb shank meat that really elevated this dish. This shepherd's pie recipe is a little time-consuming but well worth the effort!
I braised the lamb shanks early in the day and 2 1/2 hours braising time yielded fork-tender lamb. For some reason, I lost quite a bit of liquid during this time, though I'm not sure why. I used a sturdy Dutch oven and initially had about 4 cups liquid. After the braise I had only about 1 1/2 cups liquid left, half of which was fat. I used the defatted braising liquid and topped it off with beef stock. I found that the recommended 2 cups stock plus 1 cup wine was not enough, and the liquid was too thick as it cooked. I added an extra 1/2 cup stock to give it a thick but not gloopy consistency.
I mashed the potatoes with sweet potatoes, and this was really delicious, though I found the potato mixture a little dry after mashing and ended up stirring in 1/4 cup whole milk because I knew it would dry a bit more in the baking process.
Overall this was very delicious. Wine was a Malbec (since it was already open!). I found all the timing recommendations to be accurate.
My spouse has had his share of shepherd's pies—they were a frequent Monday meal following a Sunday roast made by his mum. This is not quite your mother's shepherd's pie—it is something just that extra special bit beyond yet true to the origins. Since we knew this was going to be a bit posh anyway, we used a well-aged zinfandel from the Sierra Foothills, the best local organic lamb shanks we could find, and a combination of butternut squash and Yukon Gold potatoes.
I checked on the lamb halfway through the cooking and added 1/2 cup water, as the volume seemed to be dropping a bit even though the lid was on. When I removed the meat from the bones, I had 4 cups meat and just barely 2 cups broth. I put the meat back in the broth. By cooking the lamb the day before, the stock jelled beautifully, and it was easy to remove the chilled fat layer. Note that you will want to slightly reheat the meat-broth mixture (microwave for just 1 minute or so) in order to separate the broth from the the meat for the second phase of the recipe—this caught me off guard as my meat was in a solid jelled block when I started the sauce! Easily solved.
Don't worry about cutting or shredding the meat into smaller pieces because as you heat the meat in the juices, it will naturally pull apart into smaller pieces without any effort. For my vegetables, I used deeply colored heirloom maroon carrots with a dark orange interior and a mixture of peas and edamame beans, so the dish was slightly less sweet than if made with the more sugary carrots and peas combo. I used a combination of thyme and rosemary, with more restraint on the rosemary so it wouldn't be too dominant, and I was generous with the thyme.
When you add the flour to your onions, you are going to see it develop into a golden, slightly dry-looking roux, but it all worked into a beautiful sauce with just the right thickness. Because my broth all came from the cooking of the lamb, I adjusted the salt and pepper at the end of the cooking of the filling. If you use a prepared or canned broth, you may already have plenty of salt. I liked the combination of the butternut squash and Yukon Gold potatoes.
This rustic-looking pie becomes golden brown on the peaks with maybe an extra 5 minutes in the oven (it took 35 minutes to get to where the filling was sizzling hot and the topping sufficiently brown). I do recommend placing a pan underneath whatever size casserole or dishes you use as you might otherwise have a little bubbling excitement to clean up in your oven.
The wine I used for cooking was a 2005 Story Winery Red Passion Zinfandel—nice and sturdy, as most Sierra Foothills zins are. I cooked the lamb the day before in the oven, scenting the house with wonderful roast aromas, and then served it in oval roasting dishes, which worked perfectly for us to split the lamb in 2 batches for our small household to enjoy (and if you were to set that second portion of meat aside by freezing it, you would be all set for a second meal later in the season when you are too busy to cook a project meal). We happily enjoyed this for several days.
The first portion was cooked in a 7-by-10-1/2-inch (1.175 liters) oval ceramic dish, and on day two, we reheated it covered with foil at 350℉ for 30 to 40 minutes. Since it had remained crisp on top, I didn't remove the foil, but of course that may vary with your topping choices. It did not dry out or get soggy—it was still absolutely delicious. We are happily looking forward to repeating this recipe again! This is absolutely something you can serve to guests.