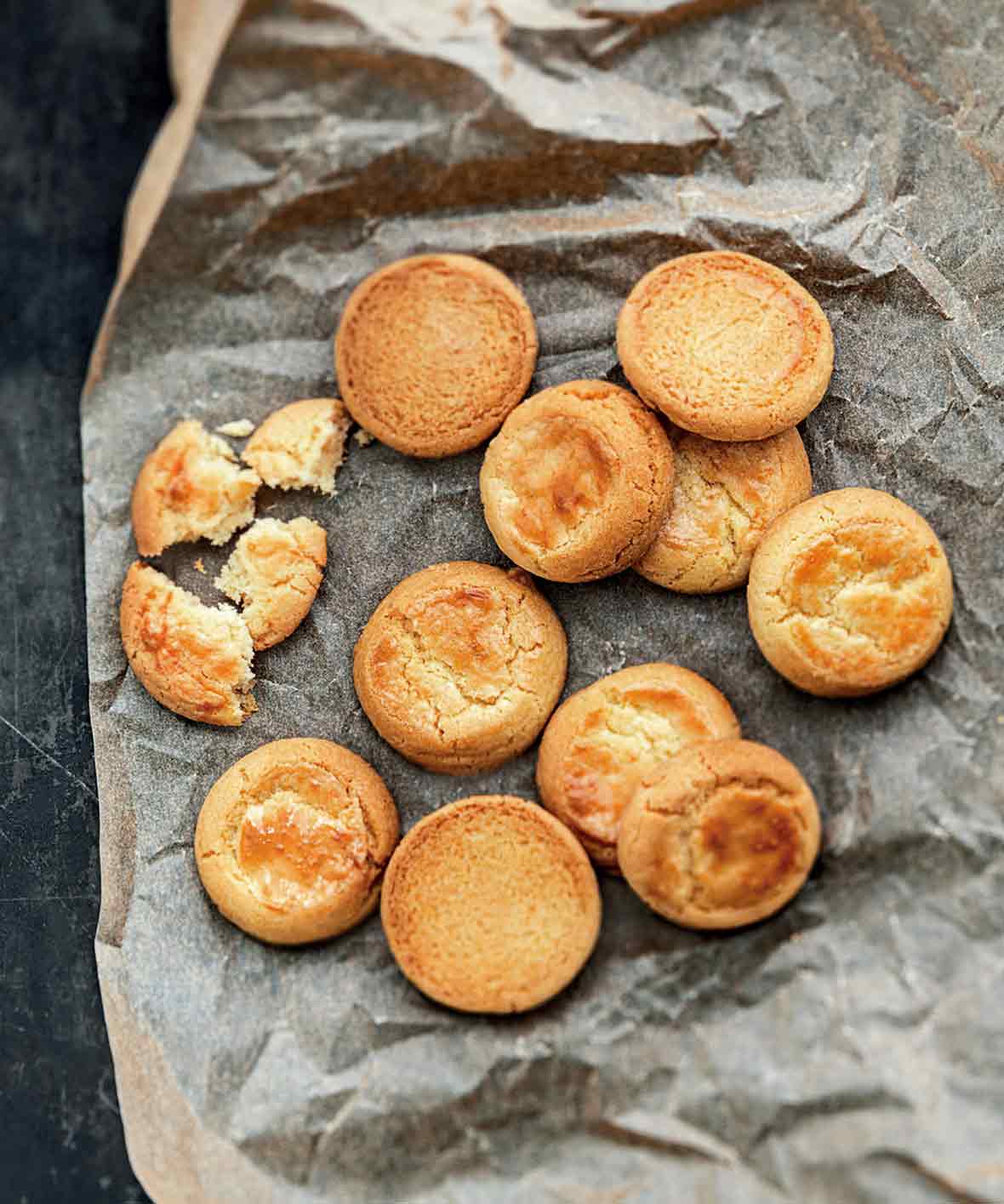 "French butter cookies" may be something of a misnomer if you ask us. Because to emphasize only the butter in these homemade little lovelies from Brittany, or Breton, doesn't convey the incredibly crisp, crumbly, shortbread-like texture they boast and the sparest lilt of sea salt. If anything, they should be called "ooh la la" cookies. Or maybe simply "we find it impossible to stop noshing them" cookies.–Renee Schettler Rossi
☞ Like cookie recipes? Try these:
French Butter Cookies
This French butter cookies recipe, aka Breton butter cookies or sablés, are classic Christmas cookies. Easy, traditional, crispy, crunchy, buttery, salty, homemade loveliness incarnate.
Ingredients
10

tablespoons

butter

,

at room temperature

1/2

cup

granulated sugar

3

pinches

fine sea salt

2

cups

all-purpose flour

1

tablespoon

baking powder

3

large

egg yolks
Instructions
Mix the butter with the sugar and salt in a stand mixer or a large bowl with an electric mixer. Gradually add the flour and baking powder with the mixer still running. Stop the mixer, add 2 egg yolks, and ever so briefly knead the mixture into a ball as quickly as possible, working right in the bowl if desired. (If you knead the cookie dough too long, the cookies will become dense and tough and lose their ethereally airy quality.) Be aware that the dough will be quite dry and crumbly, but that's okay, you just need it to cling together when you press it with your hands. Gently wrap the dough in plastic wrap and refrigerate until firm, about 2 hours.

Preheat the oven to 350°F (180°C).

Roll the dough between 2 sheets of parchment paper until it measures 3/8 inch (1 centimeter) thick. (It may be necessary to let the dough rest at room temperature for up to 30 minutes until it's soft enough to roll.) Peel off the top layer of parchment and, using a biscuit or cookie cutter, cut out circles about 2 inches (5 1/2 centimeters) in diameter and place one in the bottom of each cup of the nonstick muffin pans. You should have about 20 cookies. (If you don't have enough muffin pans to bake all the cookies at once, simply stash the cookie dough in the refrigerator in between batches. Keep it there until the muffin pans used in the previous batch have cooled completely to room temperature.)

Beat the remaining egg yolk with a little water and brush it over the pastry circles in the muffin pans. Bake for 15 to 20 minutes or until lightly golden brown.

Remove from the oven and then let the cookies cool a little in the muffin pan before turning them out and cooling completely on wire racks. You can use the tip of a knife to gently nudge the cookies out of the muffin pans. The cookies will keep in a resealable container for up to 3 days at room temperature. Find more information on storing or freezing your cookies.
Nutrition
Serving:
1
cookie
Calories:
124
kcal
Carbohydrates:
15
g
Protein:
2
g
Fat:
6
g
Saturated Fat:
4
g
Polyunsaturated Fat:
1
g
Monounsaturated Fat:
2
g
Trans Fat:
1
g
Cholesterol:
43
mg
Sodium:
61
mg
Potassium:
79
mg
Fiber:
1
g
Sugar:
5
g
Vitamin A:
212
IU
Calcium:
33
mg
Iron:
1
mg
Nutrition information is automatically calculated, so should only be used as an approximation.
Recipe © 2014 Estérelle Payany. Photo © 2014 Guillaume Czerw. All rights reserved.
---
Recipe Testers' Reviews
Based on flavor and texture, I would give these French butter cookies a 10. They were fabulous—buttery, slightly sweet, crumbly like shortbread, with crisp edges and softer centers. They were a perfect accompaniment to a cup of hot tea, a blanket, and a good book.
However, the dough gave me some difficulties. I will definitely make them again, as the end result was pretty darn tasty (my tight jeans can attest to that!). I weighed my flour and checked the volume measurements as well. With the sprinkle and sweep method of measuring, I had to add another 1/4 cup flour to get to the 250 grams called for in the recipe. In hindsight, I should've held back on that extra flour. I had to let the dough warm up for about 30 minutes after chilling for it to be soft enough to roll.
The bottoms of my cookies were darker than the picture. The tops looked exactly like the picture. The cookies came out of the pans with just a little help from a table knife.
These French butter cookies were a nice treat. They are almost reminiscent of Lorna Doones, with the rich buttery flavor and a little more crumb.
It was very easy to put the recipe together. The dough after mixing was dry and crumbly. With some manipulation right in the mixing bowl, I was able to get all of the dough pieces together into a ball because of the warmth of my hands. After the dough chilled, it took a few good passes with the rolling pin before it flattened down. The butter softens very quickly.
My yield wound up being more than 20 cookies. I believe it's because I rolled the dough a little thinner than 3/8 inch, which in turn led me to burn the first batch. Because I still had dough left over, I rerolled the rest and made them a little thicker, which was the trick. They came out much lighter and golden brown around the edges. Exactly 20 minutes is the right amount of time to get golden brown edges. It's easy to pop each cookie out of the muffin tin with a small offset spatula.
These cookies were crisp and not too sweet in taste. The recipe did make about 20 cookies. I creamed the sugar and butter until light and creamy, although the recipe did not give specific instructions. The consistency of the dough was soft and slightly gritty, and the dough cleaned the sides of the bowl when it came together. I found that after the 2 hours of resting that the dough needed to be warmed up before rolling as when I tried to work with it straight out of the fridge it cracked up badly.
I did not use the muffin pans suggested as I thought it was an odd why to make the biscuits. I also could not find a rolling pin and so as I struggled to find a suitable bottle to roll the dough I decided to roll the dough into a roll and slice it into rounds and cook them on a flat baking sheet. I baked each batch for 10 minutes at 180°C, until the edges of the biscuits turned a light golden brown. The egg yolk gave a golden shiny top to the biscuits which I felt looked a bit odd, and for the second batch I left them unglazed.