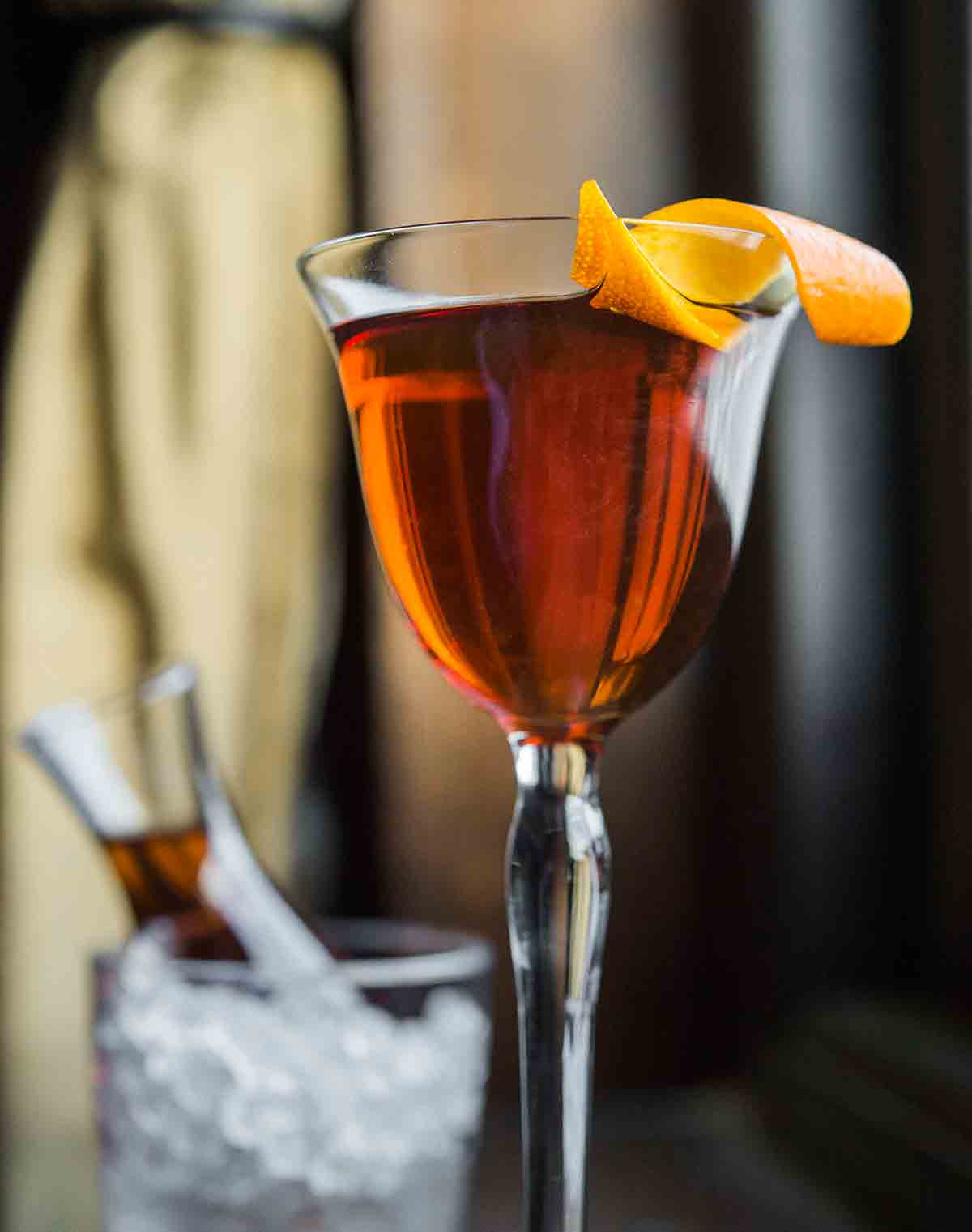 As the name Hanky Panky suggests, this amber aperitif is pure seduction in a glass. It's similar to a martini but with a sweet edge that will have you swooning.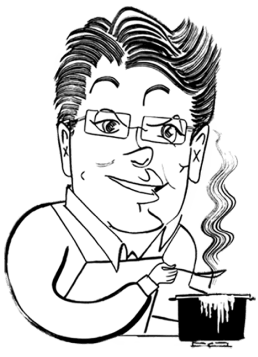 Why Our Testers Loved This
Our testers were happy to indulge in this classic cocktail and enjoyed the balance of flavor from the gin, sweet vermouth, and Fernet Branca. In fact, they liked it so much that they each tested it twice. (Hic.)
What You'll Need to Make This
Sweet vermouth–This can be made with any sweet vermouth. However, our testers preferred it with the Carpano Antica brand suggested in the recipe.
Fernet Branca–This is a bitter Italian liqueur you can find at well-stocked liquor stores. It has an aggressive bitter flavor. If you are unfamiliar with it, consider starting with 1 teaspoon and adding more to taste.
How to Make This Recipe
Combine the gin, vermouth, and Fernet Branca in a mixing glass. Fill with ice and stir until cold.

Strain the cocktail into a serving glass. Garnish with an orange twist.
Common Questions
Where did the hanky panky cocktail come from?
The classic cocktail was created by Ada Coleman, a bartender at American Bar in The Savoy Hotel in London. It is believed she created it for Sir Charles Hawtrey, a visiting actor, who requested a strong drink. After tasting it, he declared, "By Jove! That is the real hanky-panky!"
What does Fernet Branca taste like?
Fernet Branca is an Italian liqueur with a strong bitter, herbaceous flavor; for many, it is an acquired taste. When using it in cocktails, begin with a very small amount and add more slowly, to taste.
Helpful Tips
This makes a very stiff drink, which would be considered a double. If you want to consume less alcohol, divvy the drink between two glasses and share.
Modern versions of the cocktail include a splash of orange juice. To try this, add a splash with the other ingredients in step 1.
Write a Review
If you make this recipe, or any dish on LC, consider leaving a review, a star rating, and your best photo in the comments below. I love hearing from you.–David
Hanky Panky Cocktail
This hanky panky cocktail recipe is similar to a martini, with a slightly sweet edge. Perfect for Valentine's Day or date night.
Equipment
Nick and Nora glass (optional)
Ingredients
2

ounces

gin (preferably Tanqueray No. Ten)

1

ounce

sweet vermouth (preferably Carpano Antica Formula)

1/4

ounce

Fernet Branca

Orange twist, for garnish
Instructions
In a mixing glass, combine the gin, vermouth, and Fernet Branca. Fill the glass with ice and stir until chilled.

Strain the cocktail into a chilled Nick and Nora glass or two, if you have them, and garnish with the orange twist.
Notes
Split the drink–This makes a very stiff drink, which would be considered a double. If you want to consume less alcohol, divvy the drink between two glasses and share.
Add some OJ–Modern versions of the cocktail include a splash of orange juice. To try this, add a splash with the other ingredients in step 1.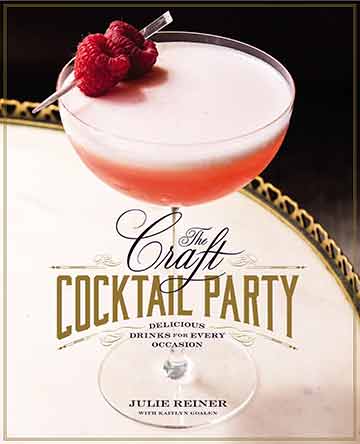 Nutrition
Serving:
1
serving
Calories:
188
kcal
Carbohydrates:
4
g
Protein:
0.02
g
Sodium:
2
mg
Potassium:
21
mg
Sugar:
1
g
Calcium:
3
mg
Iron:
0.1
mg
Nutrition information is automatically calculated, so should only be used as an approximation.
Recipe © 2015 Julie Reiner. Photo © 2015 Daniel Krieger. All rights reserved.
---
Recipe Testers' Reviews
I like Fernet Branca but not all the time. It's nice as an after-dinner digestive with its bracing medicinal flavor.
Using it in a cocktail, though, isn't very common, and I've always wanted to find a cocktail that works with it and can stand up to its strong flavor. The Hanky Panky sure does! It works great, especially using Carpano Antica vermouth, as the recipe suggests. I'd even go as far as saying it really needs the assertive orange-bitter flavor of Carpano to stand up to the Fernet flavor.
I tried this twice to test it out—the first time using Carpano Antica vermouth and the second time regular sweet Martini & Rossi. The cocktail made with Carpano was much better and more balanced. The juniper in the gin worked great with the assertive Fernet and the bittersweet vermouth, and that worked great with the orange peel garnish.
The one made with Martini and Rossi was fine but not as well balanced with the harsher Fernet flavor dominating, and I missed the orange notes of the Carpano.
This makes a single serving, but it's a pretty stiff drink.
This Hanky Panky cocktail is a fascinating variation on a martini. The Fernet Branca takes it in a completely different direction than any martini recipe I'd usually make.
The sweet vermouth is an excellent counterpoint to the bitter herbs of the pleasantly intriguing, yet almost medicinal, Fernet Branca.
I wouldn't dare take sides on the stirred vs. shaken preparation of a martini, so I tried both. (Okay, if pressed, I am a little partial to the presence of ice floes that you get with a well-shaken martini). I tried this two ways. Both were lovely.)
My first martini was prepared exactly as the recipe stated, using my most special gin (Junipero from Fritz Maytag's Anchor Distilling) and stirred.
My second martini was made with more Tanqueray and shaken. The Junipero or another premium gin makes things slightly more interesting, although both martinis were pleasing.
The sweetness of this cocktail is a personal preference. Normally, our preferred vermouth:gin ratio is 1:3 using a dry vermouth. This cocktail is a bit on the sweet side for a martini.
I'd make this drink again, but I'd use a lighter hand with the Fernet Branca (just 1 teaspoon or 5ml) and try a vermouth:gin ratio of 1:4 given the sweetness of the Carpano Antica Formula.
Lastly, this recipe is really a "double," so if you made it for one serving, that would be it for the evening. Maybe split this into two smaller aperitif servings if there is wine or something else to be served afterward.