This Philly cheesesteak is an easy riff on the authentic sandwich from South Philadelphia that you can make at home. Here's how.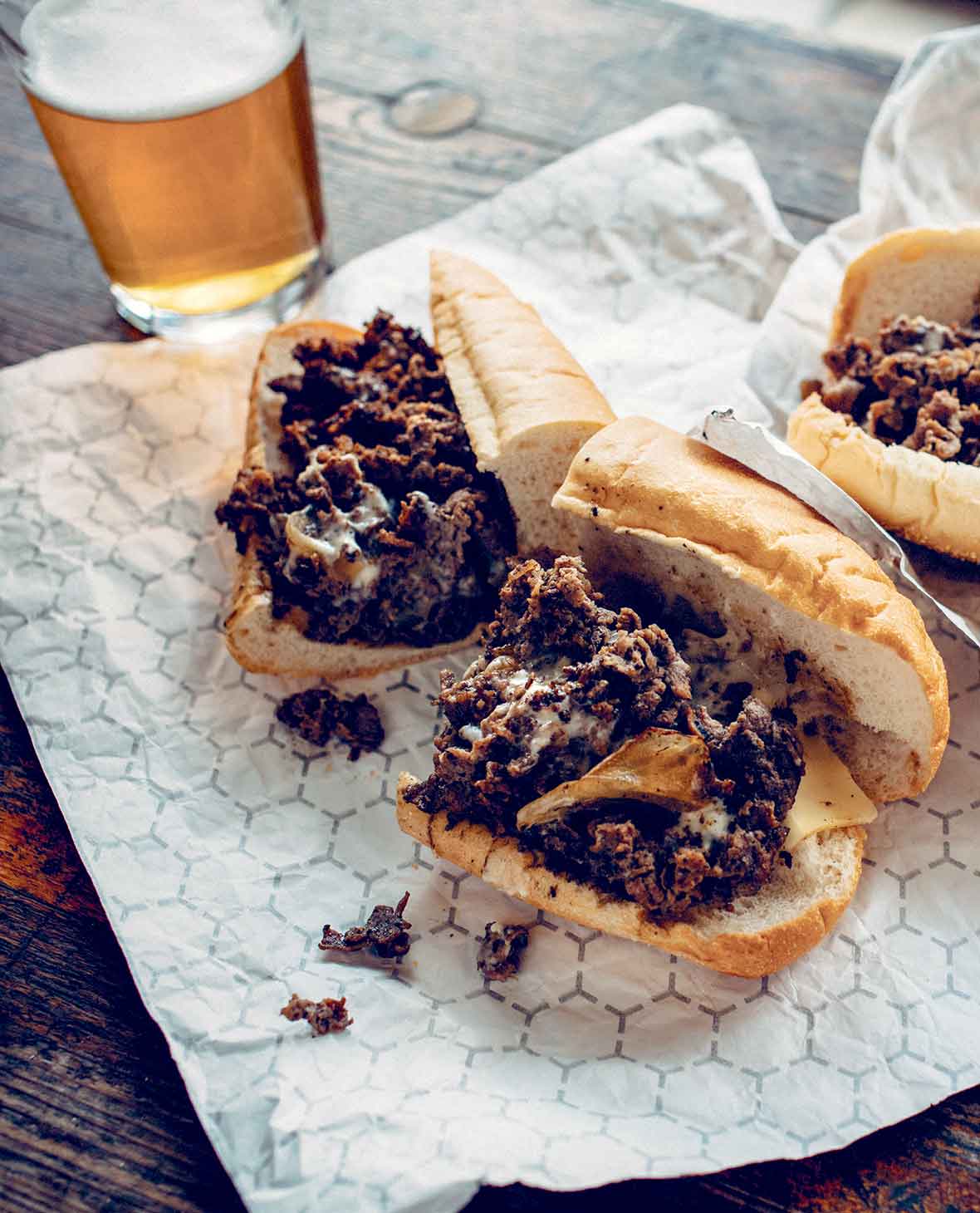 Philly cheesesteak. It's essentially a sub roll piled high with seasoned beef, caramelized onions, and melted cheese. What's not to love? Apparently, a lot. Folks have been debating the distinctions and nuances of various renditions of the Philly cheesesteak for decades—the presence of anything other than onions and cheese, the type of cheese, the particulars of the roll, and that's to name just a few. So while this undeniably delicious version won't make everybody happy, it will make most folks unspeakably satisfied. Besides, people pleasing is overrated.–Angie Zoobkoff
How to Perfectly Slice The Meat For A Philly Cheesesteak
You can argue all day and night about what goes on a Philly cheesesteak. But if you ain't got the meat right, then it's not a Philly cheesesteak to start with. The essential element to the sandwich, beyond anything else, is incredibly thinly sliced meat. You can achieve this through a number of strategies, according to the authors of Eat Street. Here's how:
Grab a whole 18- to 20-pound ribeye at the meat market and lovingly carry it out of there like you're Richard Gere and this piece of cow is Debra Winger at the end of An Officer and a Gentleman. Take it home, trim most of the fat cap, then blast chill it to an internal temperature between 26 and 28°F. Run it through a slicer at a level thin enough to see through it. Or…

Find a butcher from that same market to do everything above in your chosen quantity (minus the Gere/Winger show). Or… 

Visit an Asian supermarket and grab the pre-packed super-thin beef slices used for Korean BBQ. Or…

Some places sell the trimmings from beef tenderloin, usually with the word "filet" on the label. You can place them between a couple sheets of plastic wrap or parchment paper, pound the Satan out of them, and use those.
Philly Cheesesteak
Quick Glance
15 M
1 H

Makes 4
Print Recipe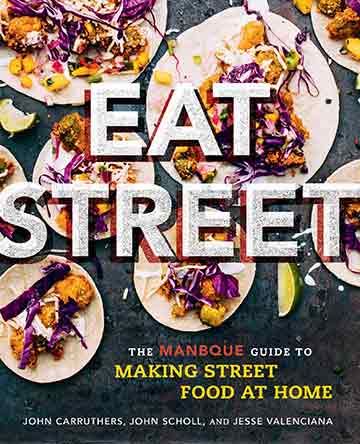 Ingredients
2 pounds (907 grams) thinly and evenly sliced ribeye steak*

Mild vegetable oil

1 pound (454 grams) white onions (about 1 large onion), peeled, halved, and sliced into thin half moons

2 to 4 tablespoons (73 grams) table salt

1 to 1 1/2 teaspoons (5 grams) garlic powder

1 to 1 1/2 teaspoons (3 1/2 grams) onion powder

1 pound (454 grams) sliced provolone or white American cheese

Four 8-inch (20 cm) sub rolls, split (you want a roll with a light crust but enough heft to stand up to the juices)
Directions
1. Heat a griddle to 375° to 400°F (190° to 204°C) or a couple large skillets on medium-high heat. The surface should read between 375° to 400°F (190° to 204°C). Slick oil your griddle or skillets with oil.

2. On a portion of the griddle or in 1 skillet, cook your onions for 2 to 3 minutes, turning them with your spatula, until they begin to sizzle. Splash some water on them, turn, scrape, and, when the water evaporates, repeat the process. Eventually you'll have delicious softened or deeply browned onions, depending on how long you go. Figure 5 to 10 minutes.

3. While you're in onion land, mix the salt, garlic powder, and onion powder and put it in a shaker or a small dish. This is your secret seasoning. Like all secret seasonings, you can tell someone you're taking the recipe to the grave while you're actually just embarrassed it's so simple.

4. If using a griddle, lay your ribeye slices out across the surface in a single layer. Just let them sit and sear over medium-high heat for 2 to 3 minutes. Season generously with your seasoning magic. Flip the ribeye, season again, and begin to mix in the onions as the rest of the meat browns. If using a couple skillets, transfer the onions to a plate, wipe out the skillet, and return it to medium-high heat. Place a second skillet over medium-high heat. Lay your ribeye slices out across the surface of the skillets in a single layer. You may need to work in batches. Just let them sit and sear over medium-high heat for 2 to 3 minutes. Season generously with your seasoning magic. Flip the ribeye, season again, and cook for another minute. If working in batches, transfer the ribeye to a rimmed baking sheet, being careful to spread it out so the steak doesn't steam which will turn it tough, and cook the rest of the ribeye. When all the steak is cooked, divvy it up between the skillets and do the same with the onions. Begin to mix in the onions as the meat browns.

5. Now it's time to get all choppy-choppy with your spatula. The difficulty and effectiveness of this will largely depend on the quality of your meat and how thinly and evenly you were able to get the meat sliced. (This is why it's nice to have a butcher with a nice sharp slicer to harass.) Using the narrow edge of a long metal spatula, chop your meat into 4 portions that resemble the size and shape of how they're going to lay in the roll, which is to say sorta a rectangle. Drape 4 ounces provolone over each portion of meat. Squirt a tablespoon or so of water under the meat and cover just long enough for the cheese to become one with the meat, about 30 seconds.

6. Game time! Take the spatula in your dominant hand and the open roll in your punier hand. Slide your spatula under the cheesy mess of onions and meat and flip it into the sandwich. Devour immediately.
Recipe Testers Reviews

We don't have Philly cheesesteaks at our house very often because of a fresh pepper allergy. So when we saw this recipe without the peppers we were very excited to try it. We picked up a sirloin tip roast and partially froze it to slice as we have our own slicer. The sliced meat took 15 minutes total as we cooked in 3 batches over a medium-high heat before combining it with the onions. It was easy enough. This is quite good. We didn't miss the peppers, I found it a little salty and one taster found the garlic almost too prevalent. When I make this again I will cut back on the salt in the seasoning to 2 or 3 tablespoons and only use 1 teaspoon each of the garlic and onion powder. Other than a couple minor changes a real keeper.

Philly cheesesteak research is fun! Realizing you can make it at home and make it your own is priceless. Having recently visited Philadelphia and sampled cheesesteaks, I already was in research mode and made a point to talk to the cheesesteak-wallah and watch my favorite one being made. I knew the secret was thinly sliced ribeye, and am not shy about asking a butcher to slice it for me. If you go that route, I suggest you freeze the sliced meat in portions so you are ready to go whenever the spirit visits. I bought some nicely marbled ribeye at my local Asian market. I think real Wagyu or Kobe is probably over the top dollar-wise, but the Korean-style suggested or domestic Kobe-style or prime ribeye sliced thin for sukiyaki was just right. My first version was straight to the recipe except for portion—8 ounces per person is too much meat for us, and I knew that from sharing cheesesteaks in Philly as well as my versions at home. I used 4 ounces per person, the meat coming from the fridge into the pan. I toasted a petite baguette sliced almost through lengthwise to go with and the naturally leavened (sourdough) roll stood up well to the meaty, cheesy goodness inside. Although I was cooking for just two, I did the full quantity of onions and in a skillet (versus on a flat cooktoop) it took a bit longer to get to that perfect brown mess. I like keeping a water bottle handy to spray as you go along, capturing all the fond. I decided patience was called for, so 10-12 minutes later I was rewarded with a nicely evenly browned onions approaching caramelizing. I reserved half for the next [cheesesteak] day in the fridge. Using a metal Chuan (flat edge wok spatula), and a second wooden spatula, I broke up the meat and mixed in the onions, then laid the provolone slices (the full whack of cheese) on top and covered. Perfect melt. Then I served them up on the toasted rolls.
The second day I used the prime ribeye that was marked for sukiyaki. This parcel (8 oz for the two of us ) I had frozen overnight, and took out 20 to 30 minutes before cooking. I feel the frozen meat (shaved or sliced thin) is much easier to work with, as you can actively flip it back and forth as it cooks and browns, scraping off the cooked bits. This is the method I learned watching the folks at Carmen's in Reading Terminal Market. I also borrowed their addition of sliced golden Peperoncini and used a mixture of sliced provolone and pepper jack. This was perfection for our taste. This is a very forgiving recipe. I suggest freezing the meat for at least 30 minutes, or overnight, then slightly thawing. It helps you gain better control when cooking it. 
Without a griddle, I was still able to make this work in a large cast iron skillet for two people. For a larger crowd, you would want two pans or batches but I was not able to test that.
Philly Cheesesteak Recipe © 2016 John Carruthers, Jesse Valenciana, and John Scholl . Photo © 2016 Clayton Hauck. All rights reserved. All materials used with permission.
If you make this recipe, snap a photo and hashtag it #LeitesCulinaria. We'd love to see your creations on Instagram, Facebook, and Twitter.