Bacon-infused bourbon tastes exactly like what you'd expect. Bacon that's slowly cooked to smoky loveliness and then dropped in your favorite bourbon. Sip it neat or use it to doctor up your favorite drinks.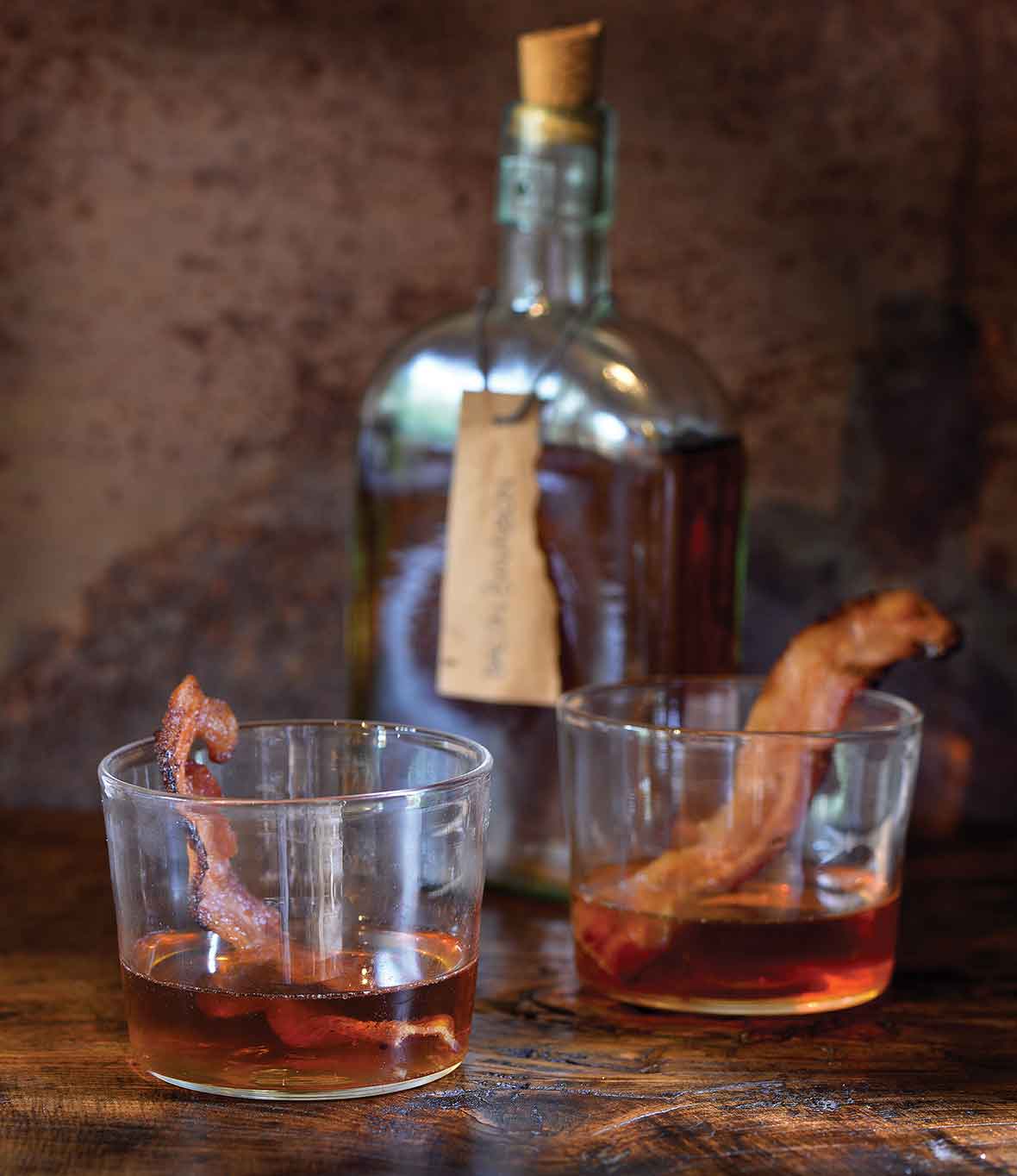 What Can I Make With Bacon-Infused Bourbon?
Bacon-infused bourbon is an ingenious way to make America's most beloved spirit even more amiable, says Steven Raichlen, the creator of this recipe. The subtle smokiness can be indulgently intense when sipped straight, although perhaps its finest moment is when its smokiness  is employed in cocktails, such as Manhattans and Old Fashioneds, bacon strip garnish optional. Or use the bourbon in any recipe to which you'd add a splash of straight-up bourbon.
Bacon Infused Bourbon
Quick Glance

(1)

15 M
12 H
Makes

26

(1-oz) servings
Print Recipe
Special Equipment: Funnel; several paper coffee filters
Ingredients
Directions
Place the bacon in a cold skillet and place it over medium-high heat on the stove or on a grill set up for direct grilling and preheated to medium-high (400°F or 204°C). Cook the bacon, stirring often, until the bacon has browned and quite a lot of bacon fat has been rendered, 5 to 7 minutes.
Remove the skillet from the heat and let the bacon cool slightly. Pour the fat through a fine-mesh strainer into a large metal bowl. Save the bacon for garnishing, noshing, or another use—oh, the options!
Pour your bourbon into the warm bacon fat and whisk to mix, reserving the bottle and cap. Let the bourbon mixture rest at room temperature for 2 hours and then cover and place the bowl of bourbon and bacon fat in the freezer overnight.
Remove the bourbon from the freezer. The bacon fat will have risen and congealed on the surface. Skim it off and reserve it for cooking or basting.
Line a funnel with a paper coffee filter. Place the funnel in the neck of the bourbon bottle and strain the bourbon back into the bottle. If the paper filter becomes clogged, swap it out for a new paper filter.
☞

Tester tip:
Be patient. The infused bourbon will drip slooooooowly. It's worth the wait.
Recap the bottle before storing. Your bacon-infused bourbon will, in theory, keep at room temperature for up to several weeks—not that it stands a chance of sticking around that long, natch. For a more aromatic experience, swirl the bourbon in a snifter or a wide glass before sipping. Originally published October 15, 2016.
Print Recipe
Recipe Testers' Reviews
This bacon infused bourbon was delightful! I used a smoky maple bacon and Jim Beam Black Bourbon.
The process was simple and the bacon fat lifted off cleanly after spending the night in the freezer. The bacon added a nice smoky sweetness to the bourbon on its own, but the final product was a real standout in a new fangled "old fashioned" cocktail made with 2 ounces bacon bourbon mixed with 2 teaspoons brown sugar simple syrup (1 part demerara or raw sugar and 1 part water) and 3 to 4 dashes Angostura bitters and a twist of lemon peel (do not include the pithy white part or flesh of the lemon as you want to release the oils and drop it in the cocktail). Stir well. Add plenty of ice and a splash of soda water. Garnish with a bacon strip, of course! Serves one.
At first glance, I thought bacon infused bourbon was probably not a good idea. Yet the more I thought about it, the more sensible it seemed. Bourbon and bacon are BOTH on my list of desert island items, along with my Hozier album and my favorite Wayfarers, so the adventure began.
I used the remainder of a bottle of Maker's Mark. I carried along as per the instructions and everything seemed to go just as planned. After the allotted time and subsequent filtering, I had a reasonably full bottle of what should be a nice smoky, bacon-infused bourbon. I poured a shot and tossed it back. Unfortunately, no wonderful, smokey, bacony sip of bourbon deliciousness. After my initial disappointment, I wondered, wouldn't much of the sensation involved with this experiment involve my sense of smell? I quickly grabbed a small snifter and added a few ounces of the bourbon. I swirled it in the glass, brought it slowly to my lips and, VOILA! Much to my delight, that perfect mixture of bacon, smoke, and bourbon that I had unknowingly searched for my entire adult life was now mine. VICTORY!
Bacon Infused Bourbon Recipe © 2016 Steven Raichlen. Photo © 2016
Matthew Benson
. All rights reserved. All materials used with permission.
If you make this recipe, snap a photo and hashtag it #LeitesCulinaria. We'd love to see your creations on Instagram, Facebook, and Twitter.