Galician rye bread is essentially a rustic rye sourdough bread that's subtler and lovelier in flavor than most deli rye breads.
Galician rye bread, otherwise known as pan Gallego de centeno, takes many forms, each with a somewhat unique shape and composition. This particular version originates in Ourense, in south central Galicia, not far from the Portuguese border, explains cookbook author and rye bread authority Stanley Ginsberg. It's "a crusty, rustic loaf with a surprisingly open crumb," he continues. "Bright sour dominates supported by the spicy sweetness of wheat and rye." Given how difficult it is to find a decent loaf of bakery rye bread, if you like sourdough rye bread, you simply gotta try this recipe.–Renee Schettler
Galician Rye Bread
Quick Glance
45 M
13 H

Makes 1 loaf
Print Recipe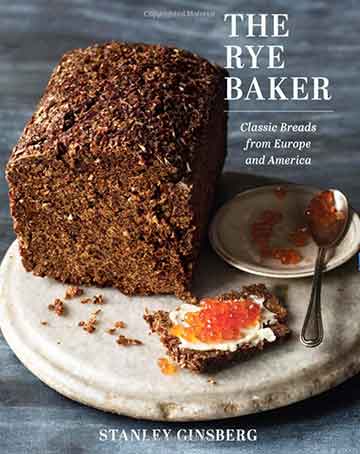 Ingredients
For the rye bread sponge

6 ounces (170 grams) medium rye flour

6 ounces (170 ml) water

0.6 ounces (17 grams) rye sourdough starter
For the rye bread dough

10 ounces (285 ml) water, at room temperature

10.6 ounces (300 grams) bread flour

1 recipe rye bread sponge (see above)

2.3 ounces (65 grams) medium rye flour

1 1/2 teaspoons salt

1/3 teaspoon instant yeast

Flour, for the work surface
Directions
Make the rye bread sponge

1. In the bowl of a stand mixer, mix the sponge ingredients by hand until incorporated. Cover and let ferment at room temperature (68 to 72°F or 20 to 22°C) overnight or for 10 to 12 hours. The sponge will be very bubbly, have a clean sour smell, and will have doubled in volume.

Make the rye bread dough

2. Add the water and 1.8 ounces (50 grams) bread flour to the sponge and mix by hand until it forms a slurry, 1 to 1 1/2 minutes. Add 8.8 ounces (250 grams) bread flour and the rye flour and use the paddle to mix at low speed until the dough is evenly hydrated, 2 to 4 minutes. Cover the dough and let it rest at room temperature for 15 to 20 minutes.

3. Add the salt and yeast to the bowl with the dough and mix with the dough hook of your stand mixer on low speed until the gluten is very well developed, 30 to 35 minutes. The dough should be sticky and very stretchy. Cover and let ferment at room temperature until doubled in volume, 2 to 2 1/2 hours.

4. Preheat the oven to 430°F (220°C) with an oven rack adjusted to the middle position and a second rack in the lower position with a steam pan on it. [Editor's Note: A steam pan is simply a pan filled with some water. You'll want to use a pan with relatively high sides and only fill it partway with water as you'll need to remove the pan from the oven when the water is very hot and you don't want it sloshing all over you or your oven.) If using a baking stone, place it on the middle rack.

5. Turn the dough onto a generously floured work surface and gently form it into a ball by folding it toward you, rotating 90 degrees, and repeating until the bottom surface is smooth. Flip the dough. If a traditional Galician rye bread shape is desired, pinch a golf ball-size piece of dough from the center of the loaf and carefully stretch it upward without separating it from the loaf, then form a depression in the dough and nestle the ball of dough inside the depression. Place the dough on a parchment-lined baking sheet or, if using a baking stone, on a well-floured peel. Cover and proof at room temperature for 10 minutes.

Bake the rye bread

6. Bake the rye bread for 15 minutes. Then remove the steam pan from the oven, quickly shut the oven door, and lower the temperature to 390°F (200°C). Continue to bake the bread until the crust is golden brown, the loaf thumps when tapped with a finger, and the internal temperature is at least 198°F (92°C), 15 to 25 minutes more. Transfer to a wire rack and let it cool completely before slicing.
Galician Rye Bread Recipe © 2016 Stanley Ginsberg. Photo © 2016 Quentin Bacon. All rights reserved. All recipes and photos used with permission of the publisher.
If you make this recipe, snap a photo and hashtag it #LeitesCulinaria. We'd love to see your creations on Instagram, Facebook, and Twitter.