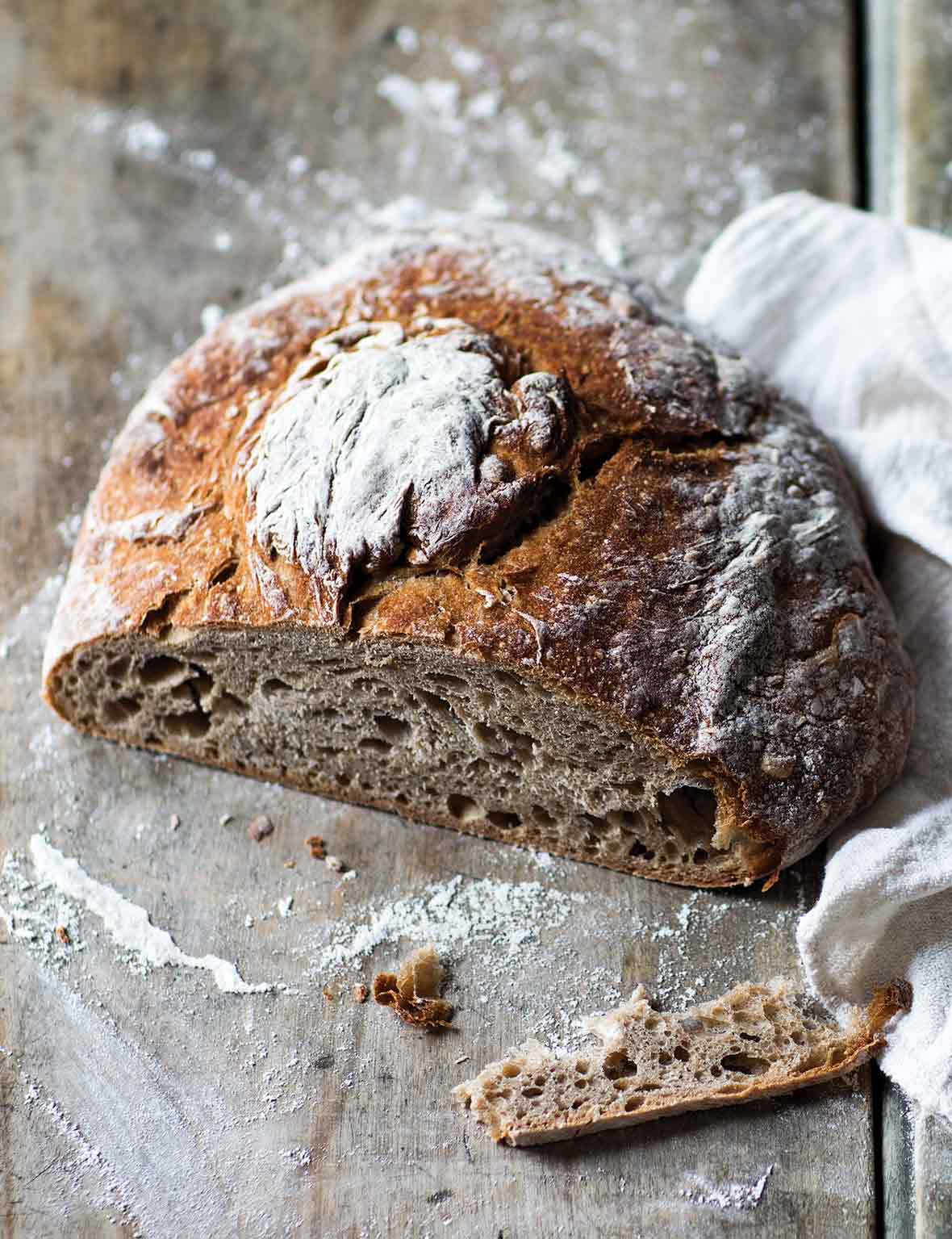 Sourdough Rye Bread
Sourdough rye bread is essentially a rustic rye sourdough bread made from a starter that's subtler and lovelier and more approachable in flavor than most deli rye breads.
Ingredients
For the rye bread dough
10

ounces

water

,

at room temperature

10.6

ounces

bread flour

1

recipe

rye bread sponge (see above)

2.3

ounces

medium rye flour

1 1/2

teaspoons

salt

1/3

teaspoon

instant yeast

Flour

,

for the work surface
Instructions
Make the rye bread sponge
In the bowl of a stand mixer, mix the sponge ingredients by hand until incorporated. Cover and let ferment at room temperature (68 to 72°F or 20 to 22°C) overnight or for 10 to 12 hours. The sponge will be very bubbly, have a clean sour smell, and will have doubled in volume.
Make the rye bread dough
Add the water and 1.8 ounces (50 grams) bread flour to the sponge and mix by hand until it forms a slurry, 1 to 1 1/2 minutes. Add 8.8 ounces (250 grams) bread flour and the rye flour and use the paddle to mix at low speed until the dough is evenly hydrated, 2 to 4 minutes. Cover the dough and let it rest at room temperature for 15 to 20 minutes.

Add the salt and yeast to the bowl with the dough and mix with the dough hook of your stand mixer on low speed until the gluten is very well developed, 30 to 35 minutes. The dough should be sticky and very stretchy. Cover and let ferment at room temperature until doubled in volume, 2 to 2 1/2 hours.

Preheat the oven to 430°F (220°C) with an oven rack adjusted to the middle position and a second rack in the lower position with a steam pan on it. [Editor's Note: A steam pan is simply a pan filled with some water. You'll want to use a pan with relatively high sides and only fill it partway with water as you'll need to remove the pan from the oven when the water is very hot and you don't want it sloshing all over you or your oven.] If using a baking stone, place it on the middle rack.

Turn the dough onto a generously floured work surface and gently form it into a ball by folding it toward you, rotating 90 degrees, and repeating until the bottom surface is smooth. Flip the dough. If a traditional Galician rye bread shape is desired, pinch a golf ball-size piece of dough from the center of the loaf and carefully stretch it upward without separating it from the loaf, then form a depression in the dough and nestle the ball of dough inside the depression. Place the dough on a parchment-lined baking sheet or, if using a baking stone, on a well-floured peel. Cover and proof at room temperature for 10 minutes.
Bake the rye bread
Bake the rye bread for 15 minutes.

Remove the steam pan from the oven, quickly shut the oven door, and lower the temperature to 390°F (200°C). Continue to bake the bread until the crust is golden brown, the loaf thumps when tapped with a finger, and the internal temperature is at least 198°F (92°C), 15 to 25 minutes more.

Transfer the loaf to a wire rack and let it cool completely before slicing.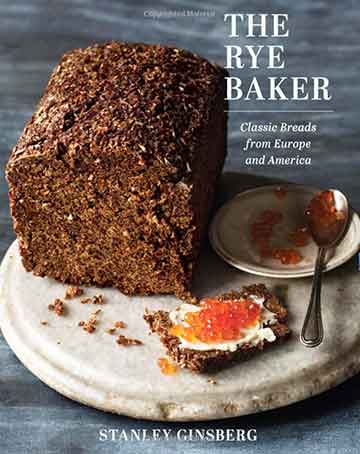 Nutrition
Serving:
1
slice
Calories:
121
kcal
Carbohydrates:
25
g
Protein:
4
g
Fat:
1
g
Saturated Fat:
1
g
Polyunsaturated Fat:
1
g
Monounsaturated Fat:
1
g
Sodium:
221
mg
Potassium:
76
mg
Fiber:
2
g
Sugar:
1
g
Vitamin A:
1
IU
Vitamin C:
1
mg
Calcium:
7
mg
Iron:
1
mg
Nutrition information is automatically calculated, so should only be used as an approximation.
Recipe © 2016 Stanley Ginsberg. Photo © 2016 Quentin Bacon. All rights reserved.
---
Recipe Testers' Reviews
Loved, loved, loved this sourdough rye bread recipe! It was perfect! This is an excellent recipe for those who love their classic sourdough rye bread. It turned out absolutely beautiful with a nice golden brown crust and a complex sourdough flavor. I am very, very pleased with this loaf and will definitely be making it again!
My crust wasn't like some of the other rye bread recipes that I've made—it was a little softer and didn't break your teeth.
My sponge started to really grow at around 6 hours and doubled at about 10 hours. The description was very good—it was indeed bubbly with a clean sour smell. If you've never made a rye sourdough like this before, it might be a little bit tricky since the dough is so wet, but you're doing it right. It should be just a little thicker than pancake batter. And be very careful to not punch it down at any point once you've kneaded it with the dough hook for 30 minutes as this will help create an airy bread with an open crumb.
My loaf was beautiful!
This sourdough rye bread is a higher hydration dough, which was supposed to give it a nice open crumb. I didn't achieve that, but it still had a nice flavor. It was a very mild sourdough rye bread and could go with many different foods.
I would be curious to try this recipe with less mixer time and some folds incorporated into the bulk fermentation. It was a difficult dough to work with. It will take practice for anyone to get the hang of but it was a fun challenge.