This is no mere chicken soup with dumplings. It's a cross between the Jewish classic dumpling soup and Italian la minestra. The dumplings are made with ricotta cheese, Parmigiano-Reggiano, and semolina. Instead of parsley, the soup is sprinkled with fennel fronds.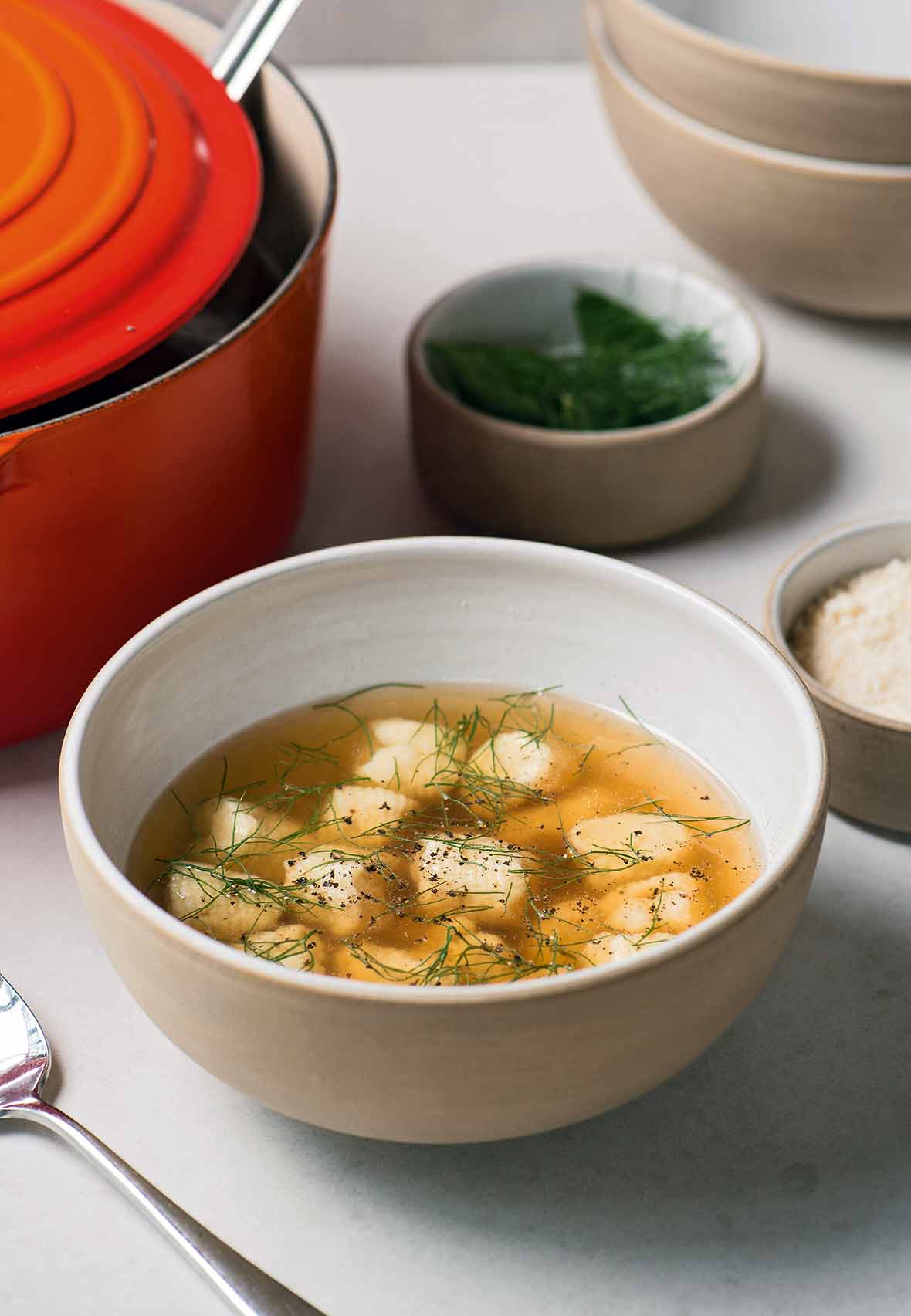 This chicken soup with dumplings is where Jewish and Italian souls collide. It has the dumplings but they're made with semolina, and rather than parsley the soup takes a sprinkling of fennel fronds. What results is a remarkably elegant soup containing light, pillowy ricotta dumplings—essentially gnocchi—floating in chicken stock. As the author says, it's a recipe for a lazy Sunday when you have time to let the soup simmer for hours and make gnocchi by hand. And as someone who made and loved this recipe said, oh, is it worth the time!–Renee Schettler Rossi
Chicken Soup with Dumplings
Quick Glance
30 M
1 H, 30 M

Serves 4
Print Recipe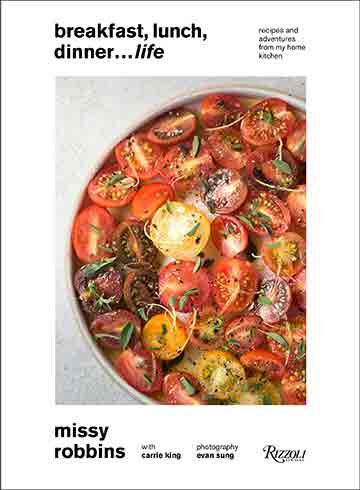 Ingredients
For the ricotta dumplings

1 1/4 cup ricotta

2 eggs

1 cup grated Parmigiano-Reggiano

1/3 cup fine semolina

3/4 cup 00 flour, plus extra for dusting

Kosher salt

For the chicken soup
4 to 6 cups store-bought chicken broth or homemade chicken stock, depending on how brothy you like your soup

Kosher salt

1 recipe blanched gnocchi (ricotta dumplings, above)

2 tablespoons olive oil

1/4 cup grated Parmigiano-Reggiano

A few fennel fronds, chopped (optional)

Freshly cracked black pepper
Directions
Make the ricotta dumplings

1. Mix the ricotta, eggs, and Parmigiano in a large bowl until well blended, about 1 minute.

2. In a separate bowl, mix together the semolina and 00 flour.

3. Gradually combine the flour mixture with the wet ingredients by adding a little at a time and folding gently until well mixed, about 3 minutes. Do not overwork the dough or you will end up with dumplings as heavy as lead.

4. Cover and refrigerate the gnocchi dough for an hour. (This makes the dough easier to roll out.)

5. On a lightly floured work surface, grab a small handful of dough and gently roll into ropes that are about 1/2-inch (12-mm) diameter. If the dough is a little sticky dust it with more flour, being careful not to add too much or you will lose the light fluffy texture.

6. Once all the dough has been rolled into ropes, cut the ropes into 1-inch (25-mm) lengths.

7. Bring a large pot of water to a slow simmer and add enough salt so that it tastes like the ocean, about 1/4 cup.

8. Using a traditional wooden gnocchi board or a fork with long tines if you don't have one, roll each piece of dough down the board or back of the fork with your thumb, pressing gently to make an imprint. Continue until all of the gnocchi are formed, about 80 to 100 gnocchi.

9. Place the gnocchi in the water and cook for 30 to 90 seconds after they float to the top. They should be light and airy.

10. If not using right away, arrange the gnocchi in a single layer on a lightly oiled tray, making sure the gnocchi don't touch, and cool in the refrigerator.

Assemble the soup

11. Heat the broth and season with salt to taste. Evenly divide the warm gnocchi among 4 bowls. Pour about 1 cup of hot broth over the gnocchi in each bowl. Drizzle with the olive oil.

12. Garnish with the grated Parmigiano-Reggiano, optional fennel fronds, and freshly cracked black pepper.
Homemade Chicken Stock Variation
Your favorite homemade chicken stock will work wonderfully here. But we thought you may like to see the version that this author uses. She adds the herbs only at the end of the simmering time to ensure that the stock's predominant flavor is chicken and there's only a slight hint of vegetal.

Place a 5-pound chicken in a large stock pot. Cover with water so that it comes about 2 to 3 inches (5 to 8 cm) above the chicken. Slowly bring it to a gentle simmer over medium-low heat, making sure to skim off and discard any foam that forms. Turn the heat down to low and cook for 4 hours, occasionally skimming the fat from the surface. (Skimming is important because it will leave you with a clearer broth.) Add 2 carrots, 2 onions, 1/2 bunch celery, 1 leek, 1/2 bunch parsley, 1 bay leaf, and 1 tablespoon whole black peppercorns and gently simmer for 1 hour. Remove the chicken and strain the liquid through a fine mesh strainer, discarding the vegetables and herbs. (Keep the chicken—it's tender and easy to use in another dish like chicken pot pie or chicken salad.) Makes about 6 quarts chicken stock.
Chicken Soup with Dumplings Recipe © 2017 Missy Robbins | Carrie King. Photo © 2017 Evan Sung. All rights reserved. All recipes and photos used with permission of the publisher.
If you make this recipe, snap a photo and hashtag it #LeitesCulinaria. We'd love to see your creations on Instagram, Facebook, and Twitter.