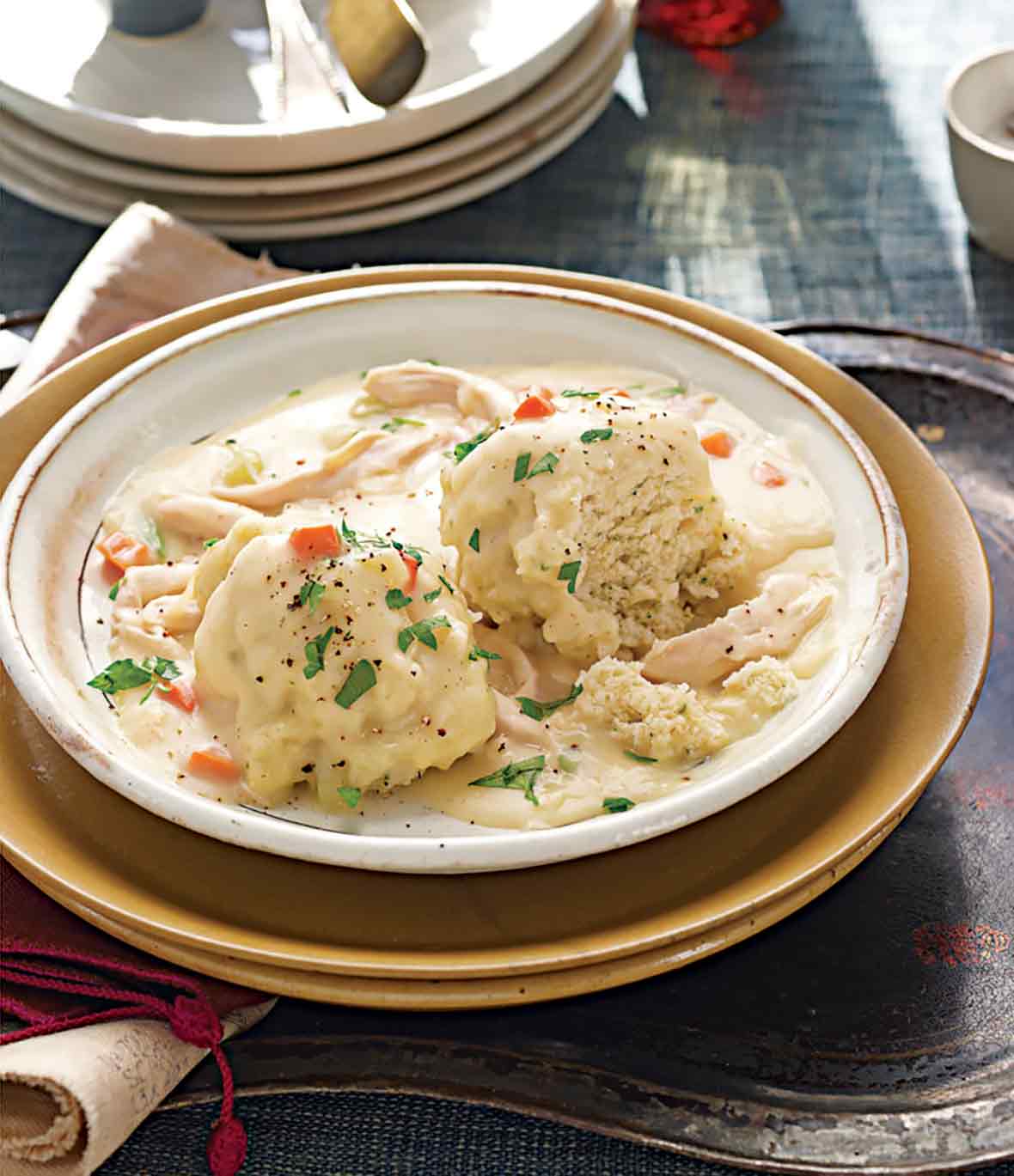 Traditionally, chicken and dumplings is a thick, creamy, chicken stew of sorts with a layer of doughy dumplings that steam right on top while the soup simmers. Back in the day, a lot of moms turned to biscuit mix to save time, so not many people remember dumplings as tender and delicious as these. Making the biscuits from scratch takes just a few minutes more than a mix, and the results are far superior. Some home cooks make the dumplings "slippery," with just flour and water, for a denser, chewier texture. But our dumplings are layered with butter and leavened with baking powder, making them more like biscuits. –Lisa Schroeder
How to Make A Quicker Chicken and Dumplings
We have nothing more to say. Not if it will delay us sitting down to chicken and dumplings. Oh, wait, just one thing. If you, too, are in a hurry, you can skip the gravy portion of this recipe, say the authors, and instead rely on just the soup broth as the stewing liquid. Another shortcut, they counsel, is when you add the chicken, stir in any leftover cooked vegetables that may be lurking in your fridge, whether broccoli, green beans, or braised greens.
Chicken and Dumplings
This chicken and dumplings is made with stewed chicken, creamy gravy, and buttery, feather-light dumplings. An American classic.
Ingredients
For chicken soup broth
2

whole chickens

,

plus other carcasses if available

2

yellow onions

4

ribs

celery

,

(cut in half to fit the pot, if necessary)

4

carrots

,

peeled (cut in half to fit the pot, if necessary)

4

parsnips

,

peeled (cut in half to fit the pot, if necessary)

1

bunch

flat-leaf parsley

,

with stems (about 20 sprigs)

4 1/2

teaspoons

kosher salt

,

(divided)

2

teaspoons

freshly ground black pepper

,

(divided)
For the chicken gravy
8

tablespoons

unsalted butter

,

cut into pieces

1

cup

all-purpose flour

7

cups

chicken soup broth

, (or substitute homemade chicken stock or low-sodium canned chicken broth)

2

teaspoons

kosher salt

1/2

teaspoon

freshly ground black pepper

2

large (1 1/2 cups)

carrots

,

peeled and diced

5

ribs (2 1/2 cups)

celery

,

diced
For the dumplings
2

cups

all-purpose flour

1 1/2

teaspoons

baking powder

1

scant teaspoon

kosher salt

1

tablespoon

finely chopped flat-leaf parsley leaves

3

tablespoons

cold unsalted butter

,

cut into 1/2-inch pieces

2/3

cup

whole milk
For serving
5

cups

cooked chicken

,

(you can use the cooked chicken from making the soup broth; remove the skin and pick the meat off the bones)

2

tablespoons

finely chopped flat-leaf parsley leaves

,

for garnish
Instructions
Make the chicken soup broth
In a narrow, deep pot just large enough to hold the chickens (10- to 12-quart capacity), place the chickens, onions, celery, carrots, parsnips, and parsley. (Make sure you use a narrow pot rather than a wide one. Otherwise, you may have to use too much water to cover the chickens.) Add just enough cold water to barely cover the chickens (ideally, not more than 5 quarts, or 20 cups).

Bring to a boil over high heat, skimming off any scum that rises to the surface. Reduce the heat to a simmer (rapidly boiling soup or stock often makes it look cloudy instead of clear) and season with 2 teaspoons of salt and 1 teaspoon of pepper. (You're seasoning here because you want the chicken to have some flavor when you use it later in other dishes. The soup will be seasoned again later.)

Simmer the broth, uncovered, for at least 3 hours. Season again with 2 1/2 teaspoons salt and 1 teaspoon pepper. Taste; if it tastes like chicken, it's ready. If not, let it cook a bit longer and taste again. It can cook for another hour as long as it is barely simmering, but no more than 4 hours total or the chicken will dry out.

When the broth is done, turn off the heat, lift the chicken from the pot with slotted spoons or a spider and set aside in a large bowl or on a rimmed baking sheet until cool enough to handle.

Strain the broth into a clean 6- to 8-quart pot, and discard the solids. If you're not making the soup right away, cool and refrigerate the broth so you can scrape off the solidified fat from the surface before. Otherwise, allow the stock to sit undisturbed for at least 10 minutes, and spoon off the fat that rises to the surface.
Make the chicken gravy
In a large (8- to 10-quart), heavy-bottomed soup pot or Dutch oven, melt the butter over medium heat. Add the flour and mix well to make a roux. Cook, stirring frequently, until the mixture is pale yellow and resembles fine, wet sand, about 3 minutes.

Whisk the 7 cups broth into the roux, a little at a time, allowing the roux to absorb the liquid before adding more (this will help prevent lumps). Add the salt, pepper, carrots, and celery. Bring the mixture to a boil over high heat, stirring occasionally, and then lower the heat and gently simmer for 15 to 20 minutes. Keep stirring occasionally and skim off any scum that rises to the surface. (This scum from the flour can make a sauce gummy.)
Make the dumplings
Whisk the flour, baking powder, salt, and parsley together in a large bowl, and then cut in the butter using a pastry blender, two knives, or a whisk until it's in small pieces. (Alternatively, you can use a food processor: Place the flour, baking powder, and salt in the bowl of a food processor. Pulse several times to combine. Add the parsley and pulse once or twice to incorporate. Add the butter and pulse until it is in small pieces.)

Add the milk and stir or pulse once or twice to moisten the flour mixture. (Do not overmix or you will develop the gluten in the flour and the dumplings will be chewy.) Gather the dough into a ball.

Using a large spoon or your hands, scoop out 1/4-cup chunks of dough, lightly roll them between your palms to round them out, and then drop into the simmering gravy (it's OK if they sink), spacing them apart. Cover the pot and simmer until the dumplings are done (a knife inserted in the center should come out clean), about 20 minutes. (Avoid lifting the lid while the dumplings are cooking because it slows down the cooking process, and "if you're lookin' you're not cookin'!")
To serve
Gently stir the cooked chicken into the pot with the dumplings, return the liquid to a simmer, cover, and cook for 5 more minutes to heat the chicken through. Using a serving spoon or tongs, divide the chicken and dumplings among soup bowls. Ladle the gravy over the chicken and dumplings, sprinkle with the parsley, and serve.
Nutrition
Serving:
1
portion
Calories:
558
kcal
Carbohydrates:
56
g
Protein:
31
g
Fat:
23
g
Saturated Fat:
12
g
Polyunsaturated Fat:
2
g
Monounsaturated Fat:
7
g
Trans Fat:
1
g
Cholesterol:
114
mg
Sodium:
2828
mg
Potassium:
898
mg
Fiber:
7
g
Sugar:
8
g
Vitamin A:
6515
IU
Vitamin C:
27
mg
Calcium:
150
mg
Iron:
5
mg
Nutrition information is automatically calculated, so should only be used as an approximation.
Recipe © 2009 Lisa Schroeder. Photo © 2009 Ellen Silverman. All rights reserved.
---
Recipe Testers' Reviews
This chicken and dumpling recipe creates the ultimate comfort food. The result is fabulous—creamy, flavorful gravy smothering tender, tasty chicken, topped with dumplings, which are really more of a biscuit. Though the recipe looks lengthy at first glance, all of the procedures are easy and can be accomplished with any cook's skill level.
Though we enjoyed these dumplings better than the traditional dumplings, we found them a bit dense for our preference (this could be due to the high elevation at which we live). I will adjust the recipe for high altitude and try this again—the taste and the flavor of the dumplings were good, but they just were not flaky.
This recipe will definitely become part of our winter and comfort-food favorites!