These johnnycakes, a Rhode Island classic, are lighter and lacier and crunchier and grittier (in a good way) than pancakes and equally lovely at supper as they are at breakfast.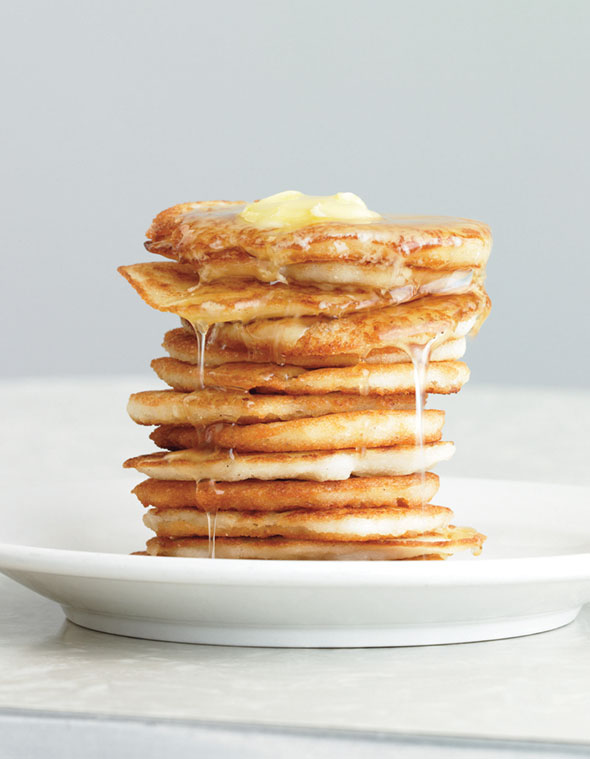 There's no mistaking the gritty-in-a-good-way bumpiness of johnnycakes. The cakes are lighter and lacier than your typical flapjack, entirely savory and not at all sweet, with a slightly crunchy crust that holds up nicely under a slathering of jam or a puddle of warm maple syrup. These are a breakfast and supper classic in Rhode Island. Make no mistake, pancakes they are not. In order to truly appreciate johnnycakes, you have to go into a plateful with the proper expectations. Johnnycakes are lighter and crunchier and, to some folks, they're lovelier than pancakes. Instead of pillowy and sweet, they're gritty and sorta bland in a good way and best stacked alongside bacon or sausage or slid beneath something savory and roasted or braised so as to sop up those juices. It was originally published April 23, 2010.–Renee Schettler Rossi
Johnnycakes
Quick Glance
15 M
45 M

Makes about 18 silver-dollar-size
Print Recipe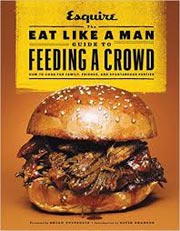 Ingredients
1 1/4 cups water

1 cup finely ground white cornmeal*

1 teaspoon granulated sugar

1/2 teaspoon salt

Bacon fat or unsalted butter or ghee, for cooking and serving

Warm maple syrup, for serving
Directions
1. Heat a griddle or large cast-iron skillet over medium-high heat or preheat an electric griddle to 380°F (190°C).

2. Bring the water to a rolling boil.

3. Combine the cornmeal, sugar, and salt in a heatproof bowl with high sides. Gradually add a little of the boiling water, stirring constantly, and continue adding water until the mixture is smooth and thick enough to plop off the spoon in a blob. Think the consistency of thick Cream of Wheat. (The thing you want to happen is for the boiling water to scald the cornmeal, which means the cornmeal essentially cooks in the bowl, so the only thing you need to achieve in the skillet is to crisp the exterior.)

4. Test your griddle or skillet to make sure it's the right hotness by flicking a drop of water on the griddle or skillet—it should skitter across the cooking surface. When the surface is sufficiently hot, slick it well with bacon fat or unsalted butter. Drop the batter by the tablespoonful onto the griddle or skillet. Using the edge of the spoon, chop across the surface of the blob of batter to release any air. Let the johnnycakes sit, without budging, until the edges begin to brown, 5 to 6 minutes, then flip them and keep frying until the cakes are cooked through, 4 to 6 minutes longer. (The timing will, of course, vary depending on just how hot your cooking surface is and just how big your blobs of johnnycakes batter are. Best not to turn your back on the stovetop.)

5. Flip the johnnycakes onto warmed serving plates and serve hot with maple syrup while you finish making the rest of the johnnycakes, adding more bacon fat or butter to the cooking surface as necessary.
The Right Cornmeal for Johnnycakes
Traditional johnnycakes recipes call for Rhode Island's signature white cornmeal, which is ground by a process that leaves the particles flat rather than granular. This recipe, however, comes from Kenyon's Grist Mill in Usquepaug, where they've been grinding it properly pebbly and granular since 1886. You can use whatever coarsely ground white cornmeal you find. Just do not substitute yellow cornmeal.
Recipe Testers Reviews
Johnnycakes Recipe © 2015 Hearst Communications, Inc.. Photo © 2015 Hearst Communications, Inc.. All rights reserved. All recipes and photos used with permission.
If you make this recipe, snap a photo and hashtag it #LeitesCulinaria. We'd love to see your creations on Instagram, Facebook, and Twitter.