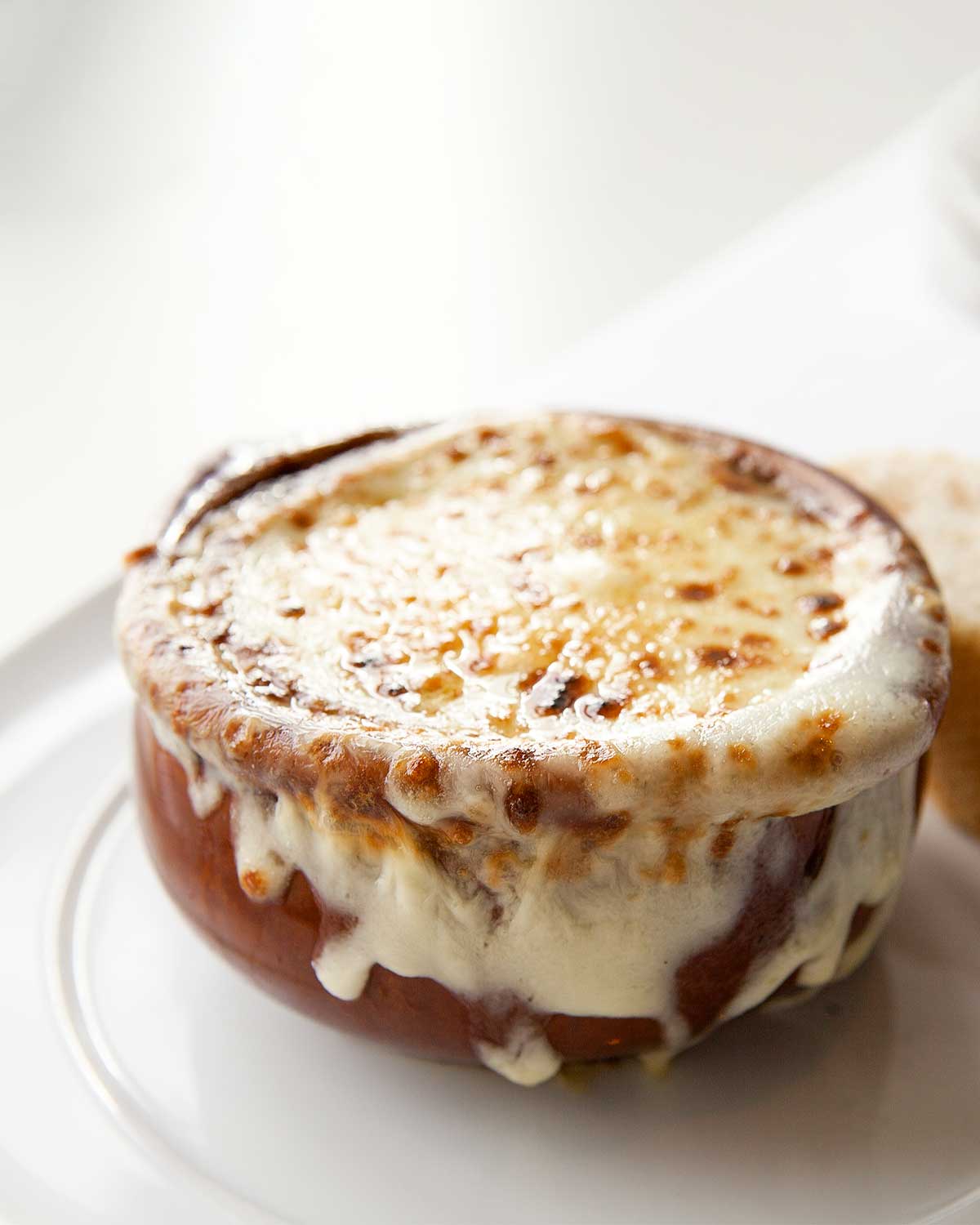 Most French onion soup recipes create a gooey, stringy, clingy cheese trampoline that clamps down on the soup dish as it melts, creating a sight to behold but a mess to eat in polite company. Not this recipe, which calls for a simple sprinkling of cheese on toasted bread rather than over the entire bowl. This not only makes for easier eating but a little more room to experience the complexity of the blend of caramelized red and yellow onions as well as leeks. It also means you can indulge your whim for French onion soup even when you don't have cheese with Super Glue-like stick-to-it-iveness.–Renee Schettler
HOW ARE FRENCH AND ENGLISH ONION SOUP DIFFERENT?
You'd be forgiven if you thought there was just the one kind–French–because it seems to be more common. And, to be honest, they're similar but not quite the same. They're both made with a LOT of onions in a brothy base, and both have bread and cheese. They're both made in the same way, sautéeing onions, adding broth, and broiling to melt and bubble.
French is made with beef broth, red and/or yellow onions, thyme, and often red wine, brandy, or cognac. English onion soup can be made with any broth you prefer, any combination of onions (red, white, shallots, leeks, and more), sage, and Worcestershire sauce.
Finally, it comes down to the bread and cheese. Both of these beautiful soups are topped with a crusty slice of bread, then the whole thing is covered with a pile of shredded cheese. In French onion soup, you're probably going to use baguette and a delicious, melty cheese like Gruyère. Emmental and Swiss are other excellent choices. English onion soup uses any type of bread that's dense enough to withstand that hot broth but the cheese of choice is Cheddar.
French Onion Soup
This French onion soup tastes just like the classic, with plenty of onions and leeks in a rich homemade broth. Here's how to make it.
Ingredients
2

large

yellow onions

,

quartered and thinly sliced

2

red onions

,

quartered and thinly sliced

4

leeks

,

root ends and dark-green tops lopped off, leeks sliced 1/4-inch thin, and washed

1

tablespoon (1/2 oz)

unsalted butter

1

tablespoon

olive oil

2

tablespoons

unbleached all-purpose flour

8

cups

vegetable or chicken stock

1

tablespoon

Worcestershire sauce

,

[Editor's Note: or a splash of fortified wine]

1

teaspoon

salt

1/2

teaspoon

freshly ground black pepper

1

day-old baguette

1/2

cup

grated Parmigiano-Reggiano cheese

1/2

cup

grated Gruyère cheese (or substitute Comté, Emmentaler, mozzarella, young Manchego, or another melting cheese)

,

plus more as needed
Instructions
In a large soup pot over medium-high heat, sauté the yellow and red onions and the leeks in the butter and olive oil stirring occasionally to keep the onions from sticking to the bottom of the pot and scorching, until they've begun to soften slightly and shrink in volume, 5 to 10 minutes.

Reduce the heat to medium or medium-low and continue to cook the onions for about an hour, until they're caramel in color and seem practically melted. Keep a careful eye on them, as you don't want the onions to burn. If it looks like they're heading in that direction, lower the flame even more, or splash a little bit of water over them to buy you some cooking time.

Sprinkle the properly caramelized onions with the flour, stirring constantly so the flour doesn't clump. Sauté for another 5 minutes to cook off the floury taste.

Pour the stock over the onions and bring to a boil over high heat. Reduce the heat and simmer for 30 minutes. Stir in the Worcestershire sauce, salt, and pepper. Taste and adjust the seasonings accordingly.

Preheat your oven to 350°F (175°C). Thickly slice the baguette, brush both sides with olive oil, scatter them on a baking sheet, and bake until the bread dries out and the edges are golden brown. Preheat the broiler.

Just before you're ready to serve the soup, whisk in the Parmigiano-Reggiano. It's important to whisk in the cheese at the last minute or it will sink to the bottom of the pot and burn. Ladle the warm soup into heatproof bowls or crocks and float a slice of the baked bread in each bowl. Sprinkle some Gruyère over each slice of bread and slide the crocks under the broiler until the cheese bubbles and browns.
Nutrition
Serving:
1
portion
Calories:
327
kcal
Carbohydrates:
44
g
Protein:
12
g
Fat:
12
g
Saturated Fat:
5
g
Polyunsaturated Fat:
1
g
Monounsaturated Fat:
4
g
Trans Fat:
1
g
Cholesterol:
23
mg
Sodium:
2110
mg
Potassium:
324
mg
Fiber:
4
g
Sugar:
9
g
Vitamin A:
1889
IU
Vitamin C:
14
mg
Calcium:
302
mg
Iron:
3
mg
Nutrition information is automatically calculated, so should only be used as an approximation.
Recipe © 2003 Frank Mentesana | Jerome Audureau. Photo © 2003 JJAVA. All rights reserved.
---
Recipe Testers' Reviews
Revelation: The BEST French onion soup ever is NOT made with beef stock. Using chicken stock was a real revelation. We really enjoyed this soup.
The addition of red onion and leeks really made for a richer soup. And the onions were cut in smaller pieces than specified in other recipes, so they didn't dribble down our chins when we were spooning them out of the bowl. We used a combination of regular Gruyère and an aged Gruyère for the topping and it was superb. Our house guest, who had said he wasn't a fan of French onion soup, ate his all up and asked for seconds.
Select a Tester
Rich and sweet, the soup balances well with the saltiness of the Gruyère crouton on top. Although it's just as good without the crouton.
It takes some time to pull all the ingredients together, but it's still a simple recipe and definitely worth the effort. It will make a great snow day meal, sometime.