When Frank was 10 years old, he "borrowed" a French cookbook from the Livingston Public Library. (He still has that book. And he still uses it.) In it he found a recipe for an easy French onion soup that he loved to make for his family. It seemed foreign to him–and fancy. His mom was so pleased with his initiative that she went out and bought proper crocks for him to serve the soup in, and his dad would come home from grocery-shopping trips to New York City with big chunks of Gruyère cheese, even though, being Italian, this was not something he would ever have bought if it weren't for Frank and his soup thing.–Frank Mentesana and Jerome Audureau
LC Gooey, Stringy, Clingy Goodness Note
Many an old-fashioned French onion soup demands a gooey, stringy, clingy cheese that clamps down on the soup dish as it melts to create a taut, trampoline-like surface. Not this recipe, which calls for a simple sprinkling of cheese on the bread and not over the entire bowl. This reliance on croutons not only makes for easier eating in polite company, but it also means you can indulge your whim for virtually any cheese that melts readily, not just those that have a Super Glue-like stick-to-it-iveness. Comté tends to be a quite traditional and common topper for French onion soups, although Emmentaler, mozzarella, Manchego, or any of countless others will also work, as would Gruyère.
Gooey, Cheesy Baked French Onion Soup
Quick Glance
25 M
2 H

Makes 6 servings
Print Recipe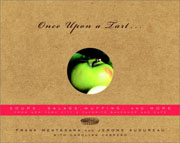 Ingredients
2 big yellow onions, quartered and thinly sliced

2 red onions, quartered and thinly sliced

4 leeks, root ends and dark-green tops lopped off, leeks sliced 1/4-inch thin, and washed

1 tablespoon unsalted butter

1 tablespoon olive oil

2 tablespoons unbleached all-purpose flour

8 cups vegetable or chicken stock

1 tablespoon Worcestershire sauce, [Editor's Note: or a splash of fortified wine]

1 teaspoon salt

1/2 teaspoon freshly ground black pepper

1 day-old baguette

1/2 cup grated Parmiggiano-Reggiano cheese

1/2 cup grated Gruyère cheese, plus more as needed
Directions
1. Sauté the yellow and red onions and the leeks in the butter and olive oil in a large soup pot over medium-high heat, stirring occasionally to keep the onions from sticking to the bottom of the pot and scorching, until they've begun to soften slightly and shrink in volume, 5 to 10 minutes.

2. Reduce the heat to medium or medium-low and continue to cook the onions for about an hour, until they're caramel in color and seem practically melted. Keep a careful eye on them, as you don't want the onions to burn. If it looks like they're heading in that direction, lower the flame even more, or splash a little bit of water over them to buy you some cooking time.

3. Sprinkle the properly caramelized onions with the flour, stirring constantly so the flour doesn't clump. Sauté for another 5 minutes to cook off the floury taste.

4. Pour the stock over the onions and bring to a boil over high heat. Reduce the heat and simmer for 30 minutes. Stir in the Worcestershire sauce, salt, and pepper. Taste and adjust the seasonings accordingly.

5. Preheat your oven to 350°F (175°C). Thickly slice the baguette, brush both sides with olive oil, scatter them on a baking sheet, and bake until the bread dries out and the edges are golden brown. Preheat the broiler.

6. Just before you're ready to serve the soup, whisk in the Parmiggiano-Reggiano. It's important to whisk in the cheese at the last minute or it will sink to the bottom of the pot and burn. Ladle the warm soup into heatproof bowls or crocks and float a slice of the baked bread in each bowl. Sprinkle some Gruyère over each slice of bread and slide the crocks under the broiler until the cheese bubbles and browns.
Gooey, Cheesy Baked French Onion Soup Recipe © 2003 Frank Mentesana | Jerome Audureau . Photo © 2003 Frank Mentesana. All rights reserved. All recipes and photos used with permission of the publisher.
If you make this recipe, snap a photo and hashtag it #LeitesCulinaria. We'd love to see your creations on Instagram, Facebook, and Twitter.