This French onion soup is made like the classic, with plenty of onions and leeks in a rich homemade broth. Instead of an impenetrably thick cheese crust, this version swaps in a sprinkling of your favorite melty cheese. Here's how to make it.
Most French onion soup recipes create a gooey, stringy, clingy cheese trampoline that clamps down on the soup dish as it melts, creating a sight to behold but a mess to eat in polite company. Not this recipe, which calls for a simple sprinkling of cheese on toasted bread rather than over the entire bowl. This not only makes for easier eating but a little more room to experience the complexity of the blend of caramelized red and yellow onions as well as leeks. It also means you can indulge your whim for French onion soup even when you don't have a cheese with Super Glue-like stick-to-it-iveness. Originally published January 13, 2003.–Renee Schettler Rossi
French Onion Soup
Quick Glance

(1)

25 M
2 H

Makes 6 servings
Print Recipe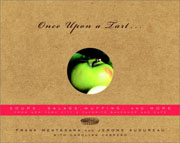 Ingredients
Email Grocery List
Directions
Sauté the yellow and red onions and the leeks in the butter and olive oil in a large soup pot over medium-high heat, stirring occasionally to keep the onions from sticking to the bottom of the pot and scorching, until they've begun to soften slightly and shrink in volume, 5 to 10 minutes.
Reduce the heat to medium or medium-low and continue to cook the onions for about an hour, until they're caramel in color and seem practically melted. Keep a careful eye on them, as you don't want the onions to burn. If it looks like they're heading in that direction, lower the flame even more, or splash a little bit of water over them to buy you some cooking time.
Sprinkle the properly caramelized onions with the flour, stirring constantly so the flour doesn't clump. Sauté for another 5 minutes to cook off the floury taste.
Pour the stock over the onions and bring to a boil over high heat. Reduce the heat and simmer for 30 minutes. Stir in the Worcestershire sauce, salt, and pepper. Taste and adjust the seasonings accordingly.
Preheat your oven to 350°F (175°C). Thickly slice the baguette, brush both sides with olive oil, scatter them on a baking sheet, and bake until the bread dries out and the edges are golden brown. Preheat the broiler.
Just before you're ready to serve the soup, whisk in the Parmiggiano-Reggiano. It's important to whisk in the cheese at the last minute or it will sink to the bottom of the pot and burn. Ladle the warm soup into heatproof bowls or crocks and float a slice of the baked bread in each bowl. Sprinkle some Gruyère over each slice of bread and slide the crocks under the broiler until the cheese bubbles and browns.
Print Recipe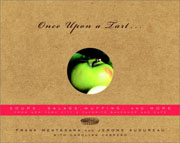 Recipe Testers Reviews

Revelation: The BEST onion soup ever is NOT made with beef stock. Using chicken stock was a real revelation. We really enjoyed this soup.
The addition of red onion and leeks really made for a much richer soup. And the onions were cut in smaller pieces than specified in other recipes, so they didn't dribble down our chins when we were spooning them out of the bowl. We used a combination of regular Gruyère and an aged Gruyère for the topping and it was superb. Our house guest, who had said he wasn't a fan of French onion soup, ate his all up and asked for seconds.

Rich and sweet, the soup balances well with the saltiness of the Gruyère crouton on top. Although it's just as good without the crouton.
It takes some time to pull all the ingredients together, but it's still a simple recipe and definitely worth the effort. It will make a great snow day meal sometime!
French Onion Soup Recipe © 2003 Frank Mentesana | Jerome Audureau . Photo © 2003 Frank Mentesana. All rights reserved. All materials used with permission.
If you make this recipe, snap a photo and hashtag it #LeitesCulinaria. We'd love to see your creations on Instagram, Facebook, and Twitter.