Slow cooker chicken stock has cast its spell on us. It's not that making chicken stock from scratch is difficult. But it just seems to require far less effort and patience when left to burble in a slow cooker than when left to burble on the back burner. Perhaps because you can walk away from it and not worry about the gas flame being a little too high and causing the stock to boil raucously and turn cloudy and bitter or being a little too low and extending the already long process. Or you can actually leave the house and not have to worry if all your worldly possessions will go up in flames.
The slow cooker strategy simply ensures the stock burbles sleepily and remains clear as can be. Once you make homemade chicken stock in a slow cooker, chances are you'll be so wooed by the ease with which it comes together, you won't want to go back to making it any other way, just as everyone who's tried it seems to say. [Editor's Note: But in case you do want to occasionally go back to the old-fashioned approach, we've also got the perfect Roast Chicken Stock recipe for you.]–Renee Schettler Rossi
How To Tweak Chicken Stock To Your Liking
Homemade chicken stock isn't hard to make, either in a slow cooker or a pot. But a reliable homemade chicken stock recipe? That's another matter entirely. Sure, you can certainly toss chicken (whether raw parts or the carcass of a roasted hen) and whatever vegetables and herbs you happen to have on hand in your slow cooker or pot with some water and chances are it's not going to be terrible. Although it may not be as rich, deep, and complex as it could be. While we're all for the spirit of experimentation, we've made a lot of chicken stock in our day, and we prefer the precise proportions of chicken, water, vegetables, and herbs in the recipe below. And folks who'd followed the recipe to a t are waxing poetic about it being their default, go-to, never-again-will-they-stray, foolproof chicken stock recipe from here on. Still, if you're the sort who doesn't like to necessarily adhere to a recipe, we've a few things you may wish to consider in terms of ingredients…
Leeks lend a milder allium experience than onions.
Celery imparts a rather clean, almost astringent note.
Carrots ensure sweetness.
Black peppercorns—just a few, mind you—lend depth of flavor and complexity.
Herbs add a…well, we think that's sorta obvious what herbs add.
Same goes for garlic.
Ginger imparts a warming sharpness that's a boon to anything Asian, though best used sparely and only with other ingredients such as lemongrass or onion.
One last thing. Whatever you do, don't rely on mere bones and water. Trust us. [Editor's Note: When we (and by "we," we really mean our editor in chief, Renee) first made homemade chicken stock as a very young twenty-something straight out of college, she poured water over roasted bones and let the potion simmer for hours, assured that the gods of stockmaking would smile favorably upon this effort. They did not. Let it be a lesson to you. It certainly was to her.]
Slow Cooker Chicken Stock
Slow cooker chicken stock or broth is gloriously easy. Just toss raw chicken parts or carcasses in a slow cooker with vegetables, water, and herbs in the proper proportions, walk away, and come back later to a rich, deep, concentrated, out-of-this-world, paleo-friendly stock.
Ingredients
2

pounds

chicken wings, necks, backs, or other parts (raw parts or carcasses from a rotisserie chicken or roast chicken)

4

smallish

carrots

,

rinsed and roughly chopped

1

leek

,

rinsed and roughly chopped

1

smallish

onion

,

peeled or unpeeled, roughly chopped

1

teaspoon

black peppercorns

1

fresh bay leaf,

(optional)

1

sprig

fresh thyme

Cold water
Instructions
Toss all the ingredients in your slow cooker, add enough cold water to cover, and cook on low for at least 12 hours or overnight. That's it. If you like, you can skim the surface toward the beginning of cooking to remove any froth that floats to the top.

Strain and let cool completely. Freeze in resealable plastic bags in 1- to 2-cup portions.
Notes
Instant Pot Chicken Stock
Toss all the ingredients in your Instant Pot, add enough cold water to cover, and set to the slow cook mode on the less setting for at least 12 hours or overnight. You may need to skim the surface toward the beginning of cooking. Strain and use or let cool completely before refrigerating or freezing.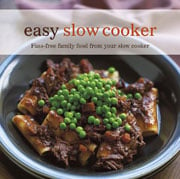 Nutrition
Serving:
1
cup
Calories:
162
kcal
Carbohydrates:
6
g
Protein:
12
g
Fat:
10
g
Saturated Fat:
3
g
Polyunsaturated Fat:
2
g
Monounsaturated Fat:
4
g
Trans Fat:
1
g
Cholesterol:
47
mg
Sodium:
69
mg
Potassium:
241
mg
Fiber:
1
g
Sugar:
2
g
Vitamin A:
5381
IU
Vitamin C:
5
mg
Calcium:
30
mg
Iron:
1
mg
Nutrition information is automatically calculated, so should only be used as an approximation.
Recipe © 2010 Ryland Peters & Small. Photo © 2010 Ryland Peters & Small. All rights reserved.
---