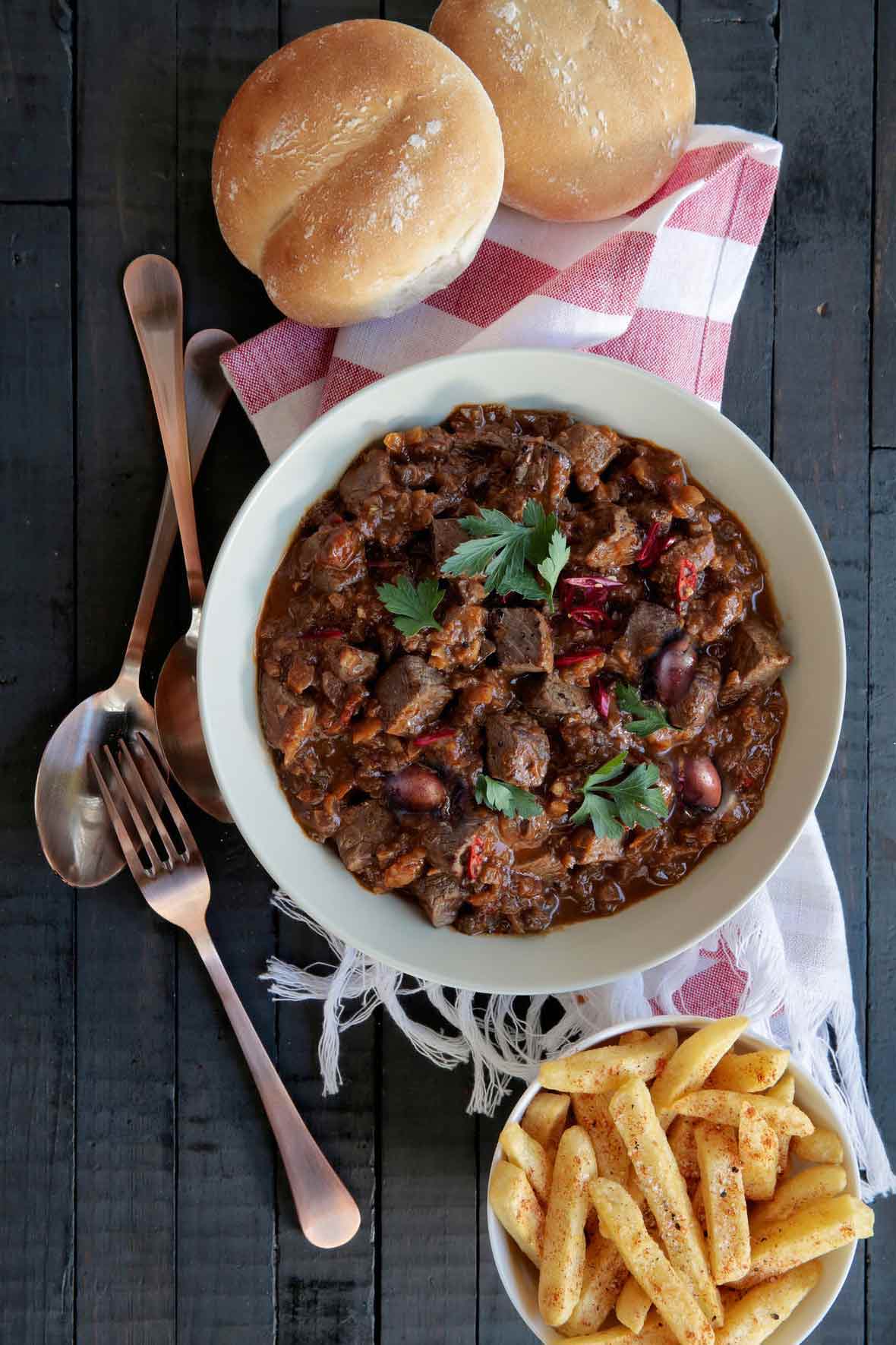 Some people request recipes, others demand them, but those who wrote me about trinchado pined for it. Many of them had recently been to South Africa on vacation and wanted to recapture the taste of this spicy beef dish. As is common with peasant food, the origin of such a dish is hard to verify. It's believed it's popular in South Africa because of the Portuguese immigration from nearby Angola and Mozambique. The dish is traditionally served with a heap of chips, a.k.a. French fries. (I wonder if this was a holdover from colonial days?) The Portuguese serve trinchado with chips at their own cafés (small delicatessens) throughout the country. I still have my doubts whether this is a British influence, but it's delicious either way. Trinchado is meant to be spicy. But be extremely careful when preparing the hot peppers: Wear rubber gloves if you have sensitive skin and don't touch your face or eyes. When finished, wash your hands thoroughly with hot, soapy water.–David Leite
*What can I use instead of chuck roast?
Some days you just can't get your mitts on a chuck roast or you're just wondering if you really have to leave the house. The chuck-eye is a long, slender group of muscles that run down the shoulder of the cow and is close to but cheaper than rib eye. So what to do? Top blade roast and bottom chuck roast are pretty close in taste and texture. Anything that you'd consider using as a pot roast will work just as well here. Look for a piece with indecent amounts of marbling and you'll do just fine.
Trinchado | Spicy South African Beef
Trinchado, a spicy South African braised beef dish, is brimming with flavor from onions, red chile peppers, garlic, beef stock, red wine, and olives. Serve with lots of bread and French fries.
Ingredients
1

tablespoon (1/2 oz)

unsalted butter

1

tablespoon

olive oil

2

pound

chuck roast

,

cut into 1-inch (25-mm) cubes

2

large

yellow onions

,

chopped

3 or 4

small

hot red chile peppers

,

stemmed and chopped (keep the seeds)

4

garlic cloves (or more if you're a garlic head)

,

minced

2

tablespoons

flour

1

cup

good quality store-bought or homemade beef stock

1

cup

red wine or 1/2 cup (120 ml) brandy

1

bay leaf

24

oil-cured black olives,

preferably pitted

Salt and freshly ground black pepper

,

to taste

Bread for dunking
French fries for serving,

(optional; not classic but popular)

Chopped parsley

,

for garnish
Instructions
Heat a large sauté pan over medium-high heat for 2 minutes. Add the butter and oil. Once the butter is melted and sizzling, add the beef cubes in 4 or 5 batches and brown well on all sides. Don't crowd the pan or rush this step; this is what gives the dish its flavor. Remove the cubes with a slotted spoon to a warm plate and set aside.

Lower the heat to medium, add the onions, chile peppers and their seeds, and cook until softened, about 10 minutes. Add the garlic and cook for an additional minute. Sprinkle the flour over the vegetables and stir until the flour's fully cooked, about 2 minutes.

☞ TESTER TIP: If you're worried about the flour clumping, you can load the 2 tablespoons of flour into a mesh strainer and gently dust over the veggies instead of just dumping it in.

Pour in the stock and red wine (or brandy). Stir until the sauce thickens a bit, about 3 minutes. Add the bay leaf, olives, browned beef cubes and any juices that may have accumulated on the plate. Bring to a boil, reduce the heat to low and simmer, covered, for 1 1/2 to 2 1/2 hours. Check every 15 minutes or so until the meat is very tender.

To serve, season the trinchado with salt and pepper and scoop it into a large bowl. Top it with fries or serve them on the side. Have lots of bread on hand for dunking. Originally published October 20, 2002.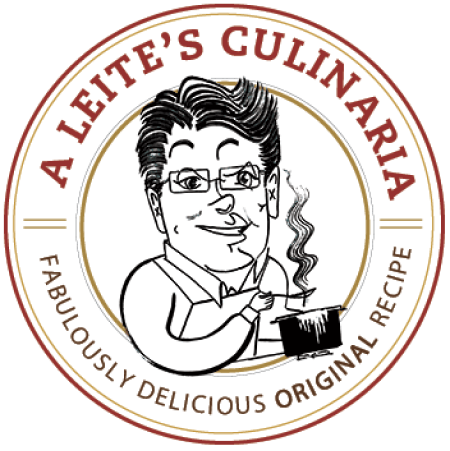 Nutrition
Serving:
1
portion
Calories:
628
kcal
Carbohydrates:
21
g
Protein:
48
g
Fat:
36
g
Saturated Fat:
14
g
Polyunsaturated Fat:
3
g
Monounsaturated Fat:
18
g
Trans Fat:
2
g
Cholesterol:
164
mg
Sodium:
579
mg
Potassium:
1328
mg
Fiber:
3
g
Sugar:
8
g
Vitamin A:
954
IU
Vitamin C:
120
mg
Calcium:
94
mg
Iron:
7
mg
Nutrition information is automatically calculated, so should only be used as an approximation.
Recipe © 2002 David Leite. Photo © 2018 BeefEasy. All rights reserved.
---
Recipe Testers' Reviews
This dish was absolutely delicious. We really enjoyed the flavour and dipping french fries and buns while we ate. My dish ended up having more sauce than the picture indicated but that was fine with us, more to dip our fries and buns into.
The heat was just right and the olives are a must! I didn't realize that my olives still had pits so it was a little bit of a pain to eat (my bad) so next time I will make sure there aren't any pits and I might add a few more olives as the salt from them really balanced out this dish.
This was delicious! I'll be honest, there were a couple of points I was worried that I had messed the recipe up, but it turned out well. Right after I added the wine and up until 45 minutes into stewing, the pot smelled solely of wine, and I was worried that I had ruined the dish, but ultimately it worked well.
The dish was spicy, and it could have been the peppers I used, but I would only use 2 next time if I did it again. The fries did help dilute the spice, but it was slightly overpowering. The prep was pretty minimal and other than checking/stirring, it was a pretty hands-off meal. It's something that could be left on the stove for hours, and I imagine it'd only get better. The fries were delicious with it, and I would recommend serving it this like this.